---
Lamb Chop Rides: Fireblade RCV Special
By Kar Lee
"BEASTIE" Do you believe in fate?

After riding this bike I just might. Allow me to explain: Seven years ago I rode a special built by a guy who put his Foxeye Blade on a diet and fabricated his own subframe in the process. Clearly a talented chap he later went on to build his own frame for another project. Fast forward to 2018 and I'm looking at a completely different Fireblade special owned by Bemoto and the custom-fabricated subframe looks strangely familiar.
---
LCR Blade - The Early Days
Turns out it once started life on another Fireblade, and you can guess which one… Clearly, my buttocks were destined to be supported by this piece of alloy engineering for a second time.
The first Honda Fireblade landed on these shores in 1993, all drilled holes and lightweight and people have been modifying them ever since. From single-sided swingarms to blueprinted engines and metallic urban tiger paintjobs, the Fireblade – and particularly the pre-1000cc version – is like a modern-day LC when it comes to modding. Some Blades have only the lightest of changes to them, while others don't even look like Fireblades anymore.
This one falls into the latter category. Built and owned over a period of years by John Bennett (of Lamb Chop YouTube fame), but bought by Bemoto after John fell out of love with sports bikes, people aren't quite sure what it is when they see it, which is understandable as it's a concoction of different bikes and some aftermarket and custom-made components too. In a nutshell, it's a 1996 CBR900RR frame with a newer 2005 998cc engine, carbon fibre bodywork and Aprilia RSV swingarm. It churns out an honest 161bhp on the dyno but due to all the weight savings made over the years it feels nearer 190bhp. My own modified 2006 GSX-R1000 makes similar power but is heavier and feels less responsive in comparison.
What possesses someone to transplant an entire Fireblade engine into an older Fireblade frame?
"I bought the standard bike back in 2009 after a 15-year break from biking. I loved it, it was a comfortable, fast and great re-introduction to motorcycling after a long break but I was tempted by more modern machinery so during the winter months I started modifying it," explains John. "It started with a GSX-R tail unit, VFR single-sided swingarm and TT Legends paintwork but I wanted more power and a new engine made more sense than a turbo. I would ideally have fitted the newer 2008-onwards engine but at the time they were way too pricey," he adds.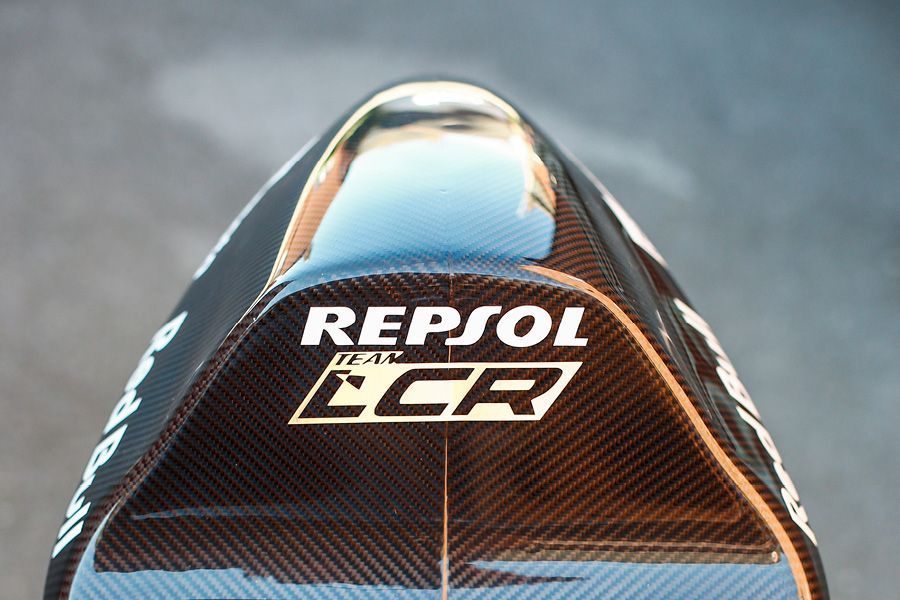 ---
Internet Tech Support:
A project of this magnitude is not for the faint-hearted but John tackled it with gusto and a lot of help from the internet. "I was really lucky, it all came together well. The only low point was discovering the engine didn't fit after adding an extra brace to the frame. Some persuasion with a rubber mallet cured it though," he quips.
It's a tidy, and obsessive looking build, full of some neat touches like the 2014 Honda HRC RCV fairing and front mudguard, made entirely of carbon fibre. The carbon RS125 tail unit (which houses the lightweight lithium battery) and custom URT tank has the LCR (Lamb Chop Rides) logo embossed into it. The view from the front is as mean as anything this side of a 2018 R6. A narrow top cowl flares out at the bellypan to accommodate the wide donor motor which fits the frame as snug as a bug in a rug. The 2006 Aprilia RSV swingarm looks like it was always meant to be there and the stubby Akrapovic can on the end of the full system shows it off perfectly. The matching rear Ohlins comes courtesy of the same Aprilia while the front forks are actually stock 2005 Fireblade, painted up to resemble Ohlins units. The Brembo radial calipers, braided lines, 330mm wavy discs (10mm up from stock) and Brembo RCS19 are definitely not for show though, they haul the bike up with brick wall effectiveness.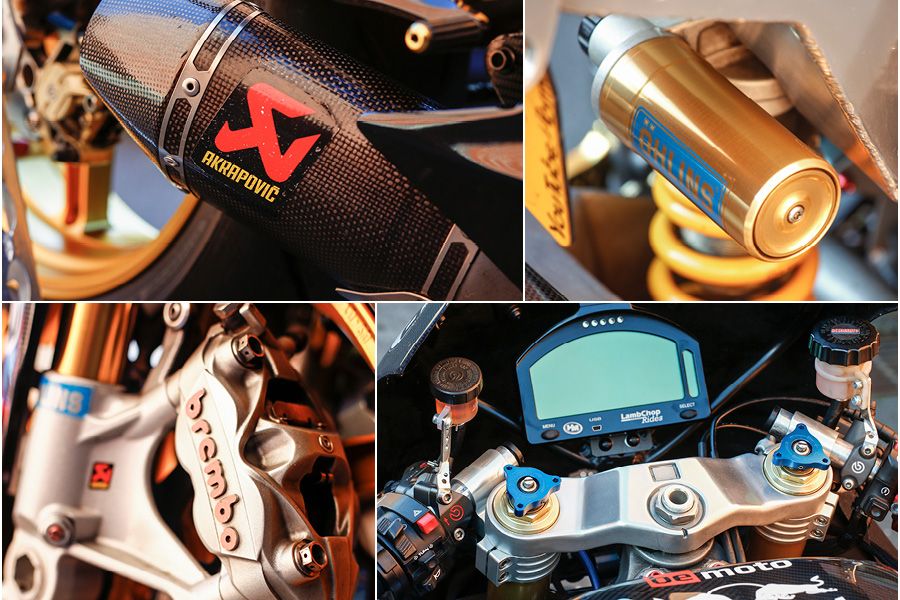 ---
Beastie by name...
It's just as well the brakes are good. Approaching corners faster than anticipated is a reoccurring theme during the blast down my favoured test route. A mix of tight 1st gear corners and fast, sweeping 4th bends with plenty of B-road bumps thrown in has the Blade shaking its head and threatening to get dramatic so at the next loo break I check to see how easy it is to adjust the steering damper. Except there isn't one – John had one fitted but had issues with it fouling on full lock so removed it. This is all part and parcel of a special though, decisions are made on taste and requirements, hence there's no front indicators or headlights either as when the fairing was added John didn't want to spoil the lines. He may have a point.
There are many compromises to this bike, it is a special after all. The seat has all the cushioning properties of a concrete slab and combined with an aggressive head-down-arse-up riding position, which incidentally is perfect for the track, puts a load of weight on the wrists. This is alleviated by riding faster.
Fortunately there's plenty of go to match the show and going faster is what this Blade does well. Twist the right-hand grip in top from a sedate 40mph and it surges forward with a response and tractability that wouldn't be out of place on a modern thou'. The full titanium Akra system, Power Commander and K&N filter result in a well-endowed 161 bhp on the dyno and the Accossato quick action throttle, ridiculously slick Translogic Intellishift quickshifter and two extra teeth on the rear sprocket lower the gearing and make for fierce acceleration. Without the weight of the oe subframe and bodywork the bike is quick off the mark but when you replace the stock wheels with forged alloy OZ items things get a little silly. It reminds me of an old CBR400 Tri-Arm I used to have… but with an extra dollop of 115bhp. Just wheeling the bike around is a surreal experience as it's a hefty-looking bike with so much alloy frame on display, but there's barely zero effort involved.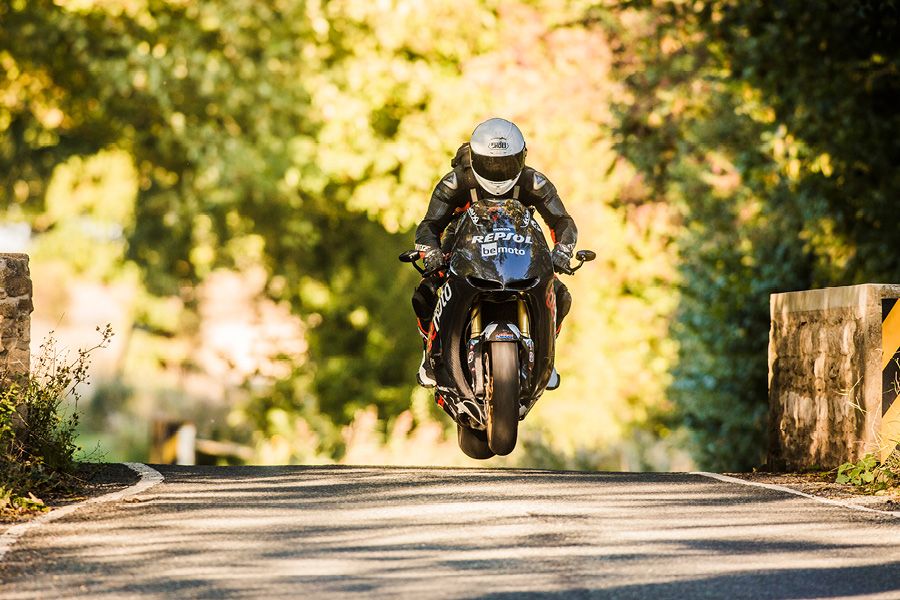 ---
The long, long way home
Perched, most definitely on top of the Blade, the clear screen gives an unobstructed view of the road ahead which somehow is forever rushing towards me in a warp speed kinda blur – it's the only way to ride it. The other thing in view is the supertrick HM GPS dash which may have emptied John's wallet to the tune of £800 but has all manner of datalogging features and display options to show for it. John clearly likes his gadgets and the keyless ignition conversion only confirms this. I love how in this uncompromising race bike for the road there are no headlights, indicators or anything resembling comfort in the seat but there are heated bar grips. Priorities, eh?
But then this is what you get, when you have a project bike that makes other riders do a U-turn on their commute home from work when they see it parked up on the side of the road. The FZ-1 guy said he just had to turn around when he saw it was "something interesting" and needed to find out what it was. And what it is is not the usual, it's not the everyday, it's the extraordinary, the unique, the special.
John's mission was to create something retro but with modern power. It's clear his mission was a success.
Read our feature written by Lamb Chops in his own words, going back over the original Beasty LCR Fireblad build.
---
Go back in time and...
Follow the build from the very first episode on Youtube. See this machine transform from a Honda TT Legends Fireblade into an outstanding custom built, performance packed, tarmac munching BEAST!

---
SPECIFICATION:
Honda Fireblade RCV replica
ENGINE: 2005 CBR1000RR, inc. fuel injection & ECU
EXHAUST: Full Akrapovic titanium system
POWER: 161 bhp (measured)
FRAME: 1995 CBR900RR alloy frame, custom-fabricated subframe
FRONT SUSPENSION: 2005 CBR1000RR
REAR SUSPENSION: Ohlins
FRONT BRAKES: Brembo M4 radial monobloc, 330mm Arashi front discs, Brembo RCS adjustable ratio master cylinder, braided lines
REAR BRAKE: Aprilia RSV caliper
WHEELS: OZ alloy 6-spoke
SWINGARM: 2006 Aprilia RSV
BODYWORK: URT Composites carbon fibre tank, RS125 tail unit, 2014 Honda MotoGP fairing and mudguard
OTHER: Power Commander, K&N air filter, Accossato quick-action throttle, HM GPS dash, Oberon clutch slave cylinder, Oberon fuel filler cap, Oberon fork adjusters, Brembo clutch master cylinder, Moto-Gadget keyless ignition, Translogic Intellishift quickshifter, lithium battery
---
More eye candy for your viewing pleasure!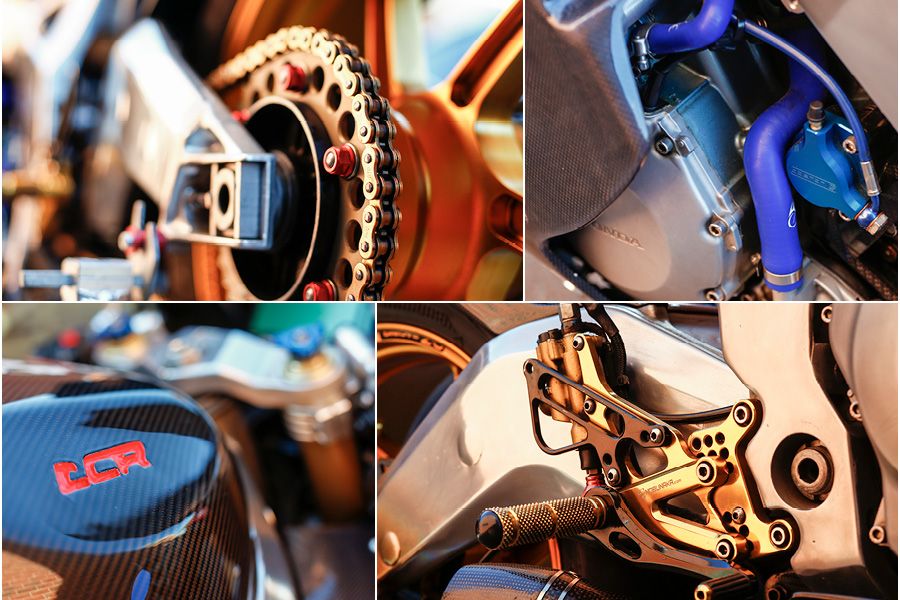 ---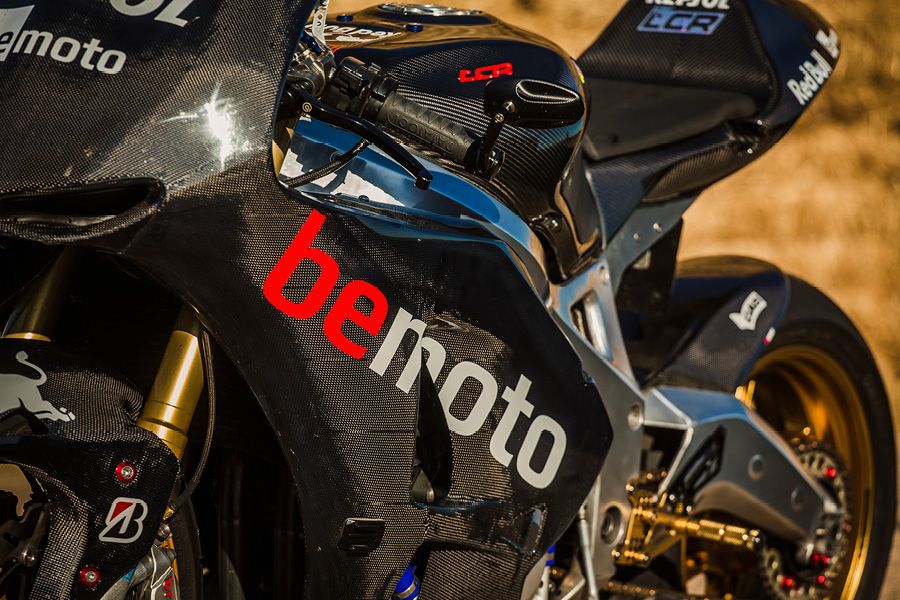 ---
Words: Kar Lee

Photography: Jason Critchell
---