---
Lamb Chop Rides - The History of 'Beasty'
By John Bennett
The year is 2009, I've had a 15 year break from motorcycling due being skint from raising a family...
The stars had finally aligned and I was ready to purchase my next bike. Up until that point my biking history had seen me on nothing more powerful than a 1989 Kawasaki ZXR750 H1, so what is the next natural step you ask after an extended biking break? Well of course a 1998 Honda CBR900RR Fireblade RRW!!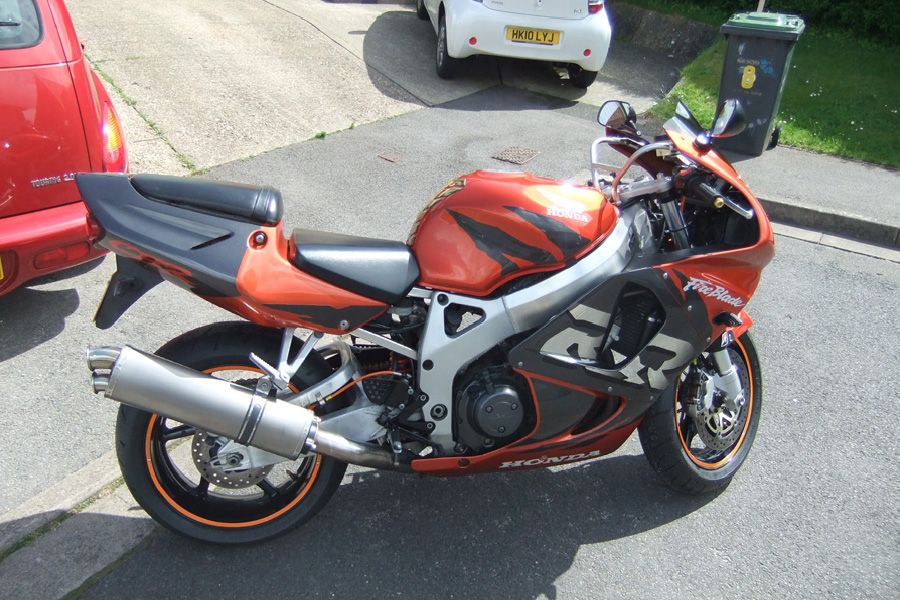 ---
The bike was completely original!
Even down to the huge Honda indictors and tail tidy. It was the burnt bronze colour scheme; she only had a measly 12k on the clock & was a minter!!
That summer was fantastic; I rode the pants off that bike reacquainting myself with all things motorcycling. I was a little rusty if I'm honest; this thing was a serious piece of kit compared to my 1980's ZXR! 120 BHP and a chassis which was almost telepathic compared to the old Kwak. However, it didn't take long to reacquaint myself and the summer was over before I knew it. Being a southern pansy the bike was then parked up for the long winter ahead.
It was during this winter that I decided after joining several Honda forums (remember those) that I would set about updating the Fireblade to give it a more modern look. Now these days I would leave it well alone and probably only restore it to its original glory but back then the 1998 Blade was ten a penny & showing its age compared to the latest crop of pocked rockets. I decided there was only one thing for it, time to get the tools out!
That winter was a big learning curve, I had spent many many hours searching the Internet for modified Fireblades. There were some tried and tested mods which had been done by others so I played it safe and adopted those mods. I'm no mechanic but lots of trial and error later I had created something..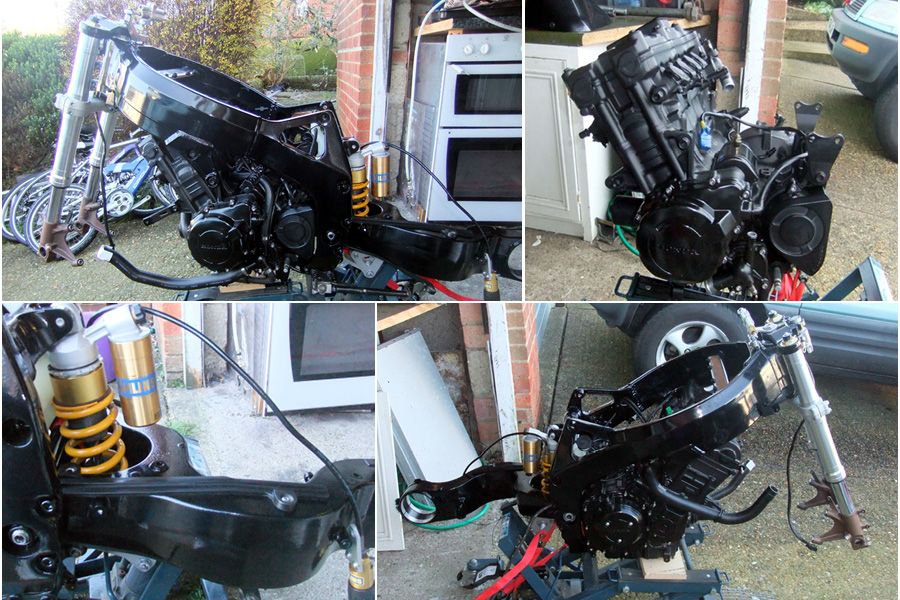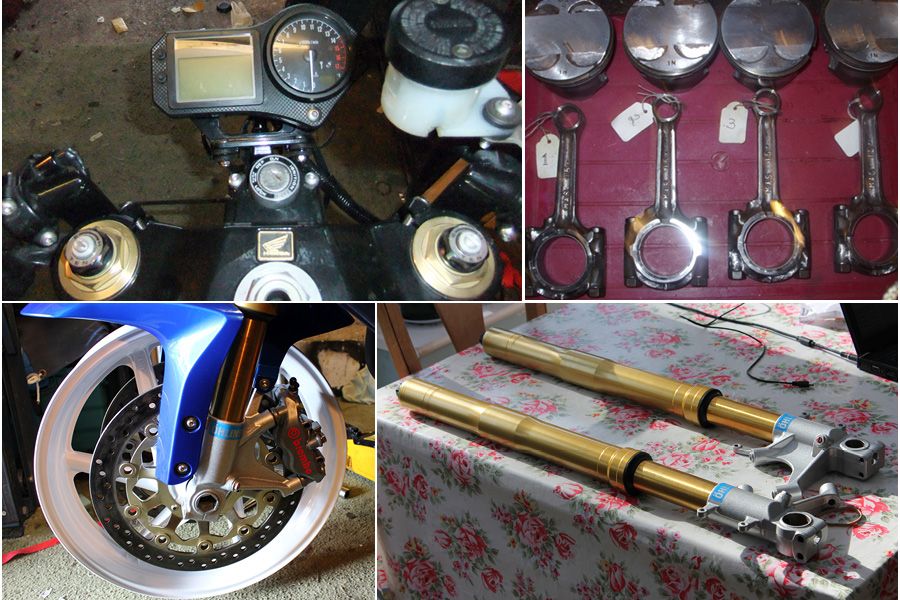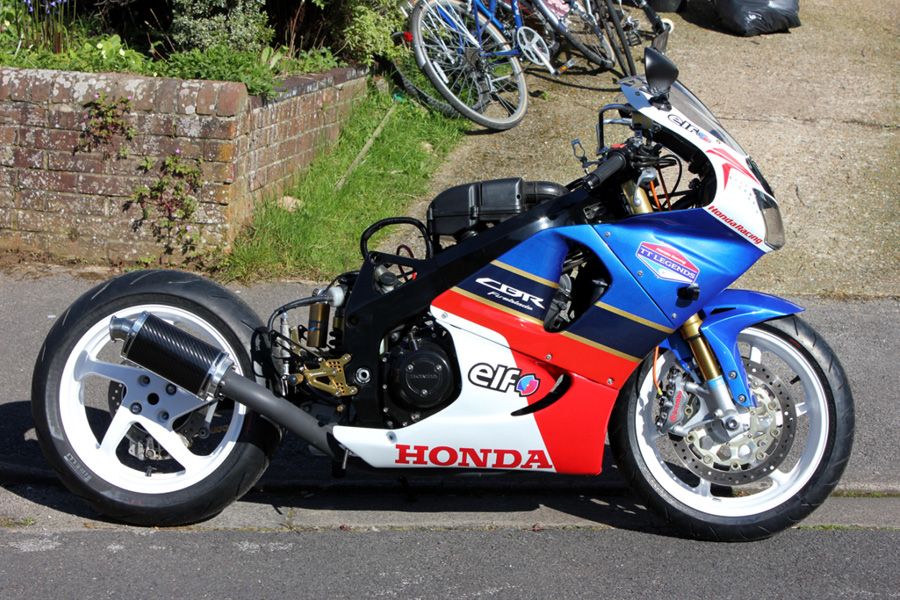 ---
Hondazuki Hybrid?

The bike now sported a VFR800 single sided swingarm, a Suzuki GSXR1000 K4 rear end & new fairings finished in the latest (at the time) TT Legends paint scheme. There were some other mods, fully blueprinted engine done by the legend which was Micky; CBR1000RR upside down forks finished in Ohlins colours and RSV Ohlins shock & CBR600 RR dash (plus many other parts I cannot remember now).
The bike was lovely & turned heads wherever it was parked, it was even featured in Practical Sports Bike magazine!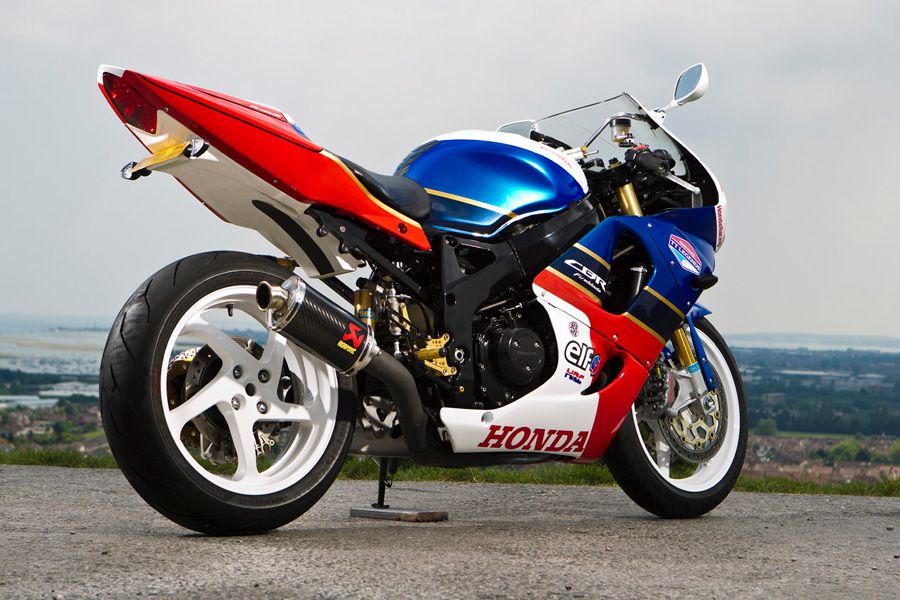 ---
Babe magnet!

I rode it around for the summer enjoying the performance and admiring glances from the ladies (I may have imagined the last part) But all to soon the Winter was on the horizon and the bike was once more parked up. I had really enjoyed working on the bike the previous Winter and I had some ideas for mods to take things further this time.. That thing called YouTube was really starting to take off & people like Baron Von Grumble had starting making YouTube motorcycle content so I thought to myself, why don't I record my next mods I do to the bike and release them on YouTube??
My first tiptoe in the water was actually a couple of walk arounds. You know, just with the engine running, that kind of thing. Where the build was really first documented was with a quick video to assist with float bowl dismantling on a 98 Fireblade. Who would have known eh? You can watch the series from the beginning here...
---
Anyway, back to the story!
My plans this time became quite ambitious.. My brother in-law Greg has recently purchased a brand new Fireblade and my tuned 900 was starting to feel rather slow in comparison.. So plans were hatched to fit the 2005 CBR1000RR engine into my 900 chassis. The reason for the 2005 engine was because they were reasonably priced compared to the much newer 2008 engine at the time.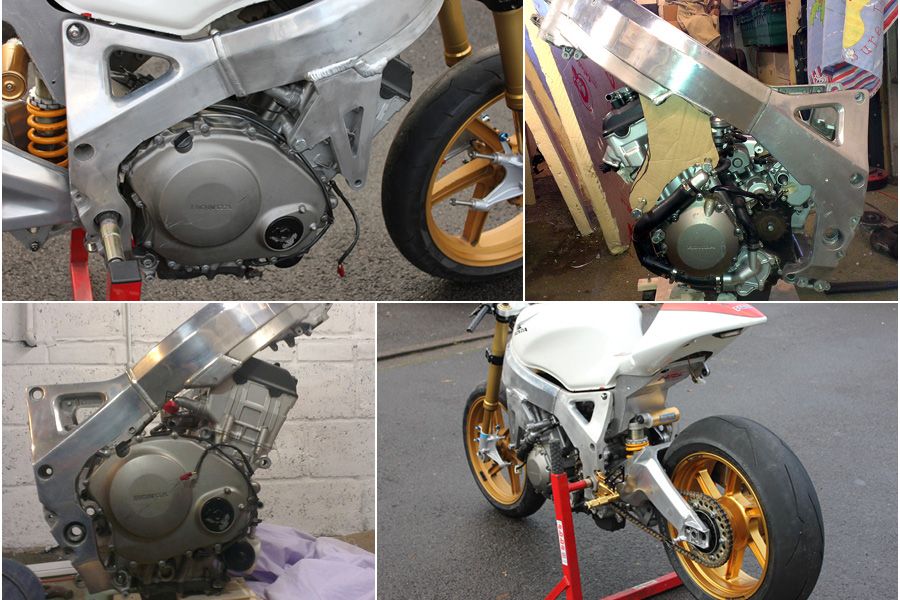 ---
More luck than judgement
The build progressed well - indeed how it went so well is really beyond me and it was certainly more luck than judgement that's for sure! I enlisted the help of local company Artech Engineering to produce the engine mounts (from my templates) to mate the new engine to the frame and of course do the all-important welding part. I stripped everything and painted and coated every last piece of the bike & once complete the bike looked fantastic! I also added the tail off a Honda RS125 race bike to complete the look.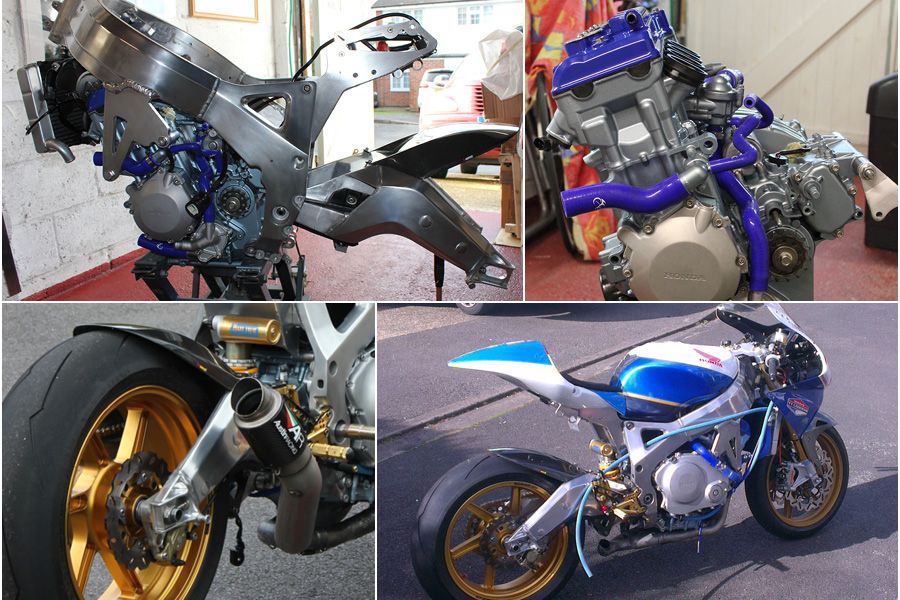 ---
Opportunity knocks
The bike remained like this for a couple of years, but then I was offered something rather special.. Genuine carbon fibre HRC RCV1000 fairings from what were at the time the CRT MotoGP bikes Honda sold to race teams! This was too good an opportunity to turn down and yet again the following winter the bike was back under the knife for fairing fettling.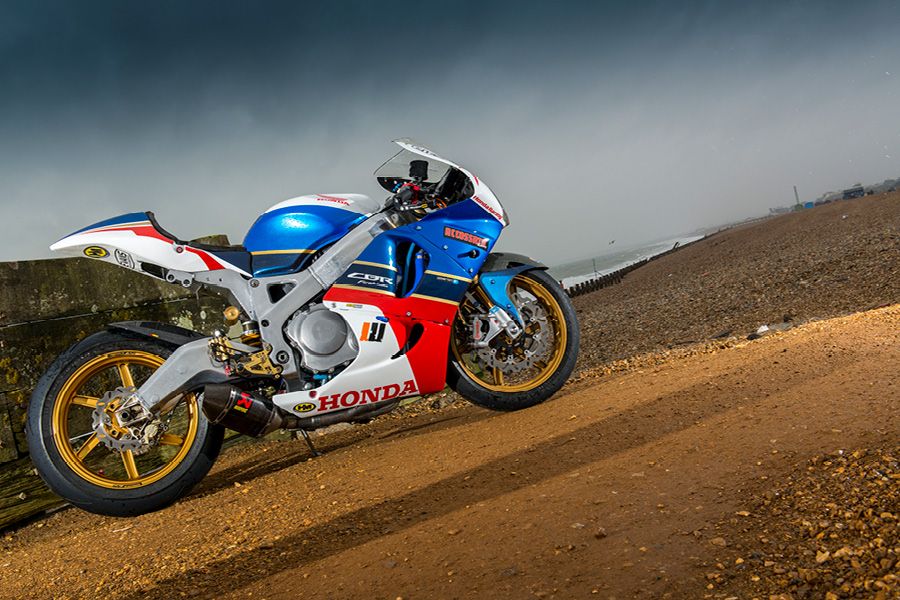 ---
F1 Influence
I was extremely fortunate at this stage as two good friends at the time worked for a composite company who produced carbon parts for F1 teams. I had the carbon RCV fairing of course but no carbon RS125 tail or more importantly carbon tank! If I wanted to fit the fairing I needed to go full carbon throughout.
I'm extremely lucky and incredibly grateful to Steve who made the moulds for the tank and tail unit, he produced a beautiful one-off carbon fibre tank cover and tail unit for the bike which alone are a work of art. He even embossed my LCR logo into the tank! These parts are what truly make the machine what it is today and without his help I would never have gone the RCV route so massive thanks to Steve!!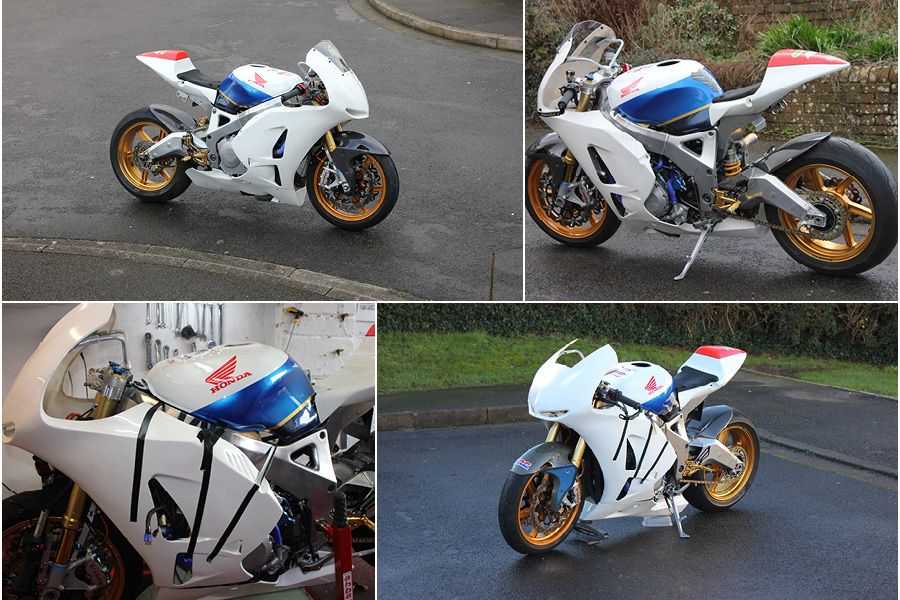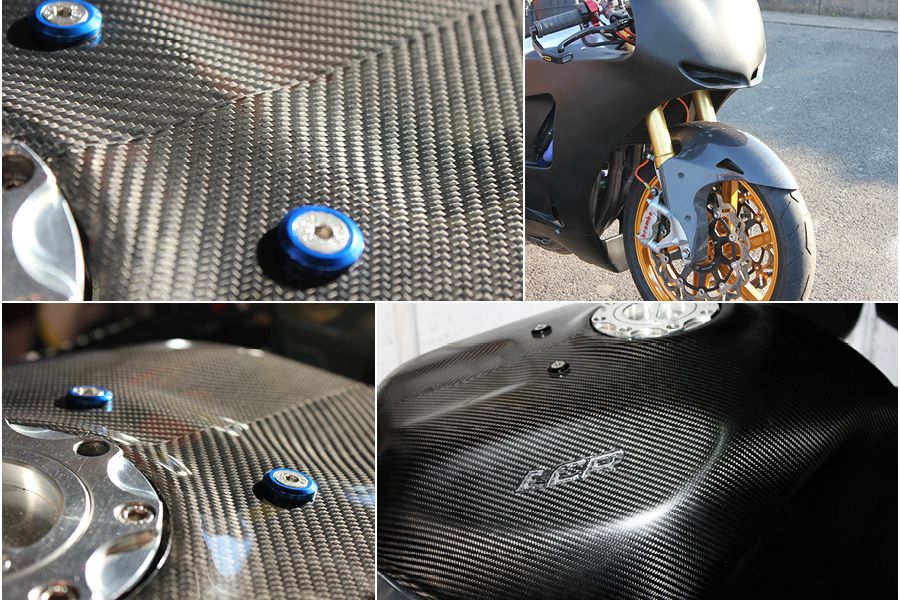 ---
Variety is the spice of life
It was time to say goodbye to my one-off RCV inspired 1000cc Fireblade custom... As with all good things in life, you fancy a change. I moved on shortly afterwords to a Husquvarna 701 Supermoto which is a great bit of kit. What happened to Beasty I hear you cry?! It's now owned by the lovely people at BeMoto.
People always ask if I miss the bike, the answer is yes I do but I found it just too uncomfortable to ride in the end and as always with these projects I had taken it as far as possible & it was time to move onto something new.

It's quite nice to see how my old beloved Beasty makes other people smile, whether it's sat at shows, in the carpark at a biker hangout, or like when Beasty was the feature of a recent article by Kar Lee taking her for a spin at Rockingham. It's a great read if you want to know the current full spec and and how she handles at Rockingham Circuit read our Lamb Chop Rides Fireblade RCV Special blog.
---
The end for me, but the beginning for BeMoto

As a BeMoto Multi-Bike Insurance customer it seemed ideal when they asked me to sell Beasty to them. When the guys at BeMoto got their hands on it, there were already plans afoot to brand her. So now she's had more facelifts than a prime time soap star from the 70's! She was emblazoned almost immediately with their iconic brand candy and that kind of sealed the deal of her settling into her into her new home. As much as she's etched in my heart as it was the project that really started my Youtube channel, she's on the road a lot for shows too now, living her own life. But it is fair to point out she too is etched...with LCR across the tanks still!! He he he...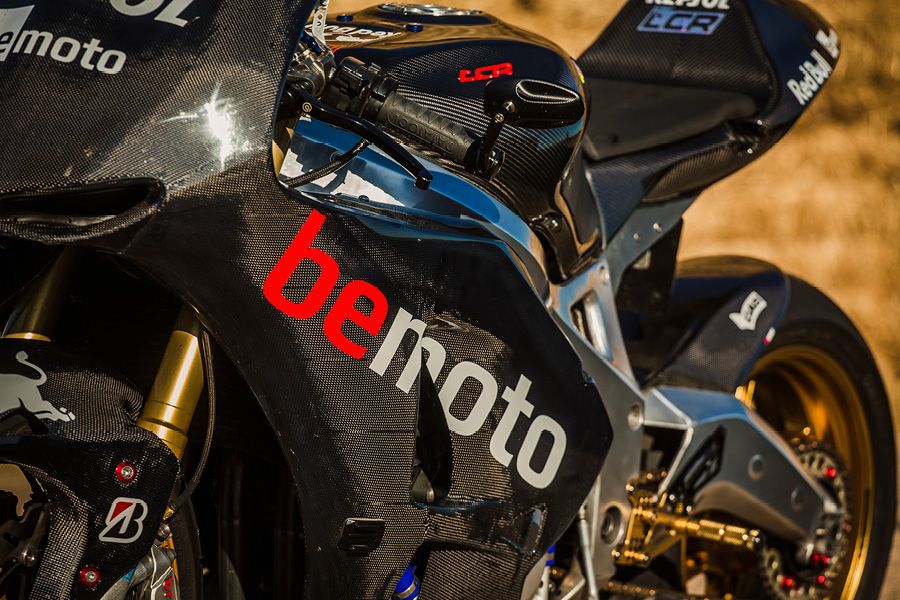 ---


---