---
Modern Classics: Honda VTR1000 Firestorm (1997-2005)
By Alan Dowds
I remember when I first rode one of these – it was back in 1997, it had a set of cheap, loud cans on it, and it went like hell. I'd snaffled it for a feature at Bruntingthorpe, and was really looking forward to a blat. A hundred and seventy appeared on the clocks in no time, totally belying the rather unassuming appearance of the little Honda. Incredible stuff!
Of course, this was back in the days when a litre twin superbike was something rather special. Ducati's 916 had been duffing everyone up in WSB for most of the 1990s, and the Japanese thought they should maybe get involved. Honda and Suzuki stuck a toe in the water first, with their Firestorm and TL1000S roadbikes, as a precursor to the SP1 and TL1000R WSB contenders. The TL was an unalloyed nutter's bike, thanks to a short wheelbase, super-grunty motor and concomitant flappy head everywhere.
But of course, as a Honda, the Firestorm was much less agitated. The VTR was a softer proposition, albeit one still laden with high-performance goodies, a 110bhp motor, and plenty of innovation. The half-fairing worked well at keeping the wind off, while the side-mount radiators helped Honda make the VTR short and compact. Suspension was a notch down from full Supersports spec, with rebound and preload adjustment on the (rather soft) right-way-up front forks and a similar spec monoshock rear, but it all performed well enough on the roads. The brakes were straight off the FireBlade and worked brilliantly.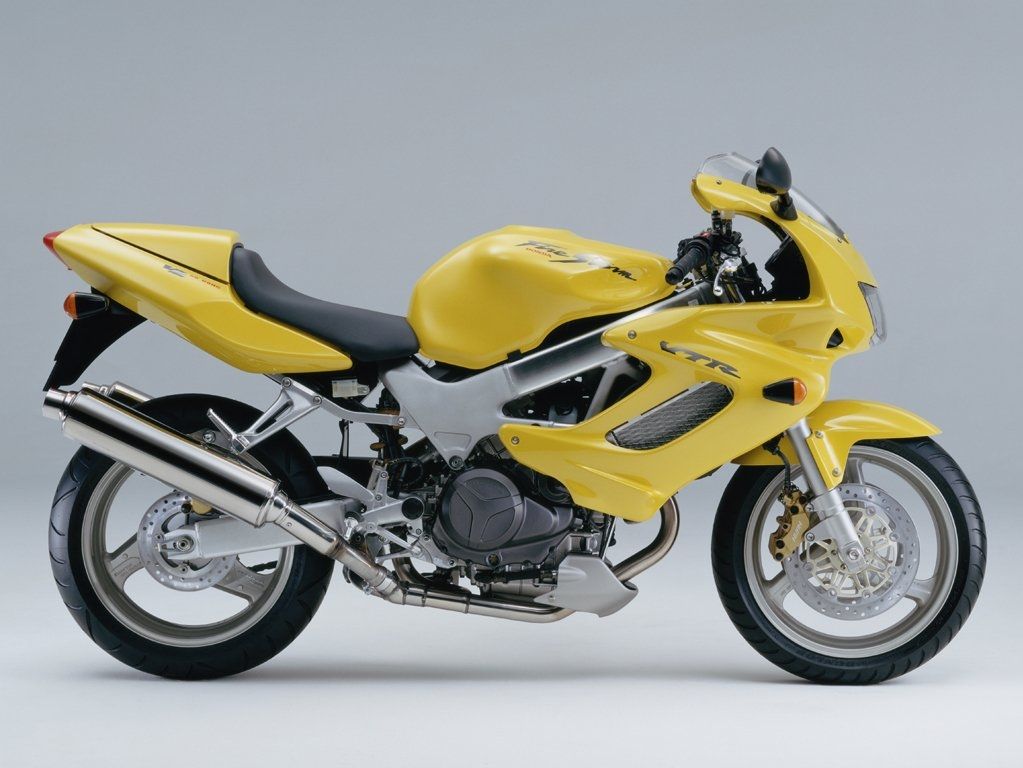 Honda stuck with carburettors rather than fuel injection for the VTR1000F. On one hand this is good – the 48mm Keihins give great fuelling and progressive delivery. On the other hand, fuel injection is easier to tune, and might have given better fuel consumption. This is the Firestorm's real weak point actually: poor MPG is one thing, a small (16-litres-ish) fuel tank is another. Having them both on the same bike is a proper drag. Go nuts on an early Firestorm, and you'll be looking for fuel in 80 miles. Later bikes got 19 litre tanks, which helps a bit, but if you're doing any tours of the Scottish Highlands, plan your fuel stops well.
The VTR1000F stayed in Honda's range until 2006, plotting a unassuming course through the early noughties. It never set the world on fire, but makes an excellent all-round sportsbike, that's great fun to ride on the road. It's also a good base for upgrades and customising: people have fitted uprated front forks and brakes, and rear suspension, as well as exhausts and engine tuning.
A future classic? We think it could well be.
---
Honda VTR1000 F Firestorm spec
Engine: l/c 90* 8v V-twin, 996cc
Power: 110bhp
Weight: 193kg
---
Biog: Alan Dowds (Dowdsy)
---