---
Motorcycle Engine Types: Part Two
By Alan Dowds
Engines: Part Two
In Engine Types - Part One of our look at engine layouts, we checked out single, twin and triple cylinder machines in all their various forms. That leaves us the big, serious world of multi-cylinder lumps, from four up to eight.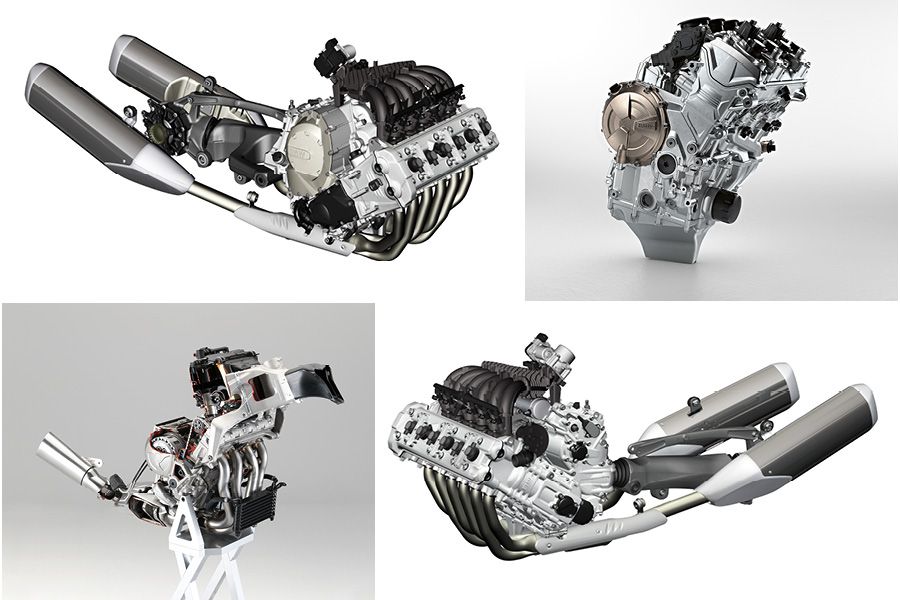 Using more than three cylinders is essential if you want to make really big power. Having more cylinders generally gives more room for big valves and extra intake area and reduces the mass of each individual component in the valve train and piston assembly, which permits greater revs. So where a 600cc single has one enormous heavy piston, four big valves and a hefty con-rod, the four-cylinder version has four much smaller pistons, 16 teeny valves and four petite con rods.
The single has a massive long stroke to travel up and down each time the crank turns, where the four has its capacity spread over four smaller cylinders, so the pistons travel a much shorter distance, reducing their peak speed at a given rpm. The result is a four-cylinder 600 like the Yamaha R6 that can easily rev over 15,000rpm, making 120bhp, where even a high-tech single like the KTM Duke 690 can only rev to around 8,500rpm and make 75bhp (remember that power depends on torque times revs, so more revs will give more power, if you can keep the torque output up).
So – more pistons is better if you're looking for power. It also adds smoothness and balance too – a load of small bangs spread out over a couple of crank turns is more even than one big enormous bang. So why are we not all riding around on V-12 1000cc bikes? Well, there are diminishing returns as you add more cylinders, especially in terms of complexity and expense. The 'sweet spot' for bikes seems to be four-cylinders, and that's why they are the most common engine type in 400cc+ bikes.
---
Inline Four
First seen (in mass-produced form) in the 1969 Honda CB750, a four-cylinder, in-line engine, arranged across the frame, is probably the best compromise for a bike, in terms of power output, cost and packaging. It's not too wide, has good balance and smoothness, can be produced economically, and with 16-valve DOHC heads plus an over-square bore/stroke ratio, can make up to 220bhp/litre in normally aspirated form.
A flat-plane crank design is smooth and makes strong top-end power, while the cross-plane variant pioneered by Yamaha in its R1 gives a 'big-bang' engine that improves traction and can have better midrange. Finally, it only needs one cylinder head and barrel assembly, which is cheaper to machine than the two used on a V-four.
PROS: cheap, easy to make,
CONS: wider than a twin, triple or a V-four
GREAT EXAMPLES! Suzuki GSX1300R Hayabusa, BMW S1000, Honda CB750
SHITTERS! Yamaha XJ600 Diversion, Kawasaki ZR-7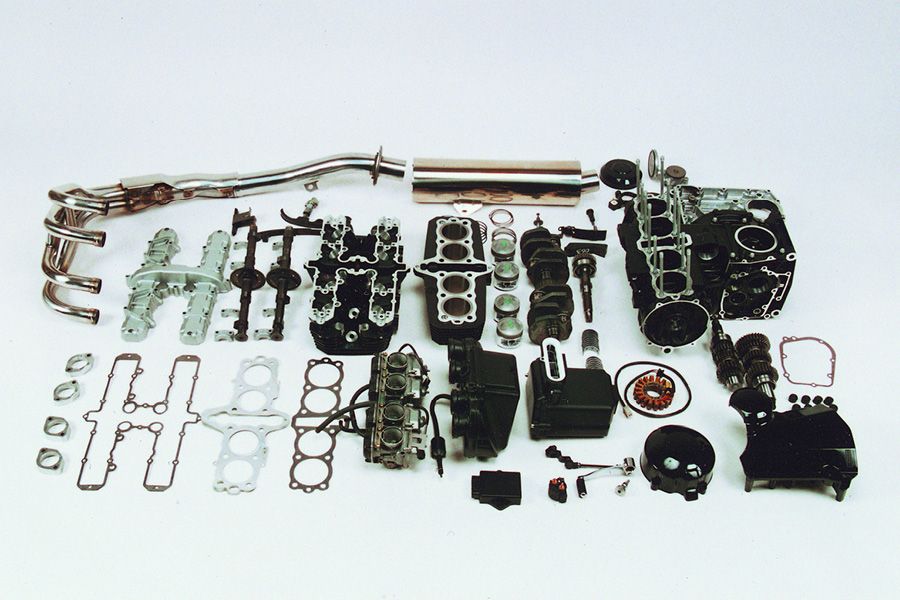 ---
V-Four
V-four engines use two banks of twin-cylinder barrels, on a common crankshaft, and can either use a 90° layout for perfect balance or a narrower angle with balance shafts. Narrower angle V-fours are more compact, so can help the chassis designer produce a better overall package.
The V-four can be as narrow as a parallel twin, and with careful design, not much longer front-back than an inline-four. It's good for centralising mass too, putting all the heavy parts of the motor into a smaller space at the middle of the bike.
Most performance machines have the crankshaft arranged across the frame and the cylinders fore-and-aft. But a couple of touring bikes - Honda's Pan European and the American Motus - have turned the motor through 90 degrees, and had the cylinders poking out either side, with the crank positioned fore-and-aft. That makes shaft drive easier to build, since the final drive and crank are running parallel to each other.
V-fours are pricier to build – you need to machine two cylinder heads and barrels, which adds time and effort to production lines. And the design of the inlet and exhaust manifolds is trickier.
PROS: Better, more compact packaging.
CONS: Expensive, cramped intake system.
GREAT EXAMPLES! Ducati Panigale V4, Aprilia RSV4 1100, Honda VFR800
SHITTERS! Honda VF500, Honda VFR1200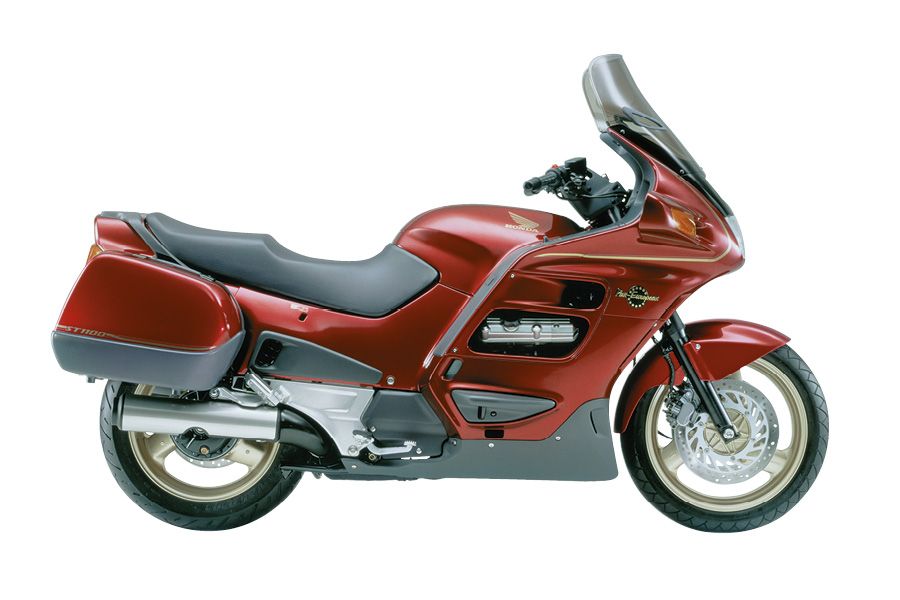 ---
Flat-Four
Stretch a V-four out to 180 degrees, and you have a flat-four engine. It's wide and bulky, but keeps the weight down-low, and has only featured in one bike – the early Honda GL1000, 1100 and 1200 Gold Wings from 1974 to 1986.
---
V-5
Five cylinder engines are rare beasties, though Audi and Volvo have both used them extensively in performance car designs. There are no inline-five bike engines, but there have been a couple of V-5 race bikes – the Honda RC211V and Kenny Roberts KR5 MotoGP bikes. These came about because there were weight and power advantages which favoured a five-cylinder motor in the original four-stroke MotoGP technical regulations.
PROS: More power and revs potential than a four-cylinder in a fairly compact package.
CONS: Expensive to make.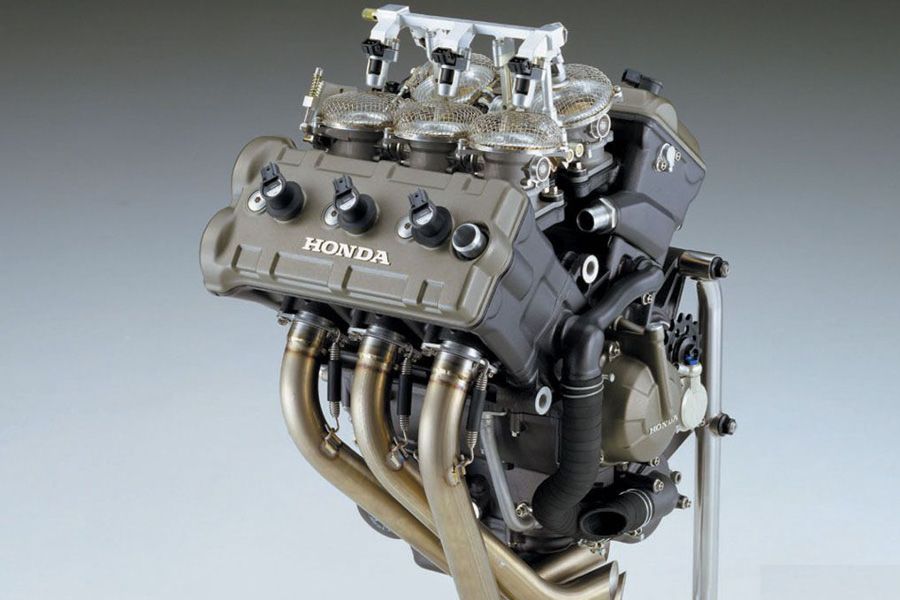 ---
Straight Six
In the car world, a six cylinder engine is where most high-performance and luxury machines start off. Sixes are much smoother than fours, with perfect primary and secondary balance, and they're more suited to larger capacities (above around two litres). V-6 engines are slightly less well balanced, but much more compact.
In the road bike world, we've had a few straight-sixes over the years, starting with the Honda CBX1000 and Kawasaki Z1300 of the late 1970s, and the much rarer Benelli Sei 750 and 900 machines. The six-cylinder layout then disappeared for around 20 years before BMW launched a modern version – the enormous K1600 LT tourer. The problem with an inline six is obvious – it's wider than an equivalent four, which causes problems with ground clearance while cornering. Designers put a lot of effort into this though, and the K1600 engine is only 67mm wider than the K1300 four. Nevertheless, a six is heavy, expensive and complicated, so it's only really worth the effort if you need the smoothness. Otherwise, the compromises of mass and width make it less appealing than a four cylinder design.
In racing, the technical regs in Grands Prix meant six-cylinder engines were worth the effort, and Honda famously produced a range of 250 and 350 machines in the 1960s. Later rules limited bikes to no more than four cylinders though, putting an end to these high-cost shenanigans.
PROS: Smooth power, perfect balance, exotic appeal.
CONS: Wide, heavy, expensive to make.
GREAT EXAMPLES! BMW K1600, Honda CBX1000
SHITTERS! Benelli Sei
---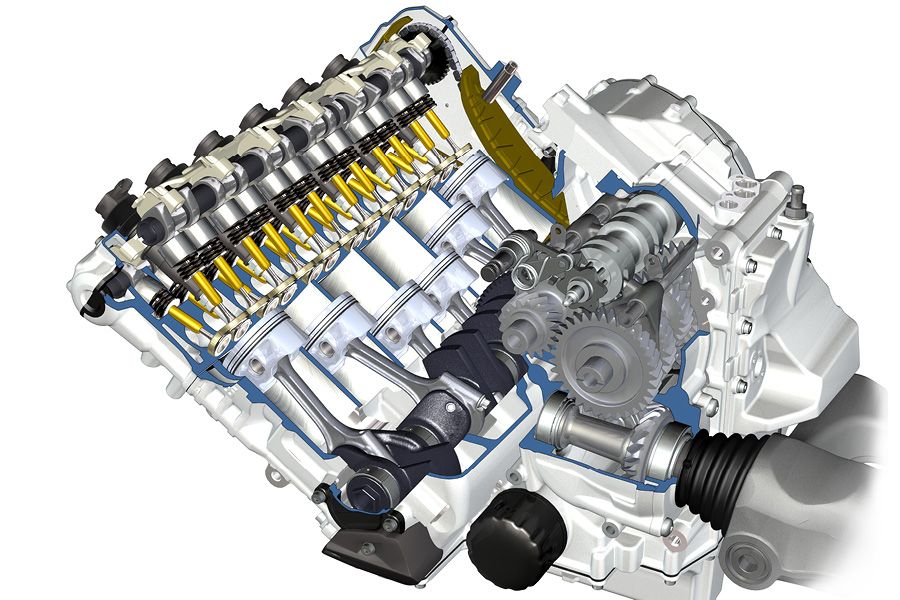 ---
Flat Six
Honda used a flat-six layout in its Gold Wing tourer engine from the 1987 GL1500 through to today's GL1800, and also in the Valkyrie and Rune customs. The flat-six has superb balance and smoothness, and also keeps the overall weight low down in the bike, essential in a heavyweight tourer.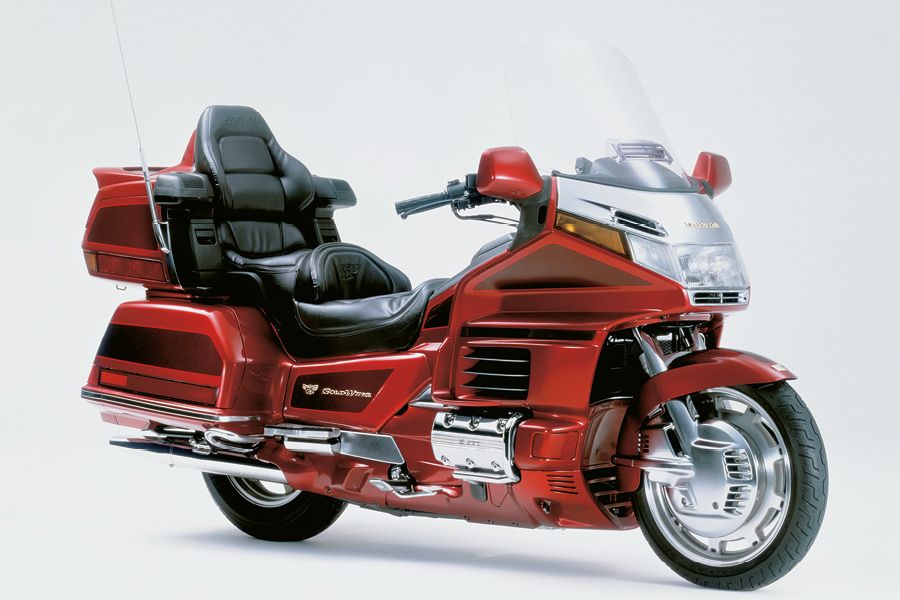 ---
V-8
The V-8 engine is a legendary powerplant in the car world, but is generally seen as too big and heavy for bikes. It's got good balance, and is ideal for high-capacity engines over around four litres.
In the two-wheeled world, we've only really had the 500cc Moto Guzzi V-8 race bike as a proper bike-specific V-8 design (though the Italian Morbidelli firm produced an 850cc prototype in 1994 which didn't reach production). The American Boss Hoss firm has produced bikes with Chevrolet V-8 motors since 1990.
---
Conclusion, for now...
We've looked at the "typical" two-stroke, four-stroke and internal combustion engines. No doubt soon we will be visiting the types of electric motors powering the modern day beast. We may even compare what kind or whir, whine or whizz noise we prefer on electric motors, as opposed to the traditional rumble and grunt of a combustion engine exhaust...
Then again...PROBABLY NOT!!
---