---
Motorcycle Security: Guardsman Garage Security Barrier
By BeMoto
We wanted a secure garage that also looks cool...
We are currently beefing up the security on our staff garage as part of a "Dream Garage" feature (tarting it up and making it more secure at the same time).
We stumbled across the Guardsman by accident when watching a YouTube video from our good friend and Sponsored Ambassador Lamb Chop Rides who had one of these fitted. We thought we would check it out for ourselves as we were struggling to find non-ugly bits of kit that are different and don't make your garage look shite. The Guardsman looked like a unique solution that is not only super simple to use BUT is also pretty cool looking.
As always this is a piece of kit that WE wanted and so we bought one as a genuine customer, see what you think.
---
Those pesky bike thieves did not furlough, so neither can we!
With the worrying number of motorbike thefts occurring across the UK, motorcycle theft devices are as important as ever. Even during the Covid-19 lockdown those pesky bike thieves didn't stop ruining things further for us bike enthusiasts... Image4Security have designed, tested and manufactured the Guardsman Garage Security Barrier. It's a new and inventive security product which aims to reduce the theft of Motorbikes from owners' garages by forming a physical barrier across their garage doorway. The Guardsman has been designed by a biker for bikers, to allow us to sleep better at night knowing there's a Guardsman protecting our precious bike(s).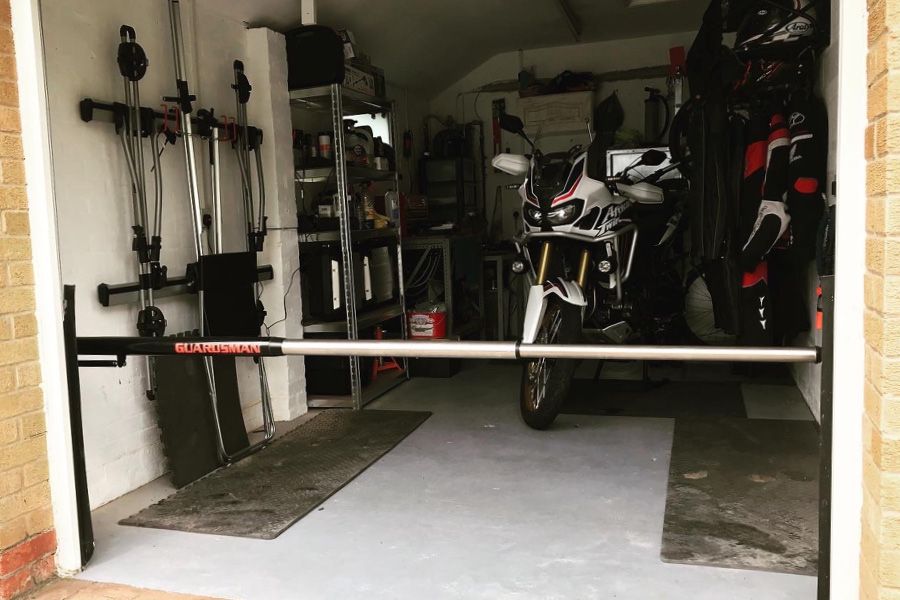 ---
Motorcycle Security without the hassle and inconvenience
The Guardsman has two posts, an arm post and locking post which sit smartly behind the garage pier, unobtrusive to the garage opening. When in the unlocked, upright position, the barrier arm sits tall, out of the garage opening, allowing the user to easily access their garage. The ergonomic design with assisted strut operation allows the Guardsman to be locked and unlocked in seconds, all from waist height, with just a single finger. There's nothing worse than juggling gear, keys and maybe luggage whilst trying to lock the bike away, we've all been there!
The Guardsman becomes even more impressive when you realise the overall weight of the barrier comes in at a little over 20kgs.
It's flexible and can be upgraded to include chain anchor points which allow an additional layer of security, attaching a chain to secure the wheel to one of the posts. This anchor point can be rotated out of the way when not in use and results in fewer trip hazards so you can fully use your garage floor space.
It's a particular treat when you have a larger than average beer gut or when dressed in full leathers that are too tight to bend over comfortably, not having to fumble on the floor trying to attach a chain around your wheel as these are off the ground slightly. It's also a bonus if you need to leave the bike unattended for a short period without using the anchor points - as the barrier is so quick and easy to use whilst you pop inside to grab that thing you forgot - 100% better than deciding not to lock up your bike at all after a ride because of the song and dance of it or because you think it'll be fine for those 10 minutes you're inside (plenty of time for some low life to take your pride and joy). Who wants to mess around like that after a long ride anyway?
The height of the barrier is designed to make it tricky to drag your average full size motorbike underneath it and certainly not an easy feat to lift a bike over it either. Clearly a smaller, more slender and lighter bike, like a small cc dirt bike, is less of a challenge to get round it - but there are those anchors don't forget.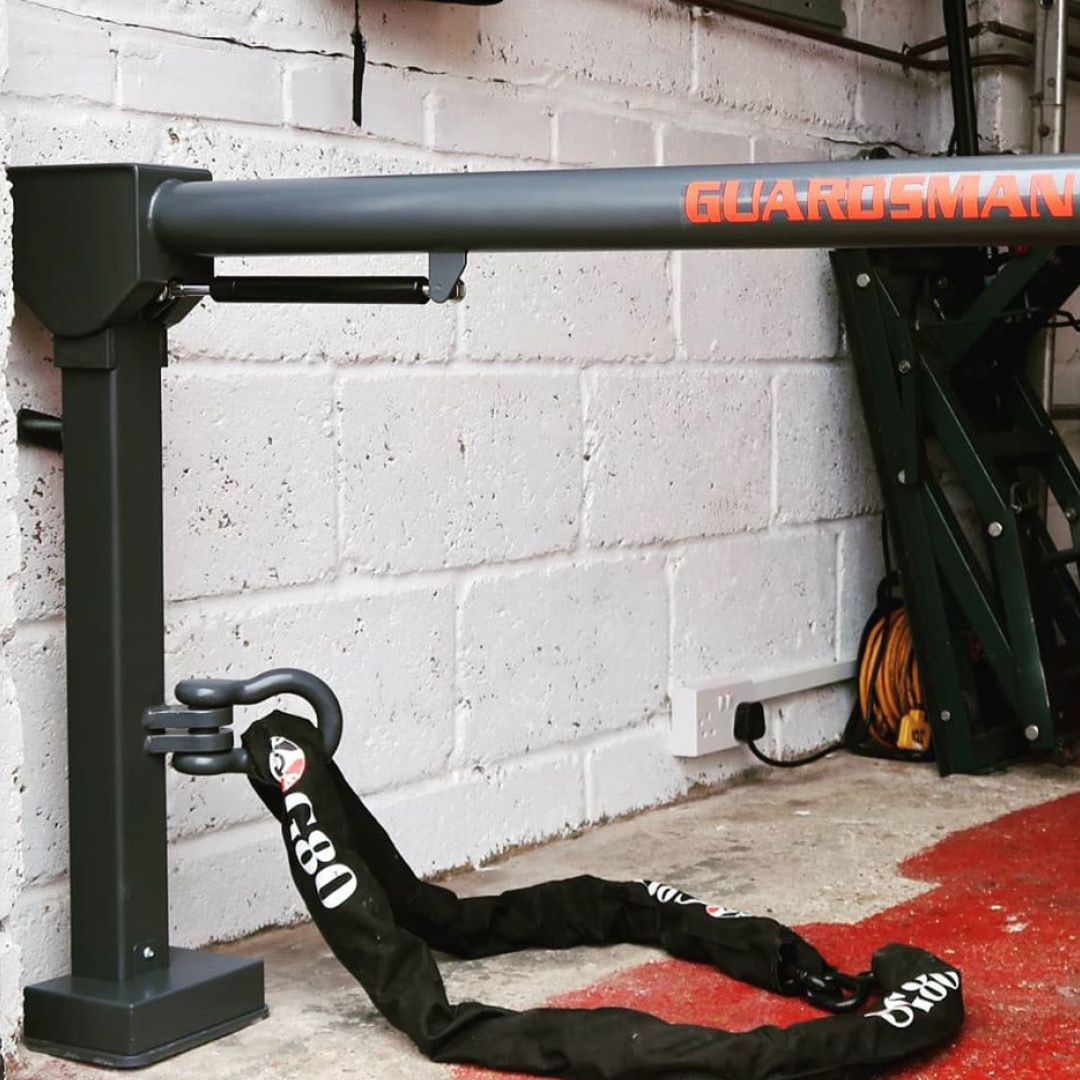 ---
Does it satisfy the Bike Insurers?
Well insurance certification comes in various shapes and sizes. As a motorcycle insurance broker BeMoto is uniquely positioned to influence your insurance underwriting and pricing based on your choice of security devices, but to get the best deals, insurers usually require Thatcham Category 3 or Sold Secure 'Gold' ratings.
The Guardsman has been independently tested by Sold Secure as 'Bronze' rated, although the paperwork is not yet finalised. This doesn't mean it's not an awesome product, but on it's own, as with any security device, it is only part of the solution; however when used with a collection of devices, e.g. in tandem with an insurance approved immobiliser, alarm or DataTag, or maybe an alarmed Disc Lock or an approved tracking device like a Bike Trac, it then builds up a powerful picture of a doubly secure garage and an owner that tales care of their bike(s). We also recommend a wifi CCTV camera so you can watch your baby sleep whilst you're meant to be working...
We're often asked, "How much will it save me on my insurance premium?" and we always make it clear that you shouldn't buy security devices for the discounts, you're buying piece of mind and stopping someone getting an easy ride with your hard earned and beloved bike - A few % off a £200 premium isn't going to change your life, but a bike theft will (try insuring that dream Superbike cheaply, if at all, after a recent bike theft)!!!
If you can't find it on the drop down list of devices just call BeMoto on 01733 907000 and reference this article for some discount.
---
Installation & customisation:

The Guardsman comes in a choice of colours, Midnight Black or Graphite Grey and you can also customise the colour to match your bike or garage interior. Image4 Security offer an installation service across mainland UK, taking the hassle out of having to install it yourself.
If you are DIY savvy garage tinkerer… You could install it yourself - however you may need some degree of DIY skills, an SDS drill and masonry bit, plus some patience are vital. Remember never do DIY on an empty stomache on a hot day as that's when you get 'hangry'.
In addition to the colour options and choice of anchors or not, our staff garage has a pretty wide set of doors, so the manufacturer was able to extend the barrier to make it wide enough for no extra cost - as long as we had appropriate head-height for the arm when it's drawn back and upright (which we do); but for your average up-and-over garage door this won't be necessary.
---
Summary:
We think the Guardsman is a brilliant bit of kit. It's manufactured from high quality materials here in the UK and the garage security barrier comes with a solid 10 year guarantee, which makes you feel better about parting with around £799 for the top level set up including anchor points and fitting (or £599 for the basic version if you fit it yourself and already have other ground anchors).
However we think it's a worthwhile investment, in addition to some other manufacturer or aftermarket security devices, if you can afford it.
The question is... if you have a top end bike like a H2 or a Panigale, which these days set you back around £20k, can you afford not to?
---
See the video from Lamb Chop (and get a bit of discount!) here...
Quote 'LambChop50' at the checkout to get £50.00 off the Guardsman price. Bonus!

---