---
Bucket List Tours: USA Route 66 (ish)
By Andy Taylor

A daily blog overview of our 2-week trip to the USA touring Nevada, Arizona, Utah and Colorado
A 60th Birthday bucket list trip for long standing friend Tony, Troy a regular riding and touring partner and Stuart for an amazing first time ever touring abroad experience. Our small group of 4 was to work well. We had used Orange & Black for a previous trip, and they were the natural choice for this adventure, which was again to be self-guided. We had all our routes pre planned with fuel, food/drink stops, must see sights and roads to ride all mapped out for us. We took in many sights on the old Route 66 but were not following the road as such.
We used a selection of hotels and motels, some better than others, all were decent with large rooms for 2 though and plentiful secure parking for the bikes - usually right outside the rooms. Budget drives the final choice in the larger towns, but some of the stops out into the desert areas we used what was available - see the full schedule below.
The timing of the trip coincided with mid-summer in the region, we knew it was going to be hot and whilst others may prefer to visit when slightly cooler, we found the heat to be manageable and added to the vibe - it was typically over 30 degrees with a couple of days in the low 40s!
---
The Bikes - Pickup
It's an American trip so no other choice than Harley-Davidson machinery!
3 Road Kings and a swap out to a 1200 Sportster as the Low Rider ordered wasn't available - something to watch out for when confirming your bike rental. H-D bikes add to the atmosphere of the journey, and we know they are comfortable to ride all day, plus you fit in with the locals - never a bad thing!
Orange & Black arranged the bike rentals from USA on Wheels with collection from the huge local Las Vegas Harley Davidson dealership, Red Rock Harley. This also gave us a chance to pick up any riding items that may be needed, in my case sunglasses that I had forgotten to pack! We have used Eagle Rider previously on tours and can recommend them also.
---
Costs
Overall cost of the trip per person (excluding general spending money) - airfares, bike hire, accommodation, fuel, food/drinks etc. came out to around £8k per person. We covered nearly 2,500 miles in our fortnight.
If you wanted to trim the budget slightly then dropping the bikes off in Las Vegas and heading straight to the airport at the end of the tour would be top of my recommendations.
---
Touring Travel Insurance for Motorbikes
It's pretty common for travel insurance to exclude cover for riding motorbikes overseas, or if not exclude it entirely they often have restrictions, e.g. only bikes up to 125cc or only if you have held a full Cat A licence for more than 3 years, etc. Even then you probably need to call them and add this as a top up cover, because it's probably not covered as standard. Thankfully BeMoto's Motorcycle Touring Travel Insurance is designed for just that, touring... It includes cover for riding motorcycles on and off-road as standard. If you're feeling particularly brave, for an extra premium you can even add cover for overseas track days, racing and motocross!
One thing to ensure you do though, is buy your travel insurance early. As soon as you've booked your flights make it the next job. Why? Because it includes some cover for cancellations, e.g. if something happens that means you can't make your trip, you could be covered for some or all of your travel costs if it's for one of the reasons listed (subject to an excess).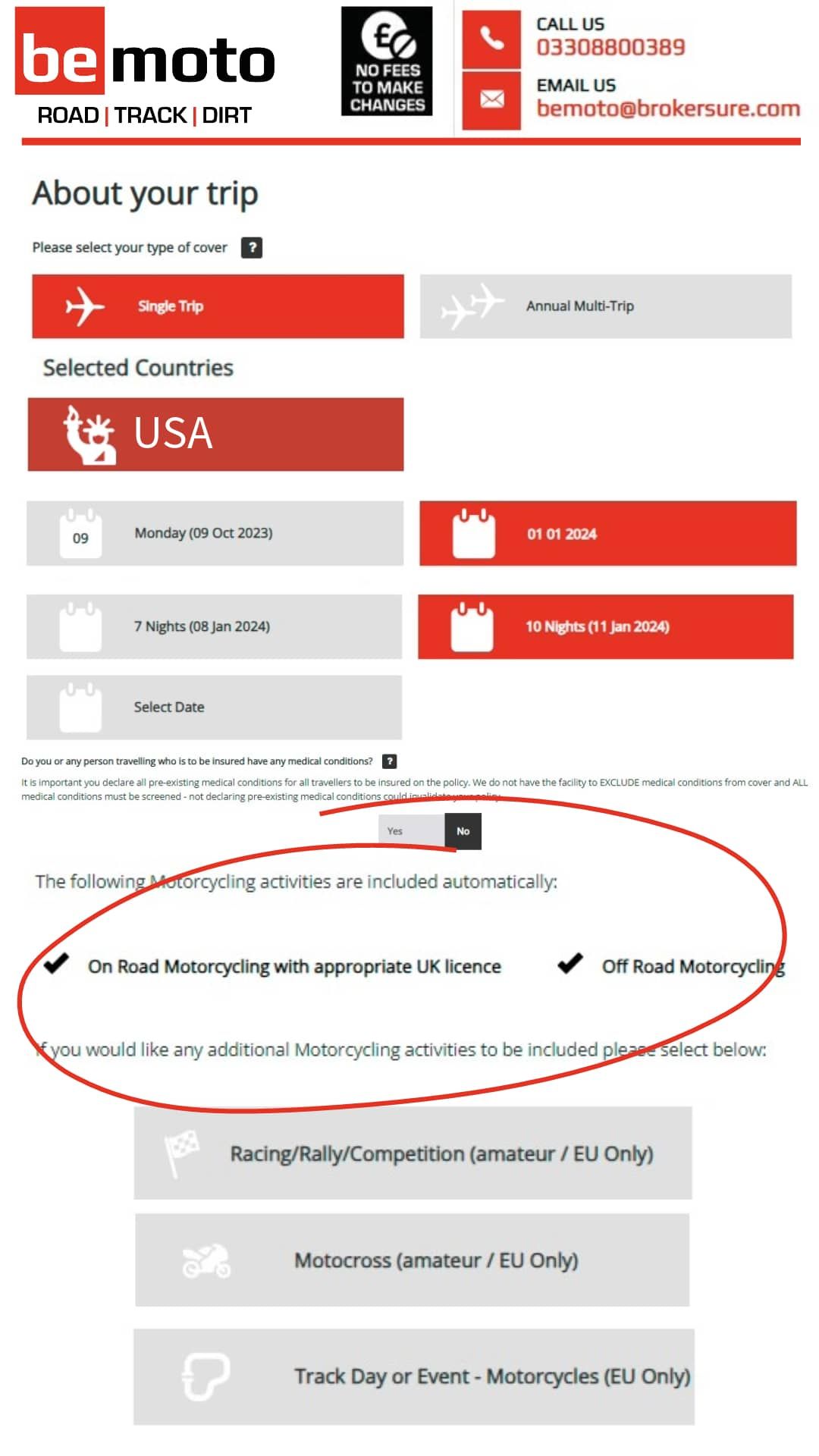 ---
Arrival
Only one night in the madhouse that is Las Vegas - picking our bikes up first thing in the morning and heading out of town.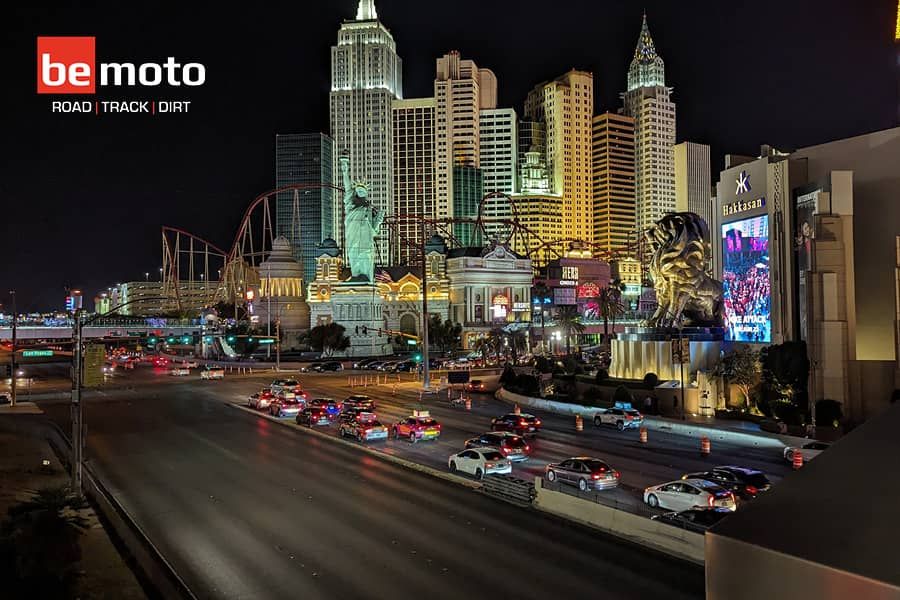 Day 1 Las Vegas to Kingman
Our first proper day of the tour, travelling out from Las Vegas to Kingman via the Hoover Dam and then picking up a very twisty section of Route 66 from Topock to the old gold mining town, Oatman, with its wild burros (donkeys) then on to Kingman - our first photos don't do the scenery justice or reflect the searing heat in the mid-30s out of the sun.
This was to be a recurring theme!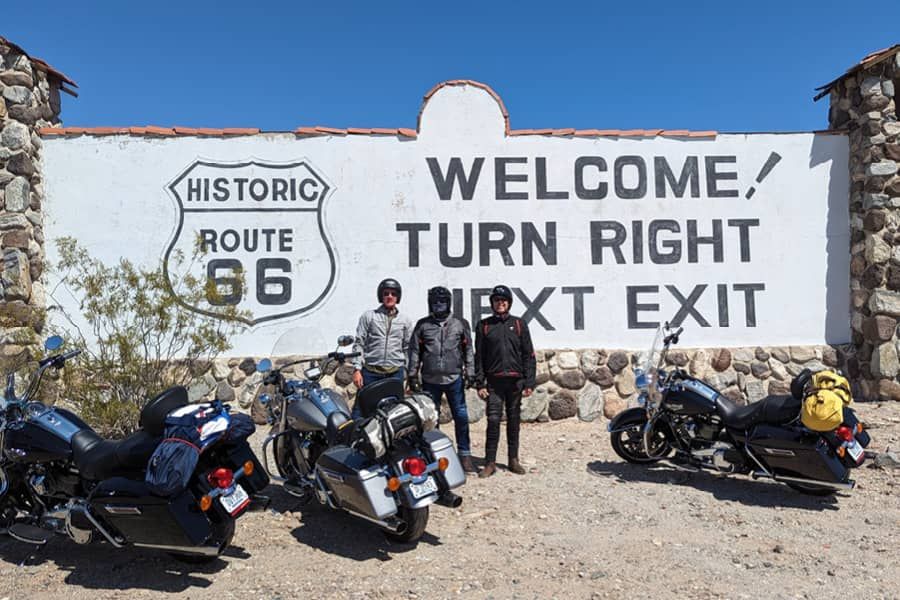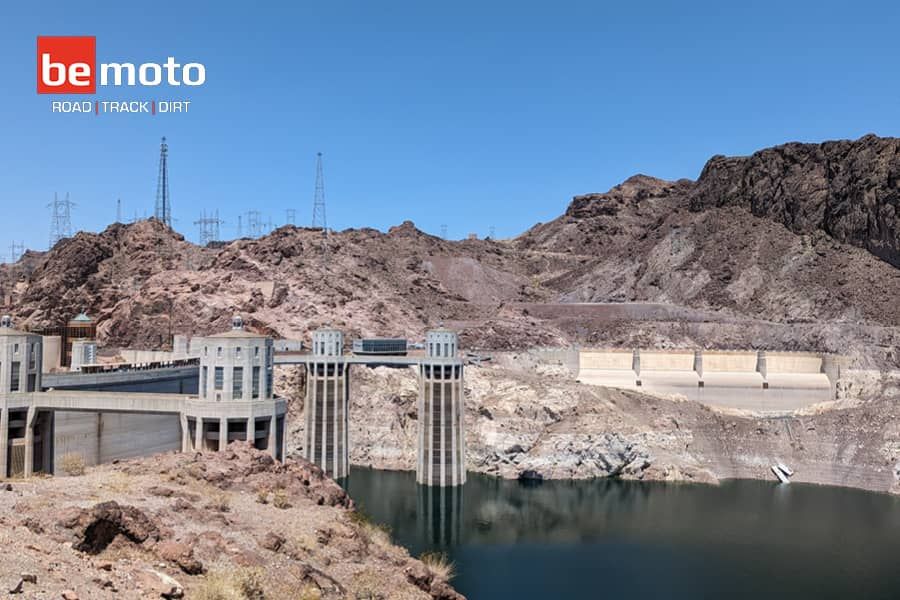 Day 2 Kingman to Sedona
Day 2 and we made an earlier start to beat some of the heat. We had learnt quickly from the previous day!
Kingman to Sedona via Prescott and Willow Creek and the very cool town of Jerome - plenty of drinks stops some live blues/rock and a good steak to finish the day with the spectacular red rock mountains of Sedona as our backdrop.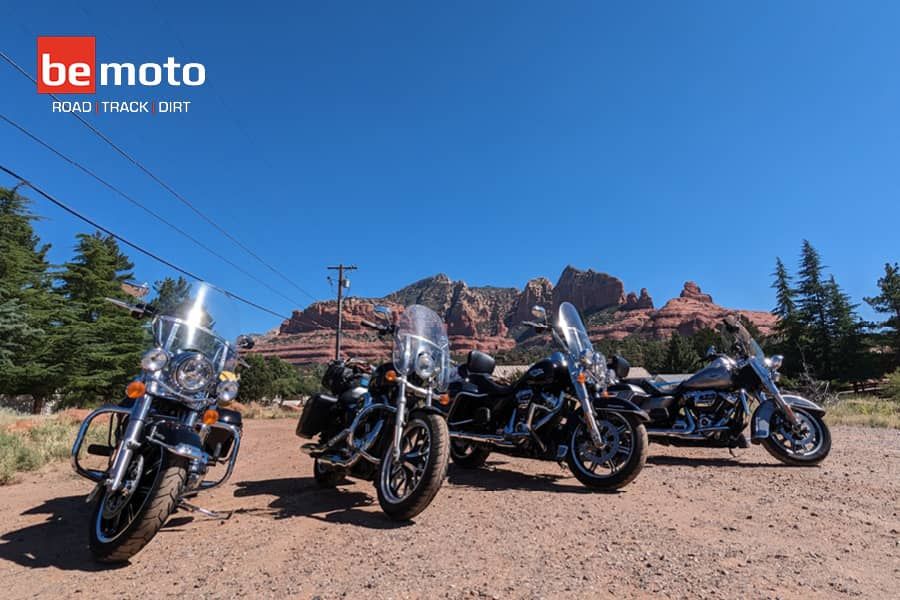 Day 3 Sedona to the Grand Canyon
Our 3rd day was only a relatively short riding day, but turned into a spectacular day on tour as we travelled through the mountainous forests from Sedona and its stunning red rocks towards Flagstaff before stopping for lunch in the town of Williams - full of Route 66 history and some great cafes
Williams is the gateway town to the Grand Canyon and our stop for the night - after dropping our gear off we made our way up to the canyon seeing several huge wild elk along the way before taking in the stunning views at the canyon. Our timing meant we also got to see a sunset and a ride back in the dark!
Top day out - unforgettable!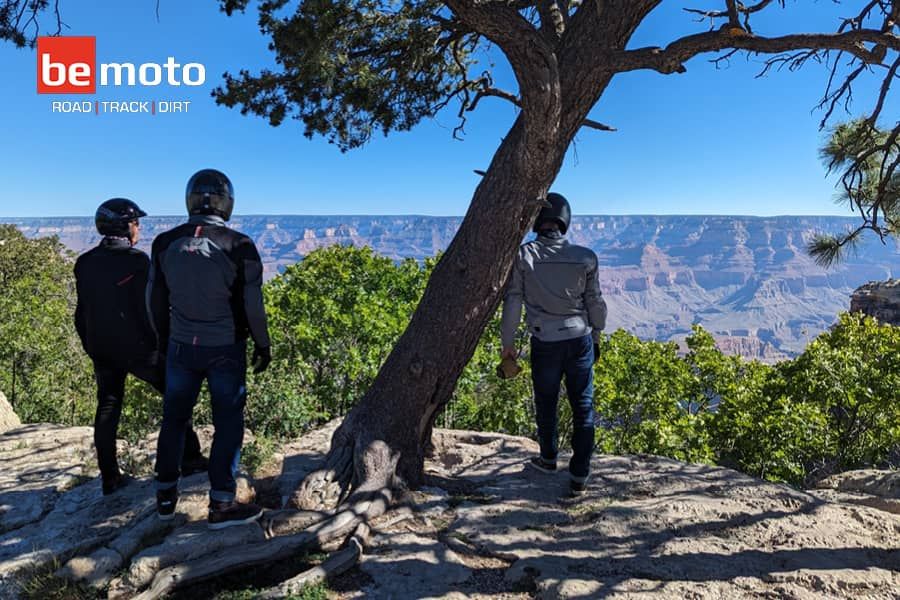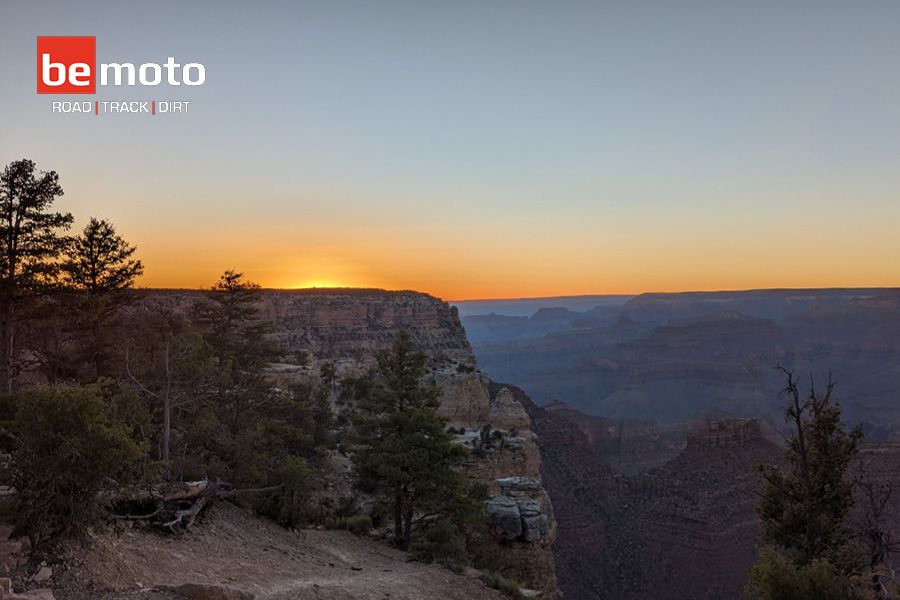 Day 4 Grand Canyon to Holbrook
We knew today was going to be a day of 2 halves, with more incredible views of the Grand Canyon, before a much straighter run across the plains to Holbrook and our stop for the night. We travelled back towards Flagstaff Arizona along the South Rim - Navajo Point was a standout viewing spot with the Colorado River miles below in the depths of the canyon.

A great lunch at The Lumberyard Brewery was then meant to set up our afternoon. A recalcitrant Road King decided otherwise refusing to start until a friendly US Forest Ranger helped out with tools and a jump lead set to get us on our way! Top man
Another 80 miles across the plains in pretty high winds and scorching heat took us to a fuel stop. Ice cream milk shakes and coffees were more than welcome, before a second Road King decided not to start. This time it was more terminal and we had to leave the bike and make our way to the hotel on 3 bikes. Spirits undimmed we found a local Italian restaurant for a few beers and pizza and pasta! Onwards and upwards a new bike is being sorted!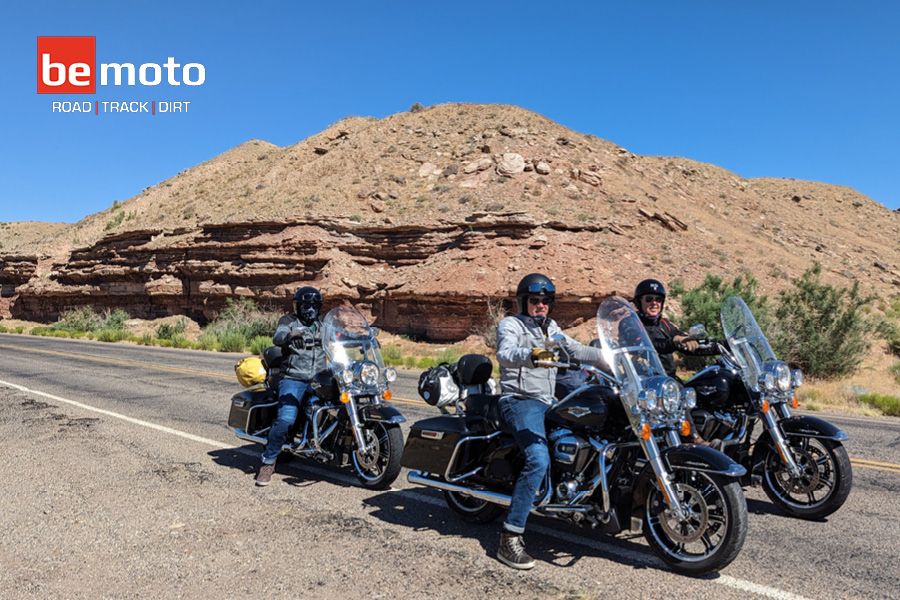 Day 5 Holbrook to Canyon De Chelly
Day 5 of the tour - 4 men 3 bikes and a scorcher of a day travelling into the heart of Navajo Indian country!
We left Holbrook a little later than has become our norm with a first stop being the Petrified Forest - with not a tree in sight we were more than a little confused!
A walk around the excellent visitor centre explained much more about what 'petrification' means and that it wasn't simply a forest of scared trees but ones that have been uniquely preserved over thousands of years and now resemble granite.
Crystal Forest, Blue Mesa, Newspaper Rock, Window Rocks place names just roll by - a very late lunch at Cocina De Dominguez a great Mexican helped set up the rest of the day as we made our way to Canyon de Chelly and the Holiday Inn for the night! Unbeknown to us we had also crossed a timeline, so the clocks had gone forward an hour! No dinner and a dry location meant an early night!
Day 6 Canyon De Chelly to Bluff
Day 6 and it's back to 4 men and 4 bikes after a replacement Road King was delivered for Troy out of Las Vegas - 450 miles away so great service and the trip is back on track!
We left Canyon de Chelly in good time and our destination for the day was Bluff in Utah but via the much-anticipated Monument Valley road.
Blazing heat in the desert but an early lunch stop at the Blue Coffee Pot in Kayenta set us up for what was to come - all the images we had seen before the trip came to life as we rode through the valley - amazing sights and memories.
Out of the valley we came to the fantastically named Mexican Hat and the San Juan Trading Post & Cafe - look through the pics to see if you can spot the Mexican Hat.
A short ride on to Bluff with its historic fort and a great overnight stay at the Desert Rose Hotel as well as an excellent meal in the local outdoor restaurant!
Day 7 Bluff to Montrose
Up early in Bluff a small town steeped in history and atmosphere but with a population of only 250 or so and breakfast at the wonderful Twin Rock Cafe and Trading Post.
The desert heat soon replaced the cooler overnight air although the road out of town was a good one twisting and winding its way through canyons as we made our way out of Utah and into Colorado!
The scenery started to change, most apparent was the sight of snow-capped mountains in the far distance and the appearance of grassy vegetation and thankfully some cooler air!
A brief stop at Dove Creek then we pushed on towards the mountains. Dolores was to be the gateway to what were some of the best biking roads not just of this trip but any and frequent photo stops were made before a coffee and bite to eat stop at the Firewood Cafe in Rico.
We continued to climb up and over the mountain's dramatic scenery through Telluride and on in to Ridgway where another stop took us to the True Grit Cafe and plenty of John Wayne memorabilia - the film was made in the region.
The last leg of what had been an epic days riding took us to our overnight stop at a rather run down Days Inn Montrose more than made up for by a great evening with racer friend Walt Fulton and his wife Nancy who also joins us on the road on Day 8 on her bike!
I met Walt racing together at the BEARS Motorcycle Club NZ Sound of Thunder race meeting in 2016 on our Mecanica prepared Ducati bikes!
Day 8 Montrose to Moab
Day 8 of the trip that keeps on giving!
Up early to be met by Nancy who was to join us for much of the day's ride on her BMW GS750. We headed the 'wrong' way to our final destination of Moab but had been promised that this detour to see the Black Canyon of Gunnison would be worth the few extra miles! It did not let us down.
Alpine climbs and drops with steep tight hairpin bends dropped us to the valley floor and a fast-moving river. Also, refreshingly nice and cool with the first sub 20 temps of the trip although this would quickly change!
Back up and out of the valley for some pics at the overlook point and plenty of very friendly locals to chat to about our tour before we returned to Montrose for a belated breakfast at a favourite spot of Nancy and Walt Fulton who surprised us by giving up time prepping his Harley Davidson 750 race bike to join us.
Another good breakfast and we hit the road towards Delta before turning off to pick up an absolutely deserted belter of a canyon road - Bighorn Sheep clambering above us as we made our way into what turned out to be a hidden lush green valley with towering rock formations along each side. After a stop at Hanging Flume outlook, we said our good-byes to Nancy as we turned towards Bedrock (we didn't meet the Flintstones) and then lastly to Moab and our hotel for 2 nights as Saturday is a day off the bikes. A fantastic Thai meal and then some live music at Woodys rounded off another great day on tour!
---
Walt & Nancy's Post
Thursday night we had visitors from England, and they came over for a BBQ rib dinner. It was agreed that Nancy would join them the next day to ride most of their Friday route as they took a circuitous route to Moab UT.
First destination for the day was the Black Canyon of the Gunnison, which is the National Park very close to our house. Most people have never heard of it, but it certainly is worth the time to visit. They took the East Portal Road, which was closed for paving all last summer, and the new pavement did not disappoint. The guys were amazed at the sights in the canyon (just as we expected) even though they'd already been to the Grand Canyon.
From there, I met them for breakfast back in Montrose (I took a break from working on the XR750) before they headed off to Gateway and the "secret favourite route" Hwy 141. Again, they were amazed by the great roads and fabulous scenery.
Nancy said goodbye to our guests at the Hanging Flume overlook, and she headed home via Dallas Divide which gave her an opportunity to take some great photos of the San Juans.
Thank you, Nancy, for taking all the great photos! You deserved a day off from being a great pit crew and driving partner for the 12 days of our New Jersey trip.
---
Day 9 Moab
We take a break from the bikes - Moab in Utah is a pretty cool place with a good, relaxed vibe and plenty of restaurants and shops - flanked by mountains it's an outdoor activity Mecca for ATVs and off road motorbikes and mountain bikes!
We decided to do our laundry and just chill out! A good pool at the hotel plus the musical talents of Talia Keys kept us well entertained with live music at Woodys Tavern both nights and we had a fantastic authentic Chinese meal away from the main strip. Add in a bit of tourist shopping for t shirts and we all enjoyed Moab.
Day 10 Moab to Torrey
Day 10 of the tour and everybody fresh and raring to go after a little bit of downtime in Moab.
Unable to get to see the Arches with the American 4th July weekend celebrations meaning the tickets had all been snapped up we settled for our pre planned itinerary taking us to Dead Horse Point and Canyonlands before making our way to Torrey for the nights stop at the Broken Spur Inn & Steakhouse.
Some great scenery again and refreshment stops at Green River and Slickrock Grill in Hanksville.
We are heading back towards Las Vegas over the next few days but plenty of great roads through the canyons and mesa mountains are keeping us entertained in the 35-degree heat.
Day 11 Torrey to Bryce Canyon
We travel to Bryce Canyon via the Scenic Route West 12 and a big day for Stuart Moir as he is given the chance to lead on what is his first overseas tour - with only 2 turns to find this should have been a nice gentle introduction!
Right out of the hotel and immediately left at the garage seemed to fall on deaf ears as Stu immediately set off in the wrong direction missing our turn!
Once we had stopped laughing and caught him up, we took the stunning Scenic Route initially riding through heavily forested mountainside with huge sweeping bends then via the Hells Backbone climbing to an altitude of 7600ft with steep drops either side of the road to the canyons below!
A good cafe stop at the Bakery in Escalante and plenty of photo stops as always before a night of country music in Bryce Canyon.
Another great day on tour.
Day 12 Bryce Canyon to Springdale Zion National Park
A short day but what a day and Independence Day too!
Waking up to see the tourist ranch horses being taken from their overnight stable area past our hotel then riding immediately into the Bryce Canyon National Park. The road climbed to a peak of over 9,000ft at Rainbow Point but with many viewing points along the way to take in the stunning red rock formations and the depths of the canyon below.
From Bryce we travelled across country to Zion National Park - we thought we had seen it all, but this place went up another level! Twisting alpine roads through solid rock mountains and tunnels before emerging into our base for the night at Springdale and possibly the best location of the tour.
Towering mountains all around us and a great pool as temperatures soared into the high 30s!
Dinner at an incredibly friendly Thai restaurant and a chance to meet the local wild deer browsing gently through gardens at the roadside. Another fantastic day.
Day 13 Springdale to Las Vegas
Day 13 and the last riding day of the trip! Temperatures soaring into the low 40s meant we sacrificed part of our planned route from Springdale around Lake Mead and instead settled for a straighter run down IS15 back to Las Vegas
Bike drop off was straightforward and after a quick coffee and a further look around the impressive Red Rock Harley Davidson dealership we made our way to our last stay in the city.
A few drinks, stretch limo ride and all packed and ready for our flights back today! It's been an amazing journey with good friends what a fortnight!
---
The Bikes - Drop-off
At the start of the tour, we knew pretty much what we were getting with the Harleys we had hired from previous experience. The Road King is a great touring machine for this kind of trip - good range at 250 miles or so, comfortable, torquey, plenty of luggage carrying capacity and decent brakes too! We all ran with just panniers and a roll bag and had more than enough room for our kit without having to cram things in each day as we moved on. The odd bike out in this company was the 1200 Sportster. Comfortable up to a point but beyond that it didn't have the legs of the Road Kings nor the road presence and struggled on some of the longer stretches being happier cruising 10/15mph slower than the other bikes. It also had the smallest tank and a significantly lower range than the other bikes at around 150 miles, not a huge problem but you don't want to run out of petrol in the desert!
---
Our Kit
Previous riding experience in the USA from trips to Daytona in 2009 and California in 2019 meant we had a pretty good idea of what works and what doesn't!
Mesh jackets, riding jeans and open face helmets combined with light gloves and boots was the uniform for all of us and worked well in some scorching temperatures. Most days were 30C plus with a couple breaching 40C. We also used bandanas and buffs virtually throughout due to the heat and to prevent wind and sunburn.
Given the time of year and area we travelled to none of us took waterproofs saving on packing although the bikes had more than enough luggage capacity travelling solo to carry these.
---
Orange & Black
We have travelled with Orange & Black Motorcycle Tours & Rentals previously and know how meticulous their tour preparation is. From our individual handbooks containing bike rental, flight, and hotel vouchers with lots of helpful information and full contact details these guys know how to make your trip worry free. The best part though was the routes selected and supplied in gpx format that we ran on our phones using My Route App but could just as easily have been loaded to a dedicated sat nav.
Each day took us to the must-see sights and roads in the region and we all commented on the local knowledge that had gone into these routes. Yes, you can probably do it cheaper yourself and we have experience of doing that, but this was money well spent and in all honesty made the trip what it was.
---
Hints and Tips
Travelling during mid-summer and in such high temperatures it makes good sense to get up and away early to take advantage of the cooler conditions - arriving early at our overnight stops meant we also had time for a dip in the pool.
Fill up whenever seems sensible or at any food and drink stop during the day and on arrival each evening - we found stations without any issues, but the Sportster had a few moments when it was worrying low on juice. No such issues with the Road King with its much bigger range!
We bought America the Beautiful National Park passes as we knew these would be needed and they gave us a big saving over buying individually and a lot less hassle when arriving at these locations.
We carried some tools and a puncture repair kit between us - worth doing even to get at seats and batteries as we had to at one point.
We always carried water on the bikes with us - yes it was often warm to drink but it kept us hydrated and we made regular stops throughout each day.
Arizona and Utah especially have quite strict drinking laws. 9pm is a cut-off point generally.
American hotels and motels can be very similar, but all were clean and spacious, most had good pools too! Pay a little more if budget and location allows.
---
Best bits of the trip
We were fortunate to have such detailed planning and to meet Walt and Nancy on our Colorado leg of the journey. The Grand Canyon on Day 3 was spectacular but there were so many highlights throughout the journey. Sedona, Monument, the Black Canyon of the Gunnisons, Bryce Canyon and Zion especially so. Make it a 2-week tour and don't be tempted to try cram too much into each day.
There was very little straight roads riding and the elevation changes throughout these states meant the scenery was always epic and on a huge scale. Waking up in the desert at Bluff then riding alongside rivers through snow-capped mountains in Colorado within 150 miles on the same day is one of the incredible aspects of travelling in the USA. Don't get stuck in the stereotypical it's all straight roads and Harleys are rubbish mindset!
---
Would we do it again?
The routes and riding on this tour was as good as it gets for a biking holiday - I would more than happily do it all again! Every day was a highlight, the scenery and weather was amazing and the chilled-out vibe of the Harleys meant we saw more than we might typically do when travelling on a sports bike. Travelling with good friends in a small group made this a really fun, happy experience that will live long in the memory.
---
What's our next destination for a tour?
I have been travelling to New Zealand most winters since 2014 to tour and race at the BEARS Sound of Thunder meeting in Christchurch. Our 2024 journey is now fully planned, flights and hotels booked. Time means that we are staying on the South Island but staying at some different locations to previously and with a bit more time in the lower south towards Invercargill and Dunedin. We will be riding all the main passes though as we travel from top to toe of this beautiful island.
Bucket list trips include the Rockies and Montana, Patagonia, Chile and Peru as well as exploring some more of Europe but especially Serbia, Croatia - let's see what the future brings!
---
If you enjoyed this touring blog...
Why not check out our other overseas adventures and motorcycle touring blogs:
Bucket List Tour: New Zealand South Island
Bucket List Tour: Vietnam
France tour including Punta Bagna bike rally in Courchevel (Alps)
Bucket List Jumps: Cehegin bomb hole in the hills of Murcia
---