Trackday Travel & Repatriation
Up to £250,000 for emergency medical costs
Includes repatriation costs (within medical limit)
Optional racing activity packs

THIS PRODUCT IS CURRENTLY UNDER DEVELOPMENT (IT STOPPED DURING COVID AND IS NOT YET READY FOR SALE).
TO BE ADDED TO OUR MAILING LIST TO BE ALERTED WHEN IT IS AVAILABLE AGAIN PLEASE CLICK THE BUTTON BELOW. WE HOPE TO HAVE SOMETHING LAUNCHED AGAIN VERY SOON IN 2023.

Motorcycle Trackday Travel and Repatriation Insurance
The use of your bike on track is excluded from normal Travel Insurance policies as a 'Hazardous Pursuit', but it's important to get this sorted before you go as many circuits or organisers won't let you on track without medical and repatriation cover (read our useful guide to What is Trackday Repatriation Insurance and Trackday Repatriation FAQs).
As motorcycle insurance specialists, we offer great value products to protect your emergency medical and repatriation costs in the event of a motorcycle accident on your trip:
Cover as standard for motorcycle touring and off-road riding
Add cover for overseas trackdays for additional premium
Options to add Activity Packs to cover amateur race events and MotoCross (not professional racing)
Baggage, Money & Cancellation cover included (no need to buy separate Travel Insurance)
Single Trip or Annual Multi Trip policies available
You must be a UK resident, with a full bike licence (or ACU race licence) and cover is only available for amateur events.
Always ensure you have checked the UK Foreign and Commonwealth Office (FCO) website for travel advice on the country you are travelling to (click the button below) - make sure it is OK for non-essential travel. You will NOT be covered for claims arising from non-essential trips like trackdays if you travel against FCO advice.

| Trackday Travel & Repatriation Insurance Benefits | Silver Cover | Gold Cover |
| --- | --- | --- |
| Medical Expenses & Repatriation (Off Track) | £5,000,000 | £10,000,000 |
| Medical Expenses & Repatriation - On Track / Event | £50,000 | £250,000 |
| Motorcycle Leathers (lost, stolen or damaged) | £1,000 | £1,500 |
| Motorcycle Helmet (lost, stolen or damaged) | £750 | £1,000 |
| Motorcycle Gloves (lost, stolen or damaged) | £75 | £200 |
| Personal Liability on Track # | N/A | N/A |
| Cancellation | £1,000 | £3,000 |
| Curtailment | N/A | £3,000 |
| Baggage | £500 | £2000 |
| Personal Money | £100 | £250 |
Note: All motorcycle apparel claims are subject to a combined limit of £1,000 or £2,000 for Silver or Gold.
# Participants in a trackday do so at their own risk and this policy does not cover liability for injury to other people or damage to their property when on track
You can read the Insurance Product Information Documents (IPID) and Trackday Travel & Repatriation Policy Documents here.

---
When riding in Europe (EEA Countries)
The European Health Insurance Card (or EHIC) is issued FREE of charge and allows anyone who is covered by a statutory social security scheme of the EEA countries to receive medical treatment in another member state free or at a reduced cost, if that treatment becomes necessary during their visit. Please ensure you apply for a free EHIC card for trackdays in EEA countries here: www.nhs.uk
This insurance is intended to compliment the EHIC card by providing additional emergency medical costs for valid claims, but additionally provides repatriation cover (within the overall medical policy limit), where medically necessary and subject to the assistance companies approval.
IMPORTANT: This policy does NOT cover medical costs incurred at private hospitals. Always call the emergency assistance line at the earliest opportunity to notify the insurer and get support from their assistance company.
Useful Information: What is Trackday Repatriation Insurance and Trackday Repatriation FAQs.
---
Cover from a brand you can trust...
Don't just take our work for it. We work in partnership with a number of well known trackday partners, including Properly Protected, No Limits Trackdays, Trackday Addicts and Classic Bike Trackdays.
---
Trackday Tips
If you've booked your place, you've done a couple of trackdays before but the nerves are kicking in... Don't fret, here are Seven Motorcycle Trackday Tips you may not have heard of before from a seasoned trackday goer.

Alternatively check out the following Euro Bike Trackdays feature.
---
Other Trackday Products
We can provide Accidental Damage cover for Road, Track and Race Bikes whilst on non-competitive organised trackdays:
Call BeMoto on 0330 880 0389* to get a no obligation trackday insurance quote.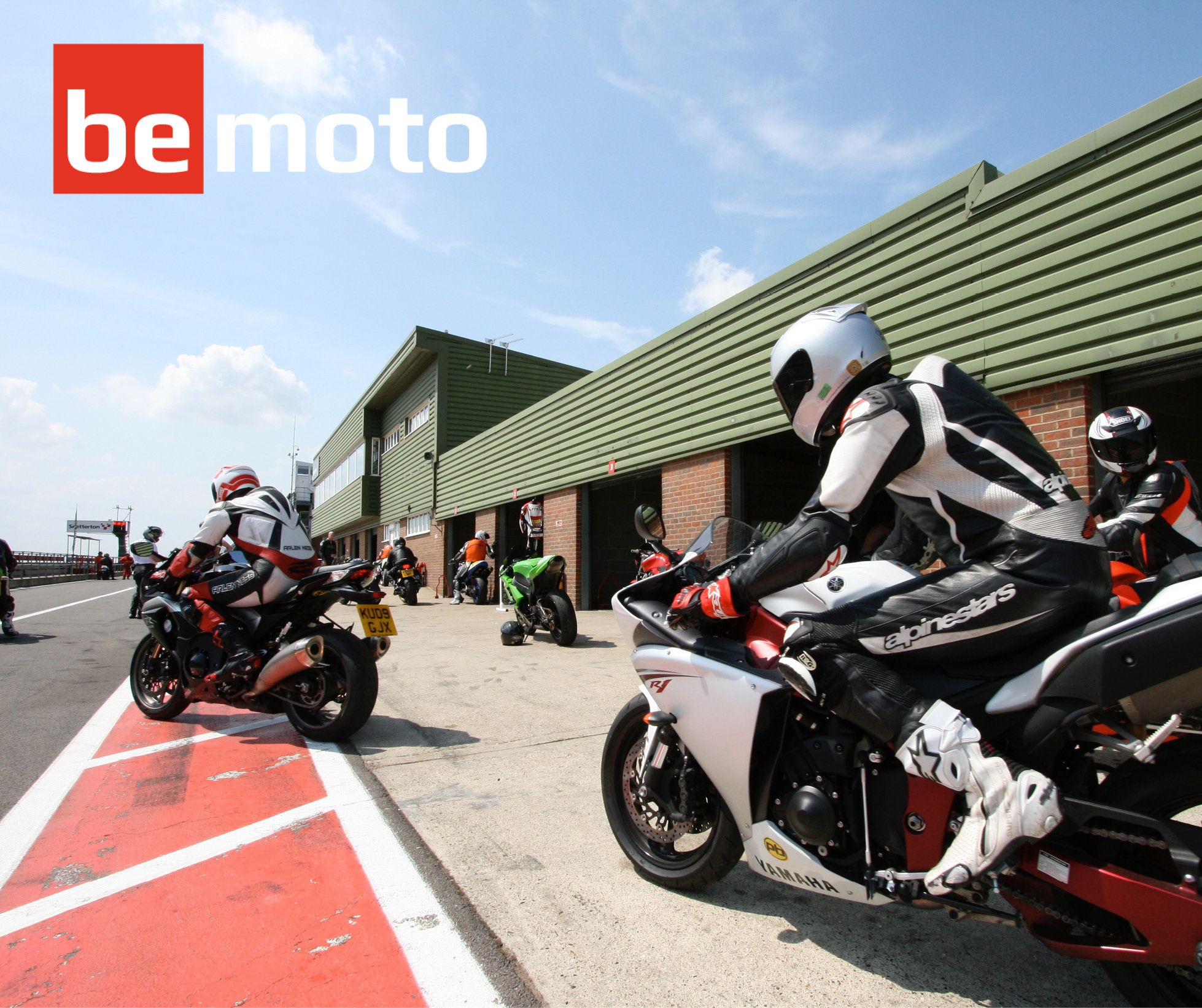 ---
* Calls may be recorded for our joint protection

---