---
Multibike Garages: Alan Dowds
By BeMoto
Like Brian's followers in the Monty Python film Life of Brian, us bikers are, of course, all individuals. We've all got different needs and desires, and those are expressed in our two-wheeled garages. For some, that will be one sensible-yet-fun machine, that's pressed into action for commuting, shopping, holidays and trackdays. Others, though, will have a more extensive stable, with a dirtbike for off-road larks, a bespoke track bike, big tourer, maybe even a scooter for city life.
---
Alan Dowds (Dowdsy) has been a bike journalist for 25 years, more or less, and that's left him with an unusual set of moto-needs and desires.
"Being able to borrow the latest and greatest bikes from all the big manufacturers is a privilege for sure, but it does remove some of the 'wow' factor involved in fancy machinery. It's going a little far to suggest that pottering around on a Ducati Panigale V4S or an Aprilia RSV4 1100 ends up as a busman's holiday. But after riding them on their respective launches at Valencia and Mugello, the box kinda gets ticked if you see what I mean. Plus – if you're riding different test bikes for work most of the time, you end up with no chance to ride your own machine – spending a load of cash on something to sit and depreciate doesn't make a lot of sense. On the other hand, especially living in London, I do need a backup bike for the odd time when there isn't a press test bike in the garage."
So – Alan's personal bikes have tended to the practical over the years. He's had Yamaha Fazers, a Honda Hornet 600 and VFR800, Triumph Speed Triple and various small-bore mopeds and scooters, amongst others. And at the moment, he's got three bikes – two magazine project bikes, and a big super scooter for easy London transport duties.
---
The project bike...
First up is a Kawasaki 1998 ZRX1100, which has been featuring in Classic Motorcycle Mechanics magazine.
"Now, this has dragged on a bit sadly, partly down to being quite an ambitious project, and partly down to it being such a mess when I got it. I deliberately picked the worst ZRX I could find on eBay when I was on the hunt, and paid just under a grand for a hideous purple and blue eyesore. It was running, just, and had an MOT, but that was where the good news ended. The frame and much of the chassis had been power-coated purple and light blue, in a sort of West Ham or Aston Villa colour scheme. Everything that could wear out was worn out."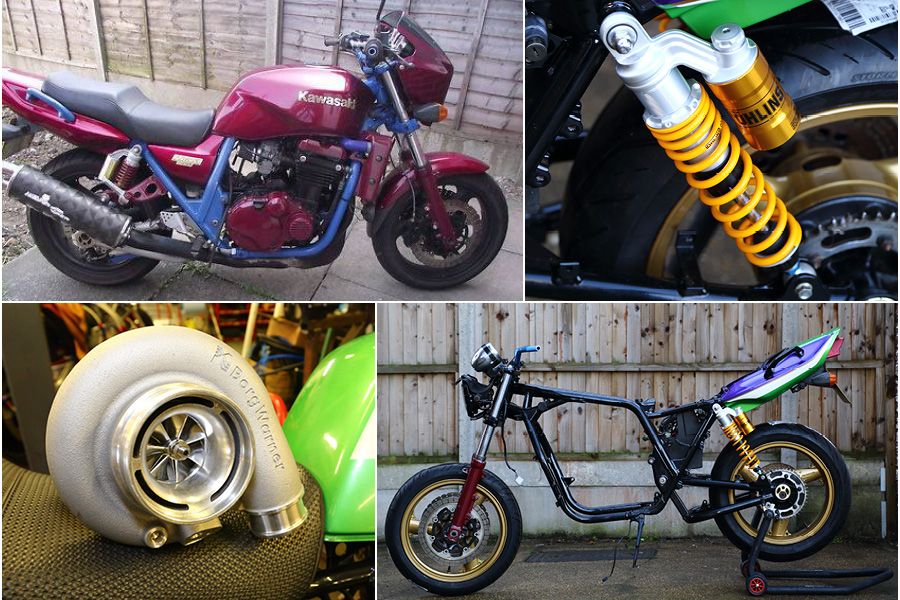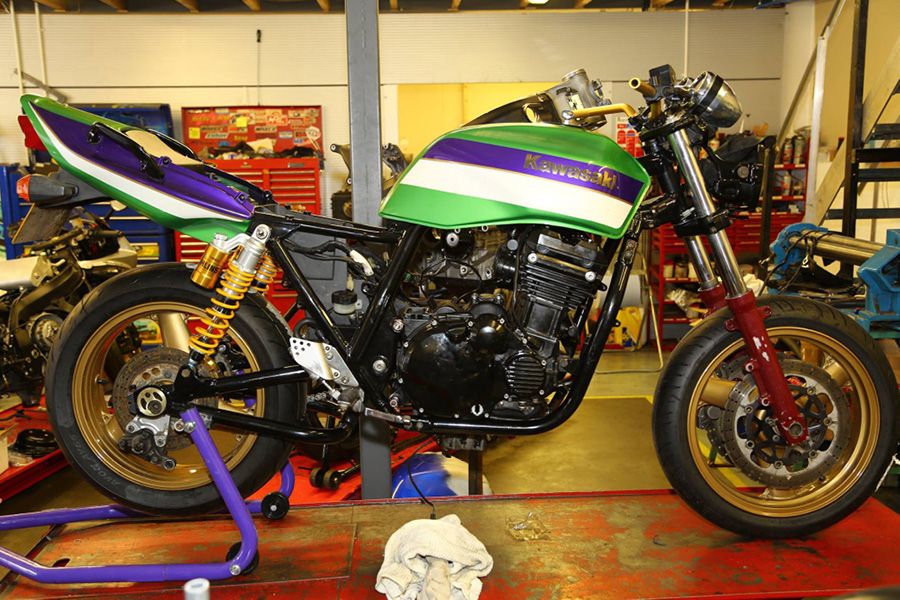 "My plan was to totally renovate her, add some chassis goodness – and put a turbo on the engine. As I write this, the chassis is just about there, with Öhlins shocks and Rotobox carbon wheels, black powder-coated frame and swingarm, and a set of Eddie Lawson bodywork replacing the purple stuff. But the turbo install is taking a while. The engine was rebuilt with Wiseco low-compression pistons, fresh bearing shells, Dyna ignition, reconditioned head, billet H-beam conrods and all new OE gaskets and seals – so she's ready to make some good horsepower when she's finally up and running. Maybe this summer…"
---
Alan's dirty little secret...
"From the sublime to the ridiculous – and my everyday wheels. I LOVE big scooters, and for me, the Suzuki Burgman 650 is the best of the bunch. Sure, the Yamaha TMax is a sharper handler and has fancier kit in places. But the 650 is more capacious – which makes it more useful to my mind. You can fit shedloads of kit under the seat and in the Givi top box, and it's luxurious for a pillion – my kids love it. Mine is one of the very first into the country from 2002, and is looking a bit tired, but I've given the chassis and engine a full going-over, with new OE brake discs and pads, caliper rebuilds, new rear shocks, and a fork overhaul with new oil and progressive springs. The only worry is the final drive belt – these do wear out eventually and can snap, but it's a bugger of a job to replace it. Fingers crossed."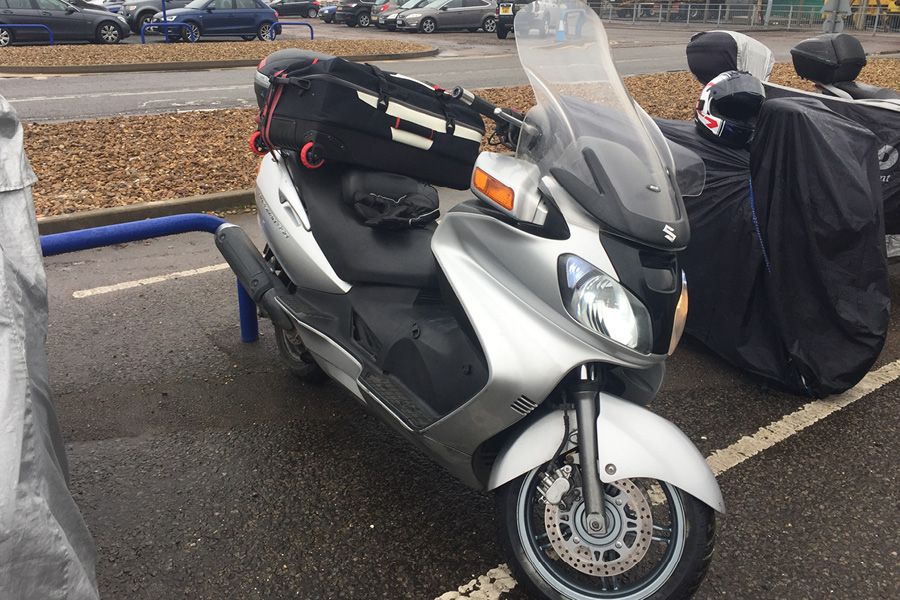 ---
And finally...
The latest addition to Alan's multi-bike policy is another project bike – a 1999 Yamaha Fazer 600.
"I have previous with these – I bought the first Yamaha press bike into the country back in 1998, which was the MCN long term test machine. I did a load of miles on that, perfected some honking wheelies, and rebuilt it with a new engine when a snapped chain mullered the crankcases. So when this one came up at a mate's garage for a song, I was interested for sure. It had been parked up in a lockup for 12 years, and the fuel tank and carbs were horrid, full of rust and gunge. I've been renovating her over the past year in Classic Motorcycle Mechanics again, and with a new Black Widow exhaust, Pirelli Diablo rubber, Galfer Wave brake discs and pads, plus a full service and overhaul with parts from Wemoto, she's back in action."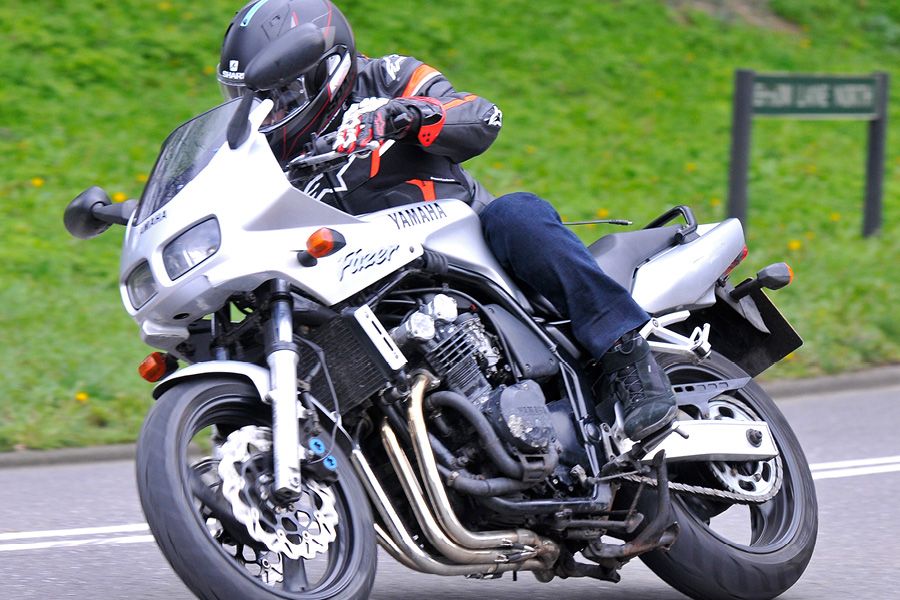 ---
And what about insurance for this eclectic collection?
"Now – obviously I need to insure these three beasts to ride 'em. When I was a lad, you could insure a load of bikes on one policy (the legendary Norwich Union Rider Policy) for minimal cost. But Norwich Union clamped down on its bike policies in the early 1990s, and I was brought up on pricey insurance, with one policy for each bike and little flexibility.
In recent years, multi-bike insurance policies have become more popular though it seems – and are just the job for many riders with more than one bike. It's pretty obvious that you can only ride one bike at a time, so the risk of claims is lower than with individual policies, and once the theft analysis is carried out, switched-on insurance firms can provide cover for all your bikes at a decent price.
The BeMoto policy I have on my bikes covers them all, without breaking the bank, and is well worth a look if you have more than one bike in the garage. And if you have something unusual – like my turbo ZRX1100 project machine – the expert guys at Bemoto are able to quote in an intelligent fashion, rather than just panicking…"
---