---
Multibike Garages: Davey Todd
By Luke Brackenbury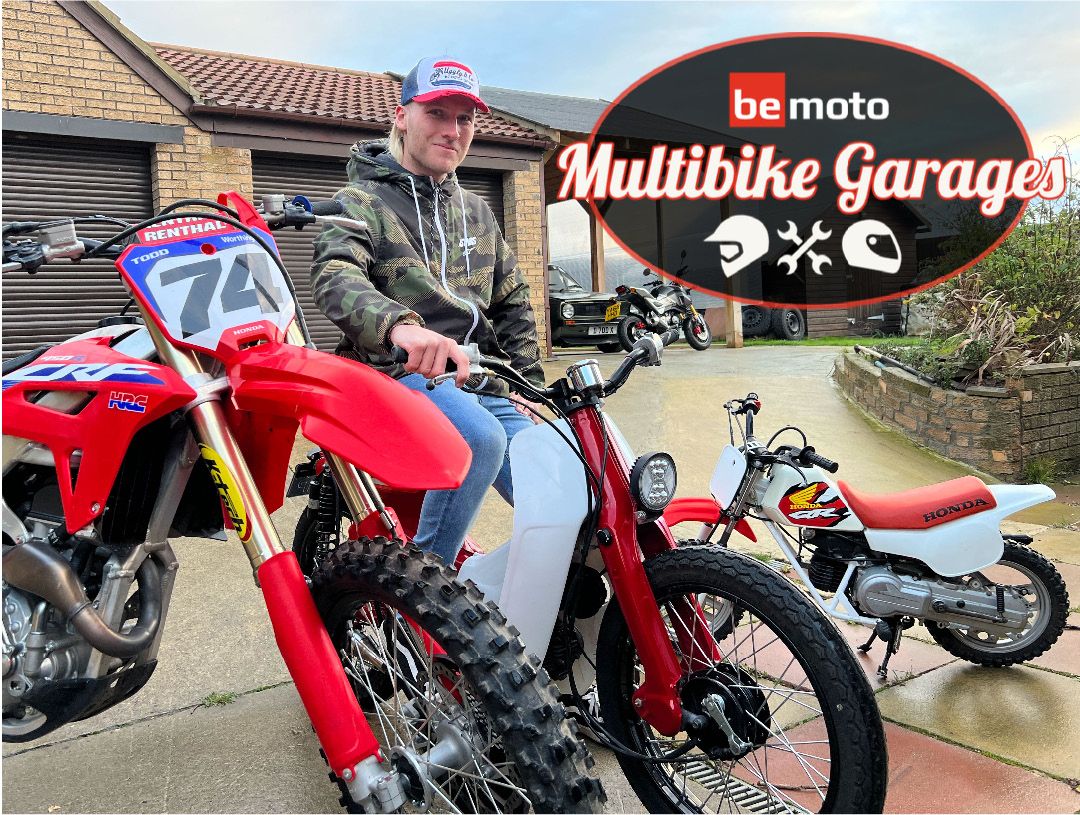 ---
Davey Todd #74 is one of the most exciting British racers. His down to earth attitude, mixed with his incredible speed at both road racing and on the short circuits makes him popular with race fans both young and old.
2022 was a breakthrough year for Saltburn-based Todd: claiming his first Isle of Man TT podium in the Superstock race, narrowly missing out on a North West 200 in almost all of the races he started and wrapping up the National Superstock championship with a round to spare (read more here).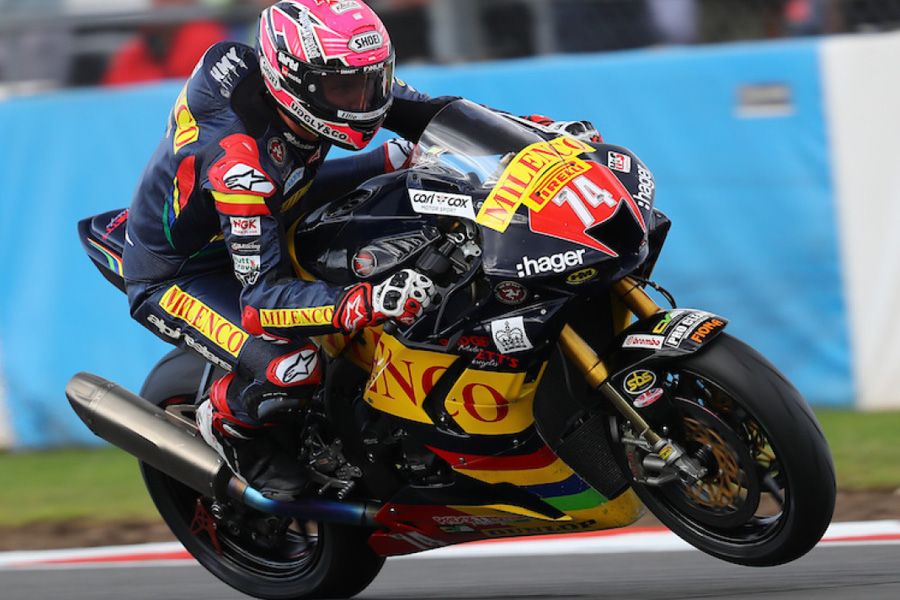 photo by Double Red
For the 2023 season, Davey remains with the Milenco by Padgetts Honda team, for a full assault on the British Superbike championship as well as the major Road Races. BeMoto caught up with him after the end of a very long season to find out what bikes are in his garage (and house, as it turns out) and why…

Who are you?

Davey Todd. I'm 27 years old at the time of this interview (born in 95), from Saltburn, England.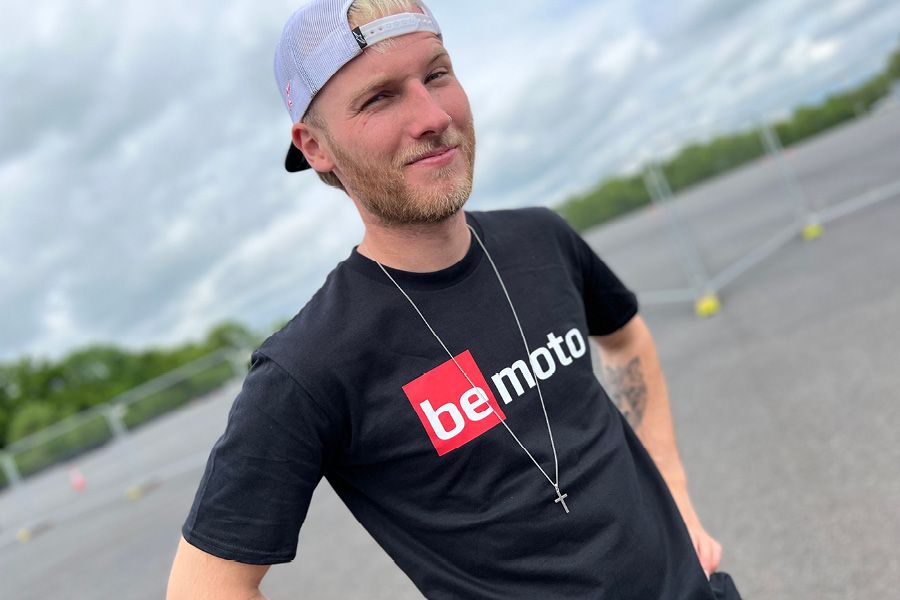 ---
What do you want people to know about you?
I'm a professional motorcycle racer and that's the only thing I've ever wanted to be. So it's not lost on me how awesome it is to live the dream and race bikes as a job - riding British Superbikes and the IOM TT doesn't get any better.
How long have you been riding for?
I started riding motorbikes at three years old. My dad bought me a Honda QR50 for Christmas day and then started racing motocross at six years old, so I've been racing MX for most of my life. After some bad injuries I then progressed to Supermoto for a few years, riding in the British and European championships. I jumped on a Sportsbike for the first time in 2015, on a 600, and went from there starting on short circuits and moving on to the roads in 2017. Since 2020 I've been riding back on short circuits as well as the roads. It's not going too badly as this year (2022) I got my first TT podium (Superstock) and won the National Superstock championship with Milenco by Padgetts. Next year I'm moving up to the British Superbike class with them.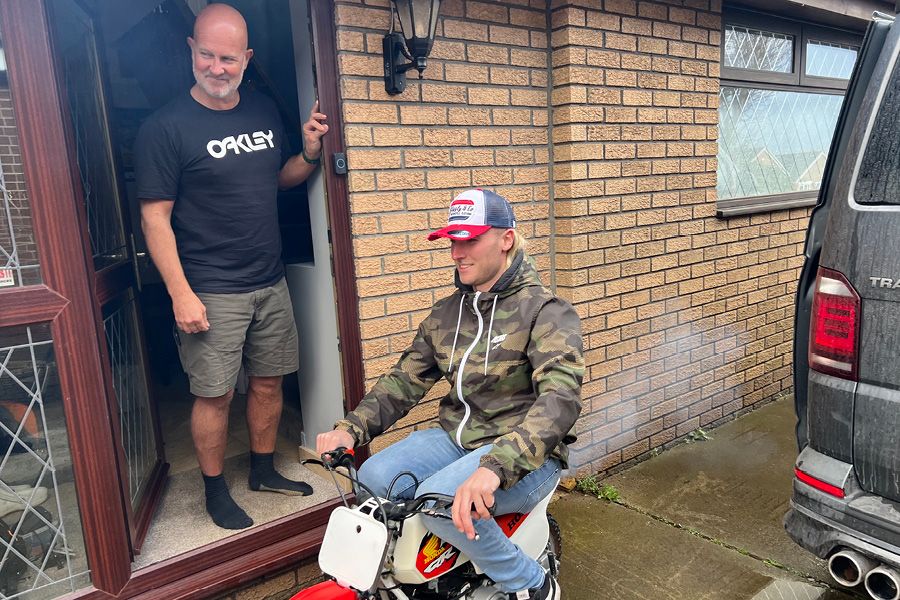 ---
What was your first bike and why?
A Honda QR50 when I was 3. My earliest memories, and only memories before riding bikes, was motorbike racing being constantly on our TV. My dad never raced, but he's always loved bikes since he was a kid - obsessed with both on road and off-road. He never had the opportunity to race, but that literally is all he watches on TV. So combined with Dad having a blue 1998 Yamaha R1 and the constant exposure on TV to MotoGP, TT, motocross etc. As a kid that was it for me: I just wanted a motorbike.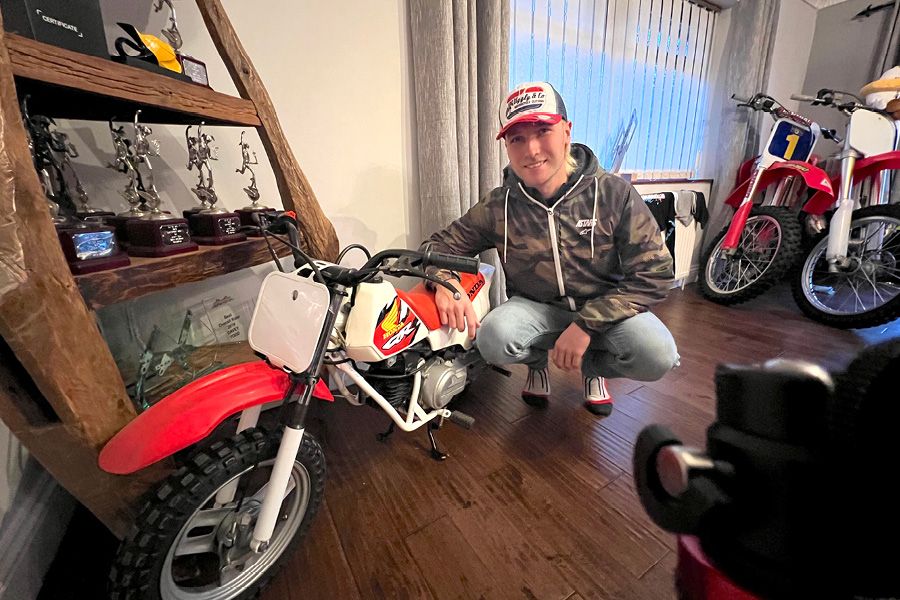 ---
Anyway, the QR50 was something dad picked up from some dodgy place; it was a right heap and he did it all up, repainted it, got a sticker kit and just made it look good. You can imagine that Christmas I was over the moon. That feeling from the very first ride, I actually think I rode motorbikes before I rode a pushbike. There are some videos of me riding that bike and the grin on my face is huge. I ride around the TT now with a big grin on my face just thinking 'this is awesome'.

What bikes are currently in your garage?

When you say garage, they kind of bleed into the house as well…
Honda CR250 (1993) - Growing up I pretty much wore out this video tape my dad had of Jeremy McGrath - an American motocross legend. This VHS was about his 1993 season - his first year of AMA 250 and he rode a two-stroke CR250. He was cool as hell and my hero for years: the Alpinestars boots and gnarly helmet paint job. I still watch it from time to time. I can probably tell you all the words from that video, including the interviews and song lyrics!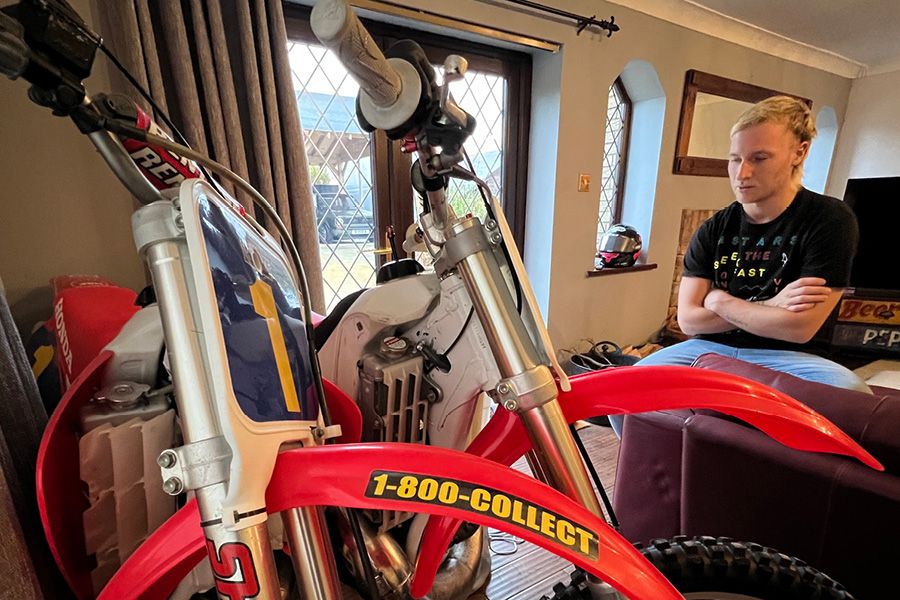 ---
As I got older, the popularity of Super Evo motocross just made me want a '93 CR even more. I've got the bike, I'm now an Alpinestars rider so in my head I'm basically McGrath!
Honda CR500 (1996) - Everyone knows how cool they are. Of course, they aren't made anymore, but it was one of those bikes that both my dad and I always wanted. I'm just waiting for some new graphics for it, so the side panels are away.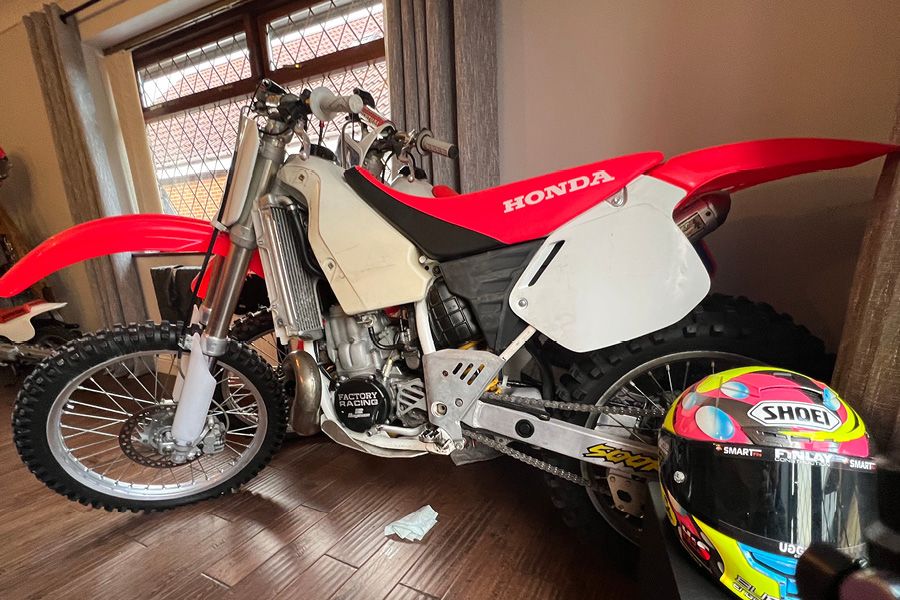 ---
Honda CRF450R (2022) - My current training bike and I'm out on that as much as I can be. There's a 2023 model on the way, though…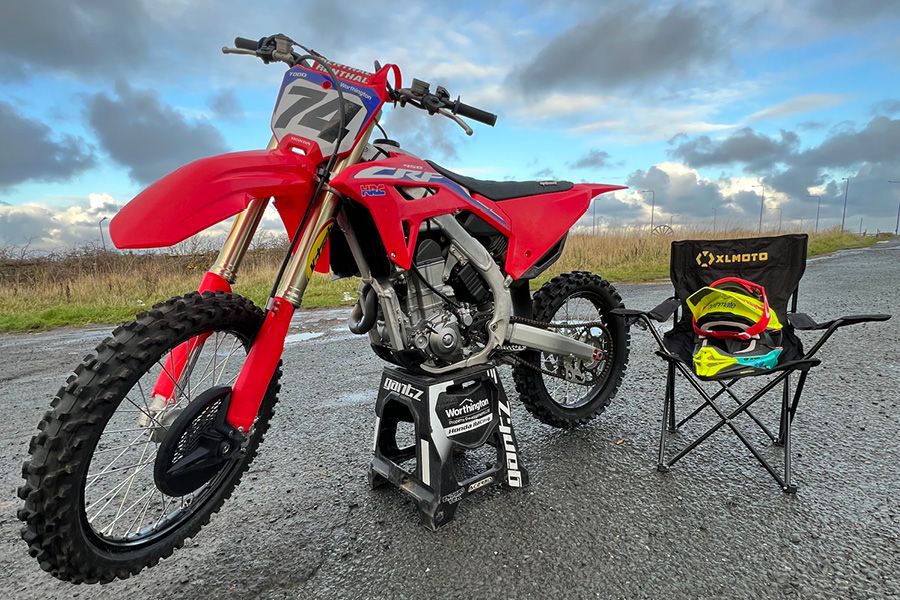 ---
Honda C90 Cub (modified). Everyone wants a Cub! I thought I got a really good deal on it, but Clive Padgett recently told me there was a time when they used to put them in the skip at Padgetts because customers would just leave them there for ages - crazy! I use this to go to the beach and local trips.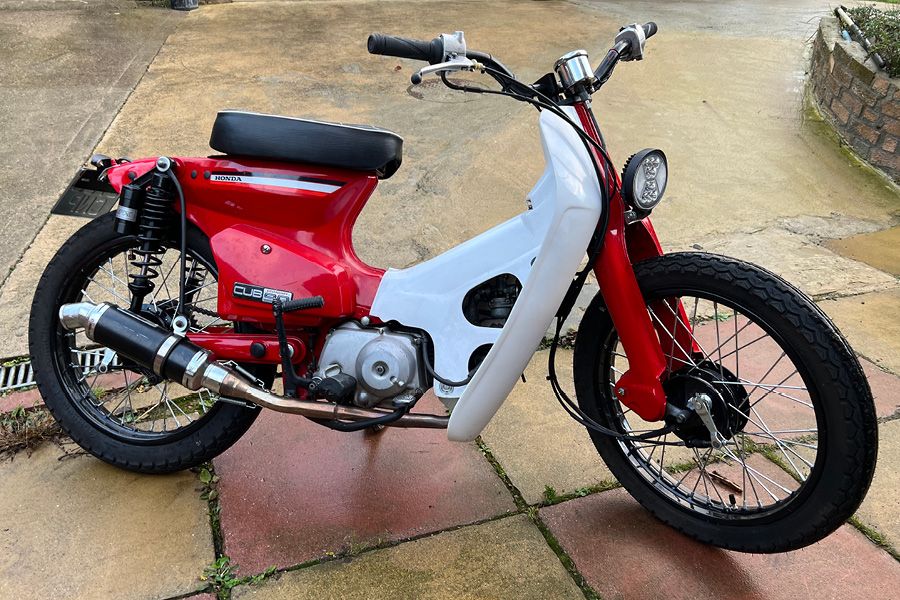 ---
Super Soco CU Mini - Currently in the hallway but my paddock bike this year and handy for nipping down the shops on.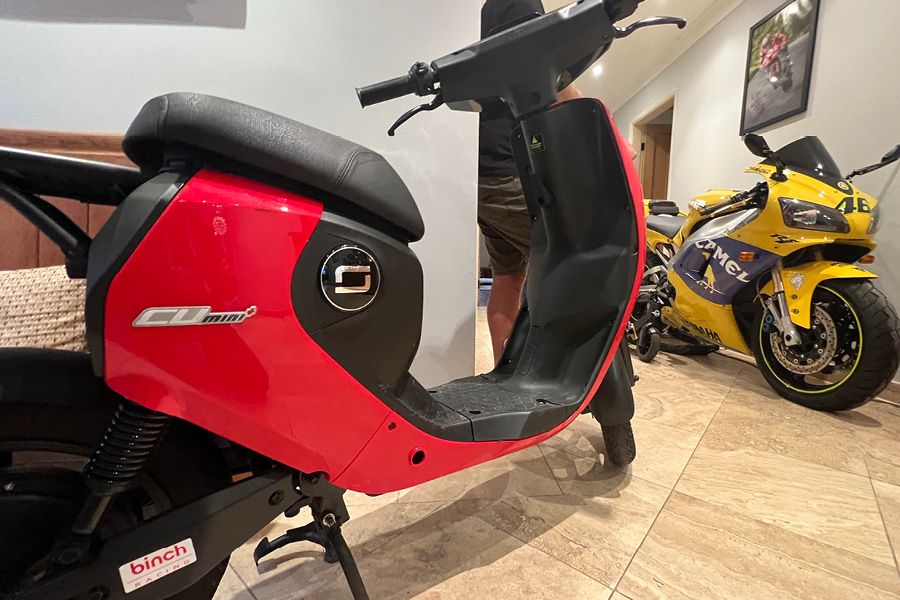 ---
Beta 250 trials bike because everyone needs to own a trials bike.
Honda QR50 - Where it all started! Although recently I forgot how to start it: you have to pull the lever in. Still rips, mind.
Honda CR250 (2007) This was the last year Honda made a two -stroke 250. It's currently only half built as part of a full restoration, mainly as I'm still waiting for a mate to send some bits back. When it's done, I will ride that from time to time, as it will still be a mega bike.
What's your pride of the fleet and why?
Tough question! I honestly don't know. But if you're pushing for an answer, the 1993 CR250, possibly. I still want to ride that with some retro 1993 gear from Alpinestars in the 2023 Vets Motocross des Nations. The '93 CR250 is a big reason why I love racing so much.

---
First one that you'd sell and why?

Well, there's a 1999 Yamaha R1 in the hallway in Rossi replica Camel colour scheme from his 2006 MotoGP season. The bike is not very original - with underseat exhausts and other choice period modifications. I'd like to swap it for a blue original because one of the reasons I got into racing was the blue R1 that my dad used to have. He still has some pictures of me sitting on it. I'll find the right bike one day.
Any words of advice for owning multiple bikes?

You need plenty of places to store them securely! There's nothing more sickening than having your pride and joy taken. But if someone wants something bad enough, they'll still come and take them, so have them insured as well as secured. Aside from sponsoring me, another good thing about BeMoto is that they can insure off-road bikes and projects.
Photo by Peter Callister
---
What's the one other bike you'd really want in your multi bike collection and why?
Aside from a stock 1998 blue Yamaha R1, after riding the Padgetts Honda RS250 at the 2019 Classic TT, I'd like one of those.
It was such a cool thing to ride; a proper 250 Grand Prix two-stroke. They obviously aren't made anymore and having a go - well more than a go - on a properly sorted machine was incredible, racing alongside Bruce Anstey. He finished first and I was second. Then again, a ride on a GP500 would be awesome, but I don't think I'll ever be able to afford one. However, if money was no issue, I'd have a Yamaha YZR500. Padgetts have one. It's a cool looking thing and I keep begging Clive for a go on it. I'm hoping he'll relent at some stage…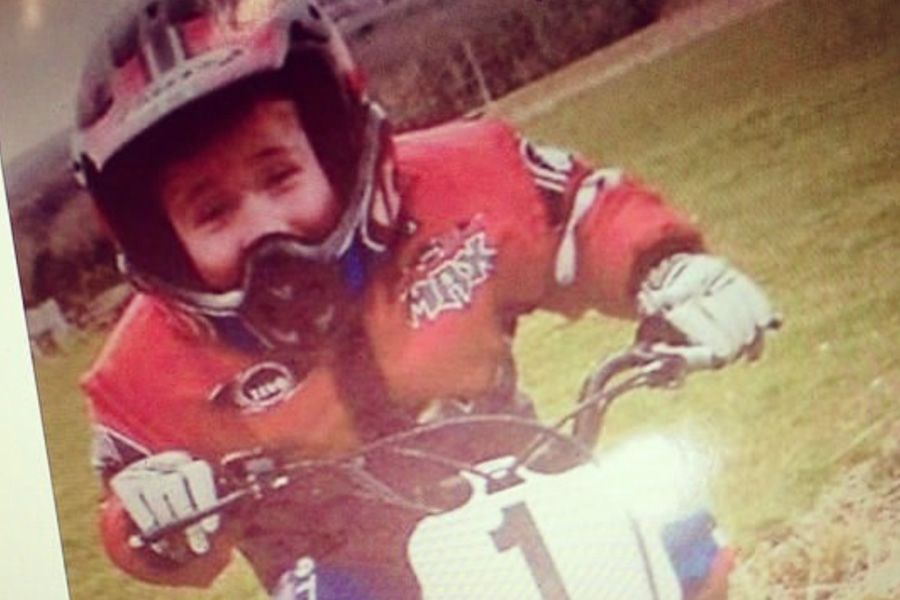 ---
What is the single best experience you've had on one of your bikes?
Tough to say when you get to ride the Isle of Man TT, but that's not on one of 'my' bikes. So probably that first ride on the Honda QR50. That feeling anyone gets when they ride a bike: when you jump on it and nothing else matters.
The worst day on a bike is still better than a good day anywhere else. When you're riding, you don't think about your worries and troubles...
Riding a bike: I'd rather be doing that than anything else.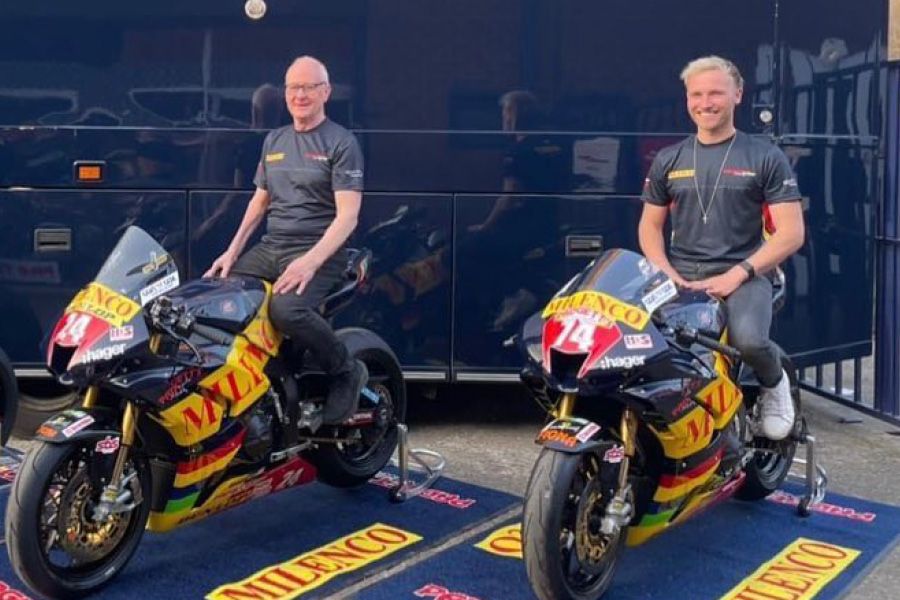 ---
What is the best bit of motorcycling advice you've ever received or dispensed?
In racing, specifically, some good advice is to not forget to enjoy it. I still get reminded of that. On the start line, Clive Padgett will say 'just go out there and have fun'. And that's the best advice. People forget that. Club racers taking things too seriously. Don't take the fun out of it; no matter what level you are riding at. Racing is my career and I have to take it seriously, but I still enjoy it and have a big smile on my face.
---