---
Multibike Garages: Joanna Benz
By BeMoto
One bike is never enough! Which is why we pride ourselves on being so competitive for multibike insurance policies.
Joanna Benz is a BeMoto customer who wasn't able to stop at just one bike, so we asked her what is in her garage and why.
Joanna Benz is a 35-year old digital marketing specialist and a mum. Anything with an engine has always got her juices flowing and she finally got her bike licence six years ago. Rather than taking a cautious approach with what bike to get first, she dived right in and bought a new Yamaha R6 straight away.
"As we all know, you can get a lot more performance from a motorbike compared to something like a sports car for a lot less money, so that was always a big attraction to me," explains Jo. "But I bought the R6 before I actually passed my test. I couldn't wait any longer to make my dream come true!"
Fortunately, she passed her test and enjoyed the R6 before that made way for a BMW S1000RR and then that moved aside for something a bit more special…
---
BMW S1000RR HP4
The ultimate road-going incarnation of BMW's S1000RR Superbike, Jo had her eyes on getting one of these.
"I had a S1000RR before and that's why I knew the HP4 would be ideal as it is the fancy version!" Jo explains. "It's a true dream bike. I bought it a year and a half ago and it was going to be my only bike at the time as it ticked all boxes; versatile, beautiful, fast. In my opinion it is comfy enough to go touring, do track days and great for Sunday afternoon rides. It is obviously very powerful, yet it is flattering for less experienced riders. And the incredible electronics keep me safe – especially on the road."
Modifications: HP4 levers and rearsets.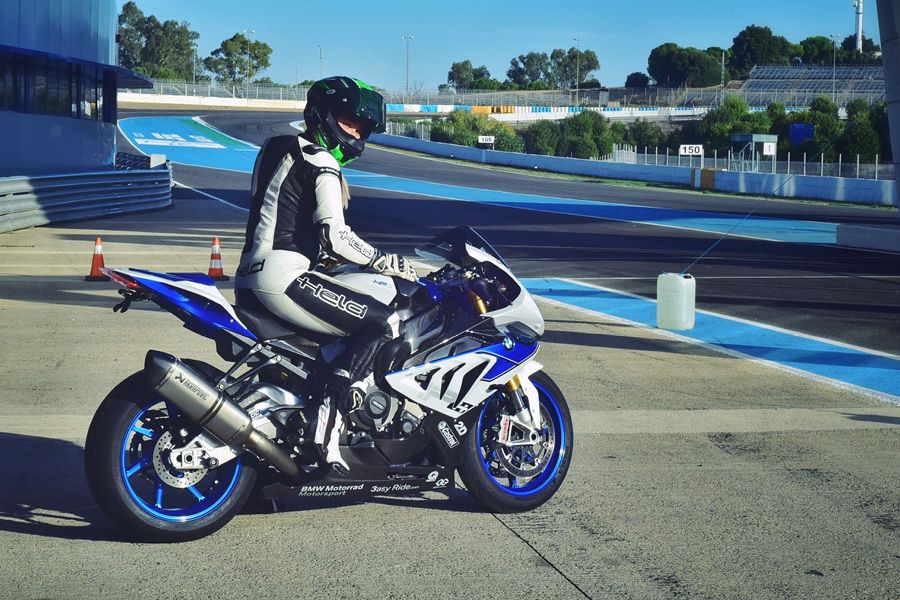 ---
Ducati Hypermotard 950 SP
Fresh out on the streets and tracks this year, the Hypermotard 950 SP is in no way trying to be anything but a two-wheeled fun factory. Jo tells us that the decision to get this bike has both a long and short story…
"I'll tell you the short story," Jo quips. "This is the most 'be in the moment' motorcycle I've ever ridden. As a main bike, it makes no sense. As a second bike, it is just a wild toy. Just a play bike. It's half the power of the HP4 but I find I can exploit it a bit more - the HP4 probably has too much for the road. The Ducati is more involving to ride. It's just wild. That's why I got it."
Modifications: "None so far as the bike is new out. I even like the look of the standard exhaust."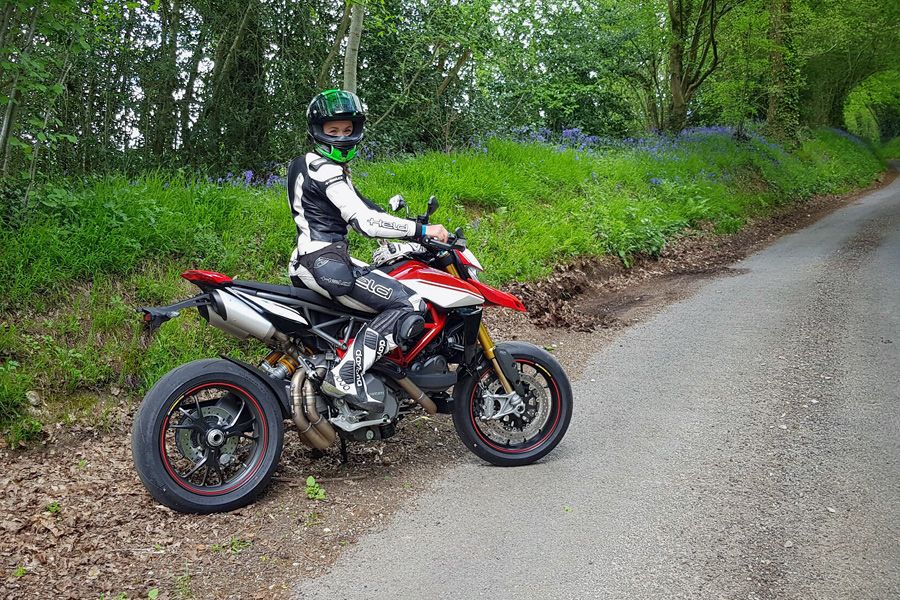 ---
NIU M Series
An 800w motor punching out 95N.m the NIU M Series is "…an evolution of the NIU design language that puts a modern twist on heritage scooter design." Apparently. So why the electric scooter?
"I missed out on the scooter small bike phase of riding by getting an R6," Jo begins to justify the futuristic blue thing in her garage. "I then rode a scooter a couple of years ago and found it appealing. I live outside a town now and just use it to pop into town for errands; it's just so convenient and I use it every day.
It's slow, so I can be more relaxed about what I wear on it and therefore takes less time to get ready for a ride. It's also cheap to run, quiet and I think it looks stunning! I use the big bikes for the fun times. This is also the only bike I've been able to take my special needs son on the back of and he absolutely loves it!"
Modifications: "I bought a matching shopping bag so I can be a fancy lady when I go to Waitrose! This is essential."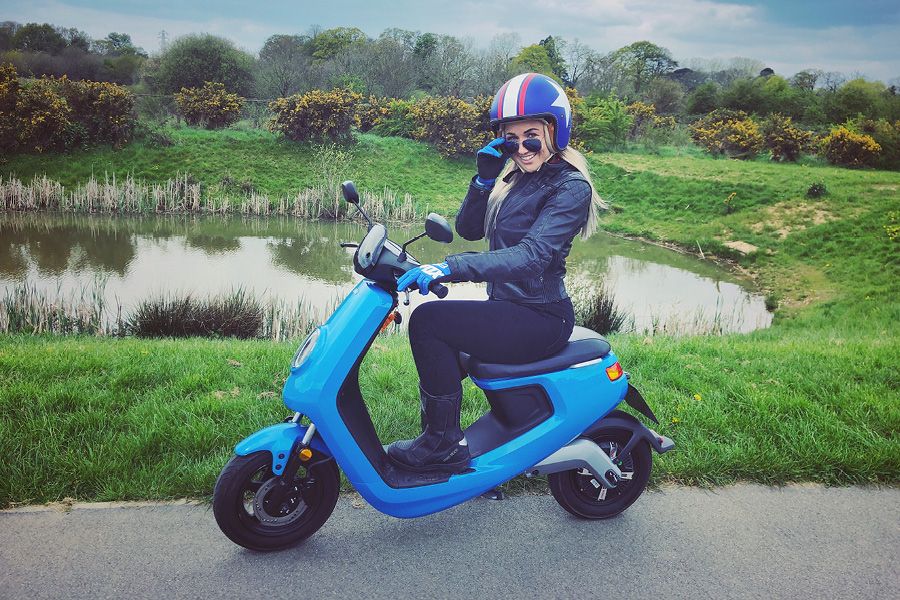 ---
THE BIG QUESTION…
A hypothetical question we hate to ask, but…
Jo – your garage is on fire and you can only rescue one bike. Which would you save?
"The HP4! No hesitation," shouts Jo. "If I had to get rid of them – which I hope not as I want to keep them all – it would be in same order I got them. I never want to lose the HP4; it's just so versatile."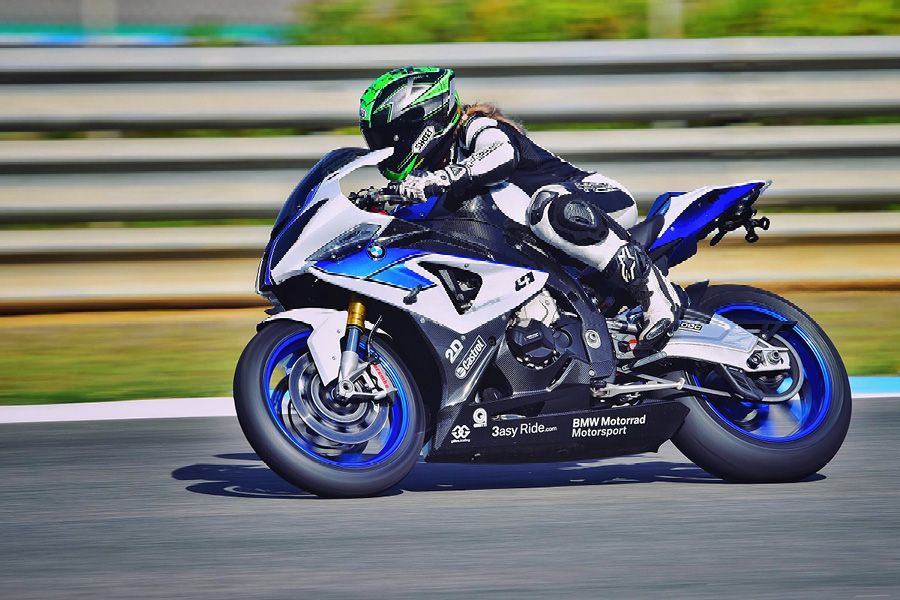 ---
ROOM FOR ANOTHER?
"Because of the variety of the bikes I have, people ask me how I decide what to ride. It's always a simple choice because of how different they are! It depends on the mood I'm in or the need of the ride," Jo explains.
"But if I had to put one more bike in the garage, I would like something vintage with more soul to it," says Jo. "Something with history. Everything else I have is new or fairly new."
You can follow more of Jo's adventures at Joanna Benz Instagram and she will be on the BeMoto stand at the MCN Festival of Motorcycling on May 18-19 with her three bikes if you want to quiz her about the scooter… ;-)
---
Multibike Insurance Specialists
If you own more than one bike then make sure you speak to BeMoto. Unlike others we realise that you can only ride one bike at a time - so why pay for multiple full price policies? Exactly.
Speak to a multi bike insurance expert on 01733 907000 today.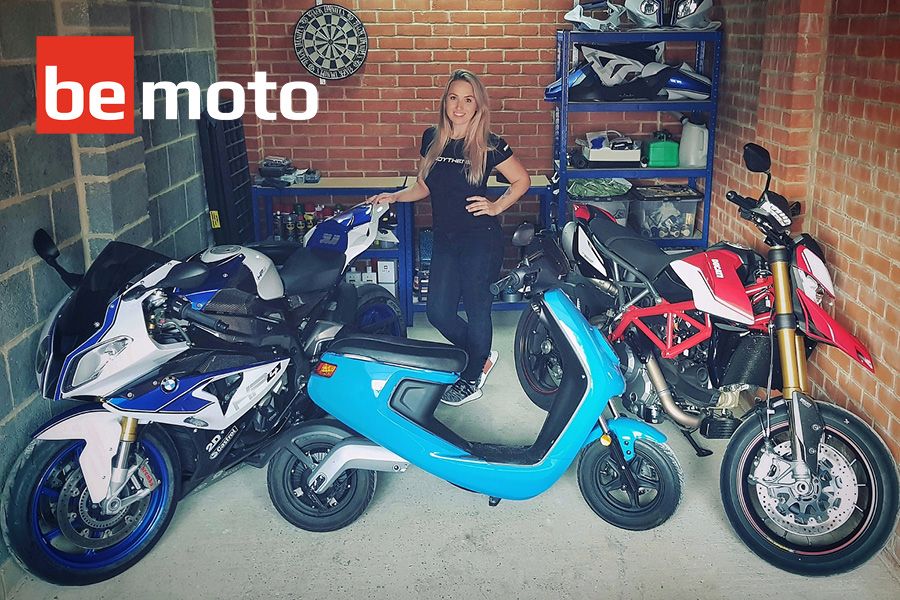 Multibike Insurance FAQs
Why choose BeMoto for your Multi-Bike Insurance policy?

How does Multi-Bike Insurance work?

How is a Multi Bike Insurance quote calculated?

How many bikes can be covered on a Multi-Bike policy?
---