---
Multibike Garages: Mathew Long
By BeMoto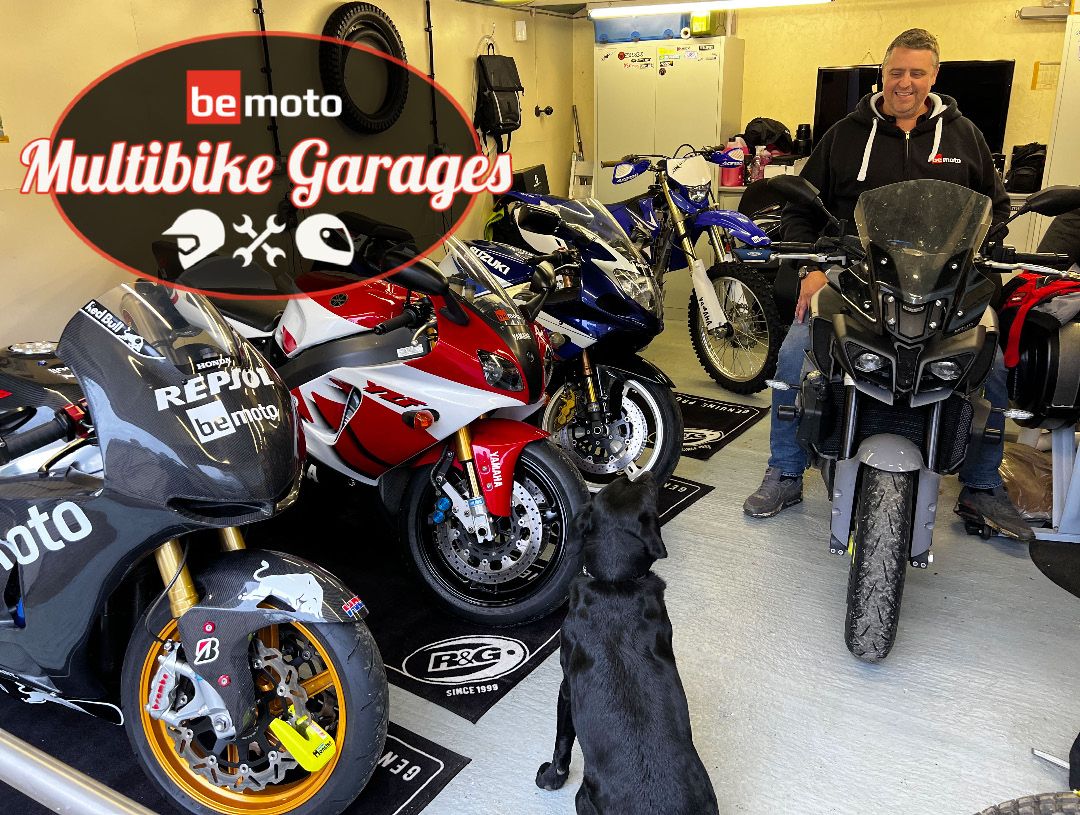 ---
One of the directors here at BeMoto, Mathew Long talks about what's in his garage and why, dropping a CBR600 in front of a crowd, his sportsbike obsession and the difficulty of picking his favourite ride…

Who are you?
My name is Mat and I am one of the original BeMoto team who set up the business in 2015.
What do you want people to know about you?
I do the odd European bike tour, occasional track day and love an overseas enduro trip to the Adventure Rider Centre (ARC); otherwise I am generally a fair weather road-rider in the UK and hate the faff of putting on all the gear for short rides. I mostly live vicariously through my three kids who ride off-road electric dirt bikes. Electric because they are quiet and great fun, without disturbing anyone and require minimal maintenance!
---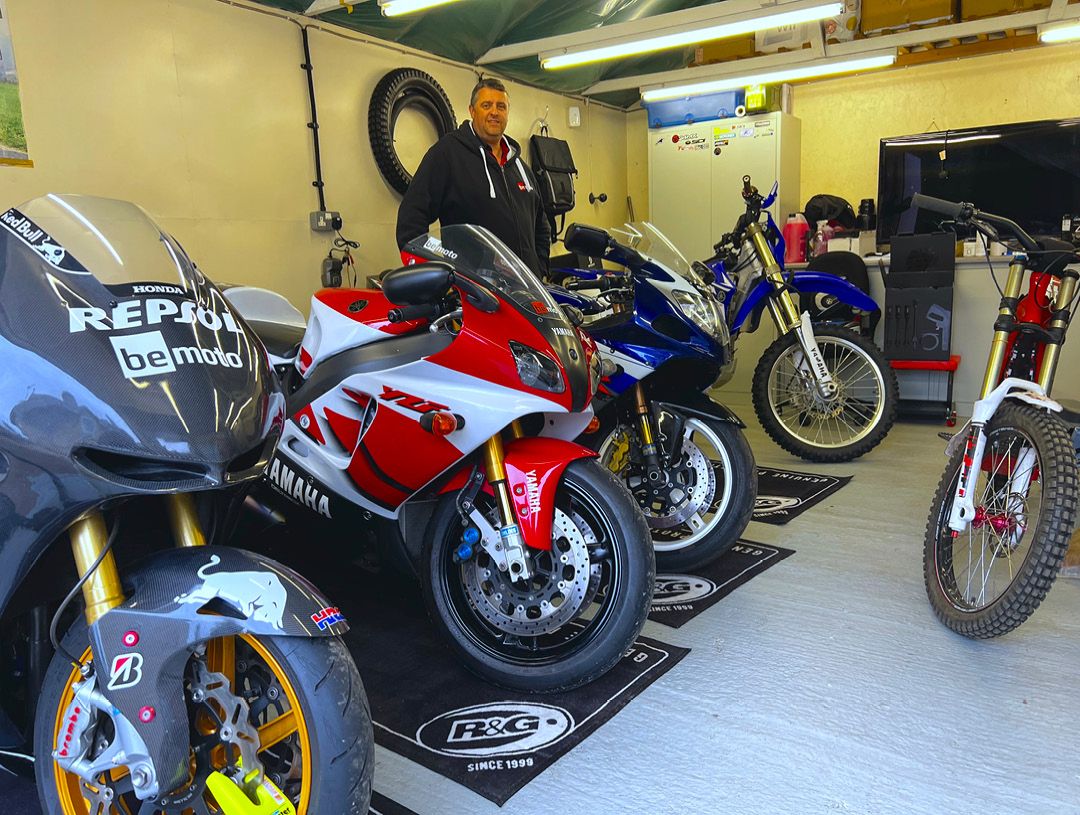 ---
Tell us a little bit about your work
I've been in the insurance industry most of my career, but switched from home insurance to motorbike insurance in 2011 when I worked at one of our large competitors - until BeMoto was founded. It's more enjoyable working in bike insurance as it's something I am passionate about, speaking to customers who are equally as passionate and generally love to chat about bikes. Oh and I also get good staff insurance deals for my multibike collection...
How long have you been riding for?
I have been riding for nearly 25 years, other than one gap year without any bikes after I moved house (time and money were both in short supply). I was never allowed scooters or motorbikes as a teenager, but I always wanted a bike from quite a young age after a few rides on a mate's Honda Monkey Bike. I finally moved out and did a weeks' intensive Direct Access training in West Yorkshire, where I lived at the time, and was instantly addicted.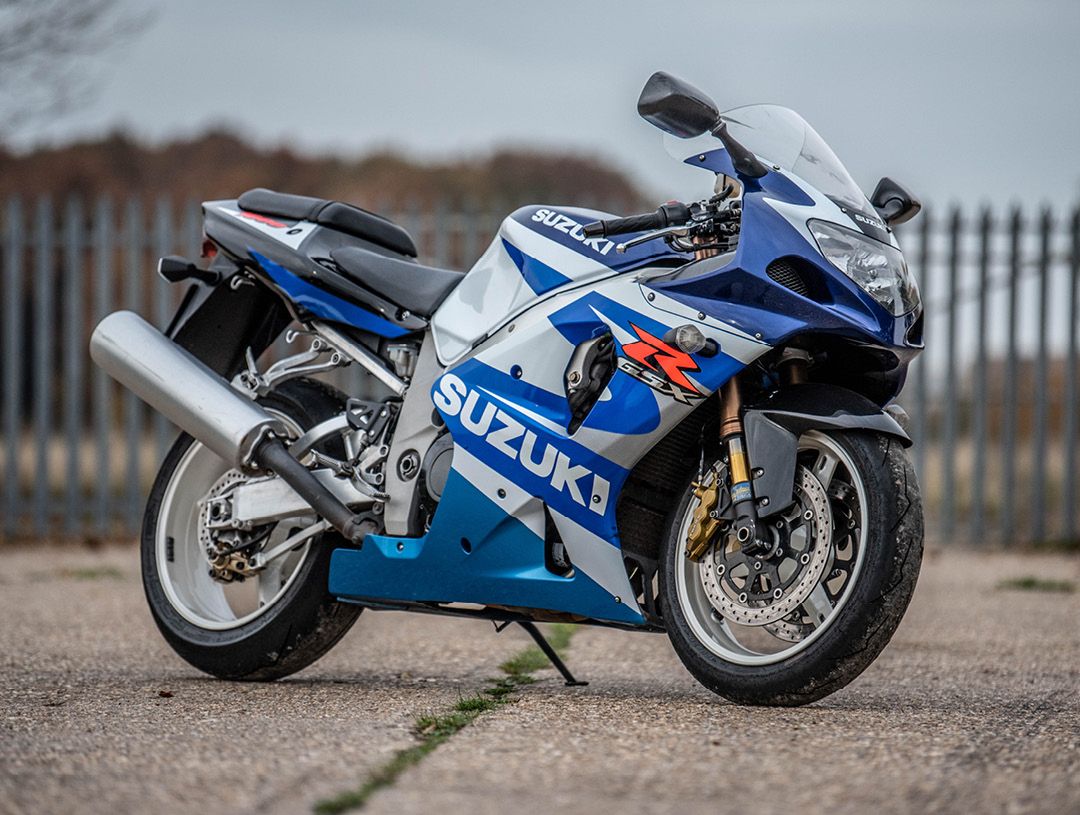 ---
What was your first bike and why?
My first motorbike was a Honda CBR600F, in black and gold, with a classy Givi box on the back... I got it mainly because I was told they were a "very forgiving" first bike, plus I liked the sportier look. I dropped it a couple of times in embarrassing situations, for example in front of a large crowd at Brands Hatch World Superbike, to much applause, and got those early mistakes out of the way on my first bike.
Then one day I popped in Colin Appleyards in Leeds (less than a year after passing my full bike test) to buy a new tinted screen for the CBR and walked out with a nearly new 2001 GSX-R1000 K1 with the white wheels - much to my wifes surprise/horror - which I then owned and commuted daily on for the next nine years until I foolishly sold it.


---
What bikes are currently in your garage?
It took me nearly 20 years to finally own more than one bike, but I seem to be making up for lost time. I've had my Fluro Yamaha Yamaha MT-10 since 2016 but then added some late 90's sportsbikes including the highly recognisable LambChopRides custom-carbon 1996 Fireblade (aka "Beasty"), a stunningly beautiful low mileage original 1999 Yamaha YZF-R7 OW-02 and a 2001 Suzuki GSX-R1000 K1 (exactly the same as the one I wish I never sold). I also have a modified 2008 Yamaha WR250F and a rusty Yamaha DT50 barn find - waiting to be renovated for my son who is not yet 16. Plus of course the various kids electric bikes, including an Oset 24.0R that I sometimes ride and some Kubergs.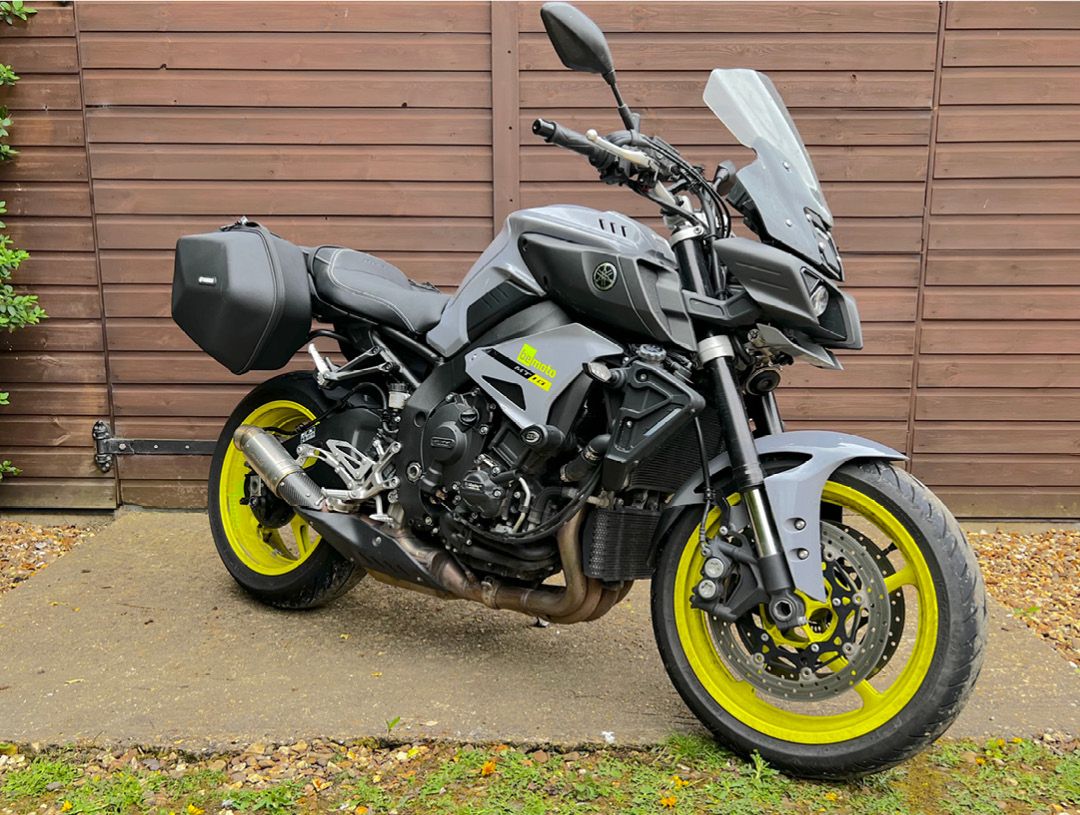 ---
What's your pride of the fleet and why?
It's a hard choice because they all tick different boxes, for example:
The R7 is just amazing to look at, but not comfortable for a 6' 2" middle-aged fatty (I am proud to own it and enjoy showing it on BeMoto show stands)
The LCR Blade is the most fun to ride with what feels like weightless perfect balance and 160bhp at the back wheel - but no lights or indicators (I'm like Cinderella rushing home when it starts to get dark). Mr Chops is a talented guy and I had to have it when I saw it in a custom bike competition at the MCN Festival in Peterborough.
The MT-10 is both practical and immense fun, almost a sportsbike, but kinder on my back/wrists and less embarrassing to put panniers and heated hand grips on.
The WR250F is clearly something completely different to the other bikes I own, it is cool but I am an amateur off-road rider so never really make the best of it.
But... The GSX-R1000 K1 is my first love and I am still smitten. That paint scheme and white wheels still does it for me. It starts first time, runs sweet, revs like a train and is actually a well proportioned comfortable bike for "the larger gentleman".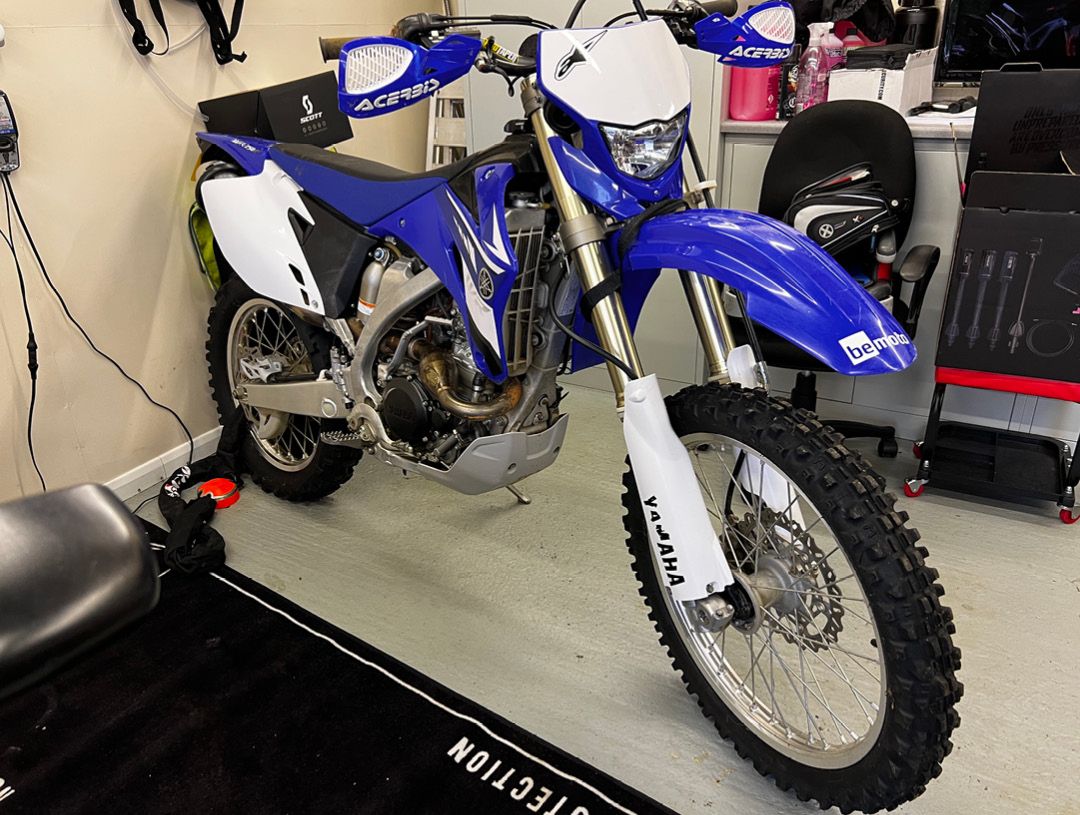 ---
What's the first bike that you'd sell and why?
Probably the WR250F as it's the one I least use. I prefer riding off-road in Spain and I'm not a big fan of wet muddy fields. It's easier to just rent one out there.
What words of advice do you have for owning multiple bikes?
Make sure they all have paddock stands and optimisers to make it easier to spin the wheels and maintain the chain / batteries when not in use, plus keep a good record of insurance, MoT and Tax dates as it's so easy to let things slip and find one or more bikes unusable or worse not legally on the road.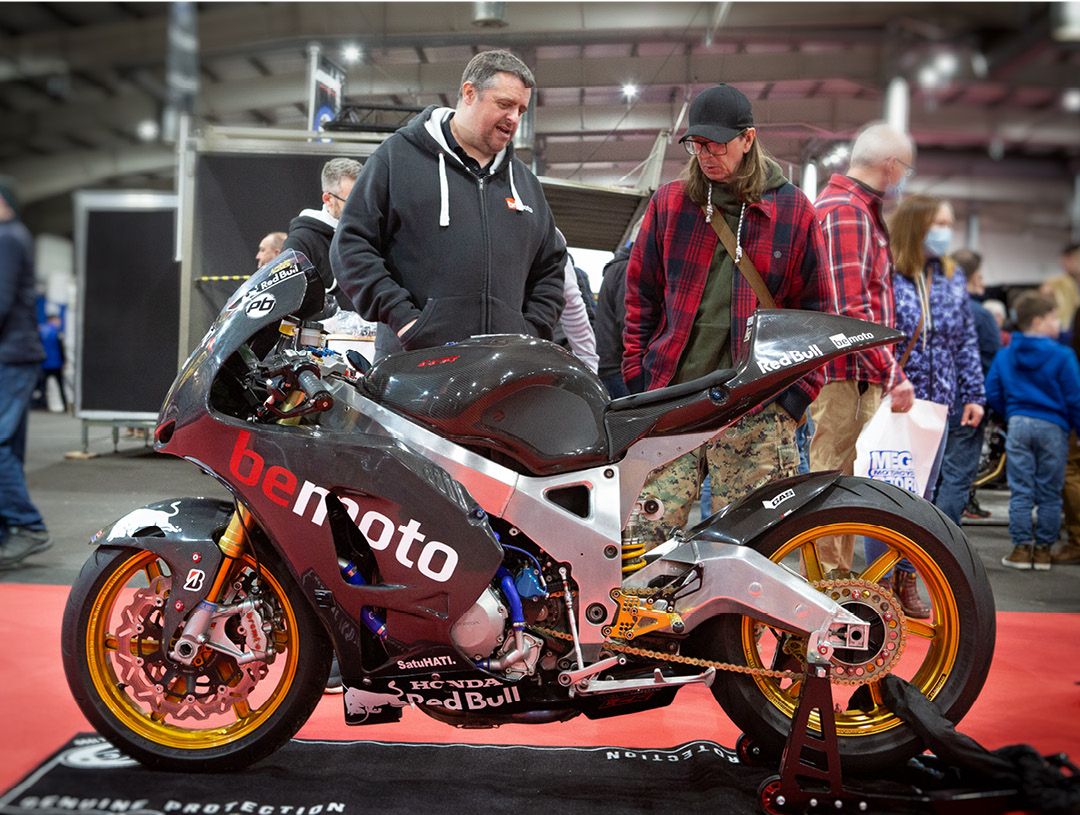 ---
What's the one other bike you'd really want in your multi bike collection and why?
If I was a sensible person I'd choose a bike that is not a sportsbike, like a BMW GS Adventure or maybe a comfortable tourer with luggage. However, I still find myself looking at hyper-sports and hyper-nakeds such as the Panigale V4 or Streetfighter V4 S. Although I did spend some time musing over a CCM Spitfire at the Scottish Motorcycle Show we recently sponsored, as well as a 1998 'Red Seat' Yamaha R1 in my local dealership, Wheels, which would fit nicely in my collection.
What is the single best experience you've had on one of your bikes?
In the early days of riding my GSX-R K1, I took it to the Isle of Man TT in 2003, camping at the grandstand and touring the island looking for the best vantage points over practice and race week. More recently I joined a tour to the French Alps on my MT-10 with a group of friends for the Punta Bagna bike show at Courchevel, but the main highlight has to be my Bucket List Tour of New Zealand. Both were about riding with friends, enjoying the twisties during the day and a few beers in the evening; that's what it's all about for me.
---
Best bit of motorcycling advice you've ever received or dispensed?
I should probably regurgitate one of the many hints and tips I've been given by the talented coaches at track day schools like Ron Haslam Race School (when it was still going) and California Superbike School, but the best advice I can give any road rider, new or experienced, is that if you haven't been on a track day then you should get yourself booked on pronto.
These are the best ways to get to know the limits of your bike, your tires and your abilities in a relatively safe environment, where everyone is going in the same direction with plenty of run-off and no obstacles to avoid. Plus you will have a smile from ear to ear once those initial first few laps are under your belt and you realise it's the best feeling!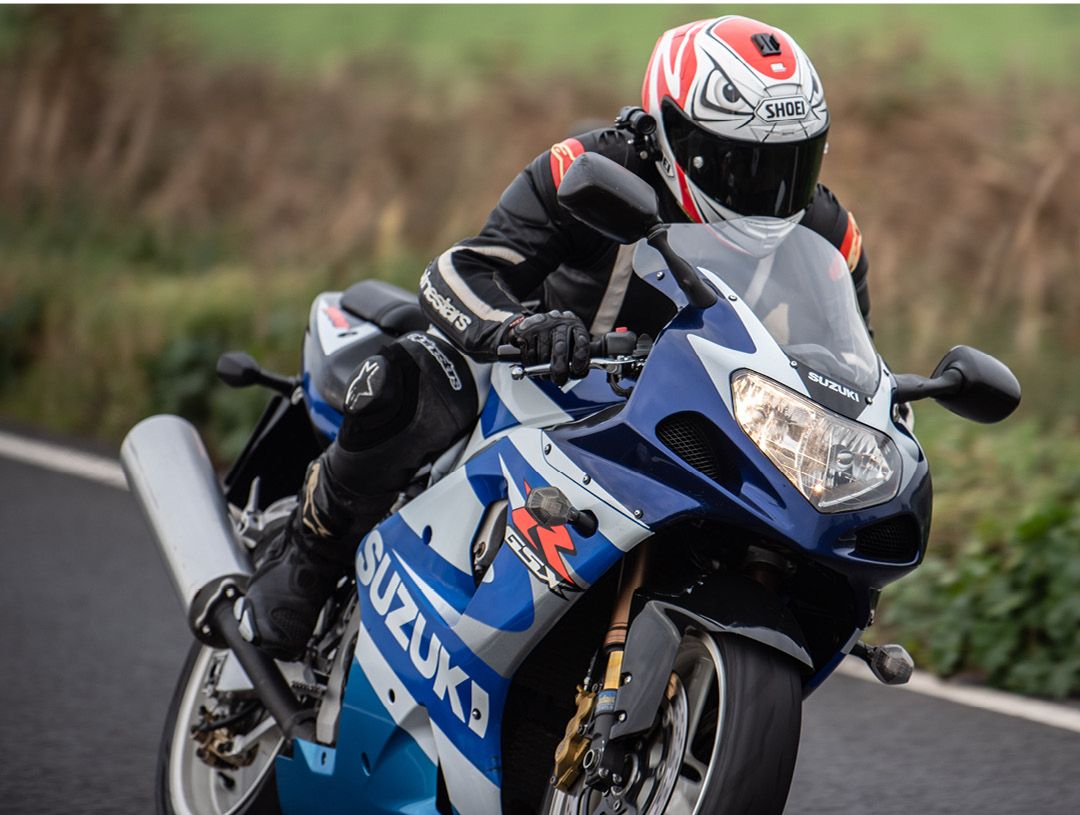 ---