---
Multibike Garages: Matt Bird
By Luke Brackenbury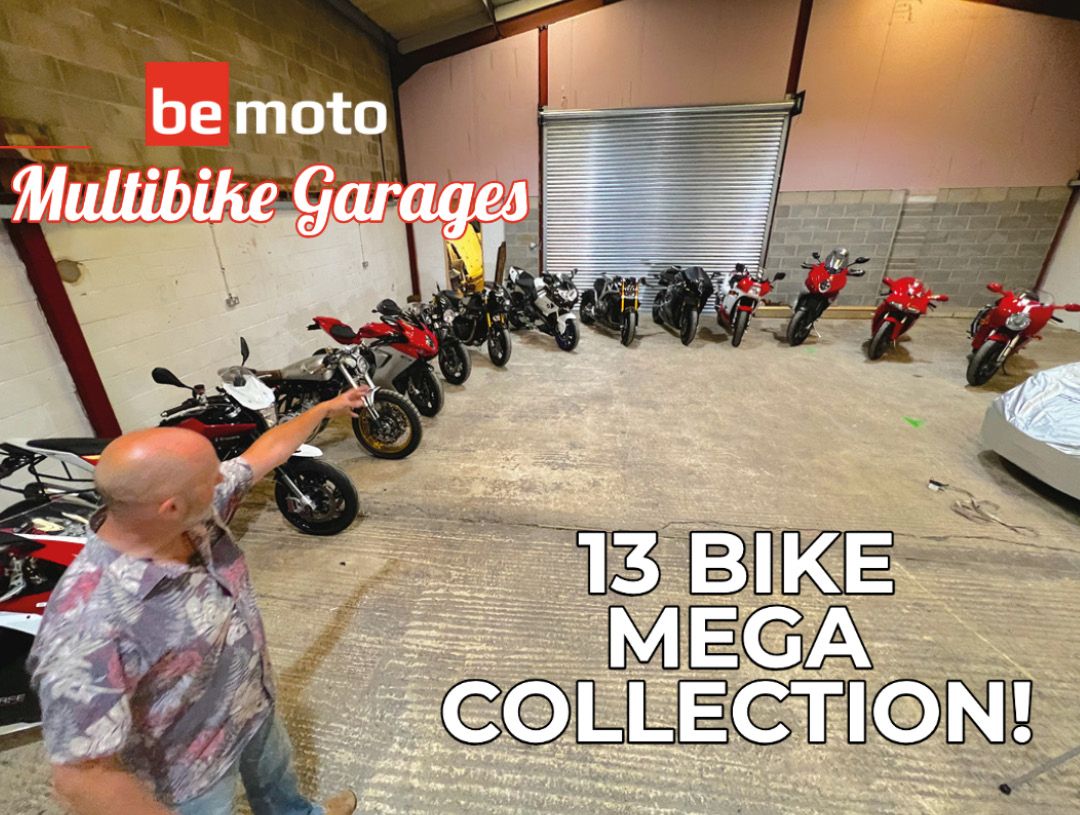 ---
We insure some amazing multibike garages here at BeMoto, but when we finished sorting out cover for the 13-strong collection from Demented Classics' Matt Bird, we asked him very nicely if we could take a look at these incredible bikes in the flesh.
BeMoto: Who are you?
Matt Bird: I'm Matt Bird, 53, Management Consultant in the exciting (well I think so - ha ha) world of Warehouse Automation Project management.
---
What do you want people to know about you?
I live north of Peterborough with my best mate Angus, a 40kg Giant Schnauzer who hates motorbikes - a shame, that. Despite visiting him four times on my bike when he was a puppy, I guess instead of normalising bikes I probably traumatised him. Oh well, best laid plans and all…
Tell us a little bit about your work
I run a consultancy that helps companies move, improve, or automate their warehouse operations. For me mostly the exciting (well I think so, ha ha…) world of Warehouse Automation Project management. Projects take me all over the UK, Europe and occasionally further afield.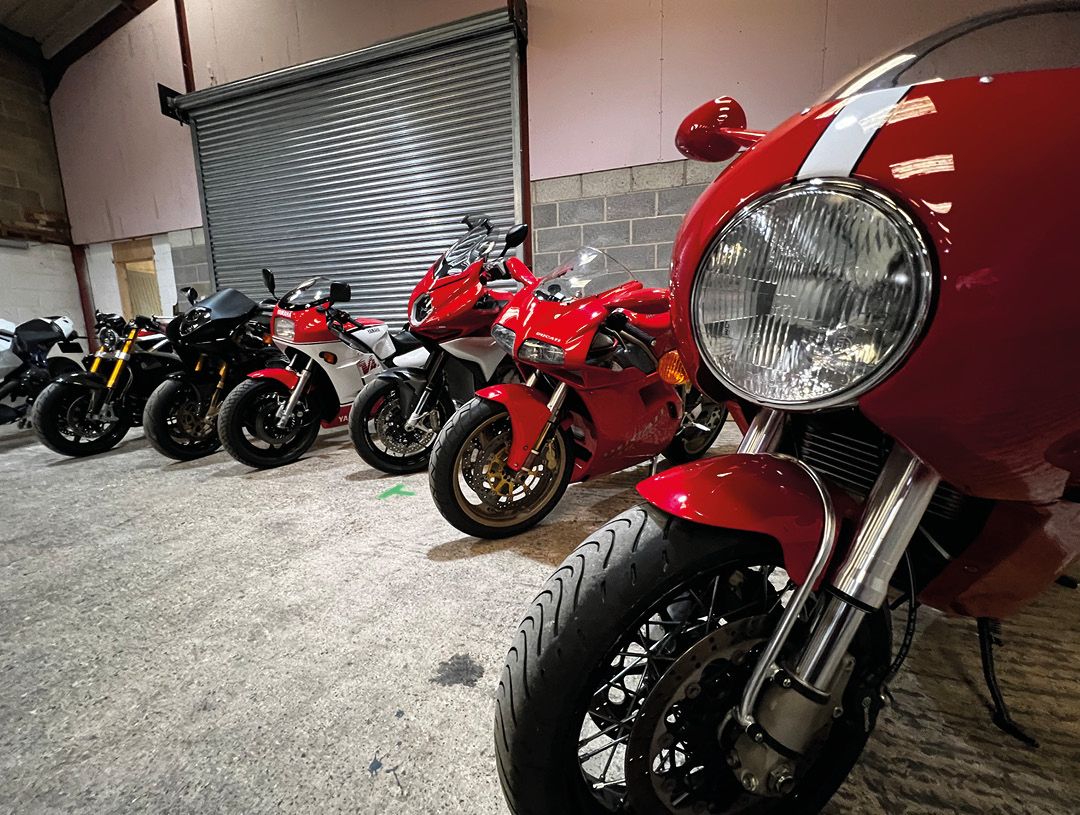 ---
How long have you been riding for?
Since 1988. I passed the test in Ashford, Kent, because it was the only place to get Part 1 and Part 2 done in less than 12 months as there was a big waiting list at the time. It was easy back then: the examiner walked around with a clipboard - no intercoms, high-vis or being followed. One lad in our group crashed on his test and still passed - excellent!
What was your first bike and why?
A Suzuki AP50: a step through twist and go. I wasn't interested in bikes that much, more music and beer. My gran had an insurance policy that gave me some cash at 16 and my Mum said: "Matthew. Get yourself a moped, it will be easier to get about and I won't have to keep picking you up". So, off we went to Ken Green Motorcycles in Welwyn Garden City, a quick ride up and down their garages out the back, instructions on 2 stroke oil received and boom - off I went at 28mph…
I got the buzz for riding. My mate had a Honda MTX50, and he decided biking wasn't for him, so he showed me how to use the clutch and gears, and the deal was done - my first "real" motorbike. I went everywhere on it (at 32mph), but took it off-road in the woods. Clearly not fast, but taught me balance and control in the slippy stuff and how to crash reasonably safely.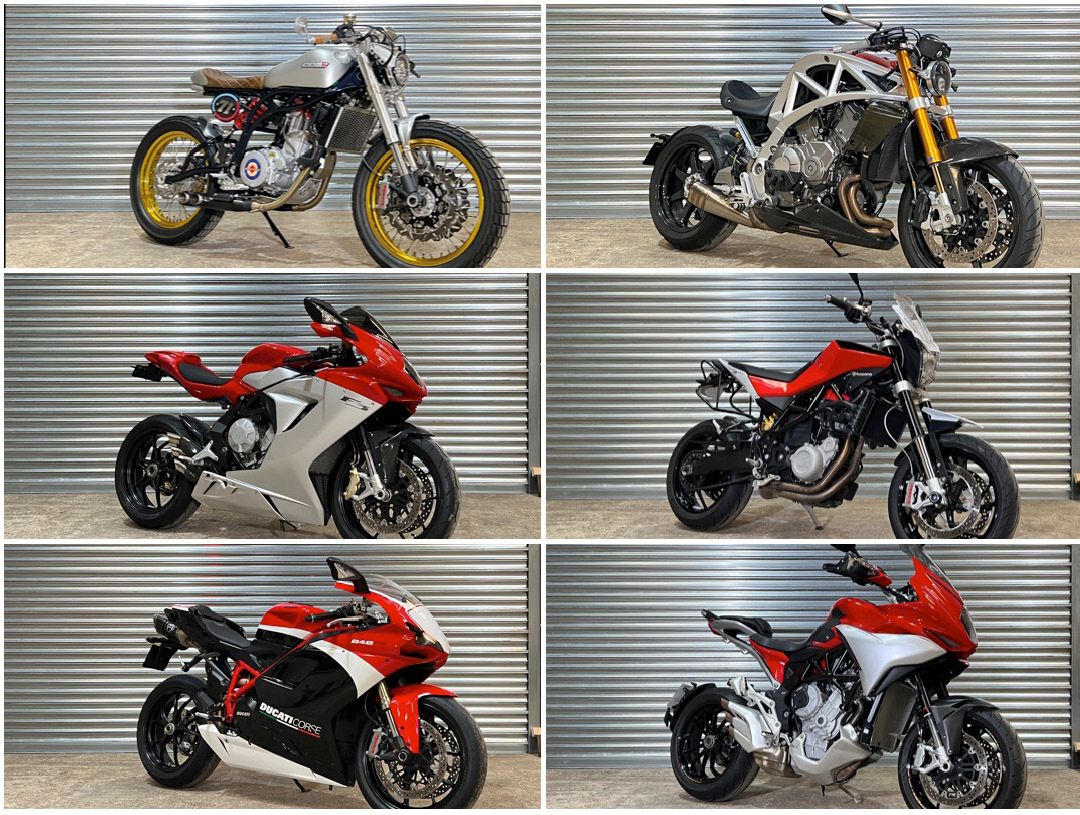 ---
What bikes are currently in your garage?
Only 13 at present, but it should have been 15. A deal was done on a Suzuki TS250 with a handshake and then the bloke sold it to someone else. Then after that was a Ducati 916 Senna 916 in auction (at the MCN Festival, Peterborough), but the auctioneer failed to put my bid in as they were too busy trying to call me – so much for a commissioned bid!
Here's the list of bikes in the order I purchased them.
Ducati 848 SE Corse (2012)
Husqvarna Nuda R (2013)
CCM Spitfire Café Racer (2019)
MV Agusta F3 675 (2013)
Norton Dominator SS (2015)
Triumph Thruxton TFC 1200 (2019)
BMW HP2 (2011)
Ariel Ace (2016)
Mondial Piega (2005)
Yamaha RD500LC (1985)
MV Agusta Turismo Veloce (2015)
Ducati 916 (1996)
Ducati Sport Classic 1000S (2007)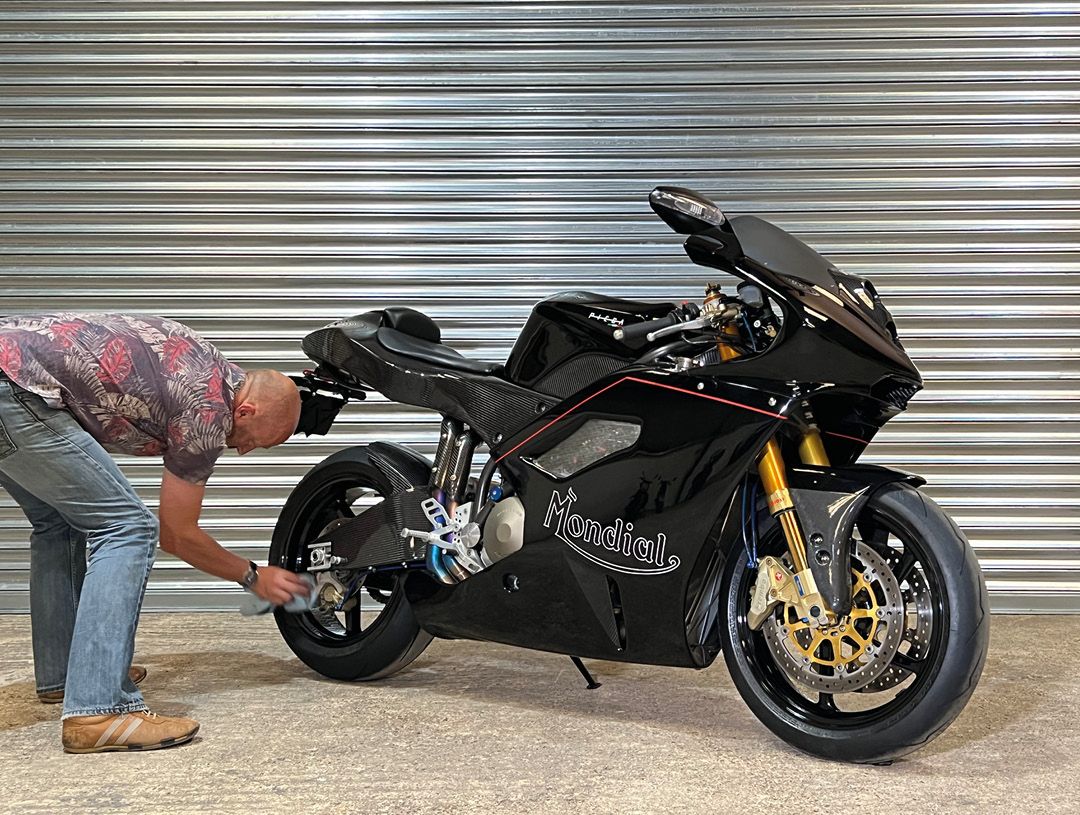 ---
What's your pride (your fave) of the fleet and why?
Now that's a bloody tricky question! If I had to choose one (I really can't), I'd say the Mondial. It's engineered so well, too well: it's ridiculous. I'm still finding new and clever bits on it.
The carbon is over the top, but for me it's so over the top it works. Hell - it even has a carbon screen!
The Honda SP1 motor is a classic and can hold its own today. However, I am paranoid as hell when riding it as there were only circa 140 Mondials ever made and I believe only 10 of these black ones. So, other than the base engine, everything else is like hens teeth to find. When I move into my new house this will be coming inside.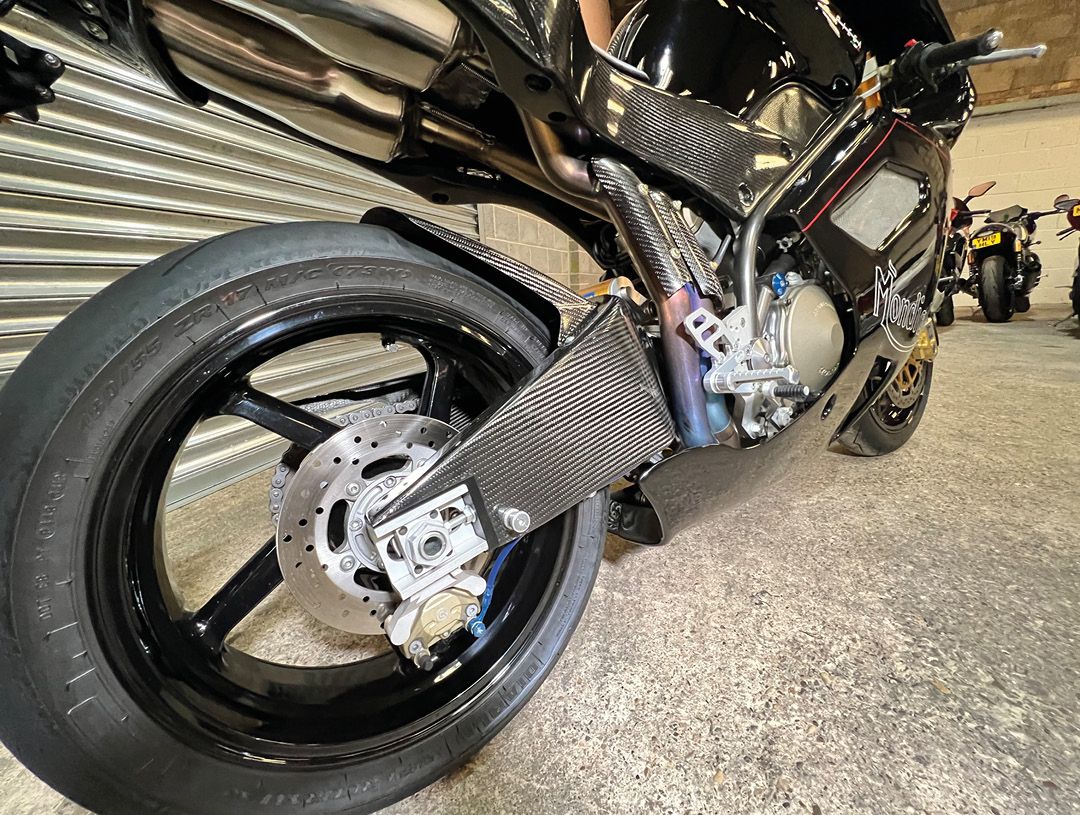 ---
First one that you'd sell and why?

Another tricky question. I sold my Yamaha FZR100 EXUP RU two years ago that I'd owned since 1992 and have regretted it ever since. But if one had to go it would probably be the 916 if I found a Senna 916 at the right price and quality. Having said that, I just love the classic red, basic 916: such an icon back in the day and at the time it came out cost about three times my annual salary to buy.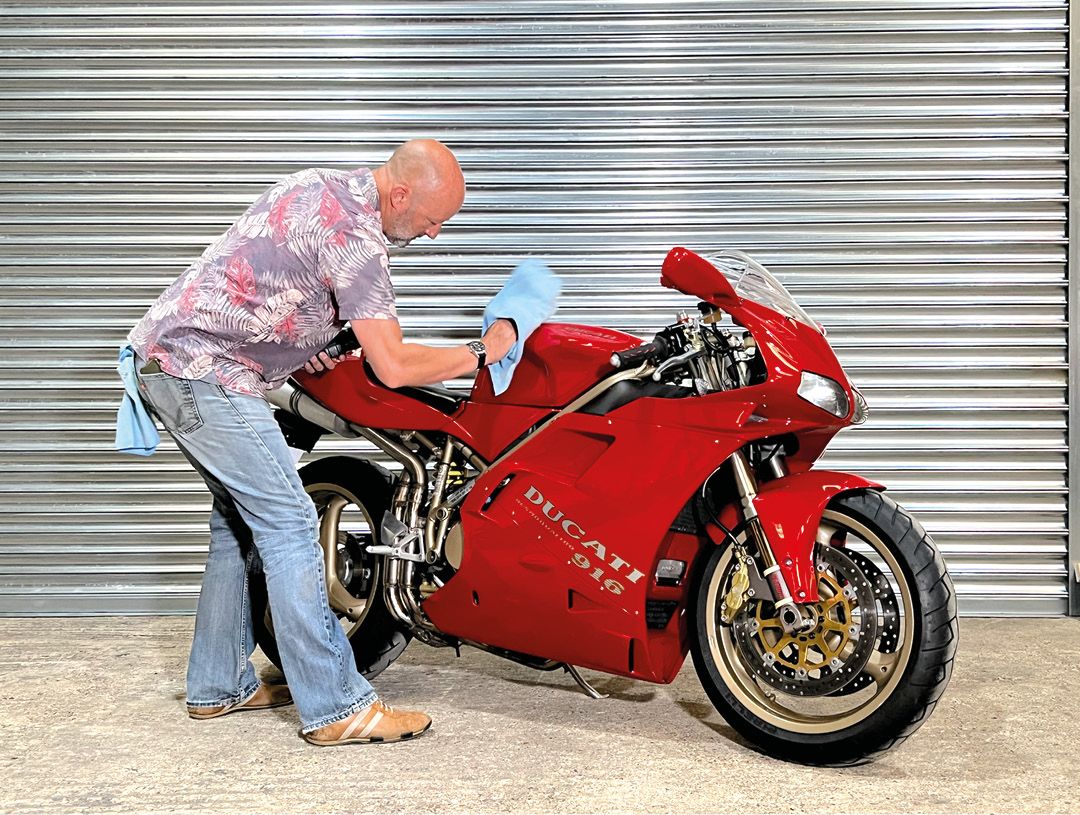 ---
Words of advice for owning multiple bikes?
You need trickle chargers as a priority! But when batteries do go, upgrade to lithium ones. Mark all your locks with colour coded stickers, and - as I recently discovered after this photoshoot - mark up your trickle chargers too!
Get organised with a spreadsheet, a big box for all your paperwork. Then moan (a lot) about road tax and how it should be on petrol and not the bike – I can't ride them all at once!
Also, when people ask how many bikes you have and then they reply with, "But you can only ride one at a time?!" - which happens almost every time - I then ask them how many pairs of shoes they have and then walk off! That seems to shut them up every time…
I could go on as I'm learning all the time.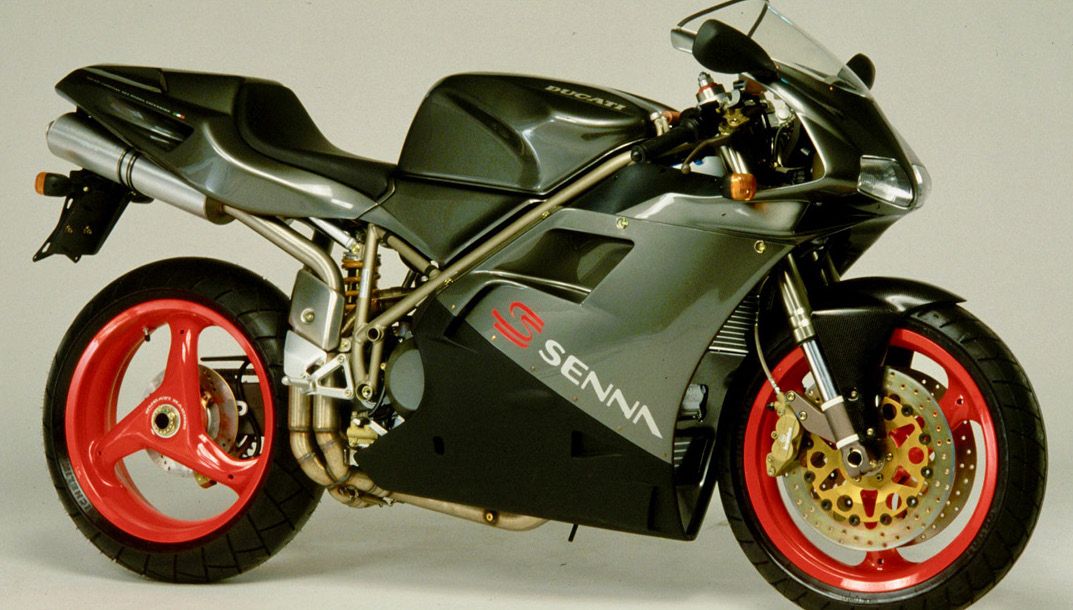 ---
What's the one other bike you'd really want in your multi bike collection and why?
I'd like a Ducati Senna 916. I've bid on two and the last time the auctioneer cocked it up on my bid, as mentioned previously.
I don't know what I want until I see it, I don't have a list, per se. I like bikes that are different and interesting. I'm watching a BMW R26 with a sidecar. It's big money for what it is, takes up lots of room and is slow. But there's something just appealing about it, so I may have to have a ride.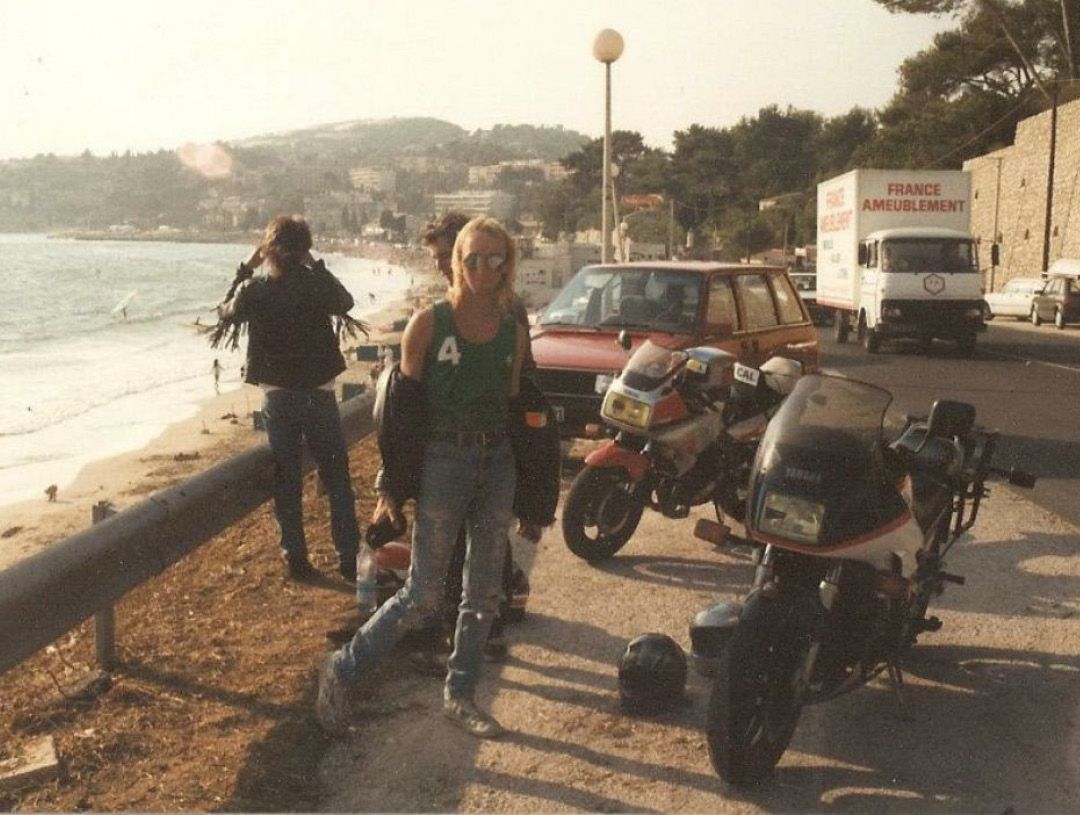 ---
What is the single best experience you've had on one of your bikes?
I really can't get into details of my Yamaha XJ550 and a girl called Sue… So I would say the first time I went to France, way back in 1988 on my Yamaha FJ1100. I bodged on some panniers, persuaded a mate to come on the back to share the fuel cost and went with a bunch of older mates. I was 19. What a blast. Amazing roads on the way down, and then arriving at the Paul Ricard circuit (still have a photo). The trip got me totally hooked on bikes and the whole mates experience that you have. And the people you meet and things that happen stay with you forever.
Best bit of motorcycling advice you've ever received or dispensed?
Leave the knee down stuff to the track, seriously - it will kill you on the road! And I have lost a few chums over the years, sadly.
Another thing is don't put things off. I often hear expressions like: "If I'm allowed another bike", "I used to have a bike", or "I have a bike but don't use it much." Just get one and bloody enjoy it….
And if you do one thing, go with some mates or on your own and have a two week ride; Europe is brilliant, they love bike and bikers. But the police are still police and - especially in Switzerland – I got a speeding ticket for being 2KPH over the limit
Expect the unexpected, ALL THE TIME on the road. From a mate who got knocked off by a goat that jumped out of a hedge. Fortunately, both were ok!
---