---
New 2020 Motorcycle Helmet Safety Regulations
By Alan Dowds
New safety mark for bike lids on the way..
A bike helmet is the most important bit of safety kit a rider has – it's also the only one which needs to be worn by law. And now, the organisation behind safety regulations for helmets is updating its rules to keep riders even safer. The ECE 22.05 standard has been the legal test for helmets since 2000, and it's now being upgraded to – yes – ECE 22.06, with changes kicking off later this year.
---
Before we start – the ECE is nothing to do with the European Union, so won't be affected by the UK leaving the EU. It's actually a United Nations body – the United Nations Economic Commission for Europe, and its membership list includes nations like Canada, Israel, Kazakhstan and the United States. The UK is sticking with the ECE regs, and there's no suggestion that this will change any time soon – so if you're hoping for a return to a 1980s-spec BSI Kitemark on your Arai, think again…
So – the ECE 22.06 regulation mark will start appearing on our helmets soon. The changes in the standard fall into two main categories – more stringent impact tests, including a new 'rotational impact' test, and changes to accommodate advances in helmet technology over the past twenty years – like flip-front lids, internal sun visors and clip-on electronics.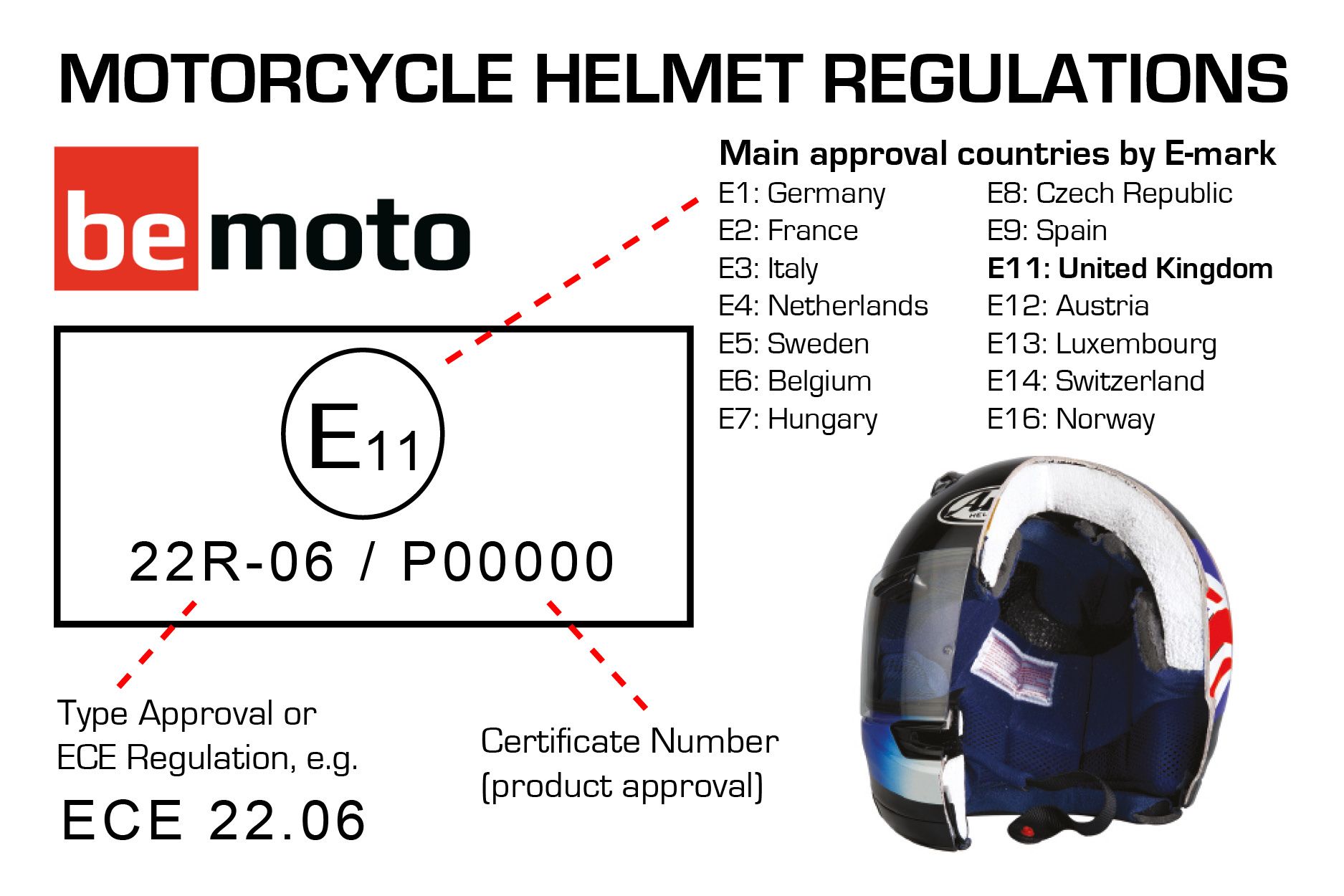 The impact tests – where helmets are dropped onto hard test surfaces, and the transmitted force measured inside a dummy test 'head' – are being expanded in several ways. The maximum impact velocity is going up, from 7.5m/s to 8.2m/s, and there will also be a slow-speed impact test. This is important in so-called secondary impacts, maybe later in a crash, when a rider isn't moving so fast, but still hits their head on the road surface. Some research suggests that helmets which do well on high-speed impacts are less protective at slow speeds, where their structure is too stiff to properly deform and absorb enough impact energy. Finally, these impact tests will take place at more points on the outer helmet shell, up to 18 from 12 points.
The rotational impact test is a new check on lids, and it measures how so-called rotational or 'twisting' forces are passed onto the brain. The helmet will be dropped onto an angled anvil, which will replicate a 'grazing' blow on a kerb or car bonnet. Some research suggests that this type of sharp, jerking twists to the head can cause serious damage to the brain in a crash, and the new test looks at how this is mitigated by each helmet design. Having a smooth outer shell, with few protrusions for the lid to 'catch' on in a crash, plus a mechanism for the inner liner to keep any twisting motion away from the skull will both help here.
The last impact test changes are for visors, which now need to deal with higher energy projectiles – preventing shattering from even harsher 'stone-chip thrown up by a car on the motorway' scenario.
The other type of change to the ECE 22 regulations involves recent innovations in helmet design. Back in 1999 when the 22.05 regulations were being finalised stuff like clip-on Bluetooth adapters, action cameras, smartphone speakers and microphones weren't around. So the ECE wants to check that these accessories don't affect the performance of a lid, and will carry out tests with them fitted. This will only apply to 'official' accessories, offered by the manufacturer as approved parts, so not a total answer at the moment. But it should point out if any add-ons are dangerous in a crash.
Flip-front helmets and internal sunvisors are also far more common now than in 2000, so, again, the ECE regs will extend to these new innovations. Flip-lids will be tested with their chinbars in open and closed positions, and sun-visors will now have to comply with a specified darkness (these can actually be a little darker than at the moment, but must be used with a clear main visor). Main 'daytime use' homologated tinted visors can also now be slightly darker, down to 35 per cent transmission from 50 per cent.
So – a fairly hefty set of additional checks for lids. When can we get our hands on these new, potentially safer helmets? Well, the ECE is a bit of a bureaucratic beastie, but it's looking to move quite quickly on this. The final regs could be in place by this summer (2020), and helmets can follow fairly quickly after that. But it'll probably be 2021 before they hit the shelves. Don't panic if you need a new lid in the meantime – ECE 22.05 helmets will remain legal to use on the road, in the same way that old BSI-stamped helmets remained legal when ECE 22.05 took over. Dealers will have a three year period to sell off helmets with the 22.05 approval – though you'd expect stocks to deplete quickly once the 22.06 regime is in place. It's also worth mentioning that many high-end helmets already pass ECE 22.05 by a fair margin, so could already pass the ECE 22.06 standard as they are at the moment.
In the UK, the Motor Cycle Industry Association (MCIA) is working with the bike trade, and ECE on the changes. Christopher Hodder from the MCIA told us how it sees the changes.
"The intended impact [of ECE 22.06] is to make motorcycle helmets safer. One of the big issues in injuries is secondary impacts hence the low and high speed impact tests. Also, many of the newer innovations like integral sun visors, Bluetooth systems and flip fronts are not reflected in the previous regulations and it was probably felt that new innovations need to be checked.
"For end-users, it means that new designs of helmet should offer more protection than the older ones. Although I imagine that the higher end of the market will already exceed the new standards with existing designs."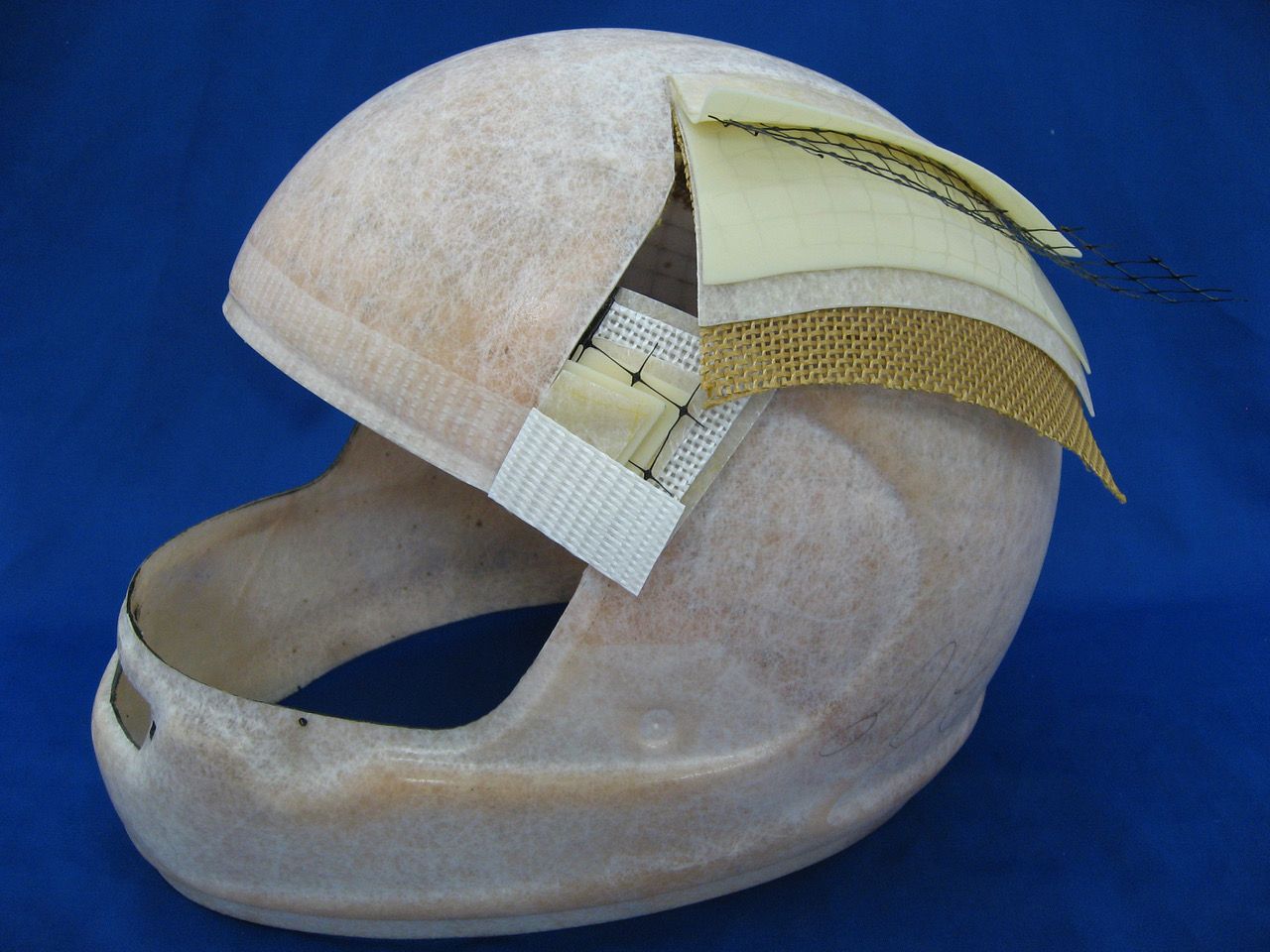 Arai Helmets Outer Shell Cutaway.
---
More information about helmet safety tests at Snell Foundation. The Snell Foundation is a not-for-profit organization dedicated to research and development to improve helmet safety standards.

---