---
Suzuki RGV500 Custom Bike Build: One man's quest to build a road going GP bike
By BeMoto
At BeMoto motorbike insurance, we love modified bikes and our minds were blown when we came across Gary Parker's Suzuki RGV500 special at the MCN Festival of Speed. The show featured a huge array of amazing machinery - the classics, the bikes ridden by the legends, the 2-strokes, the latest and greatest….and the specials. However one bike really stood out to us, it was Gary's RGV500 - for us it was the standout bike of the show. BeMoto are honoured to insure and feature Gary's RGV500 Special below.
---
BeMoto are experts in arranging insurance for modified bikes

From a simple change of exhaust to a totally modified, ground-up build, like Gary's - we can ensure that you are properly covered.
Call BeMoto on 01733 907000* to speak to a real biker who properly understands your modified bike.
---
Modified Bikes & Custom Builds: A Labour of Love
We are not talking about a bike that was built by a bike builder for a client with an open cheque book - there are too many of those bikes out there and they lack the owner's personality and soul. What we are talking about here is a labour of love, a one-off build, a bike built by the owner to his exact specification… and… faultlessly executed.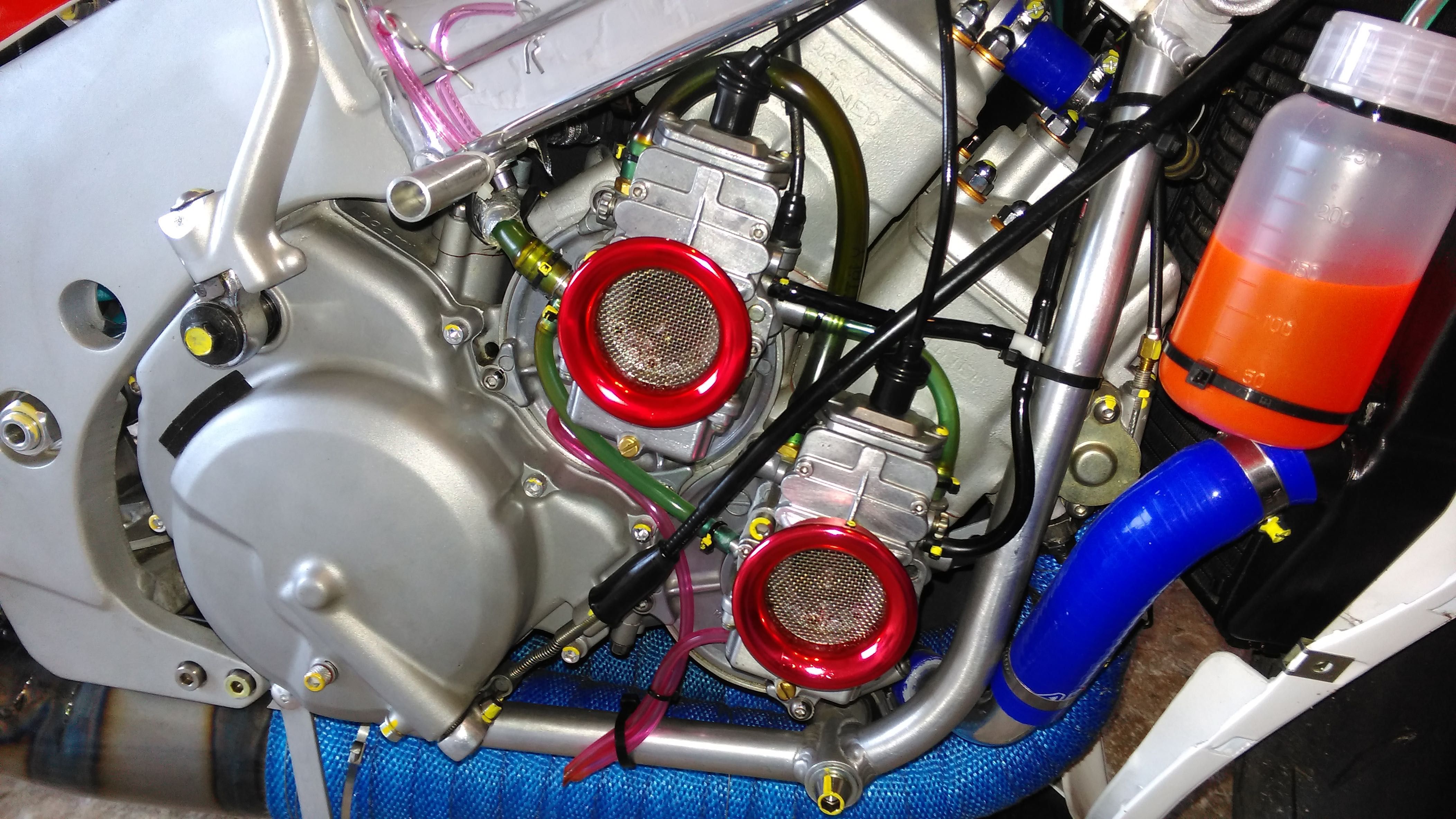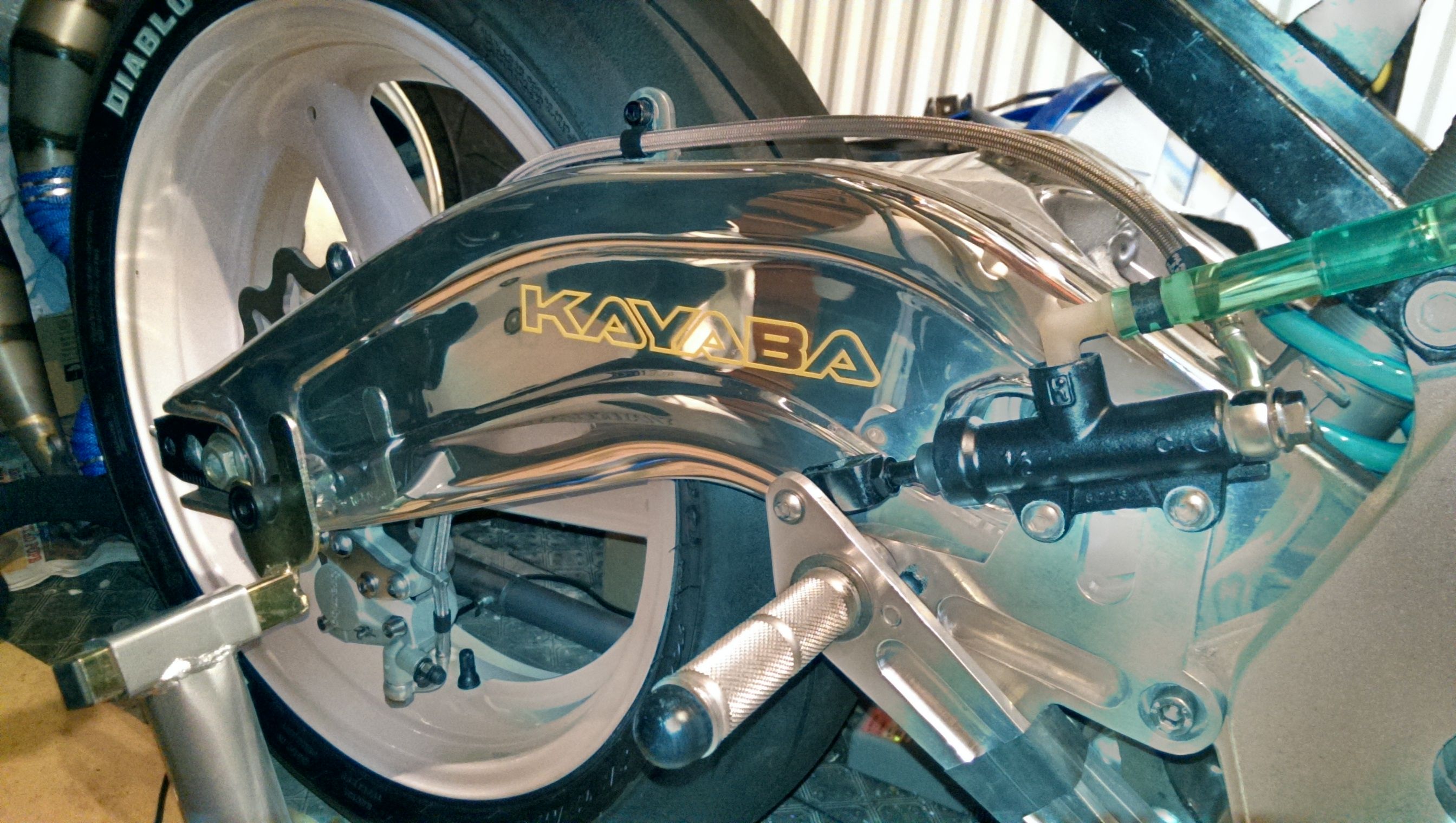 Gary is a very talented motorcycle mechanic who spends his normal working week building Trikes. He has a lifelong passion for two strokes and has owned many 'tricked-up' LC's. Like many of us, Gary has always lusted after the noise, the sound and the design of 500cc GP bikes of the 80's and 90's. With these bikes being unattainable to all but the wealthy select few most of us continue to dream about owning something so rare and beautiful. However not Gary, Gary wanted one so badly that he set about building one himself
"After seeing a number of of RGV500's on Facebook/internet etc I thought I could build one of those...and so the search to find the right bike to be used as the foundations of the build began. I spent a crazy amount of time on eBay, over months and months, trying to track down an appropriate bike but none were right. I came across a few bikes but it was sods law that they were at the top of Scotland or down in the far south of Devon and it was just not practical for me to think about viewing them."

After months of searching Gary finally did get some luck and found a bike that looked suitable. This one also had the added bonus of being local, it was just 20 miles away!
"The bike had previously been a special- an RG500 with RGV250 front and rear ends. However, had no fairing, no clocks, no wiring loom, no air filters……..(the list went on and on…...and on!). It had been stood for 11 years and was an inch thick in saw dust!……...but, it in my mind, was perfect. After I bought it I considered restoring it, but I wanted a RGV500 and so the search for parts to start the build began. I have had a large number of 2-strokes over the years and many LC's. I got speaking to a friend of mine who had an RGV250 rolling chassis - It was an ex race bike, a tad rough, but all there…..I did him a deal on some 350LC parts that I had lying around from previous builds and it was mine."
Gary now had the foundations to make a start on the project. "I removed the engine from the RG500 and got to work stripping it down to every last nut and bolt. A previous owner had painted it all blue?!.... Crank cases, barrels etc….it wasn't a pretty sight! Luckily my friend Jay Rutkowski makes shot blast machines, so his help was needed to remove the awful paint. Jay did such an amazing job of shot blasting the engine that I left the engine bare…..it provided that 'factory' look. I then got to work totally rebuilding the engine from the ground up….no expense was spared and I spent a small fortune in getting the cranks rebuilt, cylinders rebored. I fitted new bearings, new gaskets…well…..the list just goes on …..and on!"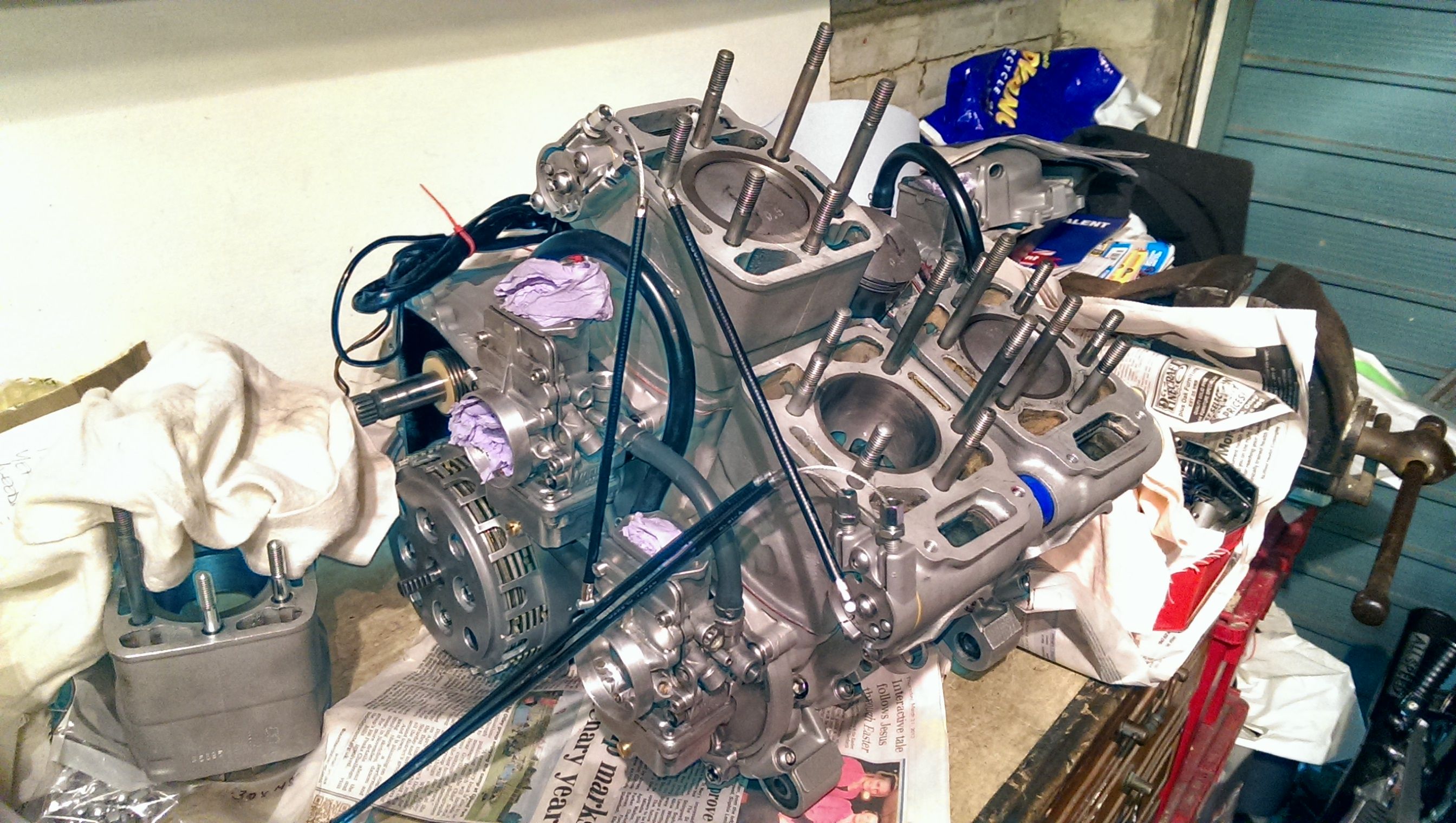 So after a small fortune was spent and many, many hours of Gary time past he finally had a fully rebuilt and beautifully clean RG500 engine. Gary then set to work in mating the RG500 engine to the RGV 250 rolling chassis.
"I was able to purchase some engine cradles online that were specifically made to allow the RG500 to fit within the RGV250 frame - the frame did however need to be slightly modified and I had to find a new clutch cover in order for the engine to fit. I used the Nikkon pipes that came with the RG500 but set about modifying them to fit the new chassis. I had to cut the exhausts so that I could rotate and re-weld the cones and make them fit properly."
Gary's obsession with eBay during his build, to track down parts, did pay off: "I was looking on eBay for parts and came across 4 Genuine Factory Suzuki carbon fibre and titanium silencers!.... a nice finishing touch."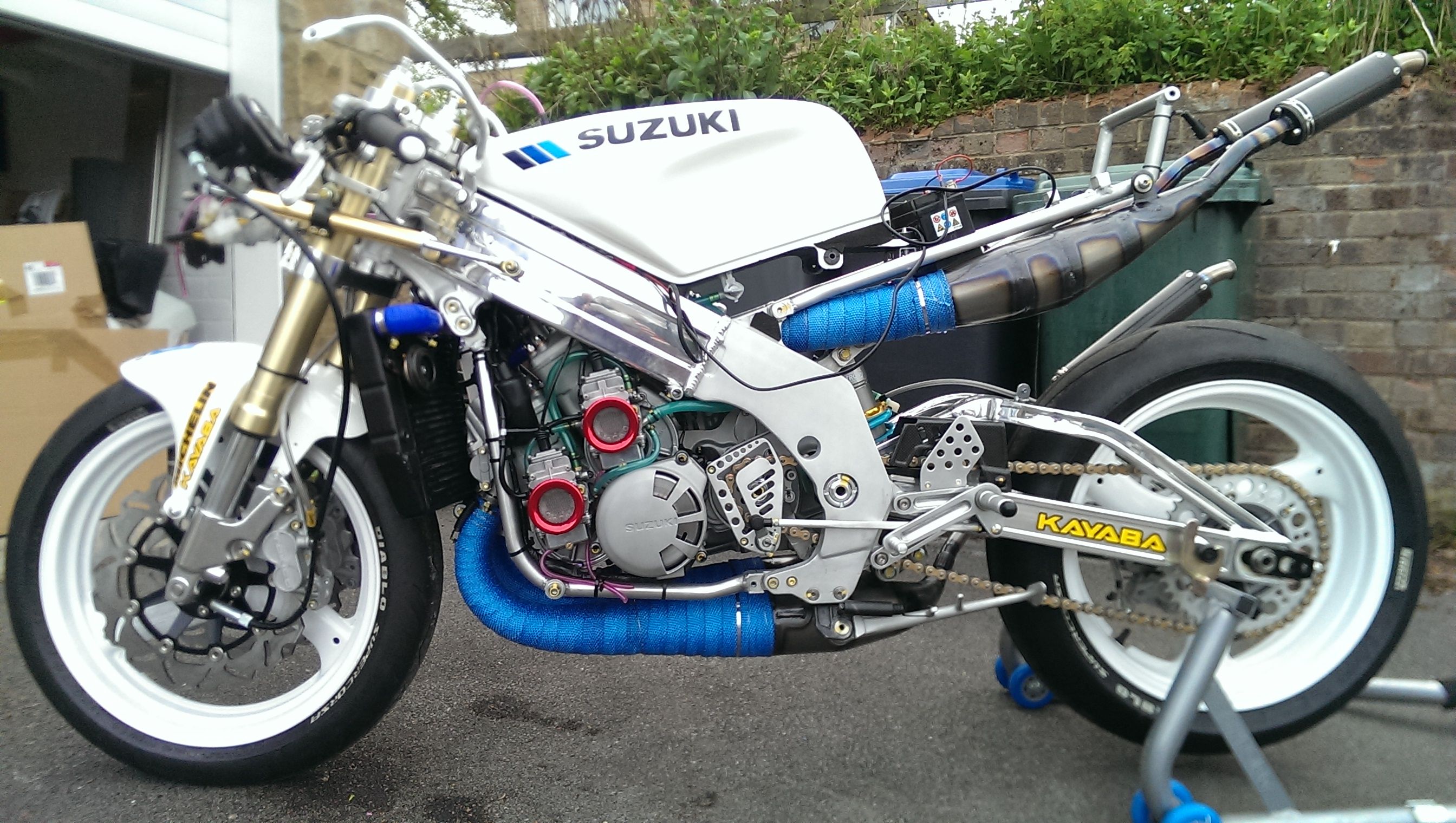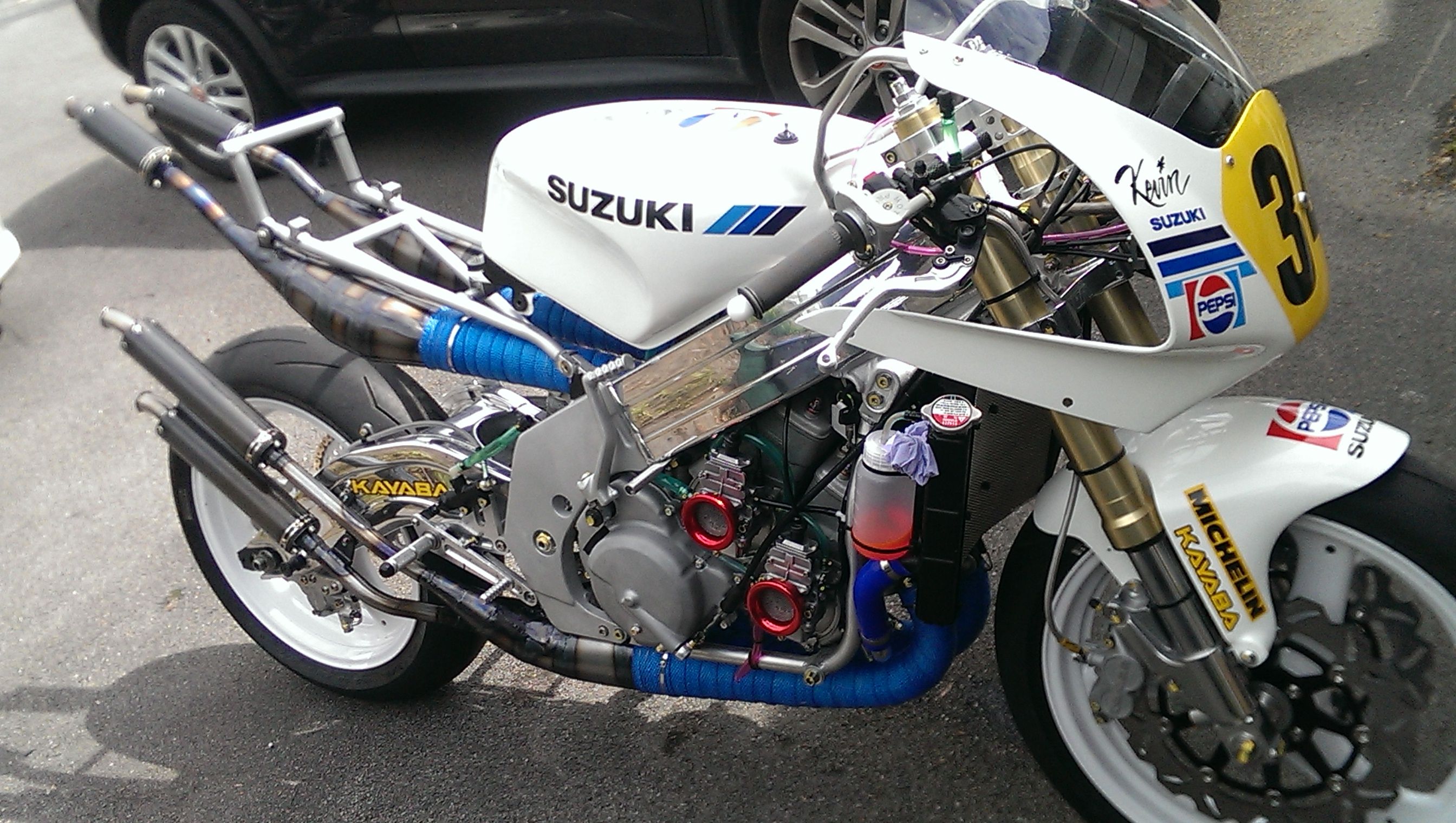 Next on the list was work on the aesthetics. "I tracked down some RGV250 fairing on eBay which were in Movistar colours and set about modifying them to look more like the RGV500. All bodywork is modified subtly to replicate the look of the 500, most people don't notice, but the devils in the detail. I made my own rear subframe from aluminium to house the extra two rear exhausts of the 500 and tried to track down a replica RGV500 seat unit and tail piece. Again after months of searching the right seat unit did not appear so I decided to set about and make my own from scratch - I had pictures of the RGV500 that I scaled up to get the right dimensions! I used anything and everything, wood, hardboard, silicone, paper mache, fibreglass, filler, some thin metal sheet, rubber, it weighed about 10 stone!...... but looked perfect. Another friend, Mick, is a pattern maker, he showed me how to make a mould from my pattern so we did and then made the seat unit."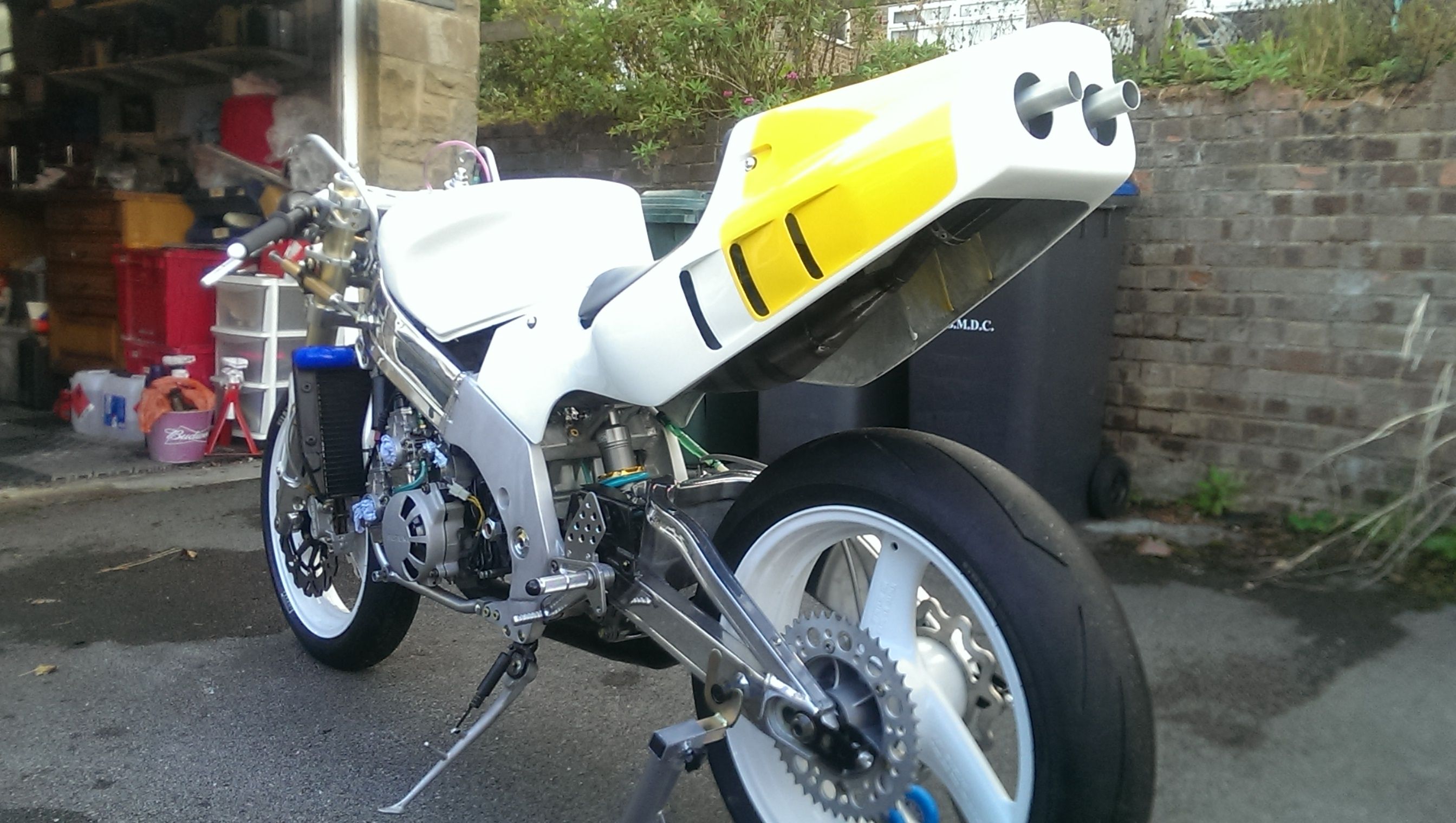 The work on the bodywork was a huge project in itself, taking 6-7 months from start to finish. During this time Gary continued to put the rest of the bike together."I cut up the brand new old stock wiring loom to make it fit and remove the light circuits, I had made a clock bracket, bought and fitted a new Nitron rear shock, fitted clip on's with carbon fibre handlebars after seeing them on the internet. To save weight (an obsession of mine it seems) I started buying titanium bolts. I got talking to a customer at work and he gave me the number of Pete Lister at TI64 who can make anything from titanium and so he did my wheel spindle's."
Finally with the bike all put together Gary set about on the finishing touches. "The finishing touch for me was the paintwork of the Kevin Schwantz Pepsi RGV500 - an iconic paint-job on an iconic motorcycle." The paintwork was done by Mark Lovell, at Custom Paint and Airbrushing (he paints the trikes that Gary builds) and the custom decals were created by James (Snittle) from the RGV250 forum. As you would expect for a bike of this standard - the end result is flawless and one of the best executed paint jobs that BeMoto have seen.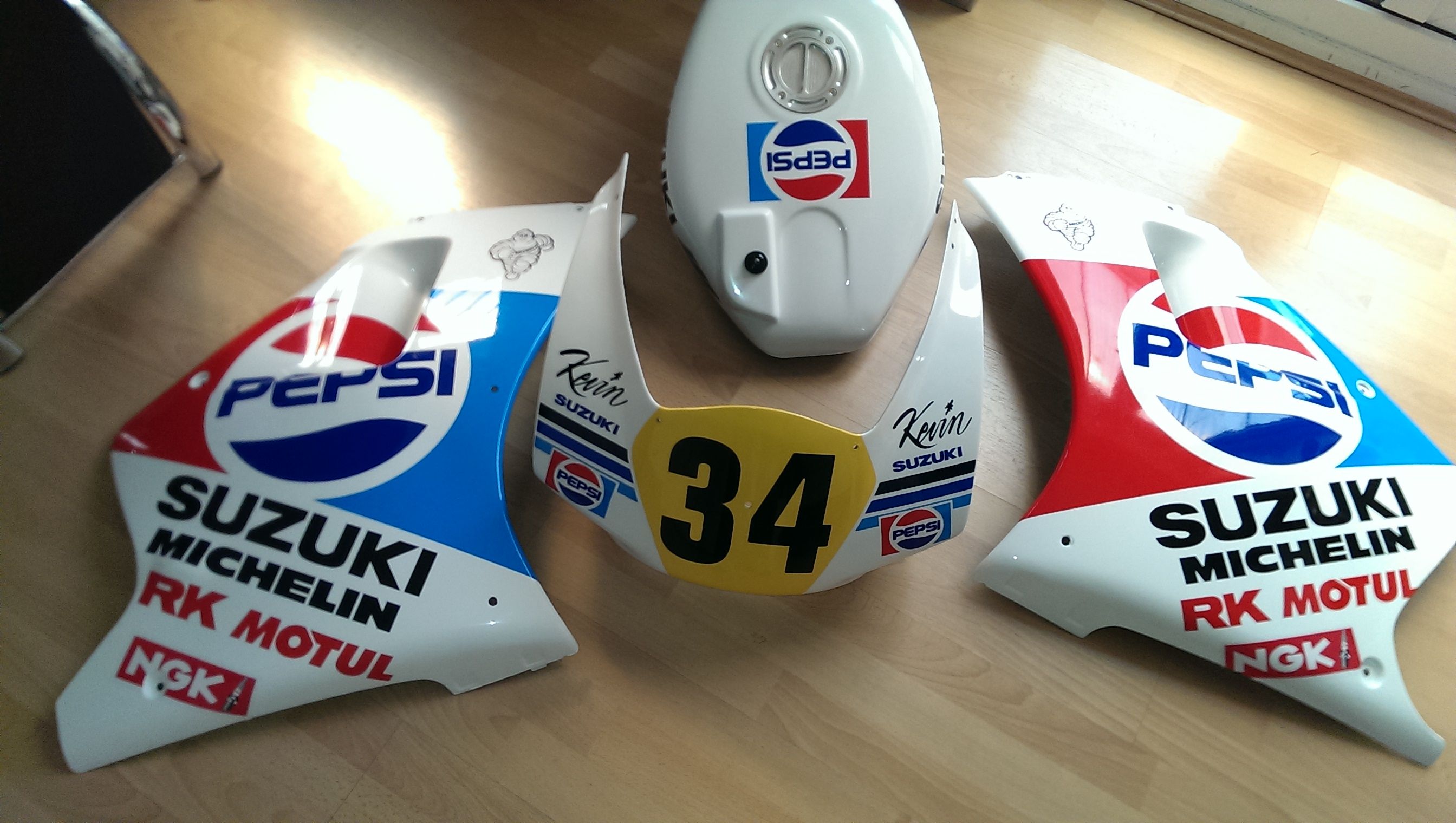 The RGV500 special took Gary over 4 years to build - evenings, weekends and lunch times were totally consumed. But what Gary has produced is one of the most astonishing builds that we have come across - with an incredible power to weight ratio "The previous owner says the engine is around 120 bhp I personally think that's a bit optimistic! It does however weigh just 114 kg due to my weight saving obsession of titanium, aluminium,......and unobtainium!!" The RGV500 special is a glorious showcase of engineering, built by an incredibly talented individual to exquisite detail. The end result is an RGV250 with nearly twice its original power and around 30KG lighter! Gary we salute you!
Since finishing the RGV500 special, Gary has taken it to a local show where it unsurprisingly won best 2-stroke as well as best bike in show. It came 2nd in the National Practical Sportsbikes Special Build Of The Year Competition. We at BeMoto are sure that it will win many, many further awards in the future.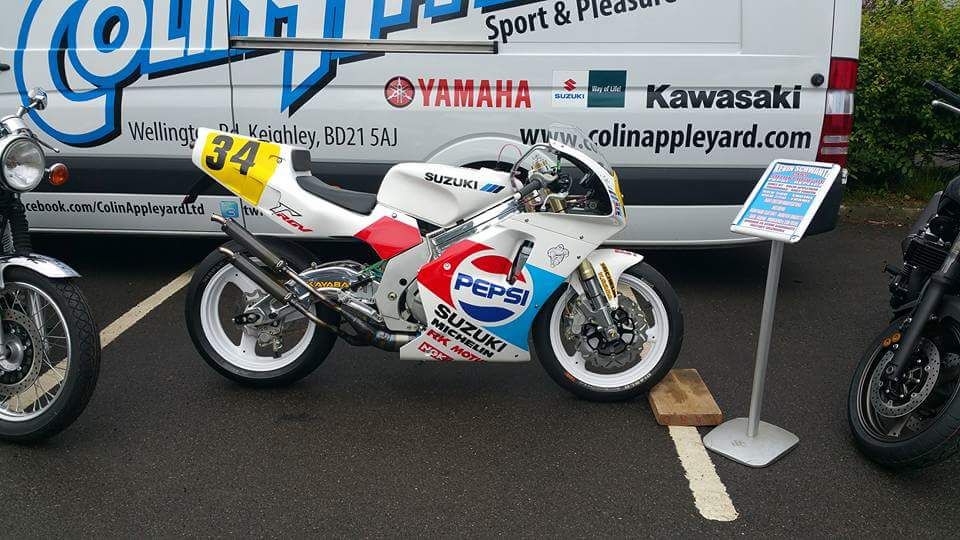 ---
BeMoto are experts in arranging insurance for modified bikes
From a simple change of exhaust to a totally modified, ground-up build, like Gary's - we can ensure that you are properly covered.
---
Call BeMoto on 01733 907000* to speak to a real biker who properly understands your modified bike.

* Calls are recorded for our joint protection
---