---
Project CB500 PART 4: Swingarmageddon and The Test
By Luke Brackenbury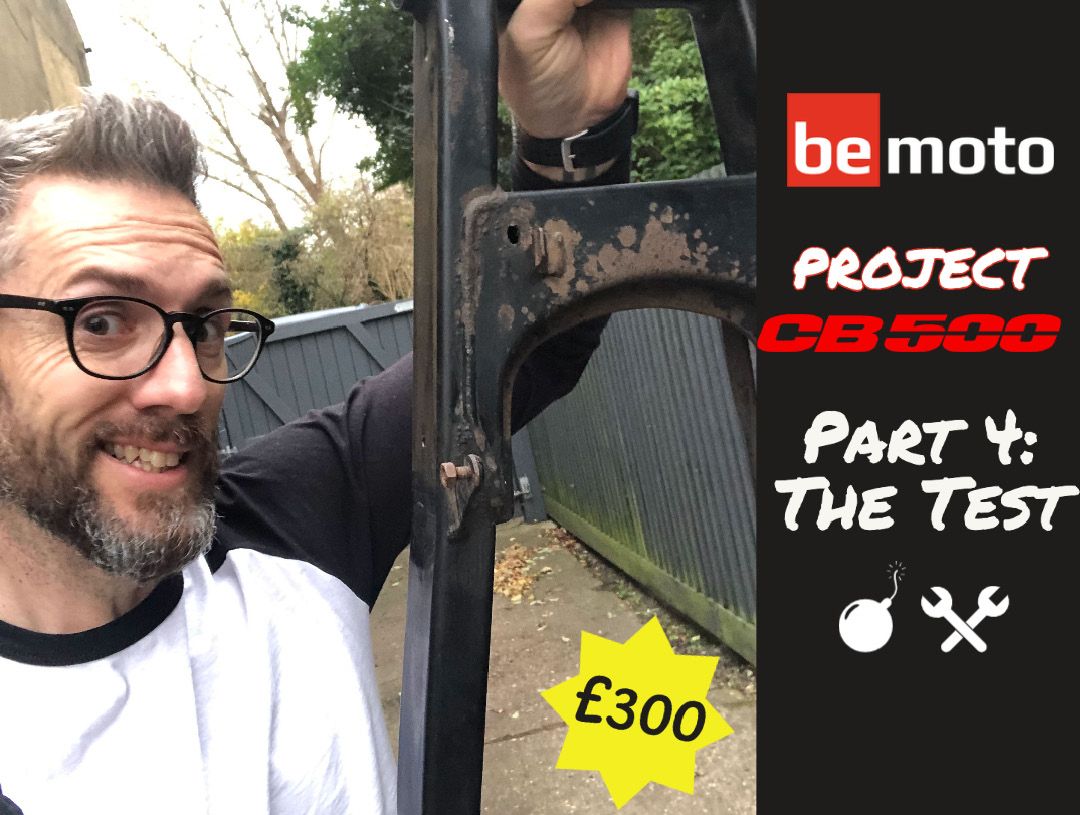 Last time out in Part 3 we took RiTA (named after the last three letters of the numberplate - RTA) - the £300 CB500 - on track at Donington Park and didn't kill the bike or the rider. So that was a bonus. Now I'm not ashamed to admit (though I should be) that I've not taken the time to do a real 'deep dive' on RiTA: after purchase, key components were looked at, greased, lubed, refilled or tightened.
With the bike on the garage up high, I thought it best to give the swingarm a scrub. It soon transpired that the layers of crud were probably integral to the structural integrity as the swingarm had a bit of rot - a common occurrence on these bikes, due to their all-season use and built to a budget. It was strong enough on track, at least…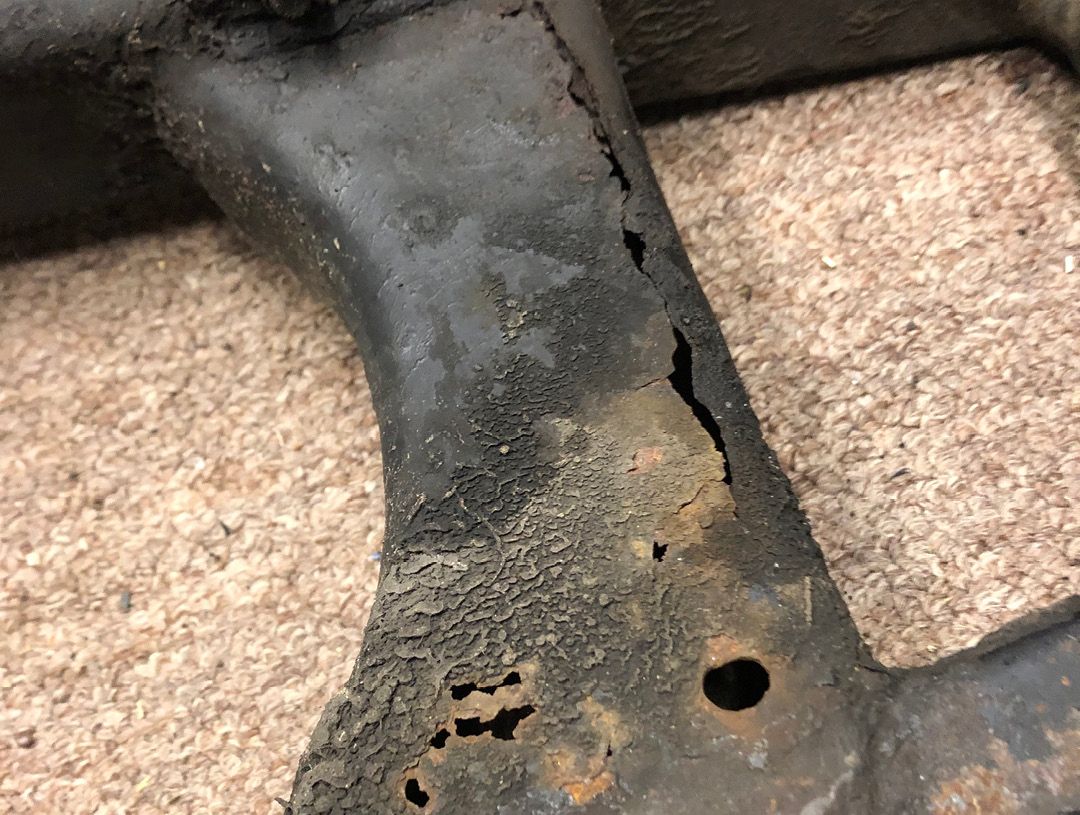 ---
I should point out the reason for the deeper inspection of the bike was also to make sure it was sound to pass an MoT as the bike only had a couple of months ticket left when we purchased it. Clearly, this rusty discovery was a setback.
There's a few mega CB500 groups on Facebook filled with enthusiastic road bike owners and racers. Sure, there's a lot less banter on these groups than on the likes of Trackday Addicts. The wealth of knowledge on the CB500 pages is incredible as well as a brilliant place to source new and used parts, as well as items created by people to solve niggling issues with these bikes. Honestly, these groups have been amazing.
I'm on Honda CB500 Owners UK and UK Honda CB500 Racing.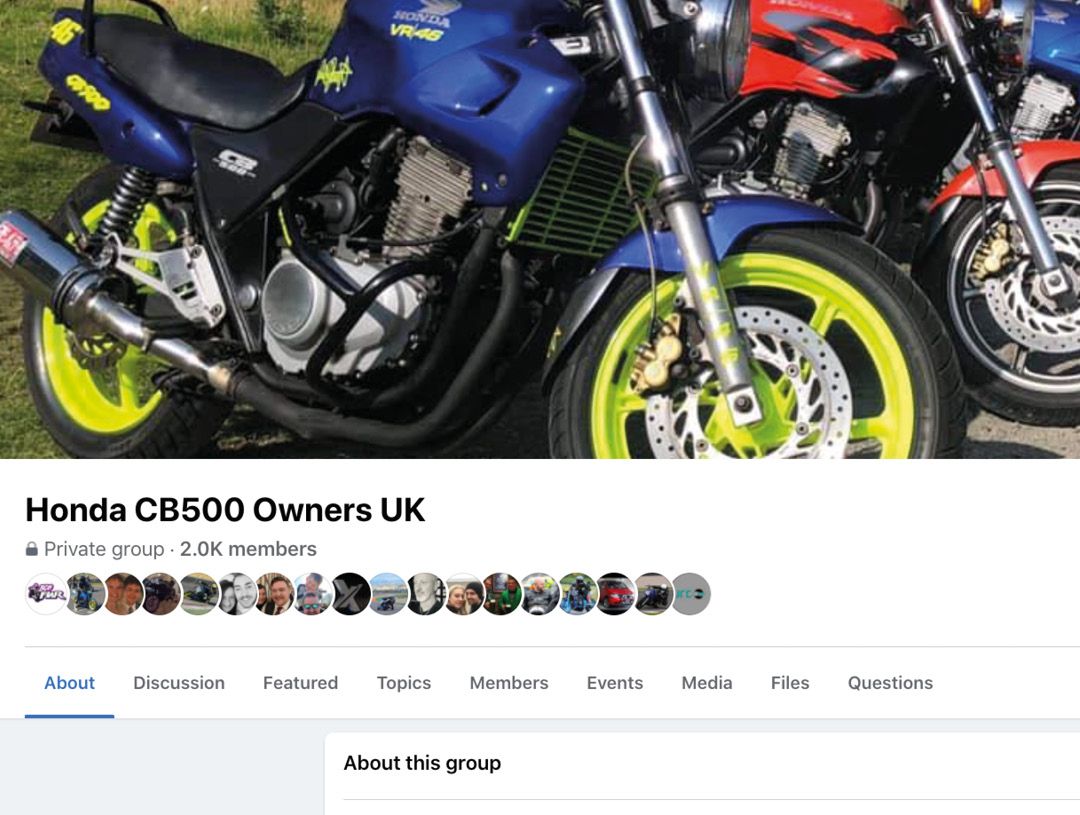 ---
Rather than jump on Ebay, I headed there for a request for a drum brake swingarm and was quickly offered one for £40 that became £35 with some messenger-based haggling (thanks, Mark Foster). As that represented over 10% of the bike's value, a plan to avoid postage costs (and the pain of a packaging the thing) was sorted with the kind of logistical planning that borders on genius. One of my friend's mum (thanks, Charlotte) happened to be at Cadwell Park and was able to collect the arm from Mark as his brother was racing there. Happy days.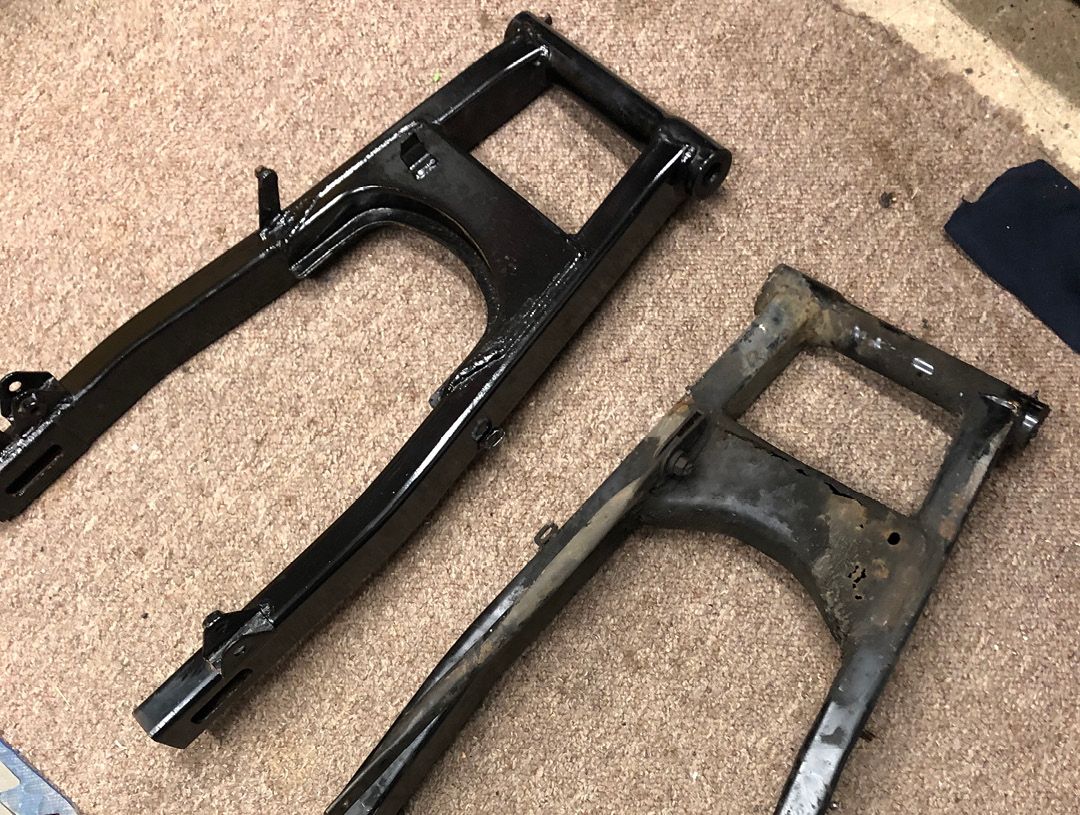 ---
Anyway, the new arm was in good condition and treated to a little Hammerite to keep rust at bay for a little while longer. The holed arm could be welded, blasted and painted if I had the inclination. But for now it can hang about as a spare or something I can try to weld if I knew how. The new/old arm went in reasonably easy after cutting the chain off; its days were long over, anyway, and needed adjusting even if you just looked at it.
B&C Express were the source for a Tsubaki chain and JT sprockets (the rear sprocket wasn't that bad, but always best to do them all at the same time). Not much fighting and swearing was needed to get the old jobs off and with the new/old arm in place and the posh gold chain and shiny sprockets on, RiTA instantly looked 10% better. I wish I hadn't bothered cleaning the wheels as that new chain would soon be shedding its gooey fresh lube everywhere…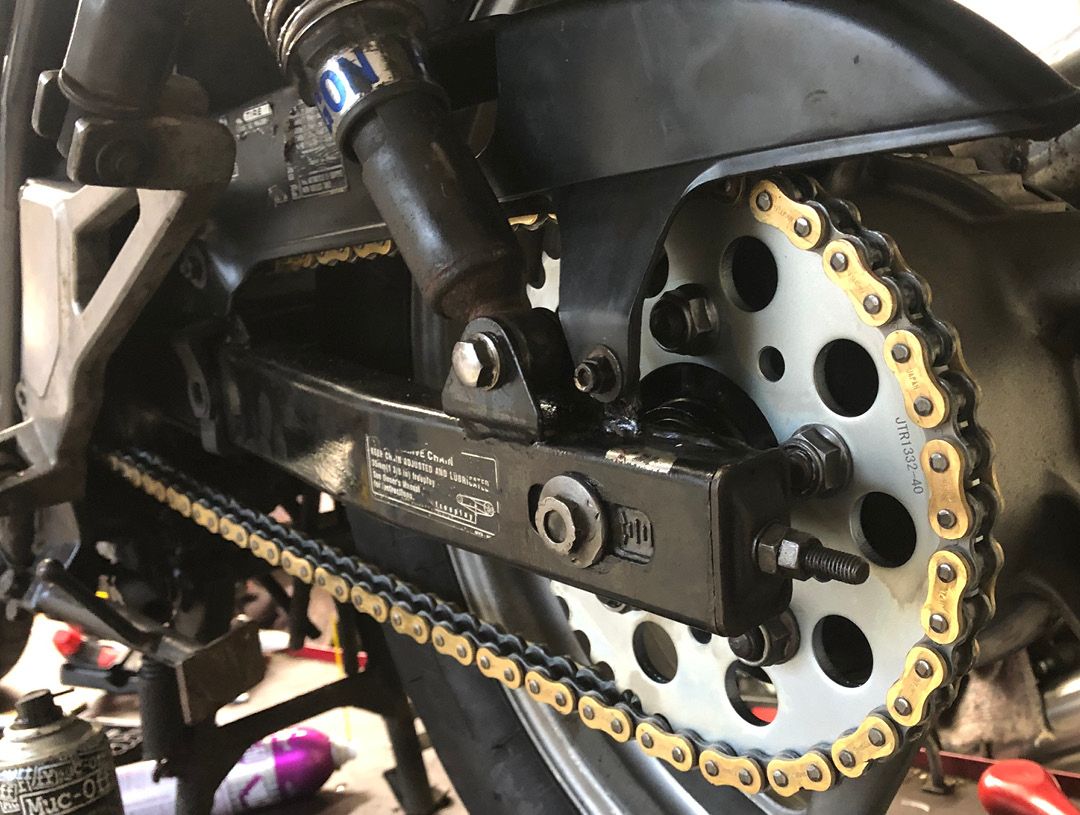 ---
Back on the pre-MoT test (read this feature on preparing for an MoT), I was 80% sure of a pass. But only 40% sure of that. To further paper over the cracks, I'd also treated RiTA to a new Puig screen (£32.95 on ebay from M&P with a light tint), so the headlight height was probably out of adjustment. The horn needed adjusting as it sounded like it had laryngitis and the exhaust didn't seem to be any worse. Nothing was leaking, seeping or creaking. Well, the chain seems to brush on the centrestand a little. And I did give it a proper clean.

Bikes, Trikes N Stuff MoT more bikes in Peterborough than any other bike shop in the city. Usually, they're not keen on people observing the test, partly due to Covid reasons, but also because nobody likes being watched while they work (well, actors, musicians, etc aside). But as we were writing a feature on Preparing Your Bike For An MoT, we had a good nosey while they looked over the bike.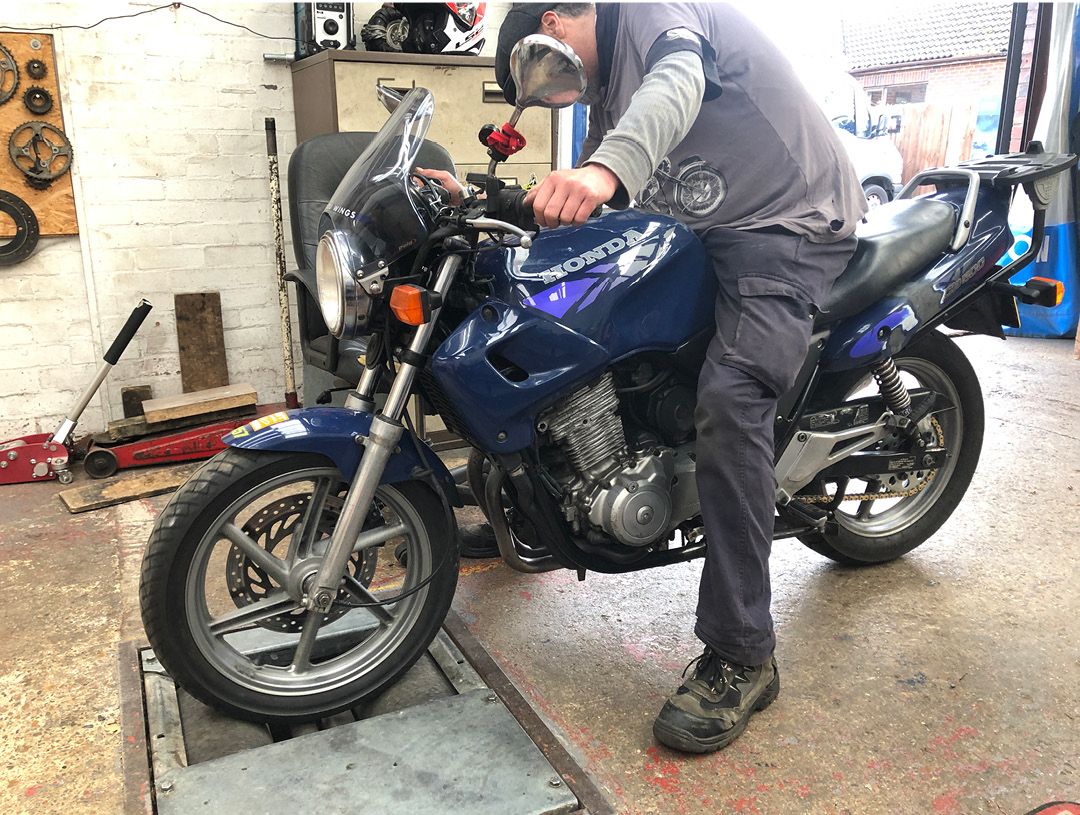 ---
To make a long story short, it passed. The front brake pads are low, the exhaust is blowing a bit and that was it. Well, the neck of the tank needs cleaning because the drain hole is blocked with gunge, but I was hoping to do that if I ever had the need to drain the tank. Maybe I should paint it… So that was a result.
The new screen works really well to keep the chilly mornings off my chest and the new chain and sprockets go round and round, as hoped.
---
RiTA Spend so far:
Bike: £300
Road tax: £6.03 (per month)
OE Indicators and seat release £33
Hagon Shocks (very used and rusty) £20
Secondhand swingarm: £35
Puig Screen: £32
MoT: £27.50
Tsubaki Chain & JT Sprockets: £128.32
Total £575.82 (not counting road tax)
NEXT EPISODE - Part 5: Dyno-might
---