---
Project Honda CB500 Part 2
By Luke Brackenbury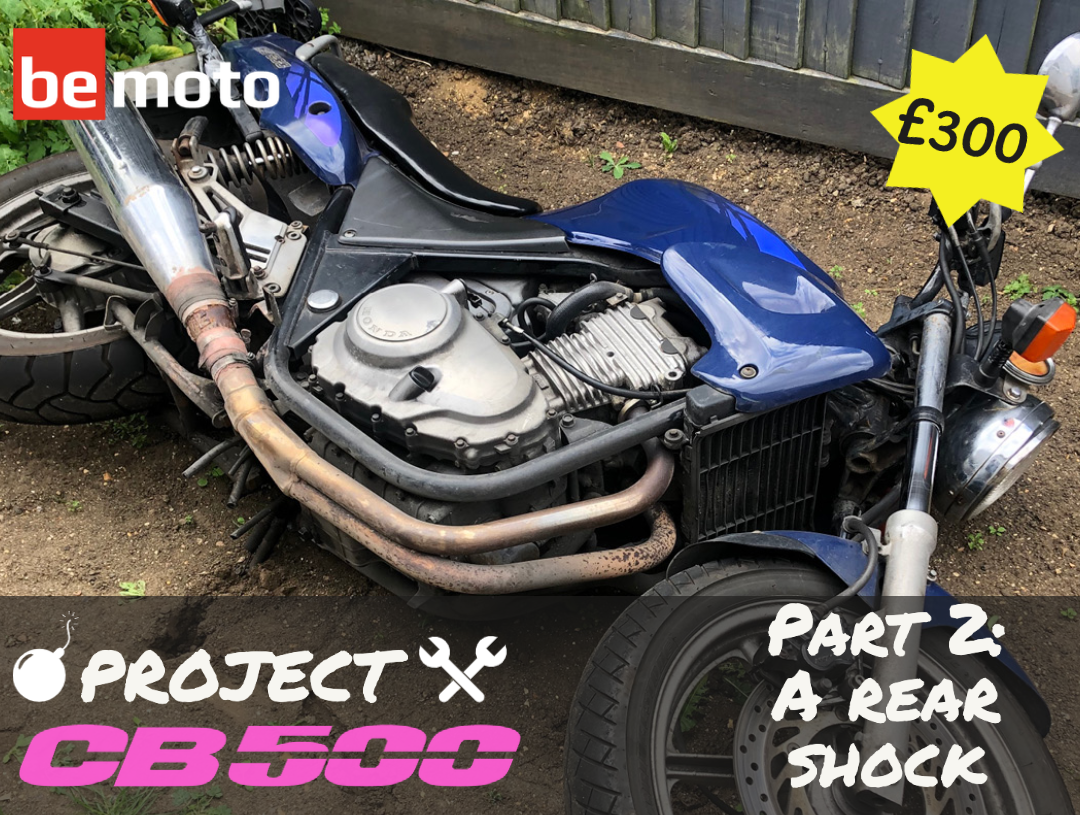 RiTA. Henceforth that is what the BeMoto CB500 shall be called! It takes it's name not from an old flame, but the last three (unfortunate) letters of the reg plate - RTA…

In Part 1 we introduced the bike, gave it a sort of birthday by way of a quick service and hadn't come up with a plan of action of what to do with our £300 bargain. But in Part 2, we ride!
With full choke, full throttle and a long stab on the starter, RiTA flumps into life: the rusty-tipped Motad spewing clouds of burnt hydrocarbons, pollutants and other gases and not really blowing from it's exhaust wrap bodge that looks like the medical dressing attempt of a day 1 trainee nurse.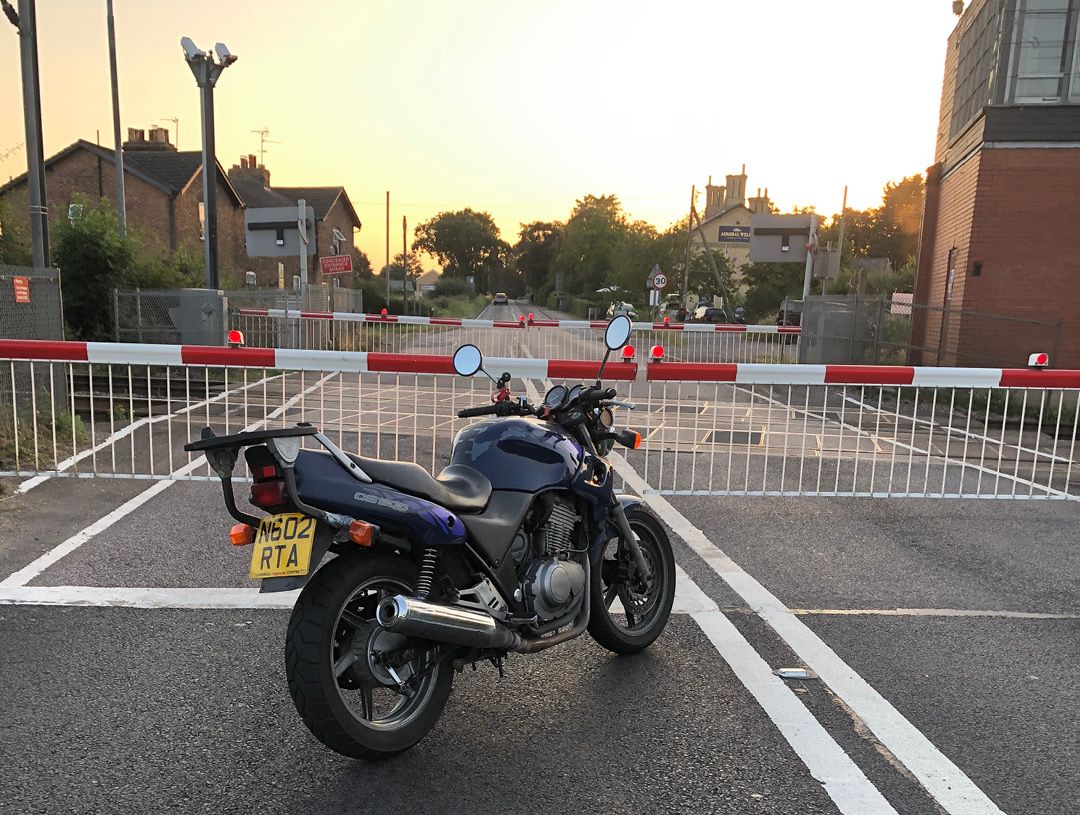 On the road, the bike wasn't as bad as expected. In fact, it was much better. The 'back way' from Peterborough (home of BeMoto) to Donington Park (home of a race circuit) has some rewarding roads and - as my confidence grew with the bike - I pushed on as it would be rude not to.
The single caliper front disc brake isn't the sharpest (needs new pads, they're probably the stock rubber lines, maybe a CBR600 master cylinder could work…) and needed a heavy foot on that rear drum to help slow it down. Anything more powerful on that saggy front end would bottom it out, anyway. The square profile Bridgestone Battle Wing BW502 felt exactly that but they'll do for now and would probably lap the globe a couple more times.
I've had a full licence since 2001 and have somehow managed to enjoy the delights of the CB500's parallel twin: it's reviver than I expected with a little step up in power that's just to still excite and the 48,000 mile-old gearbox was slicker than expected. I now understood the appeal.
Fun was had right up until I got closer to my destination. Exiting a long right hander the rear tyre broke traction very quickly. I wasn't aggressive on the throttle - besides we are talking 58bhp and 170kg (dry) - with much lean angle (square, solid tyre, remember), so maybe it had to be something on the road? There was nothing on my boot and the temp gauge read happy, so I went on with the decision to keep going until it stopped.
When I did stop it was because I had arrived at where I needed to be. The rear tyre was looking all shiny and new. Shiny with oil. Oh fudge - is it the engine?! I thought these things were indestructible…
Fortunately, it wasn't the engine. That was still filled with the bargain oil from the local hardware store. But the right side rear shock had blown. Phew. This left only the Port side rear shock to keep me in suspense and it had all the damping qualities of a spring-loaded pen. I was actually shocked the remaining shock didn't blow when I tied it down into back of the van…
This slight issue aside, I'd actually enjoyed the bike. With some fresh parts and a little tidy up, maybe this could become my daily commuter with occasional track use. Yes, that's the plan. Don't just take a knackered CB500 and convert it solely for track use, make it a sleeper with all the outward appearance of a tired old hack (it is) but with the performance of a race bike (which it isn't, but could be). I've been on track with sorted CB500s and they can hustle.
Speaking of which, I've seen ready to go CB500 race bikes fetch very little money and RiTA needs to be kept on a budget because I've got another road bike and a track bike and this is the spirit of the project.
---
Thanks to the CB500 UK Facebook group, I have managed to source a pair of Hagons (£20 delivered) that were oil tight but looked liked they'd gone down with the Titanic. The seller wasn't even trying to sell them, they just happened to be on a frame he was shifting and eagle-eyed me clocked them on the listing.
The spending didn't stop there as I also treated RiTA to some new/old but OE indicators as every single one of these were held together with duct tape, electrical tape or both and a new/old seat release as the cast ally retainer had snapped meaning the seat couldn't be locked. Ah the joys, everywhere I look something else needs fixing. Doesn't help when it falls over parked on soft ground. Fortunately, no damage done. Well, none that I could tell.
The evenings are now spent scouting on what new Honda CB500 parts I can actually justify as 'essential' from Wemoto.
Luke Brackenbury
---
BeMoto Project Honda CB500 spend so far:
Bike: £300
Road tax: £6.03 (per month)
OE Indicators and seat release £33
Hagon Shocks (very used and rusty) £20
Total = £356.03
IN PART 3: ON TRACK WITH A RACK. WILL IT MAKE IT BACK?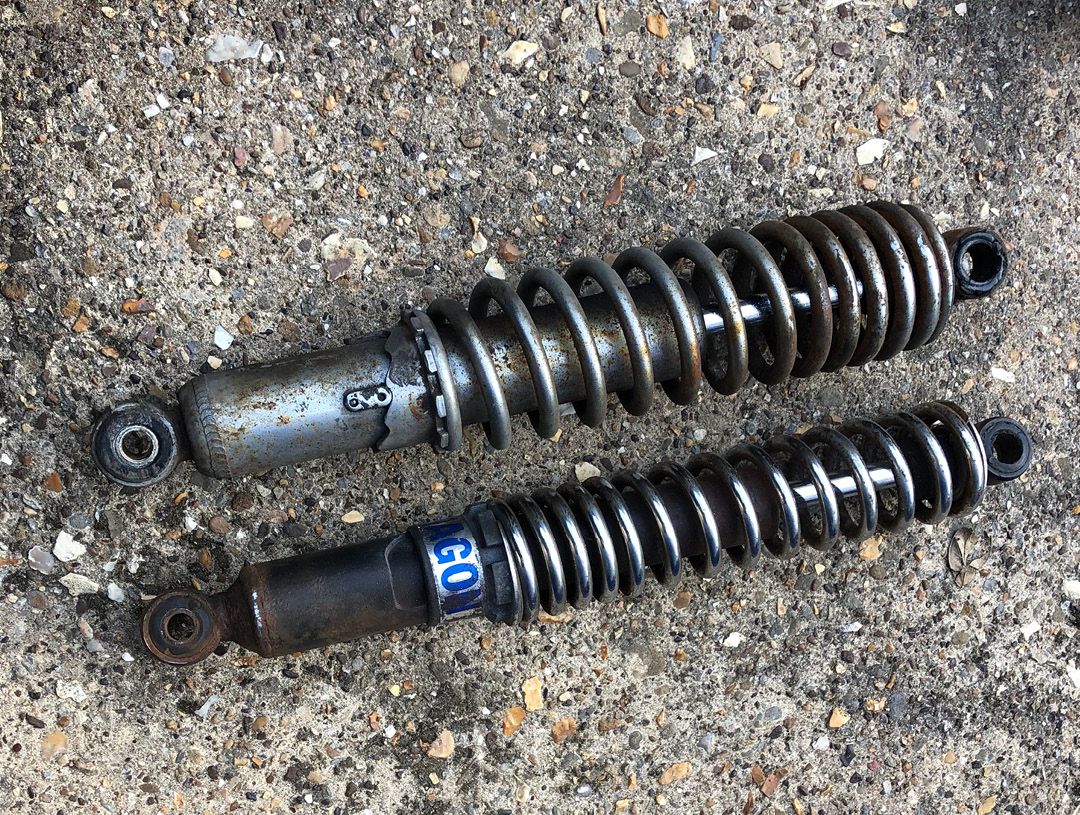 ---