---
Putoline Sucker Punch Extreme Enduro 2016
By BeMoto
Race Report: Keith Williams
Photography: CWL Photography
---
KEELAN KNOCKS EM OUT!

Keelan Hancock (Husqvarna) made the much coveted Putoline Sucker Punch winners boxing glove trophy his own as the Cornish, ex-trials rider put in a fantastic display of determined, skilful, smooth and ultimately fast riding to secure the overall win in this now, classic Extreme Enduro.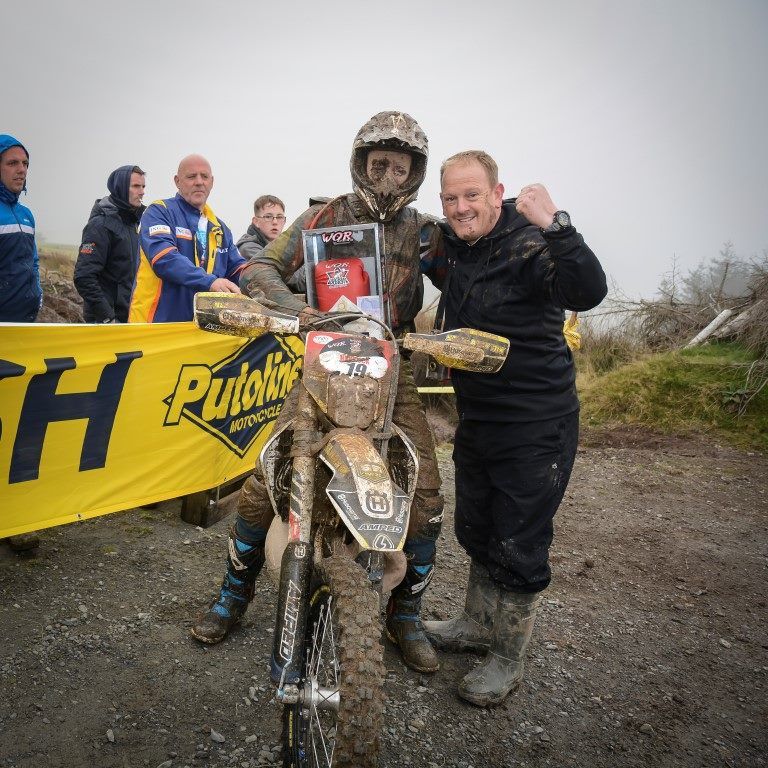 ---
20Km of gruelling and demanding forest riding
This was the 4th running of the Sucker Punch and it has really evolved into a fantastic event that has the balance perfectly set for riders to achieve a finish. The track is gruelling and demanding yet it still offers some respite and enjoyable forest riding along its 20km lap. The format is quite simple, 5 laps equals a gold, 4 laps a silver and 3 laps a bronze finish in the time that the organisers allow. Riders have to dig deep to match the mind and track design of WOR Events main man, Steve Ireland. Steve is unrivalled in plotting and promoting extreme enduro's in the UK and the hugs and handshakes that came his way as the riders crossed the very welcome Chequered flag where a testament to this..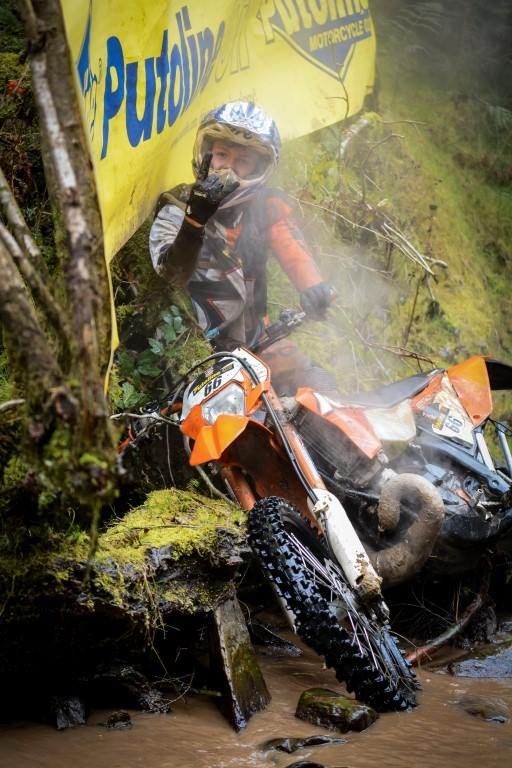 The racing at the sharp end of the Expert class was simply fantastic as the top 3 riders pushed each other bar end to bar end at times for nearly 3 hours over some very hostile terrain indeed. Gethin Humphreys was out on his Husky 250 2t to try and gain a win in this event that his brother, Owain whom was not in this race, has done twice before, but it was Runner up 3 times in row for the strong Welshman as after leading up until the last lap he was passed by the silky smooth Cornishman, Hancock, who then managed to hold a very narrow 20 second advantage to the chequered flag. Charlie Frost was in the thick of the action and after 2 crashes off the start and being mixed up in the Clubman riders, he showed some fantastic pace to catch the front two riders and get in the mix. However a front puncture on the KTM held him up, along with a nasty cut on the elbow from the earlier crash ending up with the Frosty taking 3rd spot with a 4 minute disadvantage to the top two.
Juan Knight on his GASGAS was in typical form, making things look so easy and carrying some fantastic pace out on the forest going, The Manxman Enduro legend winning Expert Vets by a comfortable 15 minute margin, placing himself a solid 6th overall in the standings too, not bad considering he has not done too much riding of late. Grant Churchward on his KTM was in superb form too as he made the runners up spot in class his own with a very determined ride. Grant managed to shake of the challenge of the always competitive Mick Boam (Beta) and put over 3 minutes advantage between the two come the end of their 5 laps.
Bristol rider Fred Adams topped the competitive Clubman class from start to finish as he completed his 5 lap target in 3hrs and 9 minutes. KTM mounted Adams had 10 minutes to spare on WOR Extreme regular and all-round nice guy, Sam Skyrme whom fully deserved his Runner Up spot and gold finish. Grant Thompson from the IOM was 3rd in class with a neat ride.
There was some other stand out rides in the Clubman class too, Nathan Rogers, Ryan Shacklady and Ryan Bevan all putting in performance of note.
Gareth Leonard was the top rider in the Vets B group with Lee Allis Smith and Steve Currie taking 2nd and 3rd spot respectively. Leonard and Smith taking Gold with Currie making the trip down from Scotland worthwhile on a silver.
The top 3 Over 50 riders all managed a Gold finish with some great efforts especially as this took them all to the 4 hour time distance. Again another rider making a huge effort with travelling down from Scotland was winner, Duncan McCormick with Paul Mckie (Tyne and Wear) and Richard Lewis (South Wales) making it a KTM 1,2,3 in that order at the finish.
It was a KTM 1,2,3 again in the Sportsman class as Mansfield based Youngster Dawson Marriott put in a fantastic shift to top the class with a Gold finish and some very gutsy riding to take a 15 minute win over Runner Up, Adam Dunn from Durham and Bradford's Darren Kendall taking a solid 3rd spot.
Tom Brazier (Husqvarna) was the Top rider in the Novice and the only one to take a Gold in the group after 4.5hrs of riding. A truly determined and sterling effort from the likeable big lad. Runner Up was the ever improving Liam Belfield as his trusty Beta got him round very efficiently indeed. 3rd spot in class went to another upcoming youngster, Coventry's Charlie Goddard.
The post event feedback was very flattering and rightly so for Steve Ireland and his fantastic team of WOR marshals, anybody taking a look at the entry list and noting how far afield the riders had come from, literally the length and breadth of the UK would see how this is a truly national event that just keeps getting better.
---
A massive well done to all involved at WOR Events

The WOR wish to thank all the staff, land owners, Caterers, medics, Putoline as the event sponsors, but most importantly, each and every rider for supporting this event and making it happen.
Lots of smiling, tired faces headed off back home having just been Sucker Punched!
---
A Novice Perspective with Commentary from 'Nobby'
Worth a watch... Some commentary from BeMoto's friend and colleague Nigel 'Nobby' Lynn from our partners Properly Protected. A novice' perspective on a Beta Xtrainer - competing in the Sucker Punch for the first time, having only got his leg over a dirt bike for the first time at 40 years old a few months earlier!!
---