---
Shoei X-SPR Pro Launched
By BeMoto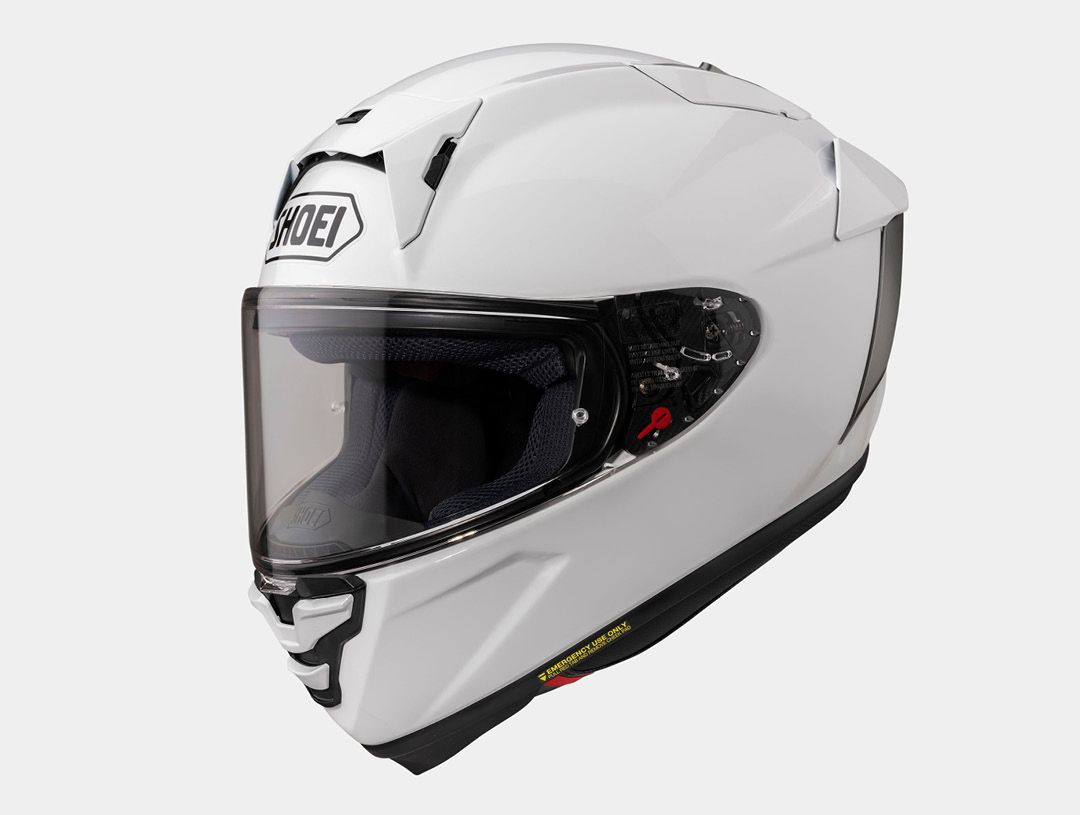 ---
BeMoto motorcycle insurance looks at the all-new top of the range motorbike helmet from Shoei, designed for high-speed performance riding and used by arguably the very best riders on the planet.
What helmet does the Shoei X-SPR Pro replace?
The Shoei X-Spirit III was the previous range-topping race helmet, used by riders like Tarran Mackenzie, Danny Buchan, Shane Shakey Byrne and of course the Marc Marquez and Alex Marquez in MotoGP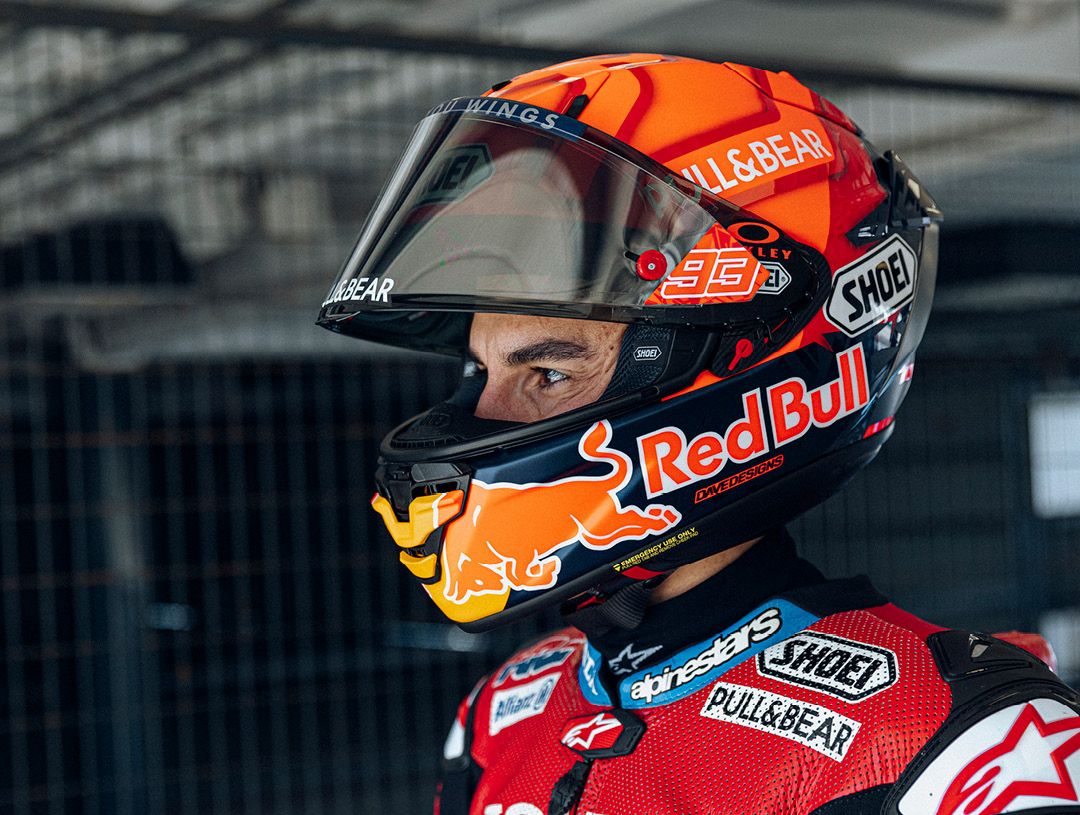 ---
What's new about the Shoei X-SPR Pro
All of it! Every detail of the X-SPR Pro has been carefully designed, tested, and fine-tuned to improve the already outstanding performance of the X-Spirit III. The new design is fully focused on high-performance riding with the aeroform shape providing aerodynamic performance at speeds in excess of 350km/h.
The shape of the helmet went through more than 150 iterations with each design tested in the Shoei wind tunnel facility and then finally on track by the Shoei MotoGP riders – including 8-time world champion Marc Marquez.
The innovation behind the X-SPR Pro is not limited to its exceptional aerodynamic performance.
Revised dimensions around the eye port provide a wider field of vision, particularly important when riding at extreme lean angles.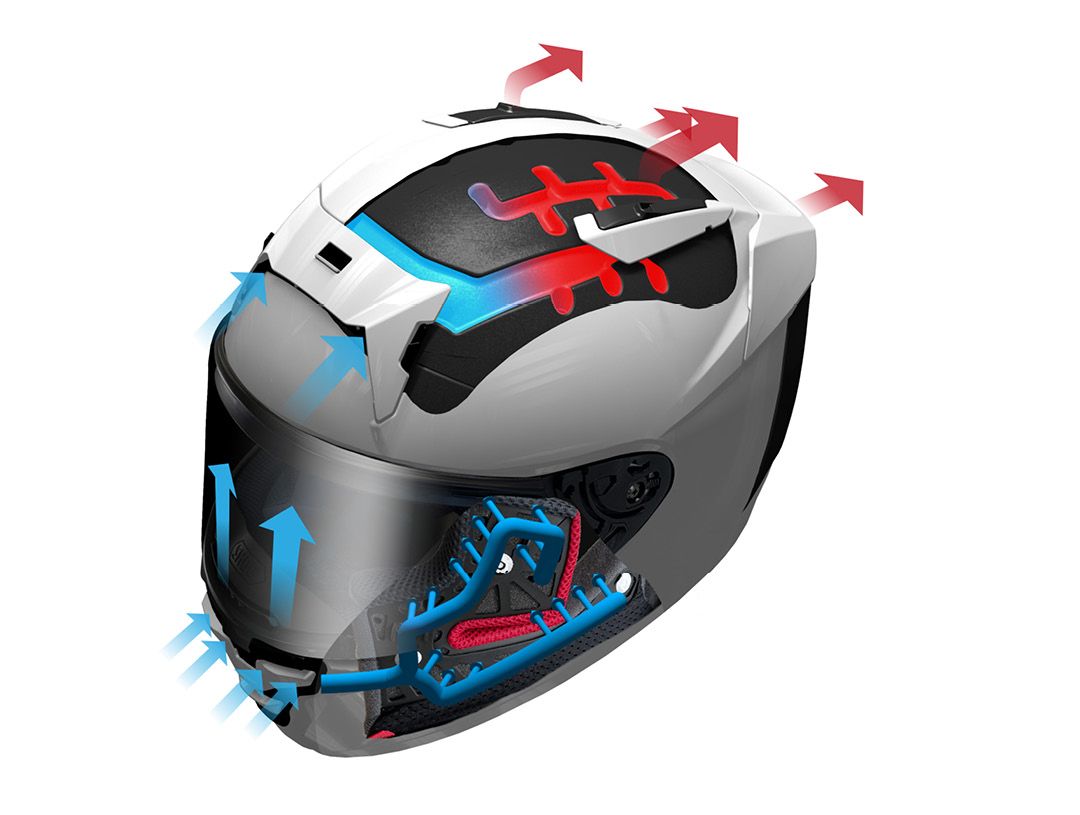 ---
Shoei X-SPR Pro ventilation
The ventilation system is positioned in optimised locations for racing use, the multiple inlet and outlet vents have been developed to deliver the highest ventilation efficiency when riding in the tucked position. The cheek ventilation system has also been significantly improved and now features approximately double the amount of ventilation holes.
Shoei X-SPR Pro visor and visor mechanism
To satisfy the latest ECE 22.06 certification and FIM homologation, the new visor system features a central locking mechanism which is designed to greatly reduce the risk of accidental shield release in the event of impact.
Additionally, the shield base plate section is equipped with a newly designed trigger lock mechanism - Activating this function locks the trigger lever on the base plate, again preventing the shield/visor from opening in the event of an accident.


---
Shoei X-SPR Pro fitting
Perfect fit can be achieved using the new independently adjustable modular interior system. Each pad is shaped like a pocket, allowing the rider to customise the fitting to their own head shape, including adjustability at the front and back, and left and right widths. The cheek padding utilises the two different angle adjustment systems, as seen on the X-Spirit III, and the area in contact with the cheek is 16.5% larger – providing a more secure fit at speeds of more than 350km/h.
Shoei X-SPR Pro Hydration system
The X-SPR Pro is also prepared for easy installation of a hydration system.
Shoei X-SPR Pro Sizes
There are four different outer shell sizes (XS-S/ M/ L/ XL-XXL) with cheek pads available in different thicknesses (31, 35, 39, 43 mm)

---
Shoei X-SPR Pro Colour options
Black
White
Matt Black
Graphics options will be available in 2023…
Shoei X-SPR Pro Price
Suggested retail price of £699.99 (Plain) and £719.99 (Matt)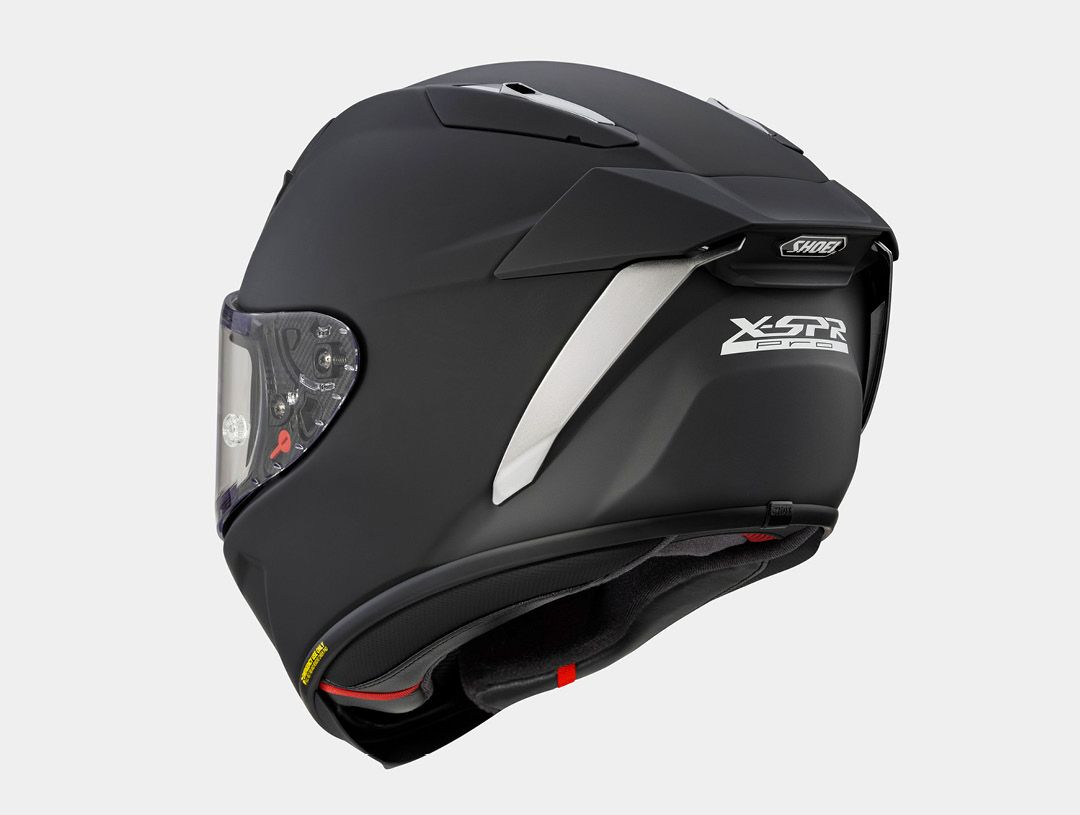 ---
You can learn more about the Complete Shoei Range, including the new X-SPR PRO helmet at www.shoeiassured.co.uk
Shoei Helmets UK Social channels
https://www.facebook.com/shoeihelmetsuk/
https://www.instagram.com/shoeihelmetsuk/


SHOEI X-SPR PRO TECHNICAL SPECIFICATION
Main features
ECE 22.06/FIM Certified
Integrated spoiler and wings
New aerodynamic channels
Newly developed rear stabilizer
Wider eye port for increased vision
CWR-F2R visor with doubled secured visor lock system
New completely modular interior system
Independently adjustable centre pad system
Cheek pad angle adjustment system
Ventilation system optimised for high performance riding
Multi density EPS liner construction
Integrated moulding for hydration system
4 different outer shell constructions
Safety
Shock-absorbent shell in AIM+
Modular EPS liner system with multiple densities
Multi-composite & high-performance fibre layers provide a high strength, light weight, and optimal elasticity.
Mist-retardant CWR-F2R Pinlock® visor – 2D shape for easy application of tear-offs
Double D-Ring
E.Q.R.S. security system (Emergency Quick Release System)
ECE 22/06 – FIM homologation
Ventilation
High performance ventilation
Innovative cheek vent system, active cooling even in the lower part of the helmet.
7 closable air inlets & 6 air outlets
Aerodynamic
Sophisticated aerodynamic system
Integrated spoiler
Rear stabiliser with flaps to provide stability during breaking
Vortex generators
Lower air spoiler
3% reduction of drag and lift (compared to X-Spirit 3).
Comfort
4 different outer shell sizes (XS-S/ M/ L/ XL-XXL)
Modular centre pad
Cheek pads in different thicknesses (31, 35, 39, 43 mm)
All pads detachable, washable
---