---
Southern 100 - 2023 Timetable and Circuit Information
By BeMoto
Davey Todd - 2023 Southern 100 Q&A
The Southern 100 races are back and in 2022 were dominated by Davey Todd. Racing at the Billown Circuit on the Isle of Man that takes riders on a 4.25 mile journey on public roads in the south of the Isle of Man in the parishes of Arbory and Malew, starting and finishing in Castletown.
Davey talks exclusively to BeMoto to answer questions about his 2023 campaign.
Davey Todd Southern 100 Q&A:
How does it feel to return as 2022 champion as #1?
What is your favourite part of the circuit?
Who are your closest rivals for this year?
What bikes will you be riding this year at the S100?
Is there anywhere on the circuit you can relax?
What would be your dream bike to ride around the Billown Circuit?
What is the top speed you have achieved at the Southern 100?
Where is the best place for spectators to see you do wheelies?
Is there anyone from the past you'd love to race there?
What would the circuit be like to ride backwards?
Is there anywhere you can get your elbow down on the circuit?
You can buy this Davey Todd 74 cap as official merchandise by Uggly & Co in collaboration with BeMoto
---
Southern 100 - 2023 Timetable & Schedule
PRACTICE
Monday 10th JULY
6-18pm to 6-25pm All Newcomers sighting lap
6-26pm to 6-40pm 1100cc Class Red Plates
6-47pm to 7-01pm Lightweight Class Green Plates
7-29pm to 7-43pm Supersport 600 White Plates
7-50pm to 8-04pm Supersport 600 Yellow Plates
8-11pm to 8-25pm 1100cc Class Red Plates
8-32pm to 8-46pm Lightweight Class Green Plates
8-53pm to 9-10pm Sidecars
PRACTICE AND RACING
Tuesday 11th JULY
6-18pm to 6-30pm - Solo Non Qualifiers
6-37pm to 6-49pm - Supersport 600 White Plates
6-56pm to 7-08pm - Supersport 600 Yellow Plates
7-15pm to 7-32pm - Sidecars
8-00pm Race 1 – Mike Kerruish Plumbing + Heating Lightweight Race 6 Laps
8-35pm Race 2 - Peel Holdings Senior Race 7 Laps
RACING
Wednesday 12th JULY
6-25pm Race 3 Ellan Vannin Fuels Senior Race 7 Laps
7-05pm Race 4b JCK 600cc B Race 7 Laps
7-40pm Race 4a Radcliffe Butchers 600cc Race 7 Laps
8-30pm Race 5 Ace Hire Sidecar Race 6 Laps
Thursday 13th JULY (Morning)
9-50 am Race 6b JCK 600cc B Race 7 Laps
10-30 am Race 6a S & S Motors 600cc Race 7 Laps
11-10 am Race 7 G H Corlett Solo Founders Race 6 Laps
11-40 am Race 8 Steam PacketSenior Race 7 Laps
12-20 pm Race A Station Garage Sidecar Consolation Race (provisional) 4 laps
Thursday 13th JULY (Afternoon)
1-50pm Race 9 Bettridges of Foxdale Car Sales 600cc Challenge Race 7 Laps
2-30pm Race 10 Ocean Motor Village 250cc/650cc Race 6 Laps
3-20pm Race 11 Hunts Motorcycles Championship Race 9 Laps
4-00pm Race 12 Daryl Blake Construction Sidecar Championship 8 Laps
Check out the 2023 Race Calendars for all other events.
---
Southern 100 History
The first event was held in 1955 as, prior to the 1954 Manx Grand Prix success of Derek Ennett, George Costain and Sid Mizen, the Southern Motorcycle Club held their race meetings at the former RAF station Andreas Airfield. When racing was no longer allowed there and as a result of double win at the Manx, the Southern club decided there should be a race in the south of the Island and to hold a meeting on what was to become known as the Billown circuit.
In the early 1950s, the Isle of Man Government decided to build a by-pass to avoid the town centre of Castletown, and whilst traffic was minimal compared to today's motorised Island, the by-pass provided an integral part of the new course.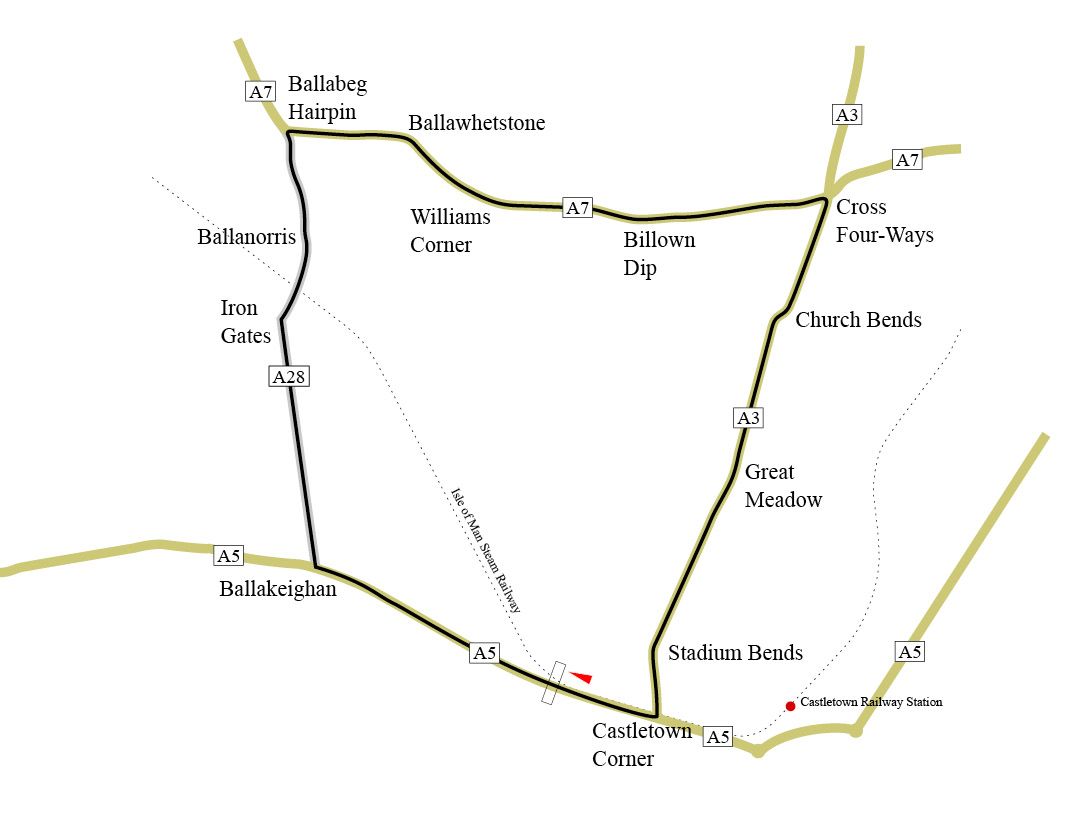 ---
Southern 100 Lap record
The current lap record holder for solo machines is Michael Dunlop who in 2017 set a time of 2 minutes, 12.231 secs @ 115.707 mph (186.212 km/h).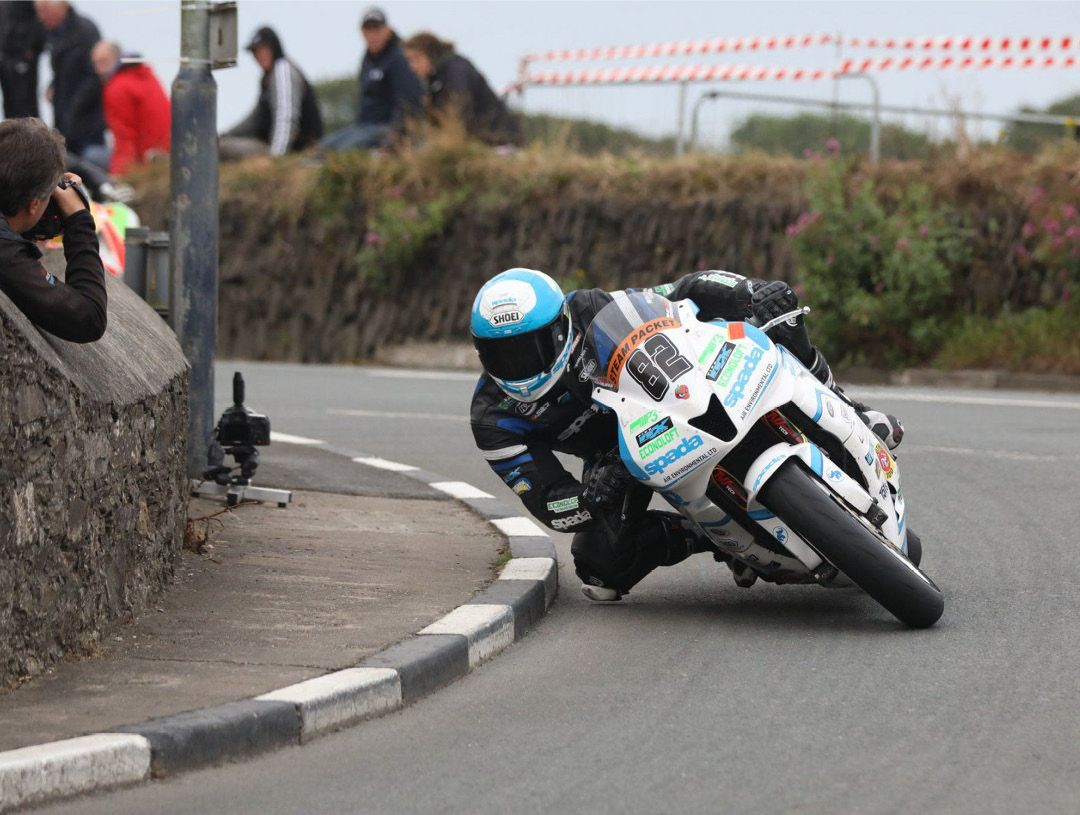 ---
Southern 100 Circuit information
The course start-line is on the outskirts of Castletown and the course includes parts of the primary A5 New Castletown Road, the A28 Castletown to Ballabeg road, the A7 Ballasalla to Port Erin road and the A3 Castletown to Ramsey road.
Start/Finish Line
The Start/Finish Line is one of the fastest parts of the circuit. It has great spectator access including catering outlets and grandstands.
Average speed - 175mph
Distance 4.25 miles
Ballakeighan
The first corner on the circuit, with a mass start and a slow entry speed, Ballakeighan sees riders trying to gain valuable positions on the brakes. The corner then leads onto the Ballakeighan straight
Average speed - 65mph
Distance 0.55 miles
Iron Gate
This comes at the end of the Ballakeighan straight. Iron Gate is a right hand turn shortly followed by a fast left hand turn that leads onto Ballanoris (Joey's Gate).
Average speed - 75mph
Distance 1.11 miles
Ballanoris
Ballanoris is also known as Joey's Gate after the legend Joey Dunlop overshot the corner and rode through the gate into the field.
Average speed - 85mph
Distance 1.55 miles
Ballabeg Hairpin
Ballabeg Hairpin is the slowest corner on the Billown Circuit. It can be very deceiving for riders, as the camber of the road drags the rider into the corner earlier than they need to turn.
Average speed - 25mph
Distance 1.55 miles
Ballawhetstone
Ballawhetstone is a fast ride hand bend trailing the town of Ballabeg and leading onto Williams Corner.
Average speed - 25mph
Distance 1.55 miles
Billown Dip
Not being able to see the exit but sending the bike down a huge dip between the stone walls regardless, Billown Dip is a daring corner for riders.
Average speed - 170mph
Distance 2.36 miles
Cross Four Ways
The second slowest corner on the circuit and one that usually attracts a large crowd of spectators, Cross Four Ways is notorious for its overtakes and low side crashes.
Average speed - 35mph
Distance 2.80 miles
Church Bends
One of the most popular locations for fans at the Southern 100, Church Bends has two fast flowing bends around the walls of the Malew Church.
Average speed - 70mph
Distance 3.10 miles
Castletown Corner
The final corner of the Billown Circuit also gives riders a final opportunity to make a last minute overtake. The corner is also a bridge over the steam railway!
Average speed - 30mph
Distance 4.03 miles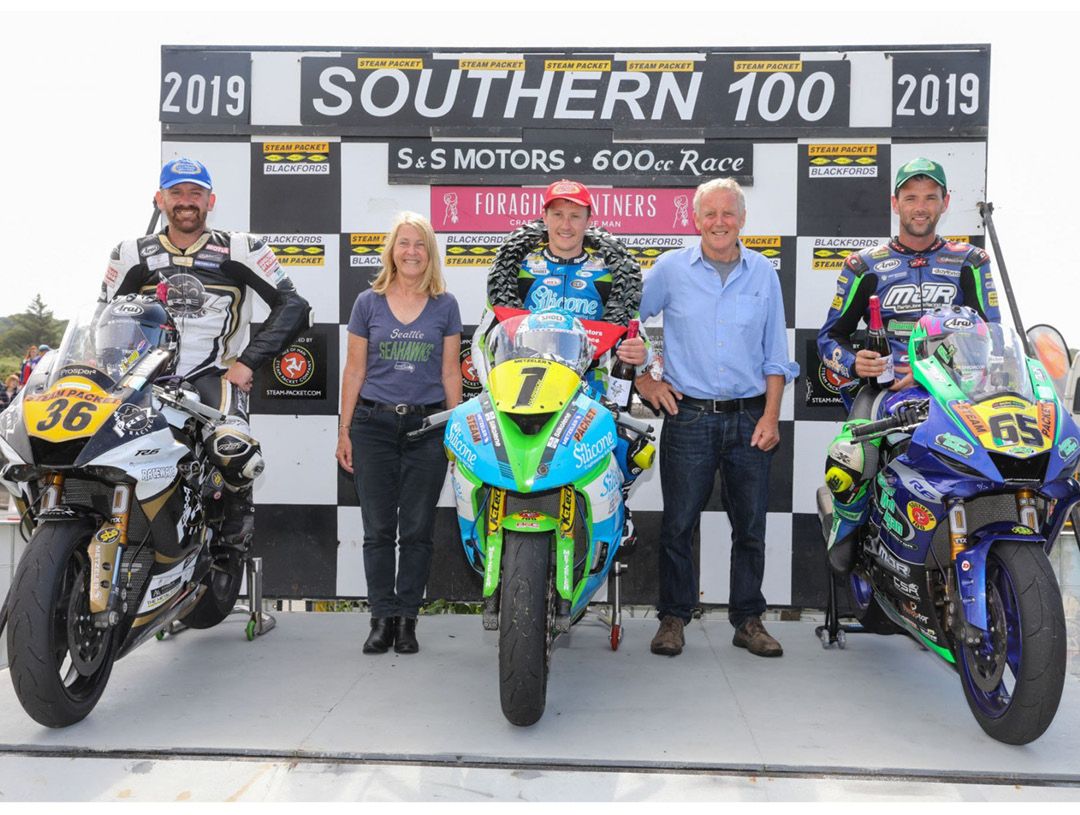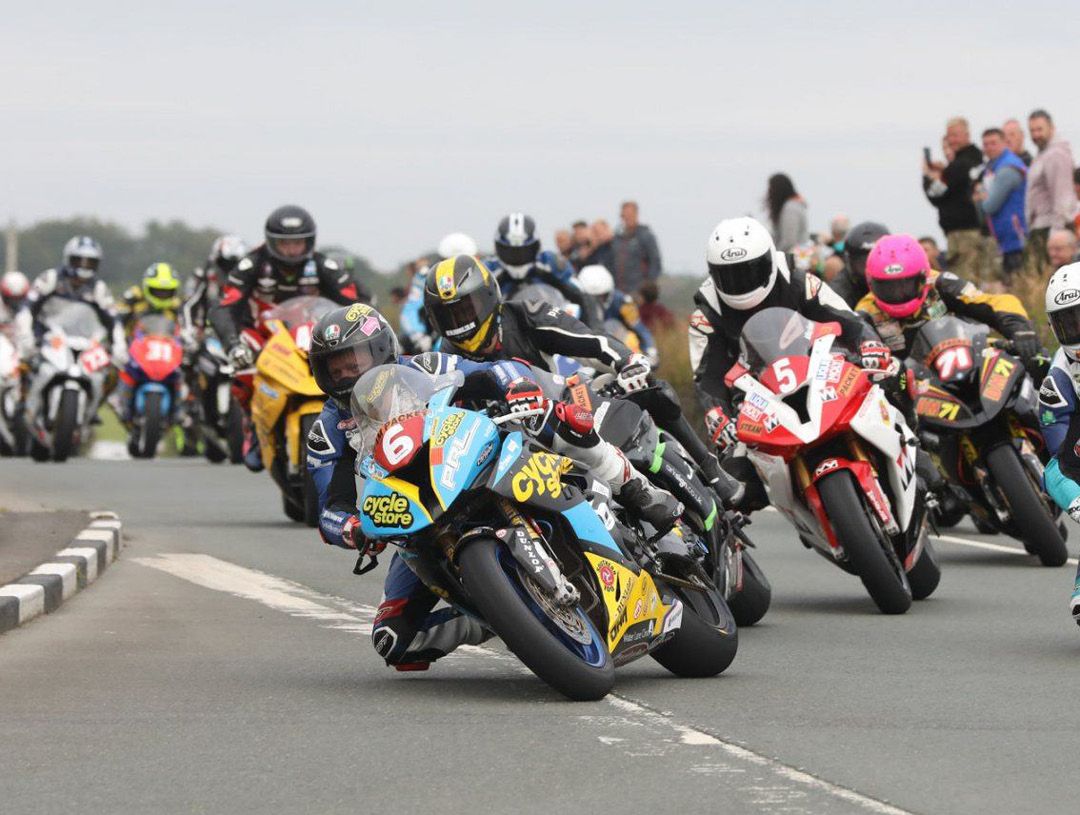 ---