---
The Supercharged Gen 3 Hayabusa: TTS Superbusa
By Kar Lee

Is it a bird, is it a plane, no... It's the TTS SUPERBUSA!
Pics: Jason Critchell, Matty Graham, Kar Lee
---
WHAT IS IT?
This is the first Gen 3 Hayabusa in the world that's been supercharged, and to date, the only one. Created by TTS Performance based in Silverstone, it was visualised by Kar Lee of Kardesign. Featuring a specially made TTS Rotrex supercharger and intercooler kit it makes a brain-melting 380bhp and 201 ft-lbs of torque – that's twice as much as a stock bike. These will be made to order and the base price starts at £50,000.
Engine internals have been strengthened to handle the additional power with upgraded pistons, conrods and clutch. To keep weight down the original heavy 4-2 exhausts have been swapped out for a 4-1 system – the prototype bike uses a Brocks exhaust but this will change for production models.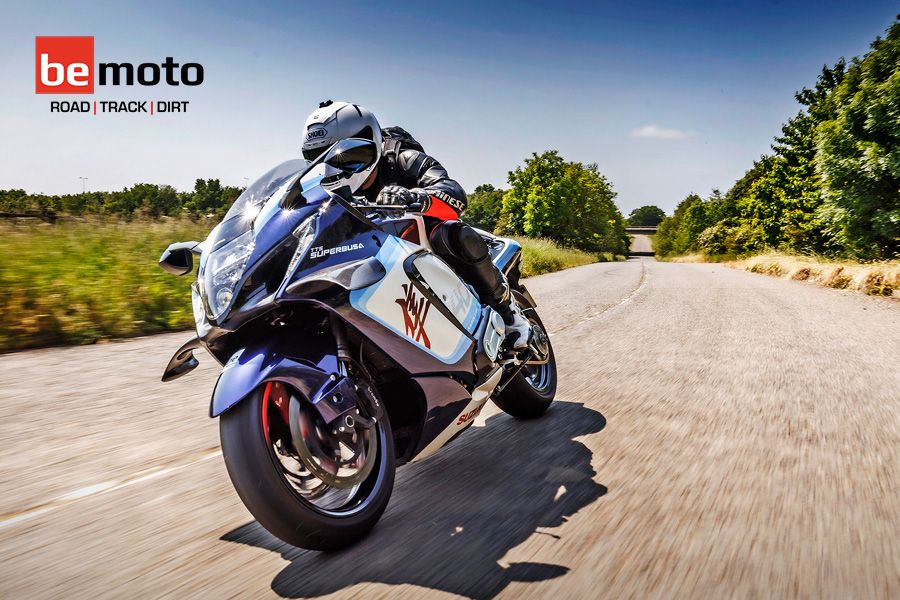 The chassis gets upgrades too; the single sided swingarm holds lightweight carbon Rotobox wheels, the brake diameter has increased to 330mm at the front and a Brembo RCS master cylinder offers switchable ratios and improved feel at the lever.
There are other carbon parts around the bike, namely the intercooler vents in the tank, the supercharger surround, and the huge winglets – these are the third versions, made 20mm narrower after listening to public feedback.
It's been featured in MCN and recently ridden by our friend and customer, Chris Northover of Bike World in a race against Mat Watson of Carwow YouTube channel in a drag race at an airfield, where it won against a 260mph-plus Koenigsegg AGERA RST supercar.
---
WHAT'S IT LIKE TO RIDE?
We asked Kar Lee, who was involved in the design and visualising of the bike for his thoughts. He's ridden the bike both on the runway as well as more road miles than anyone else.
"Imagine a giant hand pushing you in the back – not a hard slap like a turbo might do, but a linear push that drives from low down, like an electric bike might feel, but instead of running out of steam over 100mph, it just keeps on charging relentlessly well past 160mph and beyond. It's strangely civilised, like Mike Tyson asking for permission before punching you in the face. Polite, but brutal.
"It's not for the shy. Stop anywhere near a bike meet and people will swarm around it, phones out… initially it's bonkers wow factor but there's also admiration for the sheer engineering prowess of the bike. It's like an easter egg hunt, looking for all the details and the differences to the stock bike. People asking "what's it like?" is the most popular question, and it's not always that easy to answer.
"It's like the most powerful thing I've ever ridden… by far. And I've ridden a fistful of 200bhp bikes. It's like a jet-powered train the way it builds up speed. It's like a bike that has a top speed of 218mph, quarter mile of 9.2 secs @ 163mph, and a 0-60 time of 2.5 seconds. It's like a bike that makes you giggle when you rev it at lights and the blow-off valve dumps the excess air with a whoosh. It's like a bike that Batman would ride, but in GSX-R slabbie colours. It's like having the high gearing of 19-41 yet using it to the max. It's like every single time I ride it is a special occasion, an opportunity to come home a gibbering wreck because I dared to explore some of the potential on a public road. It's like being the fastest baddie on any straight asphalt. It's like being more nimble in corners than it has any right to be. It's like paranoia, in motorcycle form.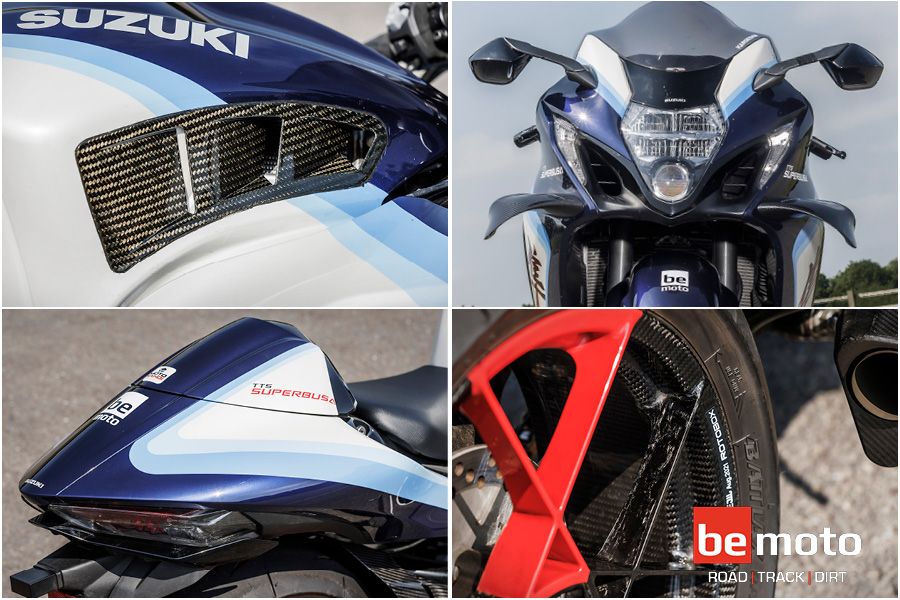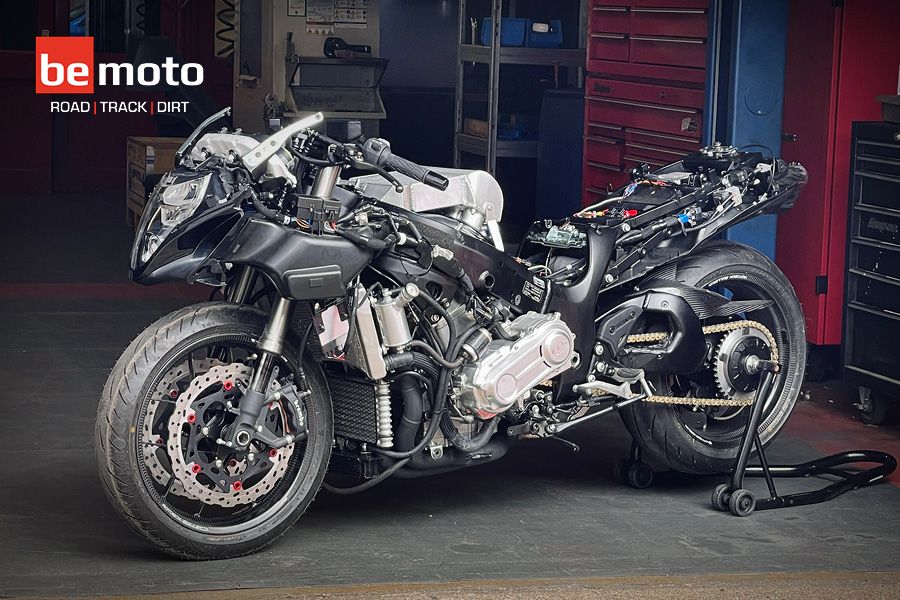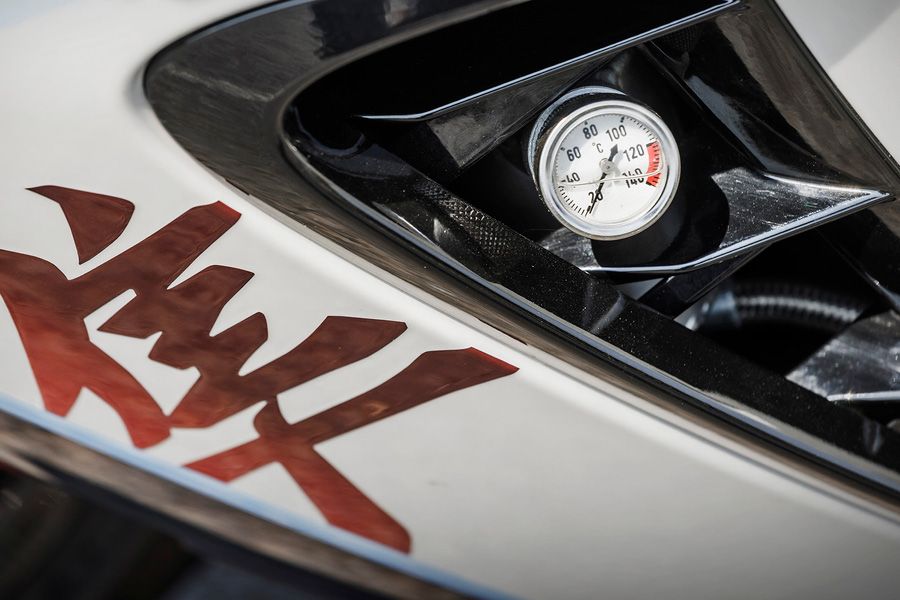 "Let me explain the paranoia: I had the bike for a week to ride on the roads and on the last day – a Sunday – I took it out for a final huzzah, a celebration of all that is crazy on a fast, near empty local route. As I was cruising home I saw the dreaded blue lights in my mirrors over half a mile away. Unsure of whether those lights were for me I slowed further until they were right behind. I'd moved over to the left for the marked car to pass and my heart sank as it stayed behind me, all blues and twos fanfare. Thoughts of pathetic excuses ran through my mind, images of me in a suit standing in the dock as the judge set fire to my licence filled my head. It was just a moment of madness, officer. Please let me off, I have a wife and two cats to feed. I indicated left and slowed down even more and the car finally drew alongside. I expected an angry finger wave in my direction but instead received a polite wave. I breathed the greatest sigh of my life since discovering someone had not stolen my phone at the gym after all, I'd just left it near the squat rack. Phew.
"So yes, it's crazy crazy fast, but it's also crazy crazy useable. Fuel economy is barely affected, handling is much the same, but this is so much more than a bike that goes quick in a straight line and the odd corner. It's a bike that draws gasps from the rider when ridden and crowds wherever it's parked. A machine that can make you feel so alive and alert, that leaves you in awe at the arm-stretching power between the wheels. It's a bike that makes little sense on Britain's sometimes crowded and over-surveillanced roads, but when was a motorcycle making over 100bhp logical? It's the Hayabusa that Suzuki should've built."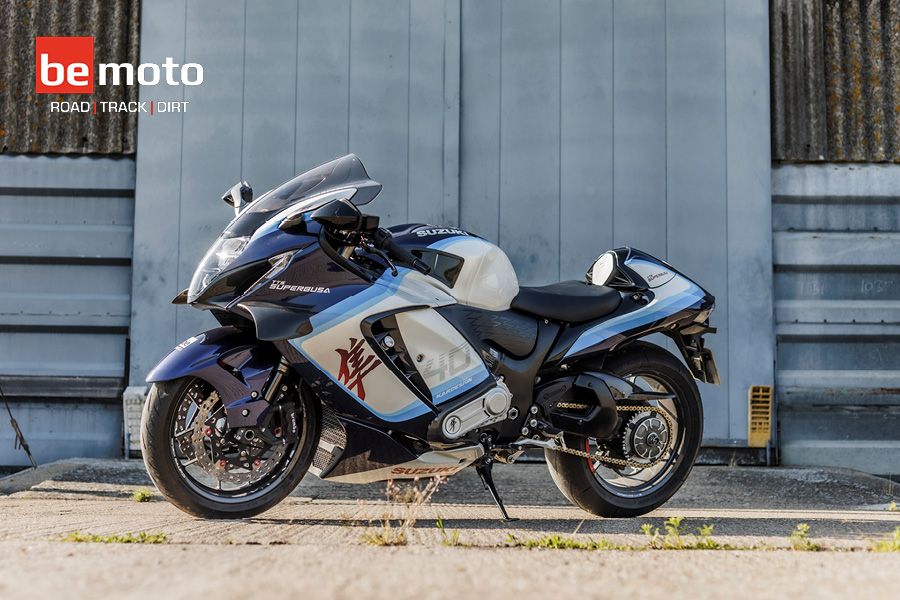 ---
HOW CAN I GET ONE?
Prices start at £50,000 for a base model SuperBusa. Optional extras include a bespoke Kardesign paint scheme, suspension and brake upgrades. You can supply the bike yourself and TTS will fit the kit for you, or TTS can supply the bike from new. It's currently only available in the UK, certain EU countries, and North America.
Visit the Superbusa.com website to find out more, and watch the video below featuring Kar Lee, one of the design team.
This bike has been insured by us at BeMoto modified bike insurance, but let's be clear, we know Kar Lee as a friend and contributor to our website for many years, and a customer since we first launched back in 2015. In other words, we can do it, but you'd have to jump through some hoops to prove the bike is road-worthy and that you have the requisite experience to justify us convincing an insurer to do us a solid!
---
Blog: Suzuki's 3rd generation GSX1300R Hayabusa adds new tech to a familiar recipe.

---