---
Suzuki Katana Concept 2016
By Kar Lee
Exclusive rendering for BeMoto by Kardesign
---
The 1980s Katana was like nothing seen before...
Styled by German design house Target, the bullet-shaped nose cone and angular profile unveiled in 1980 was unlike anything that had been seen before and the gasps that greeted the arrival of the fastest Suzuki ever left a Marmite-love-it-or-loathe it taste in their collective mouths. The space age aesthetics may have arrived at the heart of the Star Wars era but there was performance to match the looks. Despite a relatively short-lived four year production run the Suzuki Katana had well and truly left its mark (the styling cues can still be seen on some of today's line-up) and has even been resurrected many times in limited numbers.
There were offshoots to the Katana franchise too; the naked 550, shaft-driven 650, 750, made-for-racing 1000, as well as the later Japanese market 250 and 400cc variants. 1984 even saw a re-styled 750 version, complete with pop-up headlight. Since then, the Katana brand has been diluted, abused and misused on everything from a fully-faired 600cc roadster to a 50cc scooter, which is nothing less than criminal for a bike once the fastest, most outrageous production two-wheeler.
Fast forward 4 years to 2020 and Suzuki has made this a reality, why not check out our 2020 Suzuki Katana review for comparison.
---
In a Parallel World this bike exists...
We think that somewhere out there, Suzuki are still building them and they might just look like this.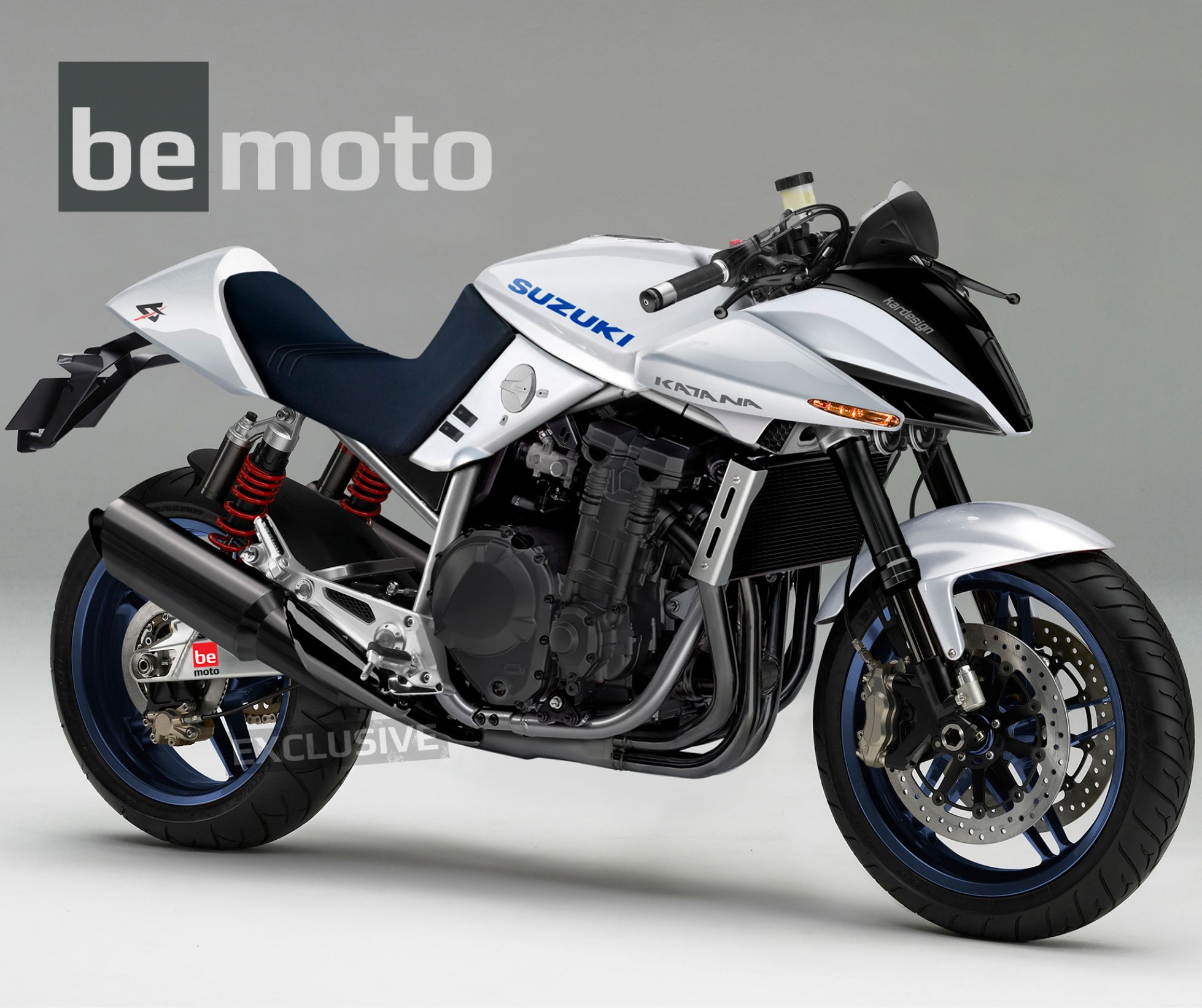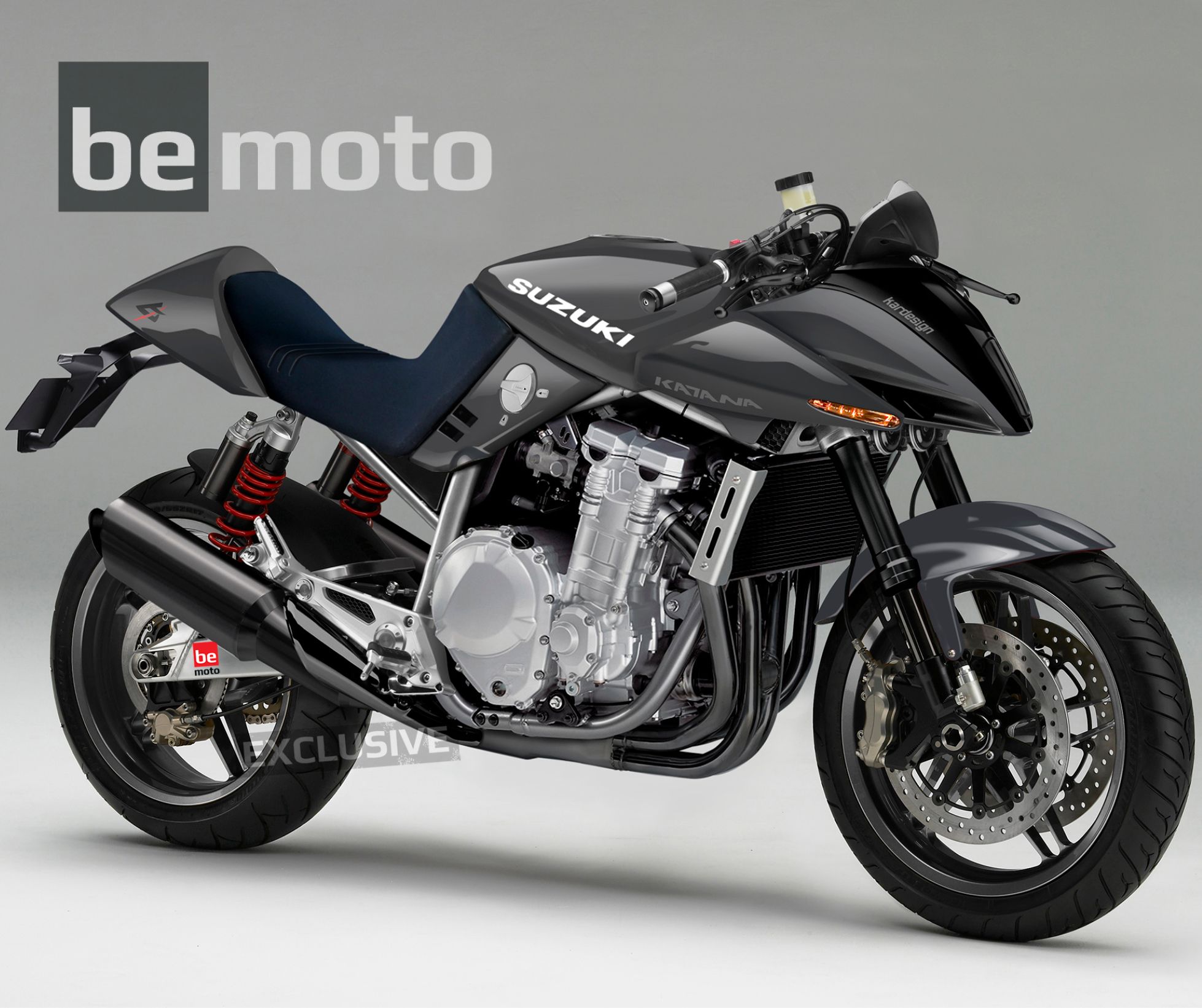 ---
At the heart of our virtual Katana beats a water-cooled engine based on the much-underrated 1250 Bandit. Bored out to 1300 and featuring lightened internals and more aggressive cam profile it boosts the already hefty torque figure and adds a dollop of power to give 85ft-lb and 150bhp for those traffic light GP moments.
Our bike uses a modified version of the Bandit frame with a strengthened main spar to handle the extra performance. GSX-R Big Piston USD forks, a braced swingarm and twin shocks keep things manageable and radial brakes provide brick wall deceleration at the squeeze of a finger. Sure, a modern rising rate monoshock would work better still but in reality would simply lack the macho points required to truly deserve the Katana moniker.
If truth be known, a large chunk of the Katana appeal lays in the looks department so our bike doesn't stray too much from the 1980 original. A pop-up LED headlight lives at the pointy end while faired-in indicators keep things smooth. The seat cowl covers the pillion pad and also discourages passengers before they even catch sight of the tiny perch. We don't want anyone ruining our beautiful profile after all.
---
How can BeMoto Insurance protect your Suzuki?
Tailored insurance cover for standard and modified motorcycles, including multi-bike deals. We also have a range of products for bikes not used on the road, whether you have an old favourite GT750 gathering dust in the garage, an RM-Z250 Enduro bike, or a fully modified GSX-R600 "Gixxer" for trackdays or racing.
Suzuki road bike insurance (FREE Legal Expenses with every policy and no fees to make changes)
Suzuki dirt bike or track bike insurance (Fire & Theft from the garage or when in the van or trailer)
Suzuki trackday damage insurance (UK and European circuits, e.g. Cartegena trips)
Call us on 01733 907000* to speak to a motorbike insurance specialist who understands what your Suzuki bike means to you.
---