---
Suzuki Motor Company
By BeMoto
Suzuki Loom Manufacturing Company was established in 1909, manufacturing weaving looms for the silk and cotton industries. Despite a short foray into car manufacturing before WW2, they didn't enter the motorcycle market until the 50's when the cotton market slumped and they saw a growing trend for clip-on bicycle engines.

A 30cc prototype called the 'Atom' was never mass-produced, so the first bike launched was a 36cc two-stroke 'Power Free' in 1952 – it quickly grew into a significant product and was reflected in the companies' new name - Suzuki Motor Company in 1954 (the 'S' logo was introduced in 1958 and the Loom Works Company was separated from the motor arm in 1961).
In the UK Suzuki makes up 11% of all registered motorcycles (149,000 bikes), in 3rd place behind Yamaha (178,000) and Honda (270,000).
Find out about BeMoto Suzuki Motorcycle Insurance.
---
Michio Suzuki
The company was named after its founder, businessman and inventor, Michio Suzuki who ran the business until 1957, after which his son Shunzo became president – although it has since been run by 4 consecutive adopted son-in-laws, following the long tradition of Mukoyoshi (adopting a son by marriage to an unwed daughter to ensure a male heir to the family business).
Michio Suzuki died in 1982 aged 95.
---
The Icons
The GT750 (aka 'Kettle')
In 1971 Suzuki launched their first proper big bike – the GT750. The GT750 featured a 738cc, in-line triple, water-cooled, two-stroke engine. At the time, motorcycles with water-cooled engines were a real revolution and somewhat a novelty, hence the bike was soon nicknamed the 'Kettle' by its admirers. The Kettle is, still to this day, a unique motorcycle featuring such a large capacity two-stroke engine and as such a wise investment by the enthusiast.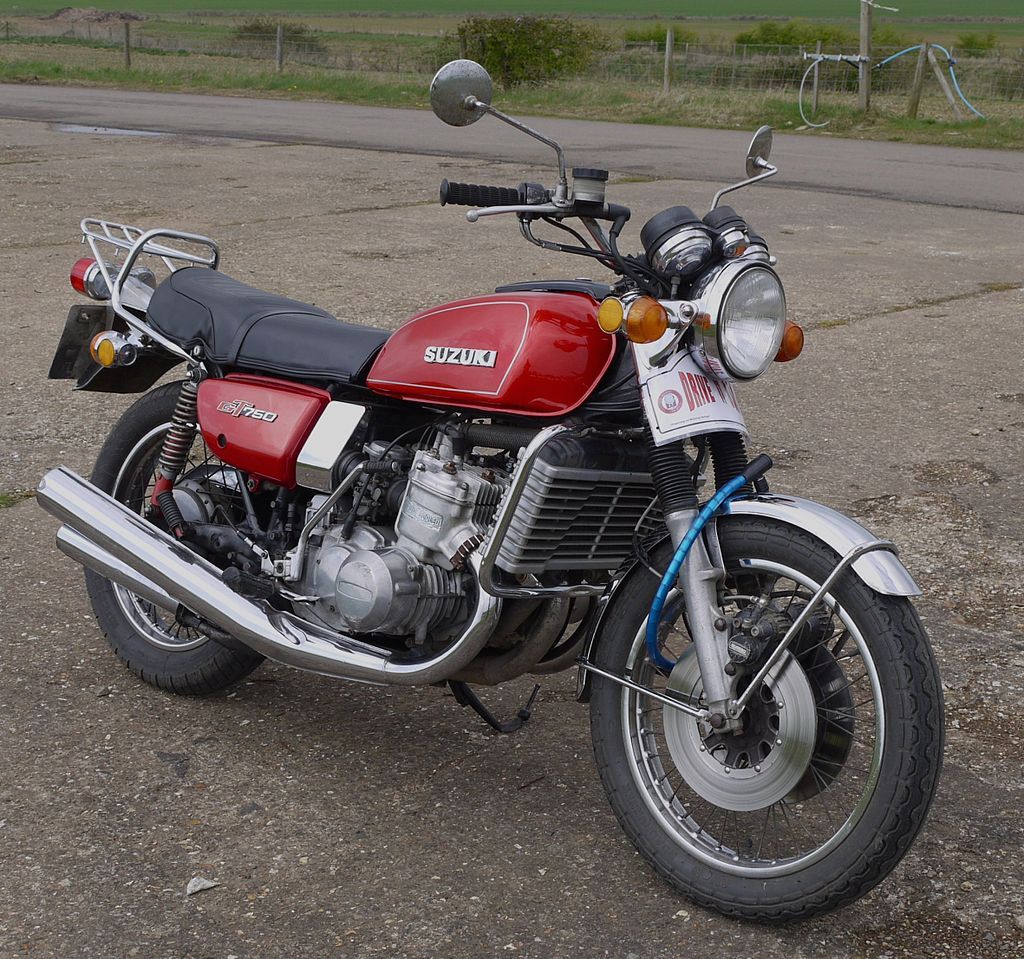 By Mick from England [CC BY 2.0], via Wikimedia Commons

The GSX-R750
The first of the 750cc Sportsbikes as we know them today, the 'race replica', was the Suzuki GSX-R750 launched in 1985. The 'Gixxer' 750 was designed to bring the race bike to the road. It featured full fairing as well as an alloy, rather than commonly used steel, frame taking inspiration from race bikes of the time. The first incarnation of the GSX-R750 was light (a claimed 179kg), powerful (claimed 106bhp) and fast: topping out at over 140mph.
So focused were Suzuki on creating a light weight 750cc motorcycle they opted for the engine to be both air cooled and oil cooled; arguing that a liquid cooled engine would be both larger and heavier. The GSX-R 750 still remains in production today after many incarnations and remains ever popular. For quite some time it has been billed as the perfect Sportsbike for the road; it has a near perfect blend of power as well as handling.
By Rainmaker47 (Own work) [CC BY-SA 3.0], via Wikimedia Commons
---
Download our exclusive GSXR-750 Evolution Screensaver wallpaper.
Rendered by Kardesign for your desktop or device showing all incarnations of the Gixxer 750 since it launched in 1985 (different widescreen resolutions available including 4k monitor and iPad Retina).

---
The GSX-R1300 Hayabusa
In 1999 Suzuki launched the GSXR-1300 Hayabusa, a hyper-bike that instantly acquired the record as the world's fastest production motorcycle. The first incarnation hit 194mph; a good 10-15mph faster than its rival the Honda CBR 1100 Blackbird. Interestingly, the name Hayabusa is Japanese for 'peregrine falcon' a bird that preys on blackbirds!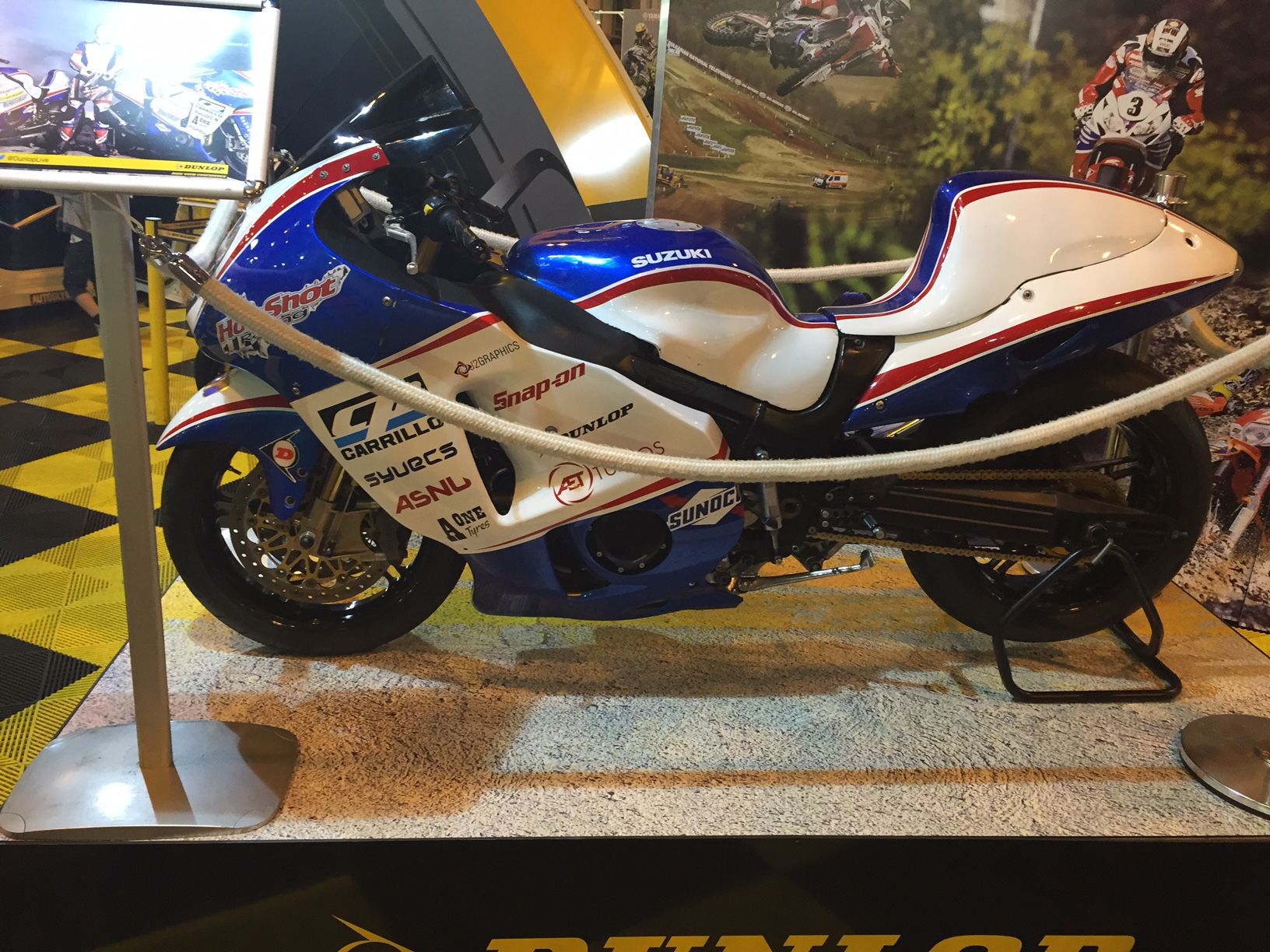 So fast was its top speed that it instantly caught the attention of the media. With fears of a European regulatory backlash and/or import bans, an informal agreement between the Japanese and European manufacturers was agreed - limiting motorcycles to a top speed of 186 mph. The agreement is still in force today, with subsequent incarnations of the Hayabusa limited to that very speed.
But if that wasn't enough, our friend and customer Kar Lee (of Kardesign) has been working with TTS Performance to create this incredible (and slightly craxy) Gen 3 Supercharged Hayabusa... You can see a video of the TTS Super Busa in action here.

Read our 'Modern Classic' article about the Suzuki RGV250
---
How can BeMoto Bike Insurance protect your Suzuki?
In addition to Suzuki insurance for standard and modified road-legal bikes, we also have various off-road products for dirt & track, whether you have an old favourite GT750 "Kettle" gathering dust in the garage, a modern classic RGV250 gaining value under-wraps, an RM-Z250 motocross bike or a race-prepared GSX-R750 "Gixxer" for trackdays.
BeMoto Insurance Products:
Motorbike Insurance (Carbon Cover or Titanium Cover) - declared modifications covered for reistatement
Suzuki Dirt Bike Insurance (Theft from the garage or when In Transit)
Suzuki Trackday Insurance (UK & EU tracks)
Call us on 01733 907000 to speak to a bike insurance specialist who understands what your Suzuki bike means to you.
---