---
Awesome 149bhp Suzuki RM-Z1000 Custom
By Max Hinds
Double the size, triple the power!
In the modern world of off-road racing and competition the most powerful machine that you are going to come across is 450 four-stroke motocross bike. These things are tuned for racing, and depending on the brand they will throw out a dyno reading somewhere just north of 50 BHP. Not too bad for a lightweight dirt racer ay? Trust us when we say that that kind of power is more than enough to go playing in the mud!
But what if we told you that somewhere out there in the world there exists a 1000cc dirt bike / supermoto that throws out a whopping 149 BHP, does 0-60 in 2.5 seconds, and reaches 100mph in first gear. You'd think we're talking a load of old tosh, wouldn't you? Well you better start believing. This isn't any Loch Ness monster myth. This is a real-life beast. Let us introduce you to the Suzuki RM-Z1000!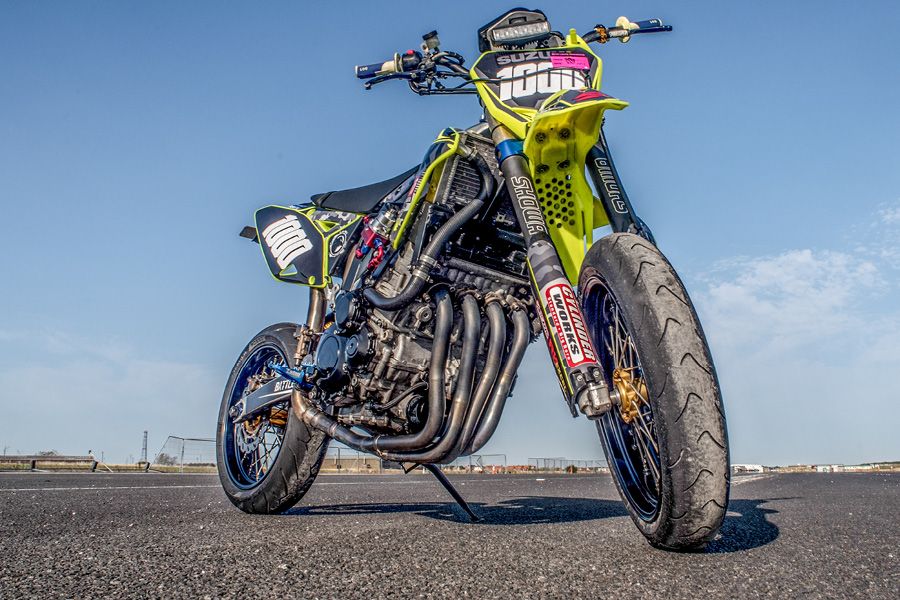 ---
A machine commanding viral fame

We recently saw a viral clip of this magnificent ride doing the rounds on social media and we just knew that we had to track down the man behind the bike to find out more...so you can imagine our giddy delight when we realised that the owner of this ludicrous machine just so happens to be certified Wheelie World Champ Damo Hirst.
After learning that, we knew that we most definitely had to see this thing in action up close and personal. So, we met up with Damo Hirst at the local abandoned air strip to hear the story and listen to the sweet drum busting sound of a 1000cc causing mayhem, being used, and abused!
The Suzuki RM-Z1000 is a custom-built machine born from the mind of man named Chris Thorpe. Thorpe is the Victor Frankenstein to the RM-Z's monster. He has created a handful of these weird and wonderful rides that combine mis-matched parts from across the motorcycle spectrum to form beasts unlike any other. Thorpe calls his creations 'Ravens' and Damo Hirst's machine is actually the 'Raven Mark 4'. The bike has a GSX-R1000 engine that is fitted into Chris Thorpe's custom-made frame, which is designed to run all the stock Suzuki RM-Z running gear.
Since owning the bike himself Damo has spent a lot of time making her look pretty. Originally the MK4 was fairly standard looking and a bit tatty in places. So, Damo went to town with the anodised parts and custom graphics and the result is the stunning ride that we see today.
---
Frankenstein's creation
But how did the RM-Z1000 land in the lap of a wheelie world champ? Well by coincidence Damo bumped into Chris at an event. He saw a black CRF parked up that caught his eye, it had a big engine! This was an earlier version of the Raven. Damo stood at the side of the bike and waited for the owner (Chris) to return so he could ask the burning questions. They had a good chat and Damo let Chris know that a bike like the Raven was exactly what he was looking for!
Soon after Chris started work on the mark 4. When the bike was finished Damo arrived with a pocket full of cash and snagged the ride.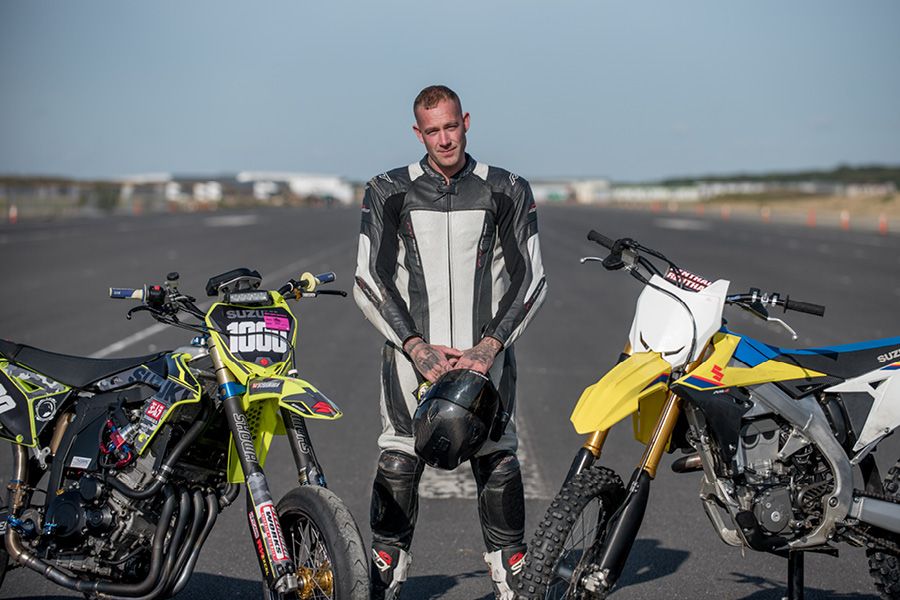 ---
Ride with caution
According to Damo the RMZ-1000 rides exactly how you would imagine it would ride. And by that we think he means it's near on impossible to keep the front end down. He also says that it probably handles better than you think it would. And as you would imagine those are well practiced answers. Everywhere it goes people just want to talk about it.
Damo says the RM-Z certainly gets people looking. Obviously, the awaiting onlookers can hear her approach first before they lay eyes on her, and then when they see what she actually is their faces drop. It's not every day you see a monster quite like this one. And if there just so happens to be a crowd of new Raven fans watching on, Damo certainly isn't adverse to putting on a little bit of a show…
---
So you wheelie like it?
Damo's wheelie addiction started when he bought an old dinosaur of a YZ125. He attempted his first wheelies on that bike and quickly found out that he was really quite good. After that he was simply hooked. This addiction soon led to competitions.
The wheelie competitions started when Damo was tagged in a video on Facebook. The video showed an event that was held at Elvington airfield in Yorkshire. Before you could say 'eat your heart of Dougie Lampkin' Damo was booked in for the next meeting. The rest is history. Damo was officially crowned a wheelie world champion in 2020.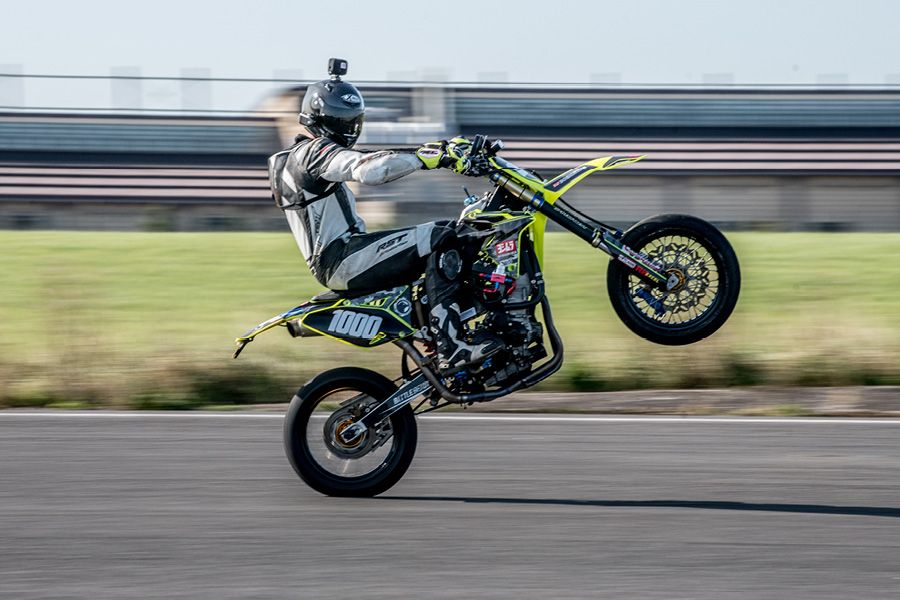 ---
186MPH!? What on earth...
But how do you become a world champion? Well in the wheelie world it is all about speed. In order to claim championship glory you need to be going damn fast on one wheel. For 2020 Damo's winning run came in at a whopping 186mph, and that's despite some serious head wind.
So, if 186mph is a slow day on the airfield for Damo and his wheelie machines, what does a fast day look like? Well, according to Damo his fastest wheelie ever (outside of an official competition) came in at 211mph. Bonkers!
Damo uses a Hayabusa for these wheelie records. The RM-Z 1000, despite also being a wheelie machine, is purely a thing of pleasure for Damo. It's his fun bike.
It's fair to say that most people have never seen a motorcycle quite like this one before. The bike certainly leaves a trail of gobsmacked folk in its wake wherever she goes. What's quite cool is that once upon a time Damo was that gobsmacked guy admiring the feat of engineering that is the RM-Z1000.
Watch the teaser video below or click here to see a full length video with interview at 999Lazer - YouTube.
---
For some people – people like Damo – motorcycling is simply a pursuit of more power, more speed and more thrills. I think it is safe to say that it'll be hard to find more power or more speed from any other dirt bike in the world…
We love seeing bikes that combine our two favourite worlds combine Dirt & Modified!!
Check out Titanium Cover for your MODIFIED BIKE INSURANCE or DIRT BIKE INSURANCE call BeMoto on 01733 907000.
---