---
TEAM CLASSIC SUZUKI REVEALS GSX-R1000 K1 RACER
By BeMoto
Rule Changes Inspire GSX-R1000 K1 Classic Racer
Following the Team Classic Suzuki GSX-R750 SRAD racer revealed in 2021, Team Classic Suzuki has now unveiled its first gen GSX-R1000 K1 racer, built to compete in the European Endurance Cup rounds - the series the team enjoyed some success with the Katana – including a class win for John Reynolds and Pete Boast at Oschersleben in 2018.
The original GSX-R1000 K1 is now over 20 years old and is technically a classic bike for insurance purposes, despite only seeming like yesterday that it took the litre sports bike world by storm... Find out more about our much beloved BeMoto K1 long-termer in this modern classic review.

Now that the K1 has its free bus pass, rule changes have opened the racing class up to the first GSX-R1000 K1. And this super-sexy classic racer does not disappoint - with the instantly recognisable blue & white race livery, some OZ wheels and a full titanium Yoshimura exhaust system. It looks one hell of a classic race bike and we'd give anything to own one!!

The classic racer has a newly-rebuilt GSX-R1000 engine with a set of Yoshimura cams for extra performance. The standard K1 frame has a factory GSX-R750 endurance racer swingarm, K-Tech rear shock and fork internals, with Brembo brakes.

Credit: Team Classic Suzuki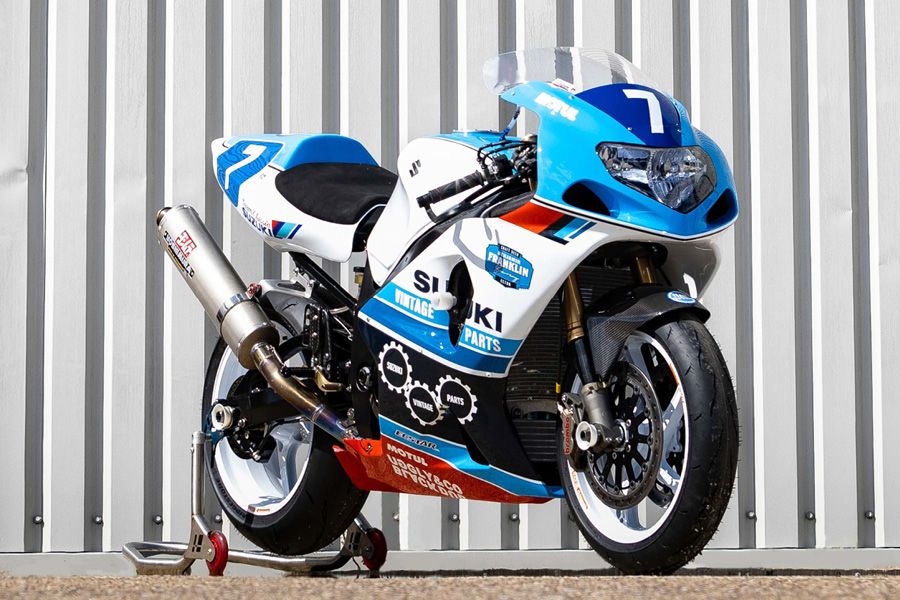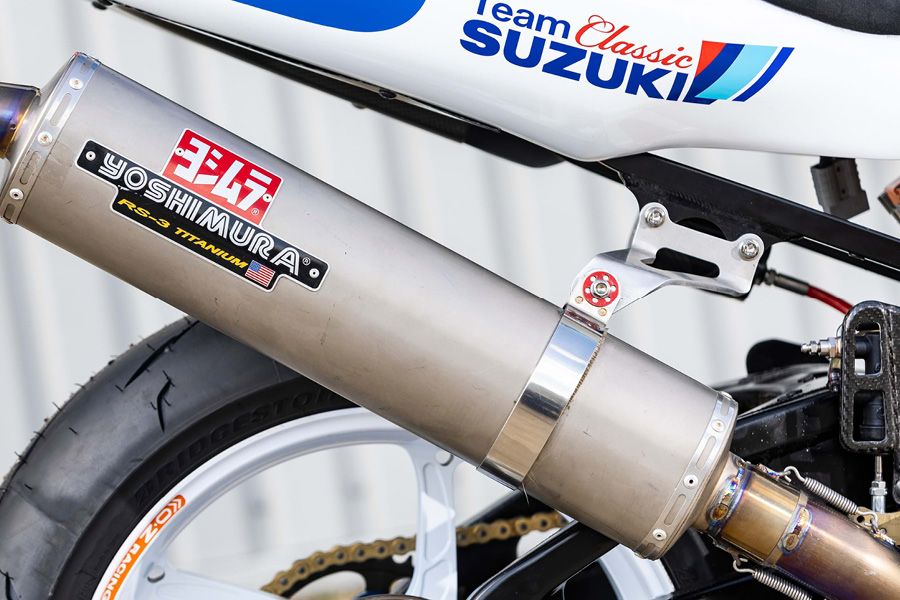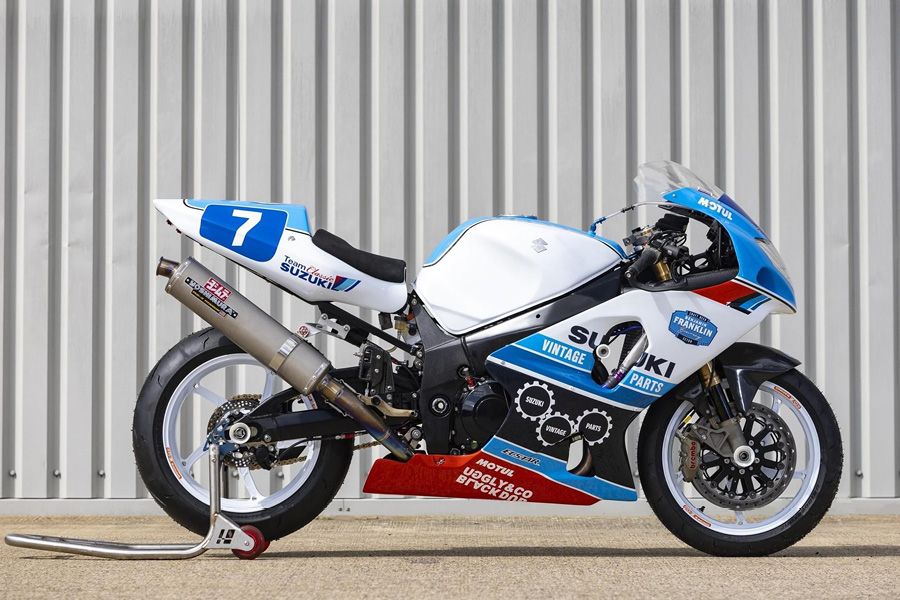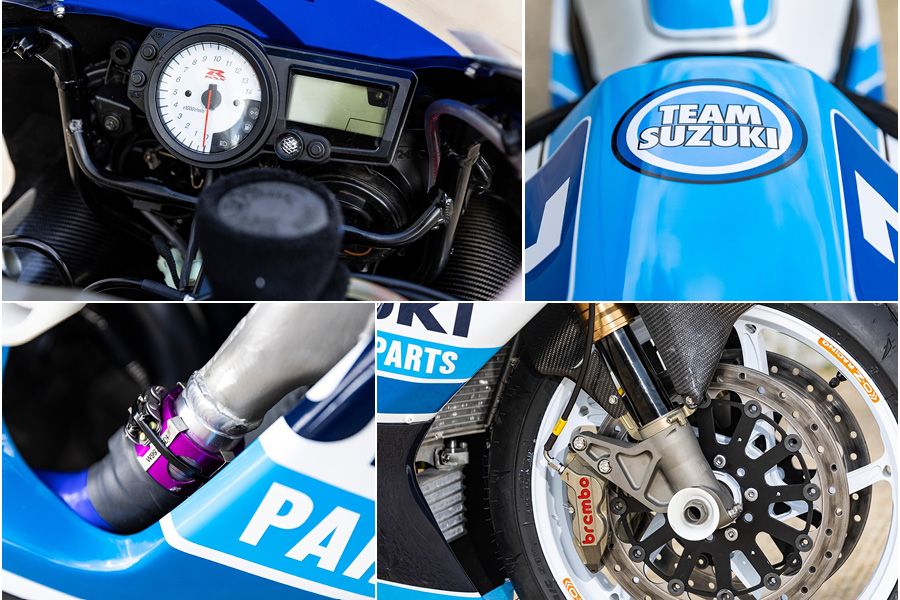 Team Classic Suzuki's Nathan Colombi said, "We enjoyed racing the Katana at a number of endurance events in Europe, and also at the Classic TT, however, once the rules opened up to allow GSX-Rs in, we had to get involved and build our own. To be honest it came together quite quickly and we're still finalising our plans for the season, but it's great – if a bit terrifying that so much time has passed – that GSX-R1000s can go classic racing now.
We've obviously used a lot of performance parts in the build, but we've been able to use the Suzuki Race Parts Programme when we've needed genuine components, which will be of use for anyone else racing a GSX-R in this series, club racing, or at national level."
---
Suzuki Vintage Parts Programme
Launched at Motorcycle Live in 2013, the vintage parts programme aims to support classic Suzuki owners, who need genuine new-old parts to keep their ageing bikes on the road, or for enthusiasts to restore vintage and classic bikes using new, Suzuki Genuine Parts. With over 10,000 parts available - all photographed and catalogued - it's supported with downloadable workshop manuals to help you carry out the work yourself.
We have tried to use the Suzuki official UK eBay shop for our own K1000 (below), but sadly seem to struggle to find things in stock that we need, like an original rear seat cowl for the K1.
BeMoto classic motorbike insurance takes a ride down memory lane (it was one of our owners first litre bikes in 2002.)
Give BeMoto a call on 01733 515485 to insure your classic sportsbike
---
Team Classic Suzuki merchandise collection
For those couples who like to wear matching Suzuki outfits to race meetings (and genuine classic Suzuki fans), you can now buy Team Classic Suzuki Clothing online and in dealerships, including everything from jackets, fleeces and gilets to tee shirts and caps. There's also a bobble hat.
The clothing range features iconic race-livery-styling from Suzuki RGs and GSX-Rs, with the blocks and stripes in varying shades of blue and white, complete with sponsor logos including Suzuki's Vintage Parts Programme, Motul, and Ecstar.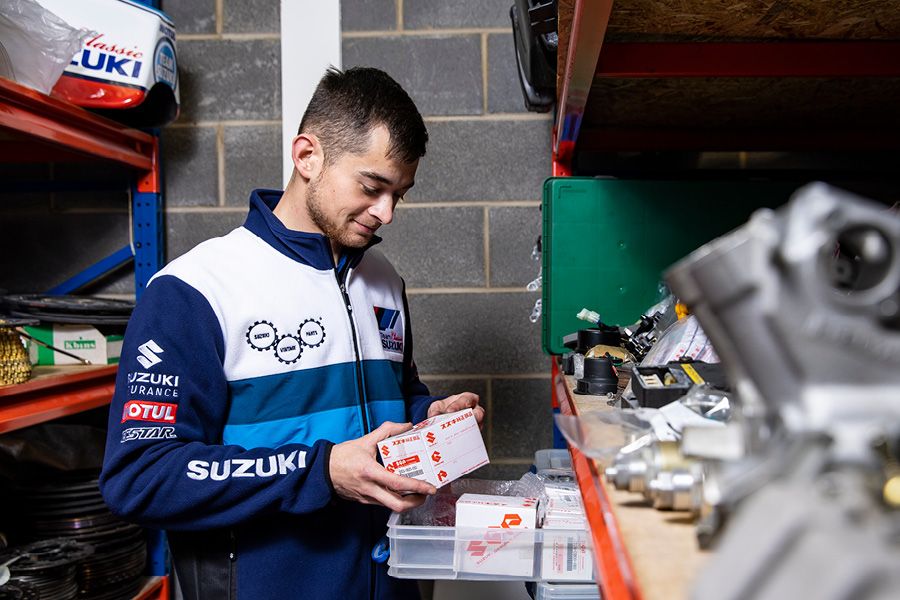 You too could look as happy as this man when staring at a box of parts, in your stylish soft shell jacket, adorned with sponsor logos.
---