---
Energica Test Ride: MotoE Ego Corsa Electric Race Bike
By Alan Dowds
IT'S FAIR to say that invitations to ride a bike from the MotoGP circus don't come around every day. In fact, there's not been any journalist test rides on MotoGP bikes since 2007. I got the golden ticket once, in 2005, for a spin on Hayden's Honda RC211V and Pedrosa's Honda RS250 RW around Sepang, and bagged a ride on the Triumph Moto2 development mule last year, but that's about it.

So as I board a Squeazyjet flight to Valencia on the final MotoGP weekend of the season, I'm pretty stoked, as I believe the kids say these days. Okay, I'm not heading out to ride Marc Marquez's Honda RC213V or Valentino Rossi's Yamaha M1. But it's arguably even more interesting and daunting than that. Because the invite for this weekend came from the organisers of the MotoE series – the electric support series that's been running alongside selected rounds this season.
2019's the first year for the battery-powered racers, and it got off to the worst possible start, with a devastating fire at a pre-season test in Jerez in March. The entire paddock of 18 bikes went up in smoke after a short-circuit in the power infrastructure, and with only six weeks to go before the first race, the organisers had no bikes, chargers, special equipment or even the mobile pits used for each event.
Luckily, no-one was hurt in the fire, but the first two rounds at Jerez and Le Mans were cancelled, and the series finally kicked off at the German MotoGP in July. Two legs each at Misano and Valencia got the series back up to six races at four meetings, and the season finale at the Valencian MotoGP saw Italian rider Matteo Ferrari just pip Brit Bradley Smith to the title in the last race.
So, MotoE has been a success in terms of logistics and organisation, and the folk from Energica (which builds the bikes and runs the series) were keen to show off their achievement. Hence the invite to me and a few other moto-journos for a wazz round on the Ego Corsa race bike on the Monday after the final round. We're getting seven laps – pretty much race length, and a whole battery's worth of 'leccy – on the beasties, and as we sit in the pits for a bit of a briefing, I'm actually a bit nervous. Not for the track – I've been here a few times, most recently on the Panigale V4S launch, and can remember how it goes quite well. Rather, it's the very unusual nature of this machine which is worrying me. There are two concerns: it's a big old bus, weighing in at 258kg, which is about the same as a loaded BMW R1250 GS Adventure. And we're riding on exotic Michelin MotoE slicks, which would be fine, except the Energica man keeps telling us that we need to tread a very fine line with them. Go too fast early doors and you'll fall off on turn four (the first right-hander in the lap) because the tyres won't be so hot on the right hand edge. But go too steady and these alien-spec hoops will cool right down, and you could fall off wherever you liked.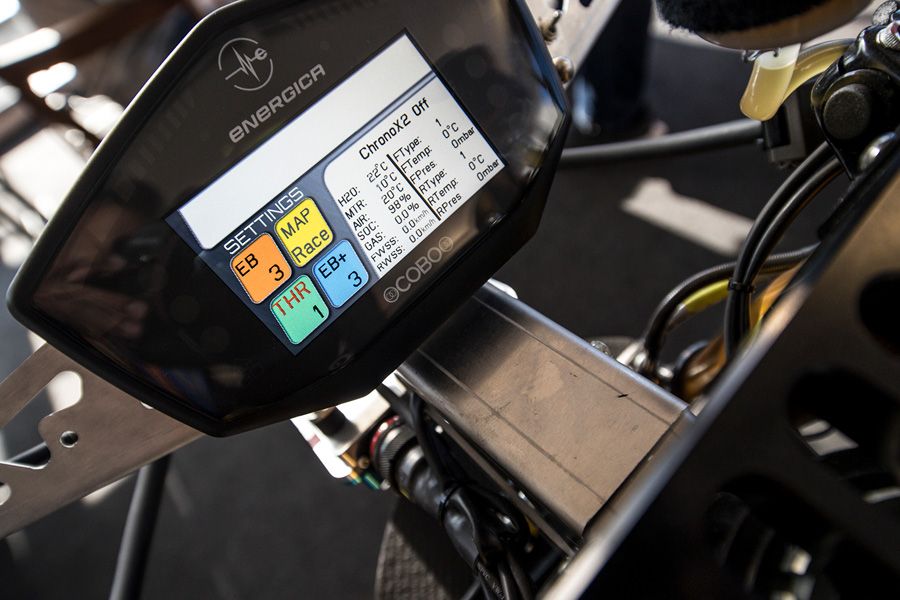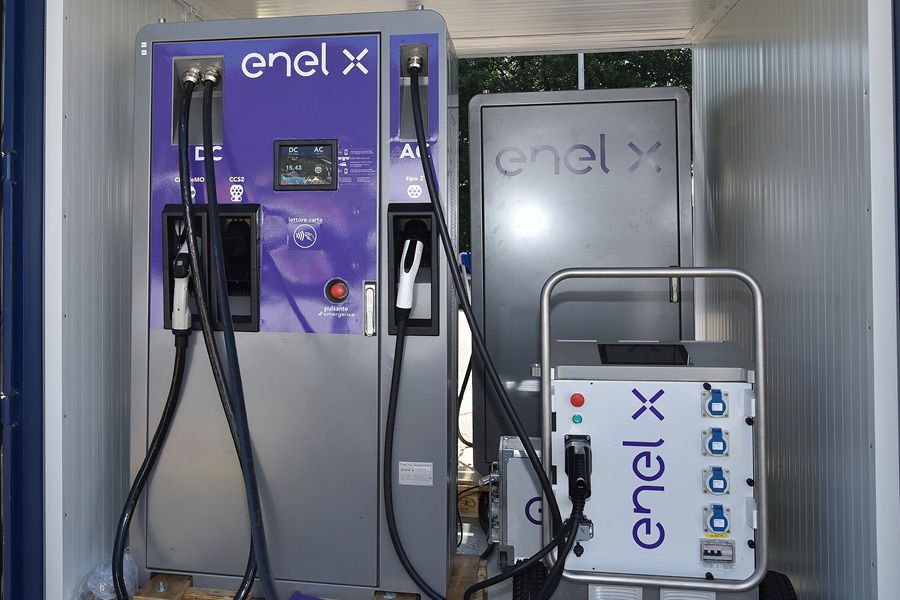 I had been pretty confident about staying upright, but this tyre temperature tightrope was playing on my mind as I folded myself into my Alpinestars airbag leathers and plonked on my Arai. I'd watched a few of the best riders in the world throw themselves into the gravel at turn four yesterday – and even worse, saw how many marshals it took to pick up the super-heavyweight MotoE machines (eight is the answer…) The Energica people are all very nice, but it's been a long season. And no-one seemed keen to watch me convert one of their megabucks hyper-bikes into a lithium-powered inferno in Valencia's picturesque gravel traps.
Ah well. The nice techs beckon me over to a black testing-liveried bike, unwrap the tyre warmers and I hop on. They bounce me off the paddock stands, wave me off, and I'm away down the long Valencia pit lane. It's all fairly welcoming from the off – though the tacho-less dash is a bit weird, and there's also no clutch or gear levers of course. This is a twist-and-go beastie, and all 160bhp/250Nm of performance comes simply via your right wrist, so there's no worries about race-shift, slipper clutch settings or anything else, really.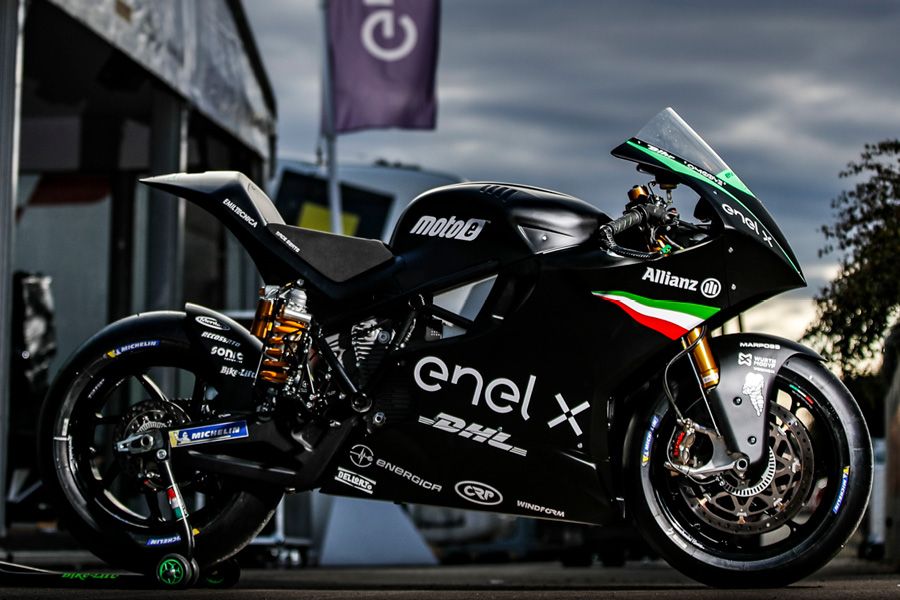 Boom. We're past the pitlane lights, and I give the Ego a decent handful of 'gas' and pull onto the track. We've got the place to ourselves - there are just four bikes out on the MotoGP-spec track – so I can concentrate fully on the MotoE experience, which is a rare treat these days. Down to turn one, round and down the little straight to turn two and I get my first feel of the Ego Corsa's brakes. It has serious stopping kit – Brembo calipers which were used in wet MotoGP racers until 2017, with enormous steel discs and a radial master cylinder. Even so, with all that mass to stop, how will they do?
Pretty good is the answer. I scrub off a chunk of speed, tip in gingerly, and cruise through turns two and three, and it all goes very well indeed. The Öhlins suspension is racebike-firm of course, and there's little in the way of dive at the front end, but you still get plenty of feel back from the front tyre. I've still got the tyre tightrope in my head, and the Ego's seat is quite high, but it doesn't feel at all intimidating or difficult through the bend.
Out of turn three, a short squirt, and now the scary turn four – the first chance to use the right hand side of the tyres. I sort of blunder through, aware that the snappers will be working on this obvious photo point, then make it through unscathed and onto the rest of the lap.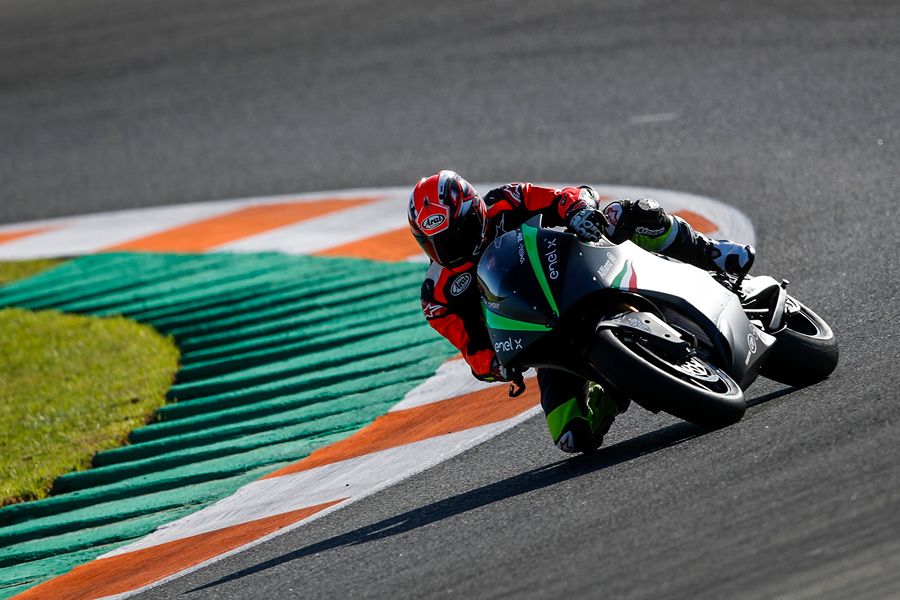 Valencia's infield is quite fiddly, and you'd expect the weight of the MotoE machine to make it a chore. But it actually feels surprisingly normal in terms of handling. That weight is there, and you do feel it – but this is nothing like a wobbly fat old road bike that's been flung on track for marketing reasons alone (BMW's Boxer Cup and Harley's various one-make championships, I'm looking at you here). It's a proper race bike – you've got to remember this bike has had some of the best development riders and techs working on it at the highest level. And it's really rewarding round here.
But I think the Michelin tyres are behind much of the chassis performance. They're not only custom-made for the specific characteristics of the Ego Corsa – they also make special constructions for each track. Hand-made French slicks, designed purely for this bike and this track – it's the rubber of the racing gods, and far too good for the likes of me. But I'm loving the incredible grip, solid stability and nimble steering all the same…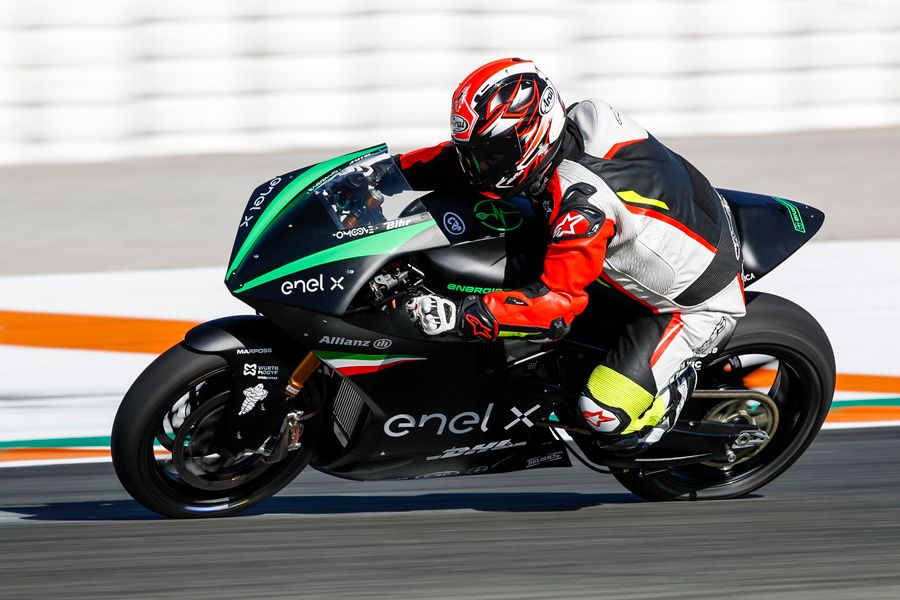 The first lap passes in a blur, and the second one all goes much better. I'm more confident about the tyres now, and make a far better fist of turn four, then round and into the twisty middle part. There's a lot of stop-and-starting round here, but the Energica is coping well. I'm really impressed with how it makes its power – sure there's a heap of torque low-down, but the 'throttle' response is really friendly. The connection between what you do with your right wrist and what happens at the rear Michelin is super-precise and intuitive – a nice trick indeed. Electronic engineers I've spoken to say this is a simple task – a motor controller with a variable input giving a desired output – but fair play to the Energica techs for getting it so right.
This direct throttle is most evident on the final left-hand turn, which is long, fast and downhill at Valencia. You're constantly feeling your way round as you drop down and onto the front straight. Now, it's time to check out the other part of the performance – how does the motor perform down that big long main straight? Well, it's not super-powerful on paper, especially considering the mass. Around 160bhp is more than 50bhp less than the Ducati Panigale V4S I last rode down here: and there's an extra 65kg to haul round too. Nevertheless, the way electric motors work makes it feel proper quick – a relentless whirr of acceleration underneath you, not unlike the Stealth rollercoaster at Thorpe Park. It tails off a bit at the top end, so where a full litre bike will keep pulling hard all the way down a track straight, the Ego Corsa hits a bit of a plateau. It's still going effing fast when I come into turn one though, and we're back into the cornering groove again.
I've got five flying laps, plus out- and in-laps, making seven in total, but they're done in no time. I'm sweating inside my leathers after the first couple of laps though – a sign of how hard you can work on this bike. But it's all been really positive(!). It probably shouldn't be a surprise that a MotoGP-level race series can produce a very decent race bike, no matter what they start with. But to turn a 260kg battery-powered road bike into a track bike as capable as this is still extremely impressive. The fact they match the lap times set in Moto3 tells its own story for sure. Will this be the last time journalists like me get invited to test an electric race bike from the highest levels of racing? I certainly hope not.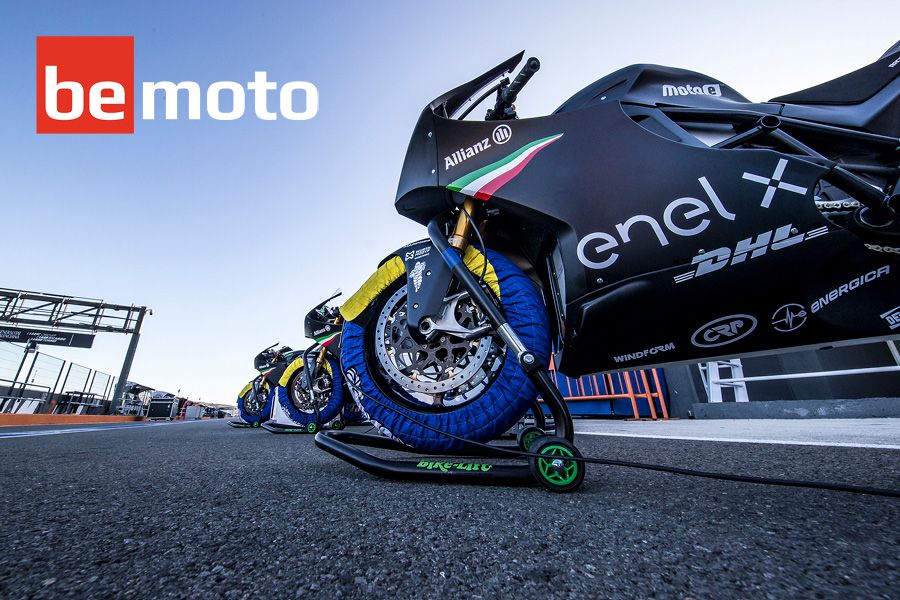 ---
TECH BOXES
Frame
Massive steel tube trellis looks super-stiff, and the main motor alloy castings also support the swingarm area as a stressed member. There's no steering damper fitted.
Suspension
Looks pretty standard: Öhlins front and rear, with 43mm USD forks and direct rear monoshock with no linkage. But there are a few secrets lurking in there. The forks are modified FGRT208 R&T units, originally designed for Suzuki's GSX1300R Hayabusa, with some hefty 13-15N/mm springs inside. The rear Öhlins is a more bespoke design, with a single-tube damper and a stiff 130-150N/mm spring. The single tube is a tougher design, so they used that to deal with the extra forces from the heavier bike.
Wheels
Seven-spoke Marchesinis, but forged aluminium rather than the magnesium usual in GPs. That's probably down to the extra forces going through them, plus reduced cost/benefit returns on the heavier machine.
Tyres
The MotoE bikes use custom-made Michelin slicks, tweaked for each track on the calendar. There's just one fitment supplied for each round, a medium front and a soft rear. The front has been developed with similar characteristics to MotoGP slicks, only with a stronger construction for added stability under braking. The rear is 'derived' from the firm's superbike slick tyre, presumably because of the extra weight of the production series. Michelin claims it's designed to warm up quickly and give maximum grip from the start.
If it's wet, the teams use Michelin Power Rain wets, the same as the MotoGP bikes.
Brakes
The Brembo four-piston billet monobloc calipers are custom-made for MotoE, and use titanium pistons with Z04 pads and a radial master cylinder. 330mm T-drive steel discs.
Powertrain
The oil-cooled permanent magnet AC motor makes 161bhp, the battery pack holds 20kW/h, and the supply voltage is 300 volts. That means a hefty amount of current coursing through the supply electronics – hence the super-thick orange VFD (variable frequency drive) wires running from controller box to motor.
---