---
The day I fell for a CX500
By BeMoto
In 1978 I was ten. Ten is a good age; the world is still fresh and vivid and powerfully exciting – enough so to still absorb the flood of full-colour life experiences like a great, unfiltered sponge, and yet, by now, being old enough to begin to attach meaning and significance to the random, disorientating childhood chaos.
My older brother was into bikes. He had a pile of magazines, and had gone through a Suzuki AP50, a Honda CB200, and was now riding a Honda CB400N Superdream. Not an auspicious list, but I knew I liked them too. Cars were for driving the family about in and had no status beyond the practical. They held no fascination, offered no romance, no escape, no emotive thrill. Bikes, on the other hand, were all that and more: exotic, scary and somehow infused with a mysteriously noble ideal I couldn't identify but I knew resonated inside me. They just suited me. I got it.
One day I was walking along a back street in my home town, past a row of terraced houses. And there, looming between the Austin Allegros and Morris Marinas, was a black and red CX500. It was almost as tall as me; chest-high with the Cyberman-silver transverse V-twin cylinder heads, twisted through 22° to tuck the carbs in and splaying out the headers with an irresistible defiance. There was something intimidating in its mass, and it was unconventionally, monolithically beautiful. The CX had a curiously feminine, mumsy charm; blunt, dumpy, boss-eyed and ill-proportioned, but all the more eager to please. Even at 10, I think I understood what it was saying.
Beyond my juvenile world, the CX was almost immediately ridiculed. No-one knows where the Plastic Maggot nickname came from, but it stuck, much like the early CX's camchain tensioner. Initial road tests criticised the bike's looks, but praised its ride quality. John Robinson, the technical editor of Performance Bikes, rode the CX at its track-based launch at Nogaro in France and declared it his bike of the year.

But despite a capacity hike and the slightly bonkers addition of turbocharger, within a matter of years the Honda was tainted by association as the mainstay of inner city despatch riders, its home their environment of grubby London side streets in the rain. Motorcycling had moved up a gear, sportsbikes were the way forward and LCs, GPzs and GSXs were all that mattered to me and almost everyone else. The CX was dead, forgotten, history. Occasionally I'd see one propping up a mouldy tarpaulin in someone's front garden, anchored by a rusty chain it didn't need because who in their right mind would nick a CX? They'd need a crane.

I never got to ride a CX500 until a few years ago. It was what it looked like it would be: ploddy, ordinary, but with an undeniable, quirky charm. Then, somewhere on the same grimy, but now inexplicably fashionable, London streets that once were the Honda's undoing, a hipster took a hacksaw to a CX500 seat unit, ripped out the battery and side panels, fitted wire spoke wheels, lagged the exhaust pipes, and the put the result on eBay with a £4000 price tag.
And as if time is now running backwards, I feel my life reversing back into the bright, colourful, incomprehensible chaos of childhood. Confused, mostly, these days, I don't get it.
But it's a CX500, so I kinda do, too.
---
It's 1982. Duran Duran are sailing high in the charts and I am a self-confessed New Romantic, getting knocked back from over half the clubs I try to get into. My hair has hairspray in it to keep the quiff up. I am 14. My interest is girls, music, football and my racebike. I say bike, it was a Raleigh Olympus with 21" frame which was hand-painted white with those little tins of Humbrol paint you would use for Airfix and Tamiya kits.
I had zero interest in motorcycles until one fateful day I was walking home from school – I remember it like it was yesterday. I heardthe most amazing sound from a motorcycle sitting at the lights. It's a soft burble, almost soulful, like those disco songs that Earth, Wind and Fire make. As I walk past the bike my eyes are transfixed on the funny engine which stick out at a funny angle. The rider blips the throttle and the revs raise, causing the pavement to shudder in harmony with each piston stroke.
It's a glorious noise and unlike anything I've ever heard before.
Motorbikes are suddenly on the radar and remain there until my last year at school when I make a life-changing decision. My best mate buys a Westone Thunder bass guitar and encourages me to spend my savings on a drum kit so we can be in a band together. His decision later leads him down the path to become a session musician touring with the likes of T'Pau, Bros and Gwen Stefani. No, my savings, all £90 of it, go on my first motorcycle. It's not a CX500 but it is a Honda – an unrestricted SS50 with front drum brake and a top speed nudging 50mph.
It was ten years before I got to sling a leg over a CX500. During a stint despatch riding in London a fellow rider had one – a bonafide original 500 with tiny headlamp cowl, twinshocks and bungeed on topbox. I confessed my life-long desire to take one for a spin so he duly obliged me with the keys. I rode into the West End traffic, slightly nervous and completely unprepared for what was to come next.
I'm not sure what I expected if I'm honest. Midrange drive? Effortless power? Both were lacking, but what I did experience was an overweight, ill-handling machine that took more effort than it looked to go around corners – and it looked a lot. Within ten minutes I was back at base, keen to get back on my Revere which was the modern day take on the old despatch favourite. The Revere was just a better motorcycle; lighter, more powerful, you know the drill. Still, in some ways my admiration of the CX grew – it sold spectacularly well for Honda and it sold motorcycling to me, all the while being a bit shit to ride. So here I am, not touring the world playing rockstar but sat at my desk writing about a motorcycle memory with some fondness, and I'm actually cool with that.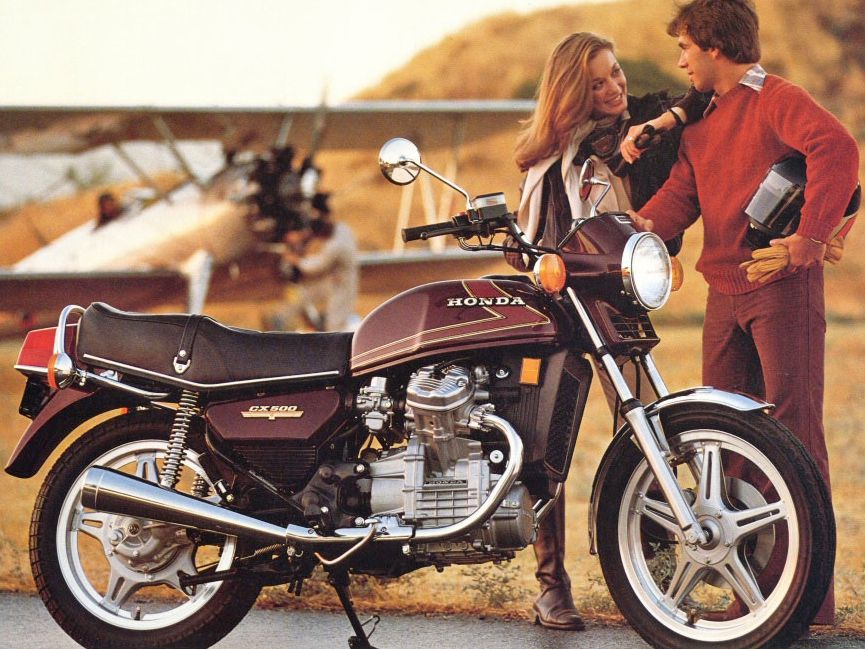 ---