---
​Motorcycle Battery Charger: The Top 5 Smart Chargers
By BeMoto
Motorbike battery chargers: Five of the best

Avoid a flat motorcycle battery by using one of these smart chargers
There's nothing more annoying than heading out for a ride on your bike, trike or quad and being met with the sound of a barely turning starter motor, the clicking sound of a non start or, worse, absolute silence.

Looking after your battery is essential when you're not riding your bike often or for long periods. Cold weather and inactivity will drain a battery and a smart charger is the best way to keep your ride ready to go.
We've assembled five of the best to suit most budgets and even for those with a multi bike collection.
To find out how smart chargers work, take a look at our blog here.
---
Motorbike battery charger #1: OptiMate 1 Duo
£39.99
They say it's the 'no brainer' battery maintainer for the hi-technology battery and features precise microprocessor controlled charging and long term maintenance. Maintain any type of 12 volt lead-acid battery, filler cap / wet cell, sealed AGM (MF) or GEL and 12.8/13.2V lithium (LiFePO4) batteries without overcharging. Ideal for vehicles that are seldom or seasonally used, or in storage. The OptiMate maintenance program delivers only what the battery needs, never overcharges, never undercharges.
With its energy saving technology it has stand-by power usage of less than 0.5W, is dustproof, rated for indoor use down to -20°C / -4°F and includes 2 interchangeable battery connection accessories.
https://www.optimate.co.uk/products/optimate-1-duo...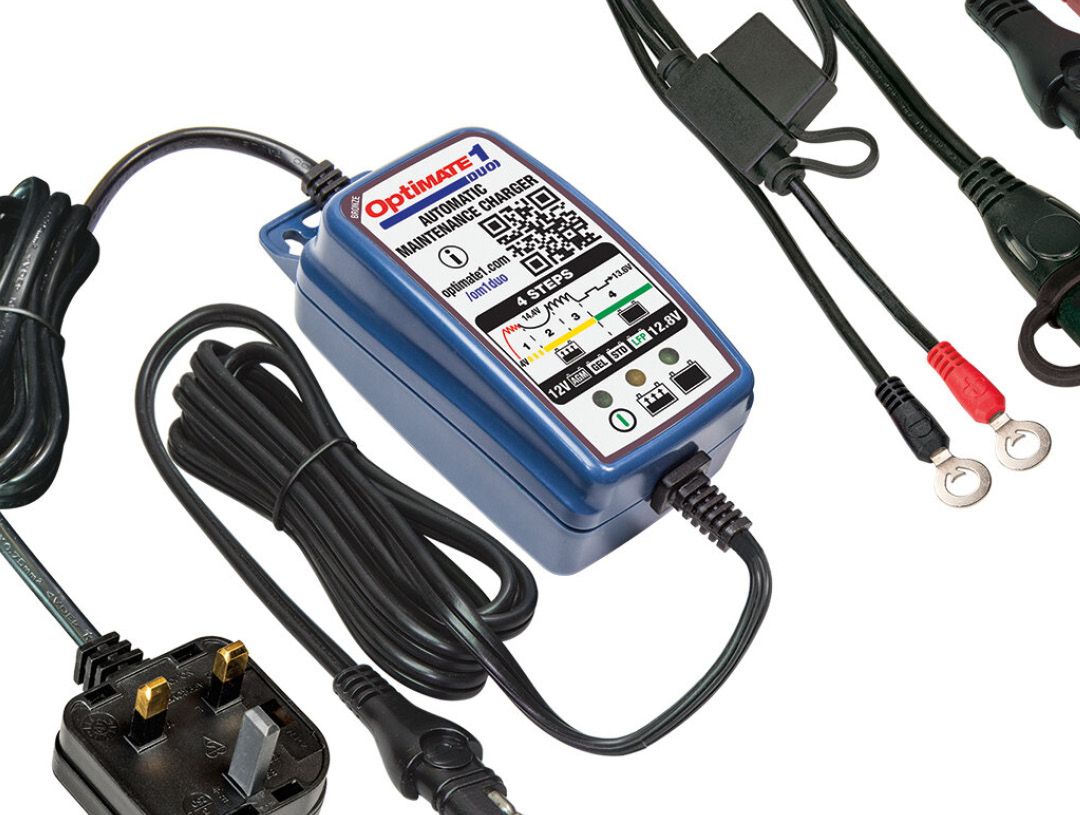 ---
Motorbike battery charger #2: Oxford Oximiser 900
£31.24
A new generation of Battery Care Systems has arrived. A professional switch mode charger designed to automatically maintain, optimise and prolong the life of any 12 volt battery.
Suitable for all 12V battery types up to 30Ah including Gel, MF and conventional lead and refillable batteries. The Oximiser 900 can be left permanently connected to provide long-term battery care.
This sophisticated battery management system provides real time information about the battery condition. Heavily discharged batteries as low as 4.1 V can be charged if the battery is not damaged.
https://www.sportsbikeshop.co.uk/motorcycle_parts/...
---
Motorbike battery charger #3: Yuasa 6-Stage Smart Charger YCX0.8 12V 0.8A
£65.99
Featuring intelligent (SMART) charging with up to eight charging phases, reverse connection protection and spark proof connection, this Yuasa item is also safe for on-vehicle charging and suitable for new technology batteries.
https://www.feridax.com/search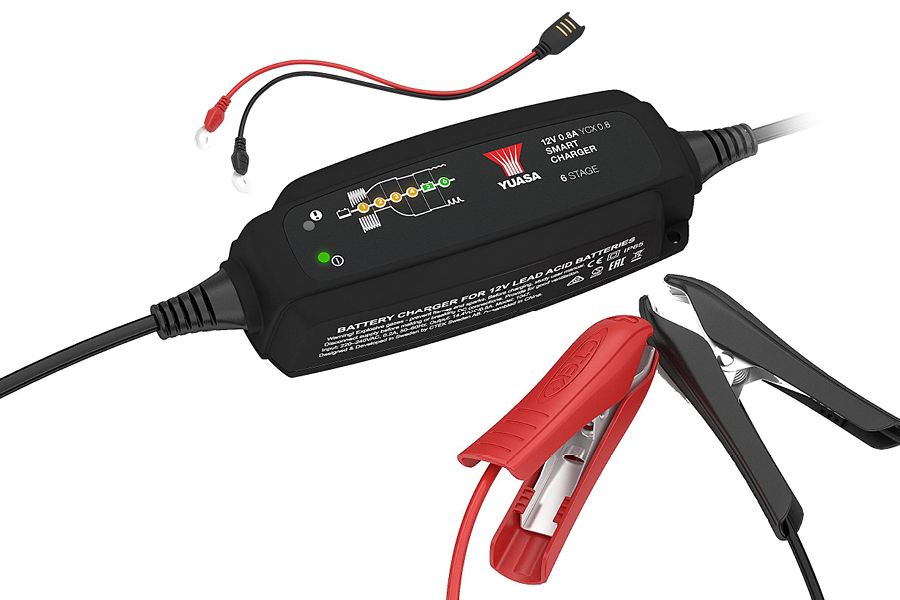 ---
Motorbike battery charger #4: Halfords Advanced Motorcycle Smart Battery Charger 4.0A
£47.99
Charge and protect your motorcycle battery with this Halfords Advanced Motorcycle Smart Battery Charger 4.0A. Suitable for 12V motorcycle batteries up to 90Ah, including lithium, lead acid, gel, calcium, EFB and AGM. Designed for bikers, it is small, lightweight and can be left permanently connected and stored in the bike.
Ideal to leave connected as a maintenance charger: it will automatically switch to a slow charging mode once the battery is fully charged, keeping it topped up but protecting it from any overcharging damage.
https://www.halfords.com/motorcycling/charging-acc...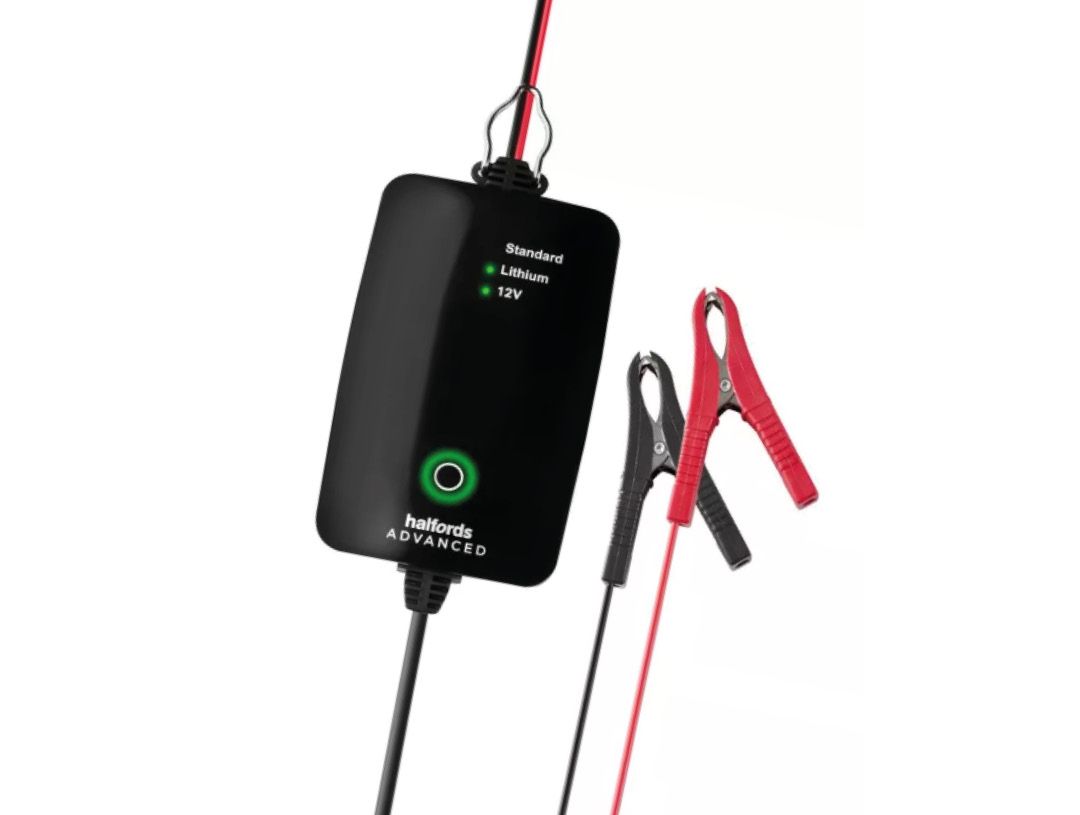 ---
Motorbike battery charger #5: OptiMate 2 Duo x4 Quad Bank
£249.99
The OptiMate 2 Duo Quad Bank r is the cost-effective smart charger solution for long term maintenance and charging for up to four lead acid and lithium batteries completely independently. Ideal for all types of 12V lead acid and 12.8V/13.2V lithium LFP batteries in any vehicle / craft that is stored in or outdoors, 2 Amps of charge current is delivered making it ideal for long term maintenance of larger batteries as well.
Best of all, OptiMate 2 Duo Quad Bank is fully automatic to protect against user error.
https://www.optimate.co.uk/products/optimate-2-duo...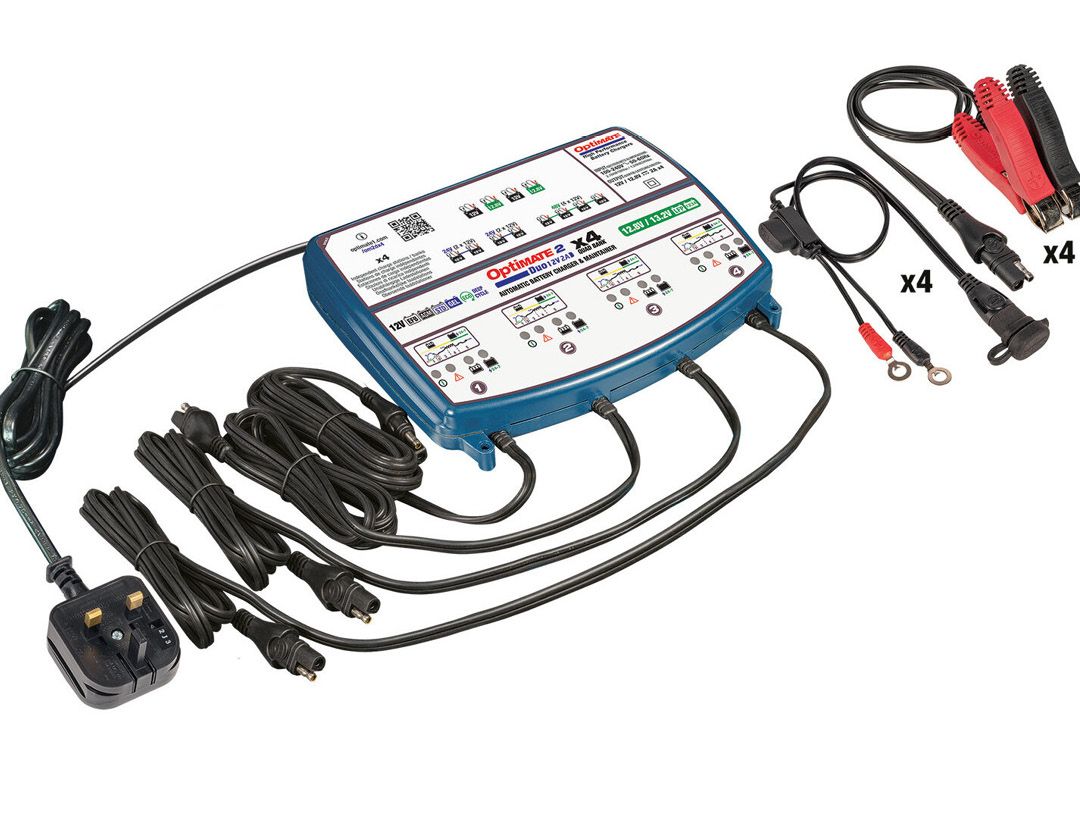 ---