---
Top Wheelie Bikes
By Alan Dowds
Guide to the best wheelie bikes (on a closed road of course)
Yeah, yeah, we know what the grown-ups say. Wheelies: they're not big and they're not clever. But of course, they're wrong, wrong, wrong.
Indeed, the only people who hate wheelies are the ones who can't do 'em. And maybe your neighbour, after you hoiked that third gear fly-past the other week.
Anyway. Done properly (on a closed road or track naturally), wheelies are hardly dangerous at all, and they are actually a very fine test of a bike's performance. For good, easy wheelies, you need excellent fuelling, a smooth torque curve, stable chassis, and quality suspension. So when you see all those journalists wheelying bikes in magazines and website, they're not (just) showing off to their mums, they're actually performing in-depth testing of the bike's performance…
Anyway. Here's our pick of the wheelie bike crop. If you can't get it up with one of these, you need to take a long hard look at yourself!
---
KTM 950 SM Supermoto
To be fair, most KTMs are wild at wheelies. But the 950SM is a properly corking mono machine. It might be the low-slung seat, it might be the soft suspension, it might be the carburetted engine. Whatever it is, it put the SM in a class of its own for mingers.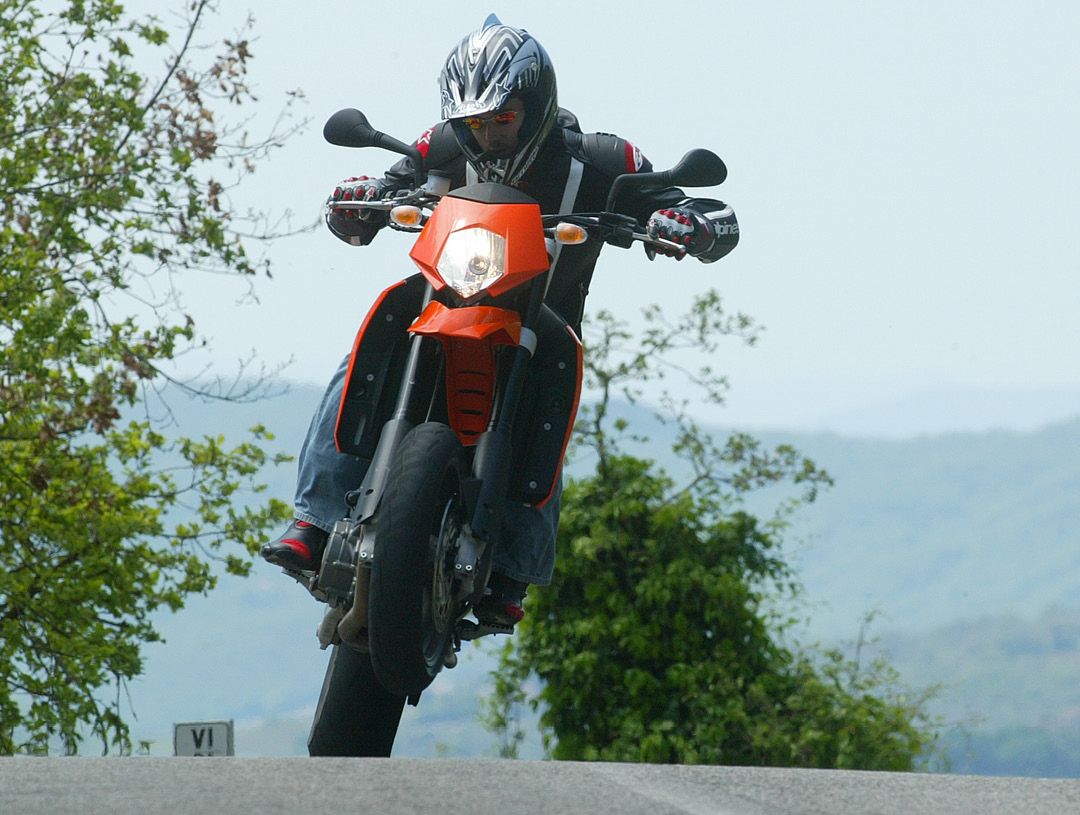 ---
Triumph Speed Triple
For us, the first 1050 model is a bit better for getting 'em up than the very latest model. Something to do with weight distribution we reckon. The torquey triple motor, plus the upright riding position makes this the Great British choice for one-wheel action.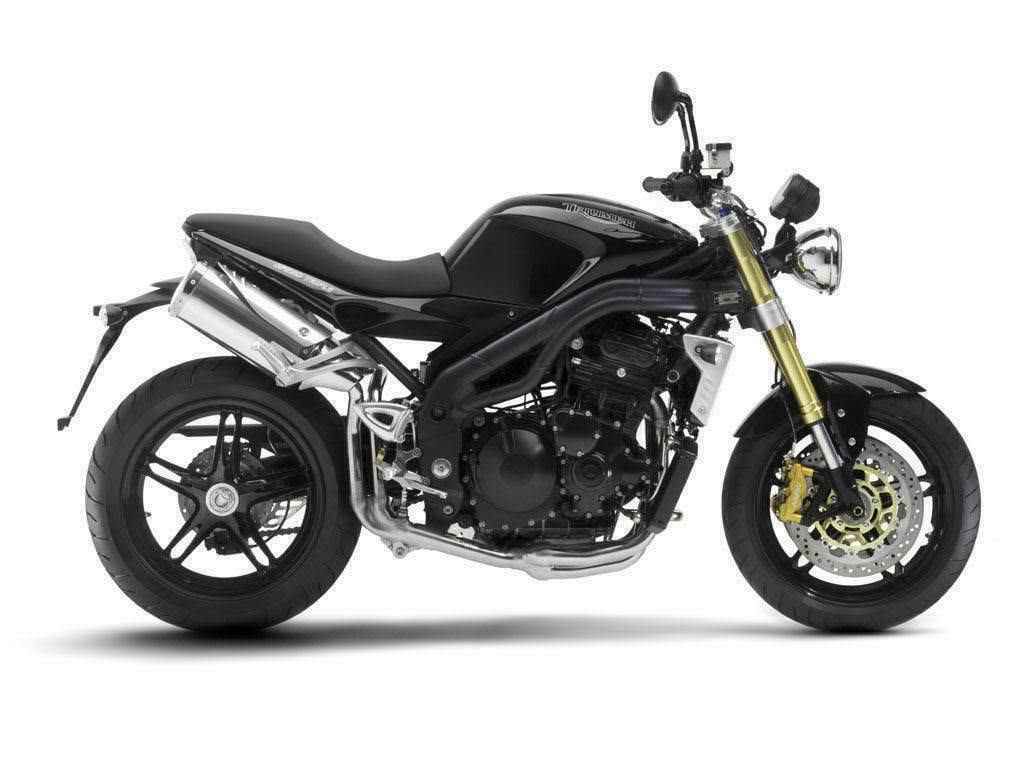 ---
BMW F800R
Not an obvious choice for our wheelie bikes list, and needs a bit of clutchy persuasion. But once you get 'er up, BMW's middleweight twin can go on and on in a beautifully balanced manner. Underseat fuel tank helps here we suggest, as does the flat torque delivery.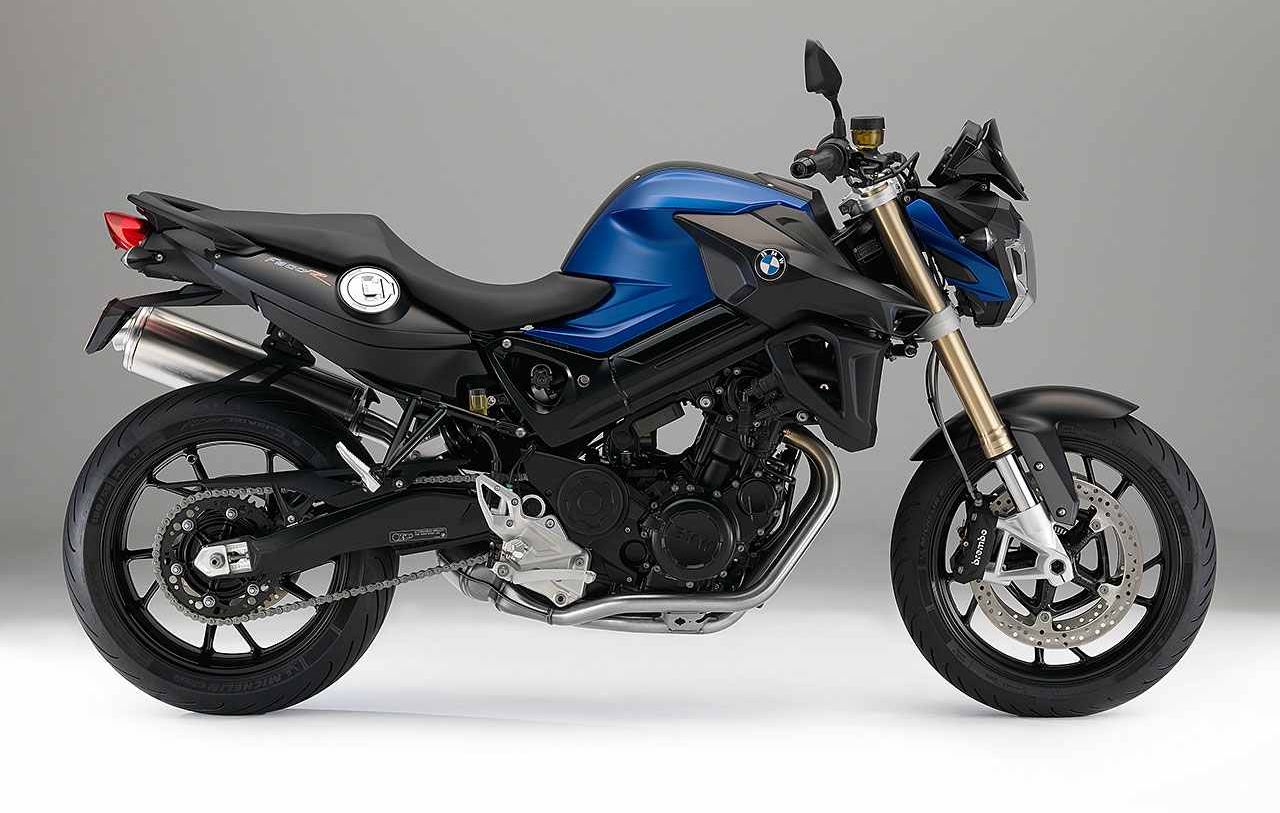 ---
Triumph Street Triple
Very much not just a mini-Speed triple, the 675cc Street is a smaller, lighter, more manageable kettle of fish. Sadly, said fish will probably all fall out within half a mile as you pull massive monos everywhere. Seriously, it's the easiest, most fun roadbike to wheelie there is and a great road bike to boot.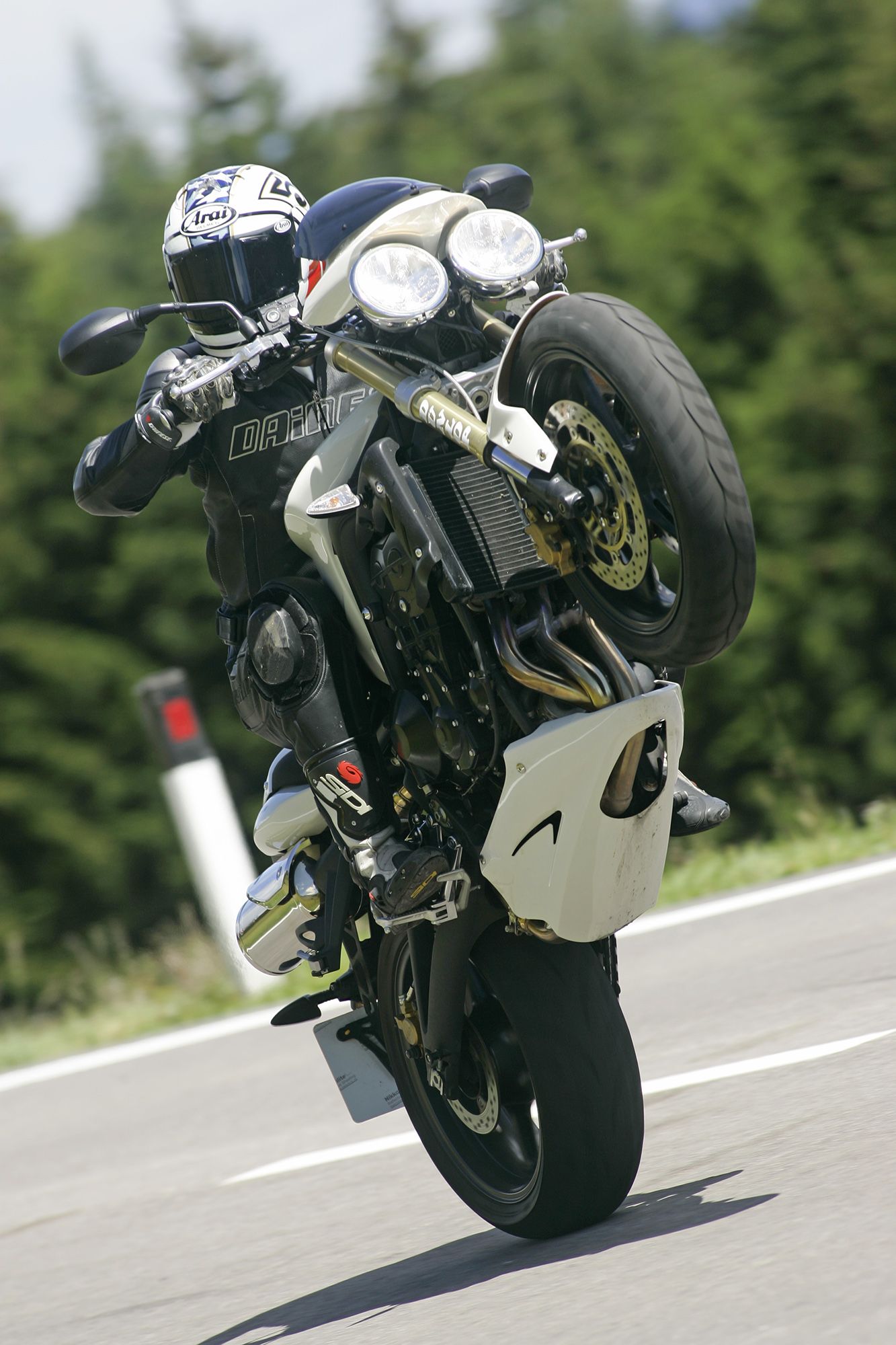 ---
Aprilia Tuono

The original V-twin Tuono Racer was an utter hoodlum of a bike, and wheelied for Italy. The latest V-fours are just as wild. A bit hard-edged, but once mastered, a formidable force on the back wheel.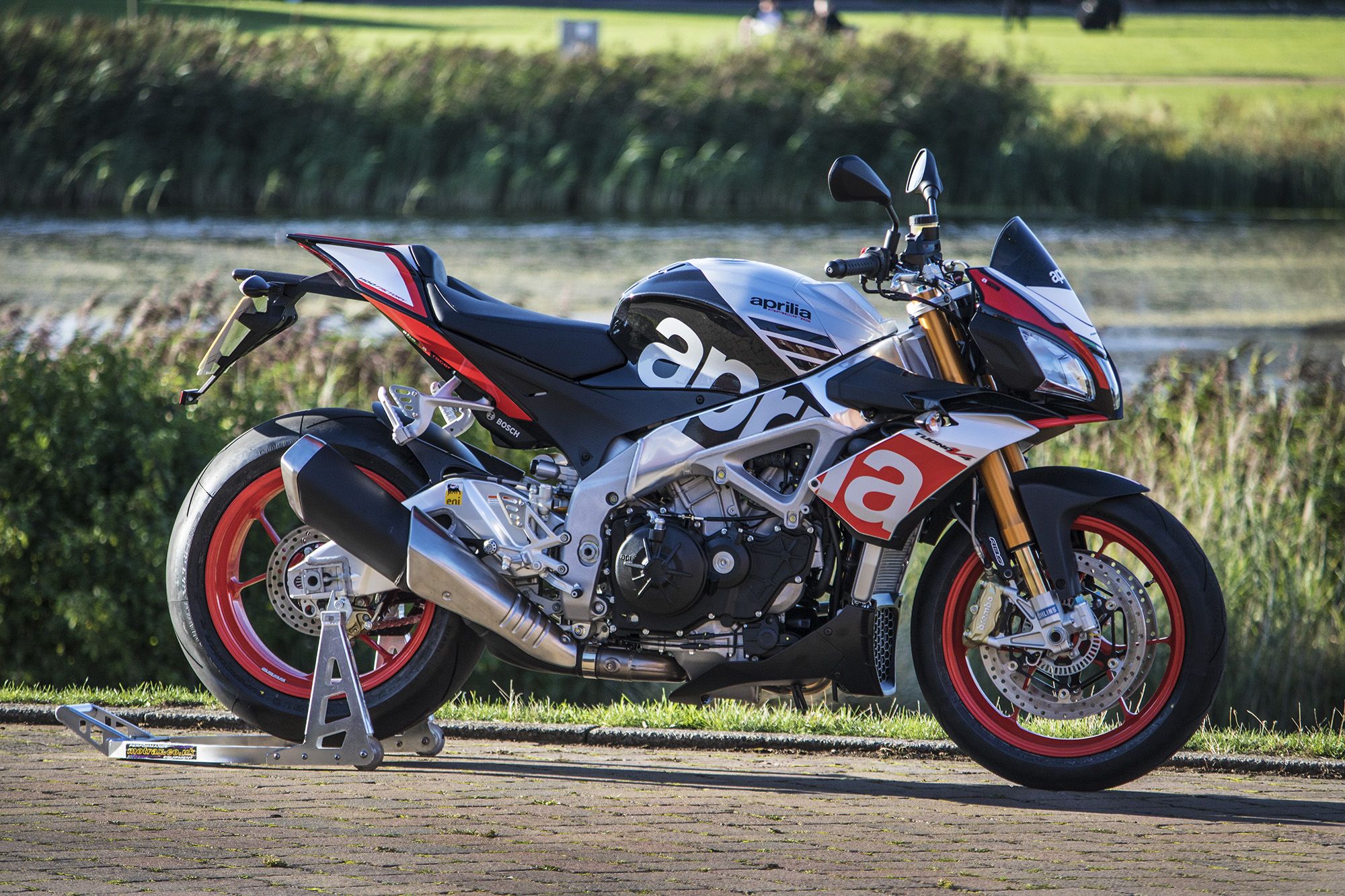 ---
Kawasaki ZX-636R
The big K pulled a flanker when it gave its ZX-6R an extra 37cc in the early noughties and the 2003 B-model was a belter. Cynics might say it's because the 599cc bike was a bit lame. Optimists like us say it was to make wheelies easy! And they certainly are on any of the big-bore 600s – the extra dollop of torque makes them kings of the 600 Supersport fours when it comes to hoisting 'em.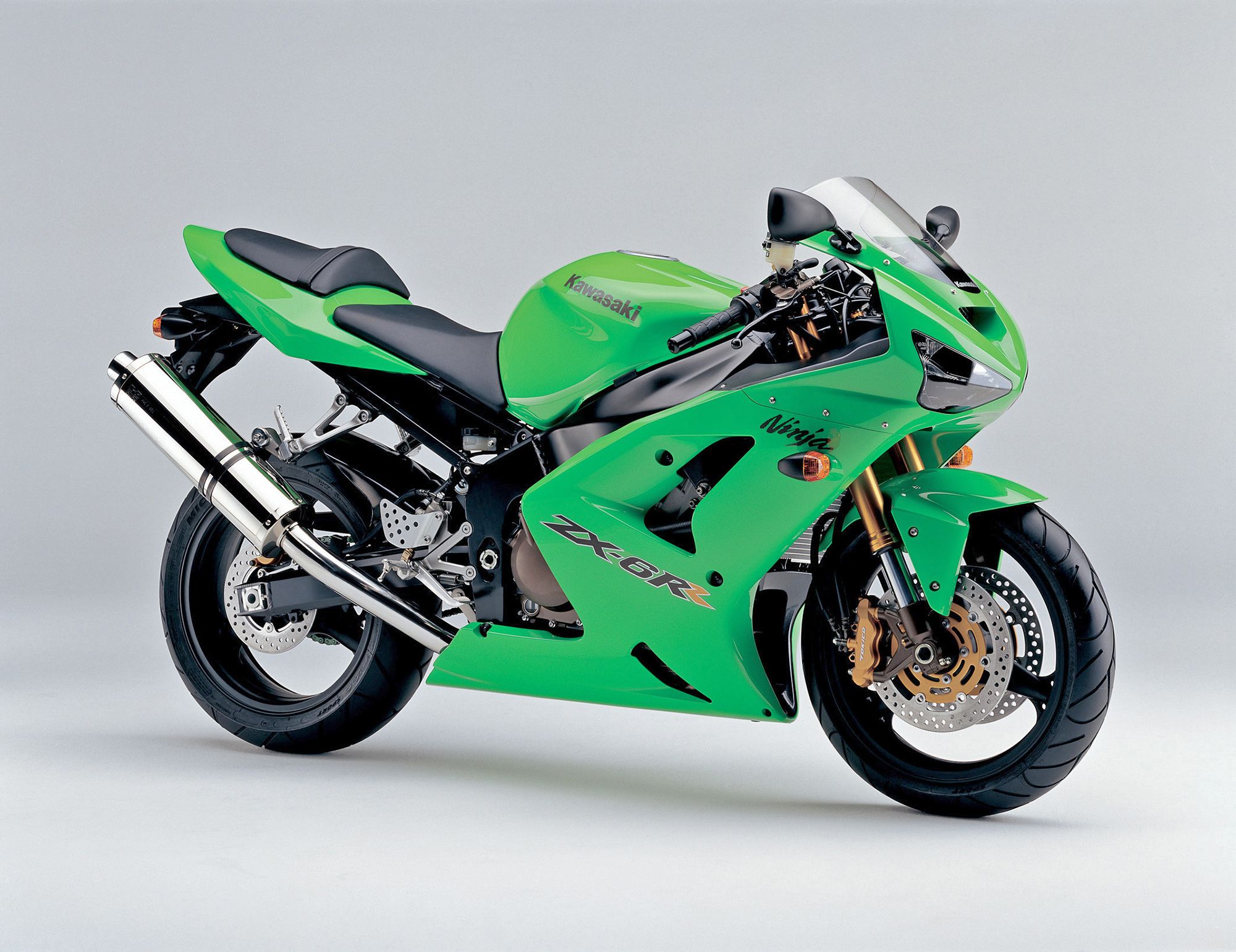 ---
KTM 690 SMC R / Husqvarna 701 Supermoto
Another KTM but that's because the Austrians make incredible wheelie bikes. The Supermoto 690 SMC R is everything you want from a wheelie bike -a lightweight machine with a punchy, torque-fest single cylinder motor. Thanks to modern electronics and engineering, the later models (2019 on) are ridiculously smooth for a single and although aren't very practical for longer runs, they will leave you smiling after every ride. The Husqvarna 701 is pretty much the same bit of daftness.


---
Yamaha Fazer 600
Not the later FZ-6: we want the original Thundercat-powered beastie. Detuned motor and carbs mean flexible, clean grunt, and the upright riding position does the rest. Probably the cheapest, most practical mono machine around.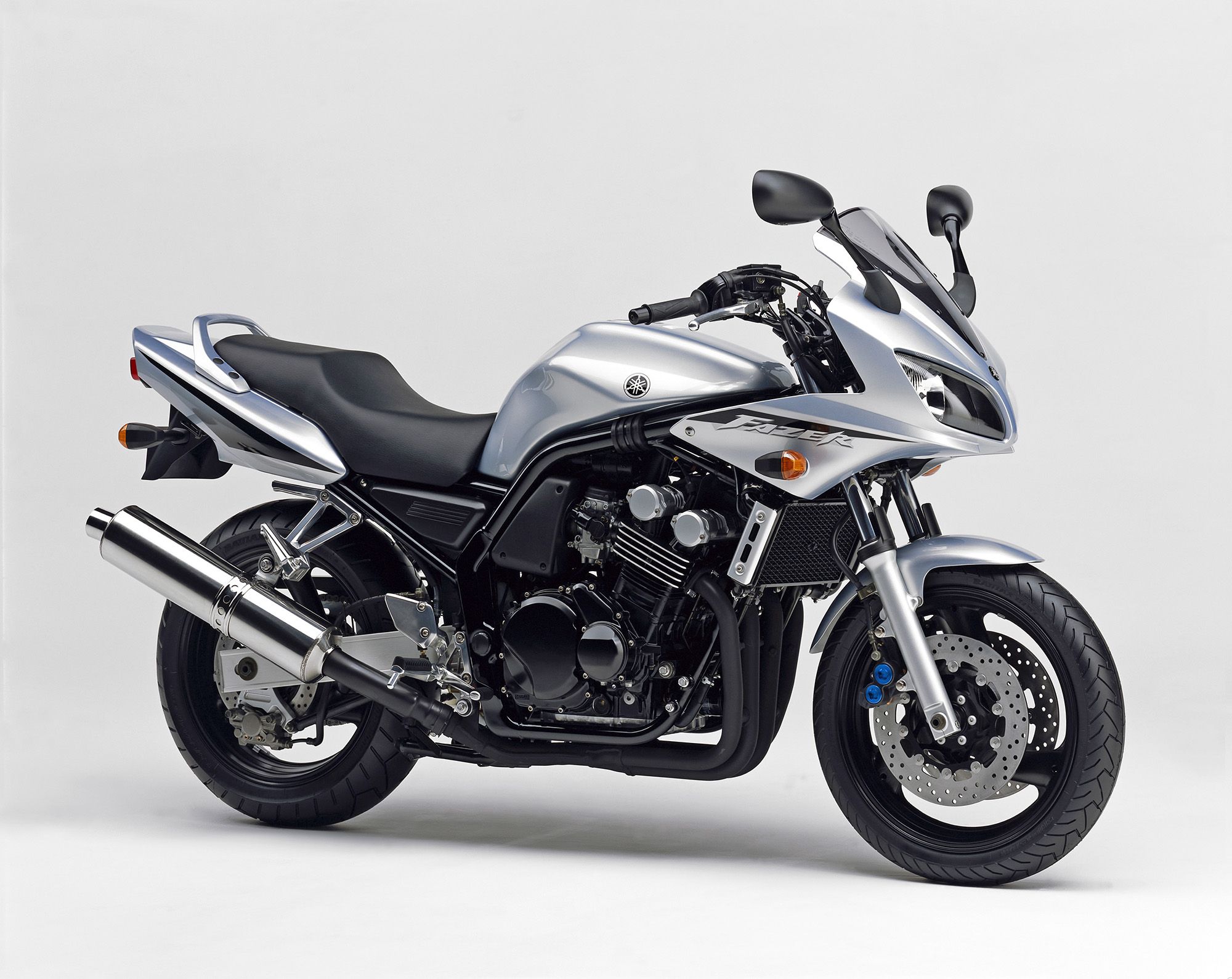 ---
Ducati Monster
Of course a torquey, naked V-twin roadster is going to be good at this sort of thing: but which one do we go for? Of course the current 1200 is an expert-grade tool, but the older ones still rock too. An air-cooled 1000 or 1100 will happily mono to the horizon and back again, while looking the business. An S4 or S4R is perhaps gilding the lily, but be our guest!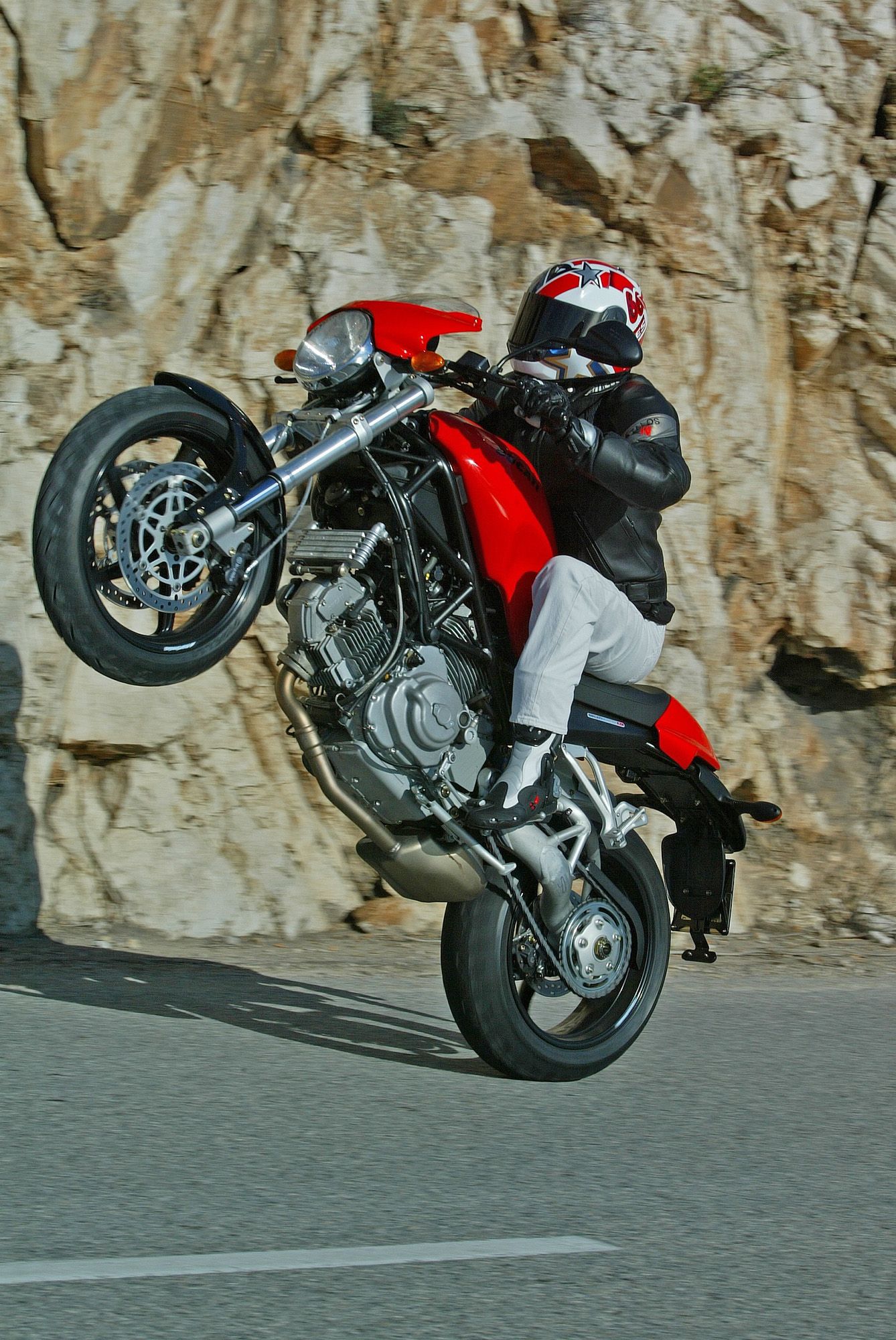 ---
Suzuki GSX-R1000
Granted, any litre superbike will wheelie your brains out. But the GSX-R does it with a certain panache. The classic Gixxer 'thou is the mid-range monster 2005-6 version, but any will do. The more torquey, less revvy power delivery of the motor makes hoiking the front a breeze, and the electronic steering damper on later models helps stability when you put the front end down at a ton-forty…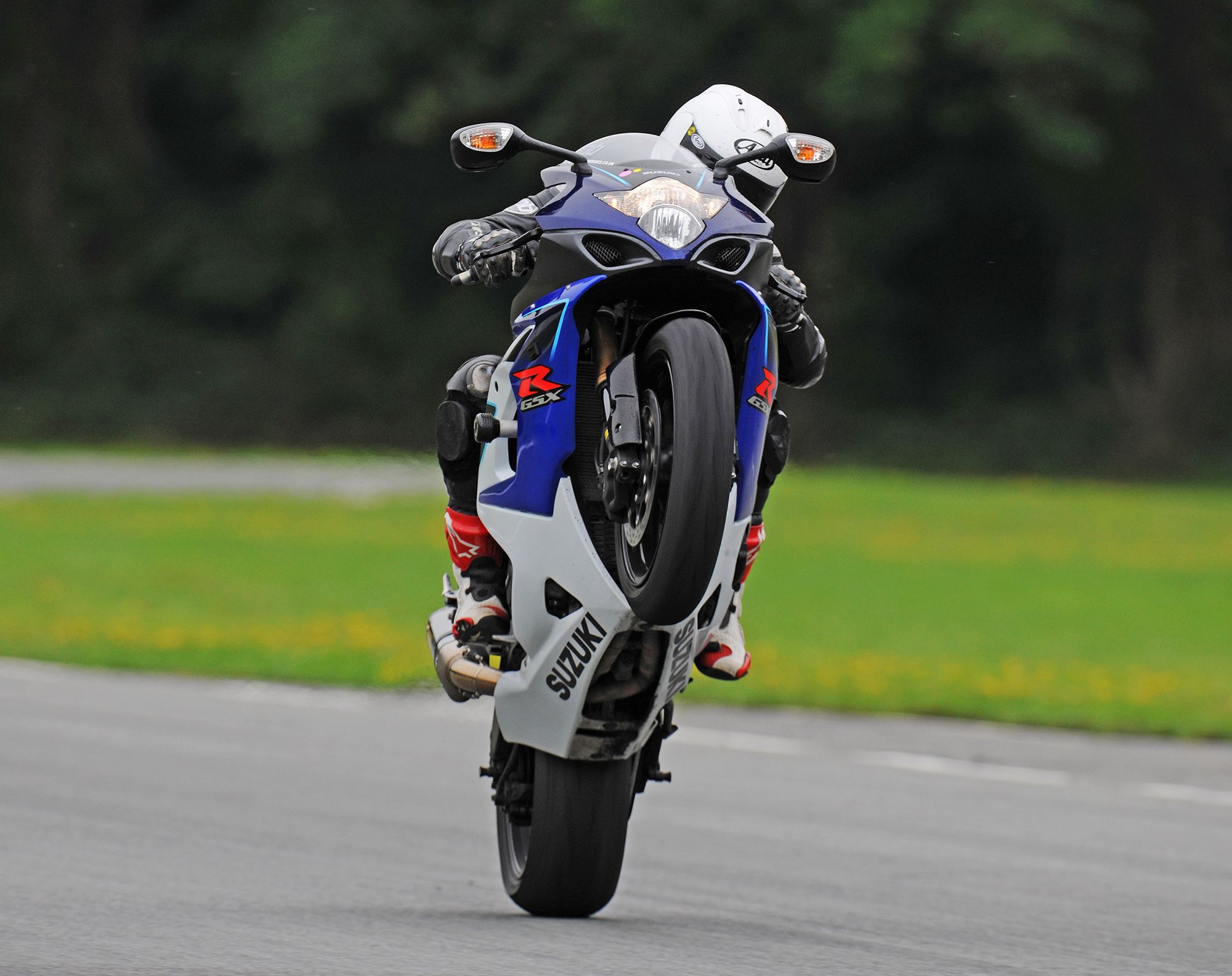 ---
Biogs: Alan Dowds / Kar Lee (Kardesign)
Wheelie Photography: Kardesign, KT
---