---
Triumph Motorcycles Ltd
By BeMoto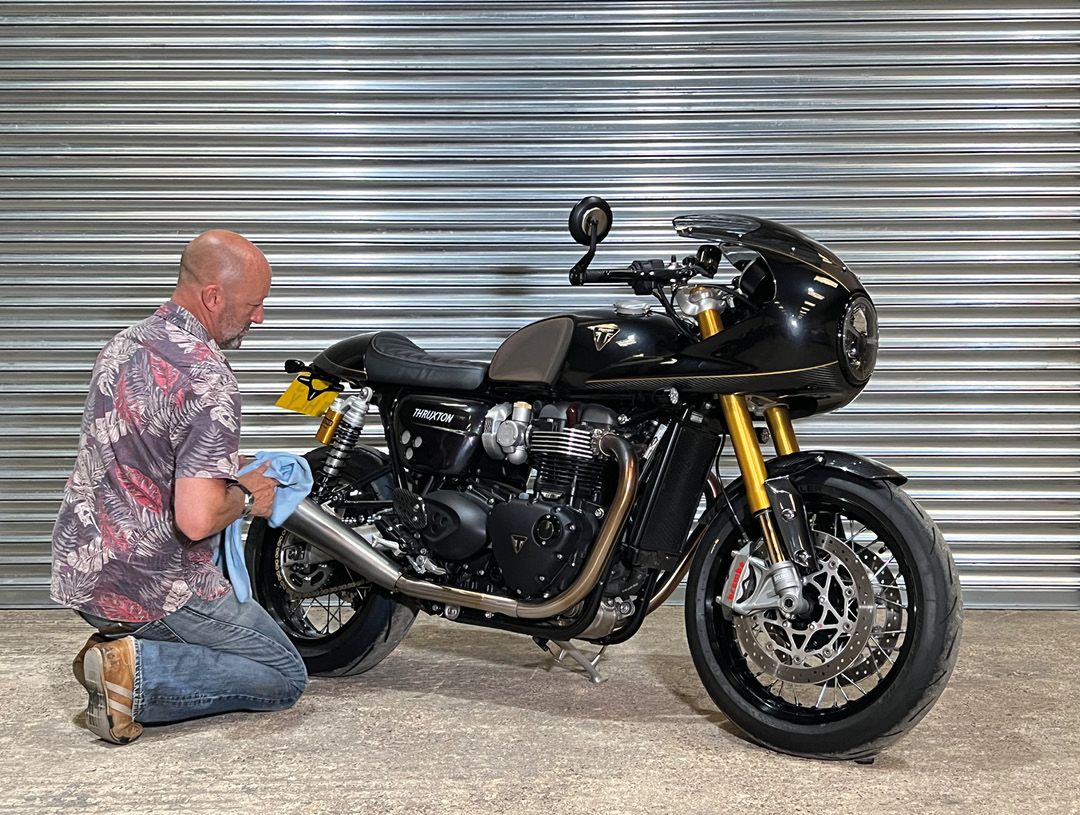 ---
Triumph has emerged from bankruptcy to become an incredible British success story since John Bloor OBE resurrected it in 1983. It has survived a roller coaster 120 years to become the world's longest continuous production motorcycle manufacturer and the largest in the UK, selling over 54,000 units in 2015.

---
New Triumph Co. Ltd.
The iconic 'Triumph' name originally adorned bicycles imported to London from Germany and distributed by S. Bettmann & Co; founded in 1886 by 23-year-old Siegfried Bettmann, a bi-lingual entrepreneur and immigrant from Nuremburg.
Siegfried quickly capitalised on the emerging Triumph brand and reinvented the business as a manufacturer in 1887 with investment from Dunlop tyres and a new business partner, Moritz (Maurice) Schulte. A new factory was set-up in Coventry and began manufacturing Triumph bicycles as New Triumph Co. Ltd.
The first Triumph motorcycle was produced in 1902 and was powered by a 2.2hp Minerva engine (known as 'No.1'). Triumph soon started producing their own engines and their bikes got progressively faster and more powerful in the years that followed culminating in a land speed record in 1955 with a streamliner powered by a tuned 650cc Thunderbird engine – Triumph maintained the land speed record for 15 consecutive years.
Siegfried Bettmann went on to become the first ever non-British subject to hold the position of Mayor when he became Mayor of Coventry in 1913, although this honour didn't last long as he was removed when WW1 broke out in 1914 - he still helped the war effort - supplying thousands of motorcycles to the British Army.
From 1921 Triumph also produced motorcars until they were split from the motorcycle arm in 1936 when the company was sold and broken up following financial difficulties (they never made money from cars).
The motorcycle business was bought by the owner of Ariel Motorcycles and became Triumph Engineering Co Ltd.
Siegfried Bettmann retired in 1933 and died in Coventry aged 88 (1951).
---
A new era… Triumph Engineering Co Ltd.
The new business owned by Jack Sangster (Ariel) went from strength-to-strength after they brought in Ariel designers and engineers to produce the 500cc OHV v-twin 'Speed Twin 5T' in 1937 and started exporting to the US, which became their primary market and cash cow.
As with other great heritage motorcycle brands (see Honda and Ducati), Triumph manufacturing briefly stopped when the factory was levelled by WW2 bombs - the Blitz destroyed most of Coventry between 1940 – 1941 but Triumph were soon back in action with a new production line in Solihull (Meriden) by 1942, having salvaged machinery from the rubble.
Jack Sangster eventually sold Triumph to BSA in 1951 (the year Siegfried Bettmann, Triumph's founder, died) and despite BSA and Triumph export success, dominating the US race scene in the 1960's and 1970's, BSA themselves went under in 1972 as the British motorcycle industry collapsed under the pressure of vastly superior and cheaper Japanese imports, following years of mismanagement and under-investment.
After a few unsuccessful reincarnations, the final owners of the brand, Triumph Motorcycles (Meriden) Ltd, went bankrupt in 1983 bringing nearly 100 years of heritage to its knees.
---
An even newer era… Triumph Motorcycles Ltd
In 1983 John Stuart Bloor OBE bought the rights to the Triumph brand after attending an auction for the site of the former Triumph factory in Coventry. John Bloor was a successful entrepreneur, having set up his own house-building business, Bloor Homes and wanted to keep the Triumph brand alive.
To begin with, Bloor sub-licenced the Triumph brand to Les Harris (parts manufacturer by trade) for about 5 years, with some success, before John invested £80million of his own cash into rebuilding the company and opened the Hinckley factory in 1991.
Triumph Motorcycles (Hinckley) Ltd is now the largest manufacturer of motorcycles in the UK and thanks to Les Harris' production of 'Devon' Bonnevilles during his 5-year licence period, Triumph can claim the title of the world's longest continuous production motorcycle manufacturer.
Triumph recorded its highest sales figures in 30 years with sales of 54,432 units in 2015.
---
Hollywood Heroes
A number of celebrities have associated themselves with Triumph motorcycles over the years, including Elvis Presley, James Dean and Bob Dylan, however none made more of an impact than Marlon Brando on the 1950 Thunderbird 6T in the original outlaw-biker film 'The Wild Ones' (1953) or the legendary motorbike jump in 'The Great Escape' by Steve McQueen on a 1961 Triumph TR6 'TT Special' (dressed up as a German WW2 bike).
The US dare-devil Evel Knievel also jumped Caesar's Palace fountains in 1968 on a Bonneville T120TT breaking numurous bones (surprise, surprise) after crash-landing.

---
The Icons (some of)...
As the longest running production motorcycle manufacturer, Triumph have made some iconic bikes over their 120 years. Here are some of them;

Model H 'The Trusty' (1915-1923)
The British Army as a modern alternative to old-fashioned equine horsepower chose the Triumph Model H for despatch riders. The 499cc air-cooled four-stroke single-cylinder engine powered the rear wheel with a belt, had three gears and did-away with pedals - making it a proper motorcycle - 30,000 of them were used in WW1. It became known as 'The Trusty' due to its reliability.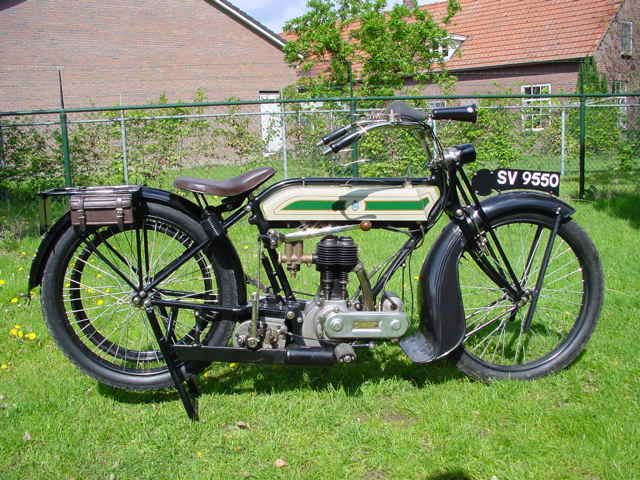 Yesterdays Antique Motorcycles en Classic Motorcycle Archive [GFDL, CC-BY-SA-3.0 or CC BY-SA 2.5], from Wikimedia Commons

---
Speed Twin 5T (1938-1966)
The 500cc Speed Twin helped Triumph survive after WW2 despite German bombs wiping out the production line and destroying the design drawings. Whilst the 'Unit 500' engine with shared gearbox casing wasn't a huge technical leap forward, it did have more power and torque than competitors and the lightweight frame, telescopic forks and rear hub suspension made it a winner. Later versions had a 'bathtub' rear fairing which divided opinion and was later dropped.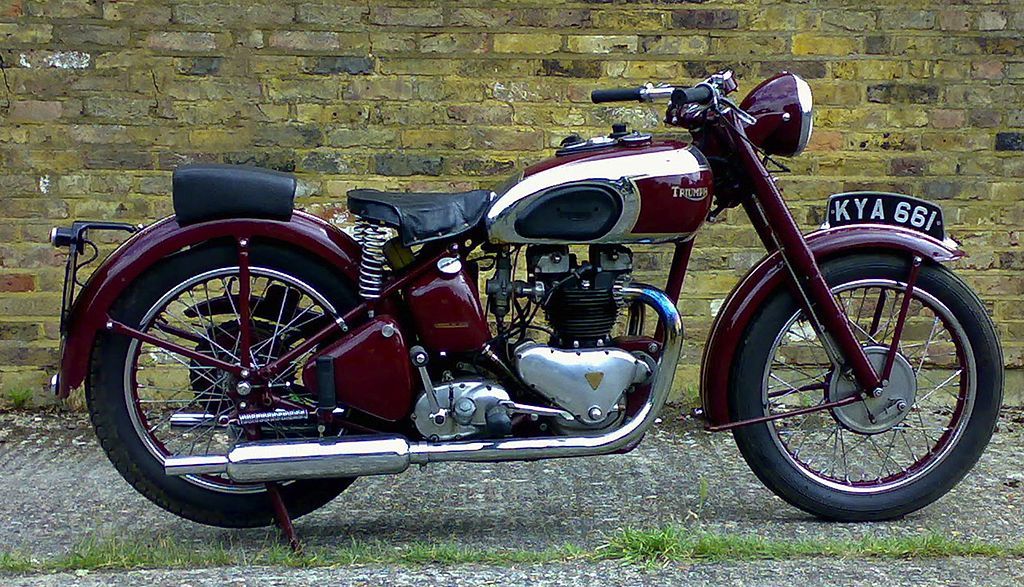 London Motorcycle Museum, Greenford London [CC BY 3.0], via Wikimedia Commons

---
Bonneville (1959-present)

The Triumph Bonneville has been produced over different generations and three different production runs. The original T120 Bonneville was based on the Tiger T110, which had broken the land speed record at Bonneville salt flats in 1956 with a speed of 214.17mph.
The T120 had a 650cc parallel-twin engine and a top speed of 115mph unmodified, with later versions introducing an improved unit construction for better stiffness and the oil-in-frame reservoir (rather than a tank). The T120T won the Isle of Man TT in 1967 and again in 1969 when Malcolm Uphill averaged 100mph from a standing start (a first for a production motorcycle).
The next generation T140v in 1973 introduced a more powerful 750cc air-cooled parallel-twin engine and a 5-speed sequential gearbox, with later versions having an electric start and a rear disc brake until production ceased in 1983.
The latest generation of 'New Bonneville' are aimed at the Roadster market, no longer about power and speed, they compete with Harley-Davidson and appeal to a more refined audience requiring comfort and are all about the retro-styling.
See the latest Bonneville Bobber
Yitzachmmeyer at English Wikipedia [GFDL or CC BY-SA 3.0], via Wikimedia Commons

---
Triumph Triple (1990 on)
A new generation of DOHC inline three-cylinder engines produced at Hinckley have become synonymous with the Triumph brand and inspired by the 750cc Triumph Trident (1968-1975).
In 2006 Triumph launched the class-leading 675cc triple in the liquid-cooled, fuel-injected Daytona 675 - taking on the Japanese 600cc bikes that had dominated the Sportsbike market, with a de-tuned version in the Street Triple naked Streetfighter since 2007.

One of the best engines ever produced (in our opinion), the modern Triumph Triple has been used in the Trident, Thunderbird, Adventurer, Legend, Tiger, Speed Triple, Sprint, Trophy, Daytona and Street Triple.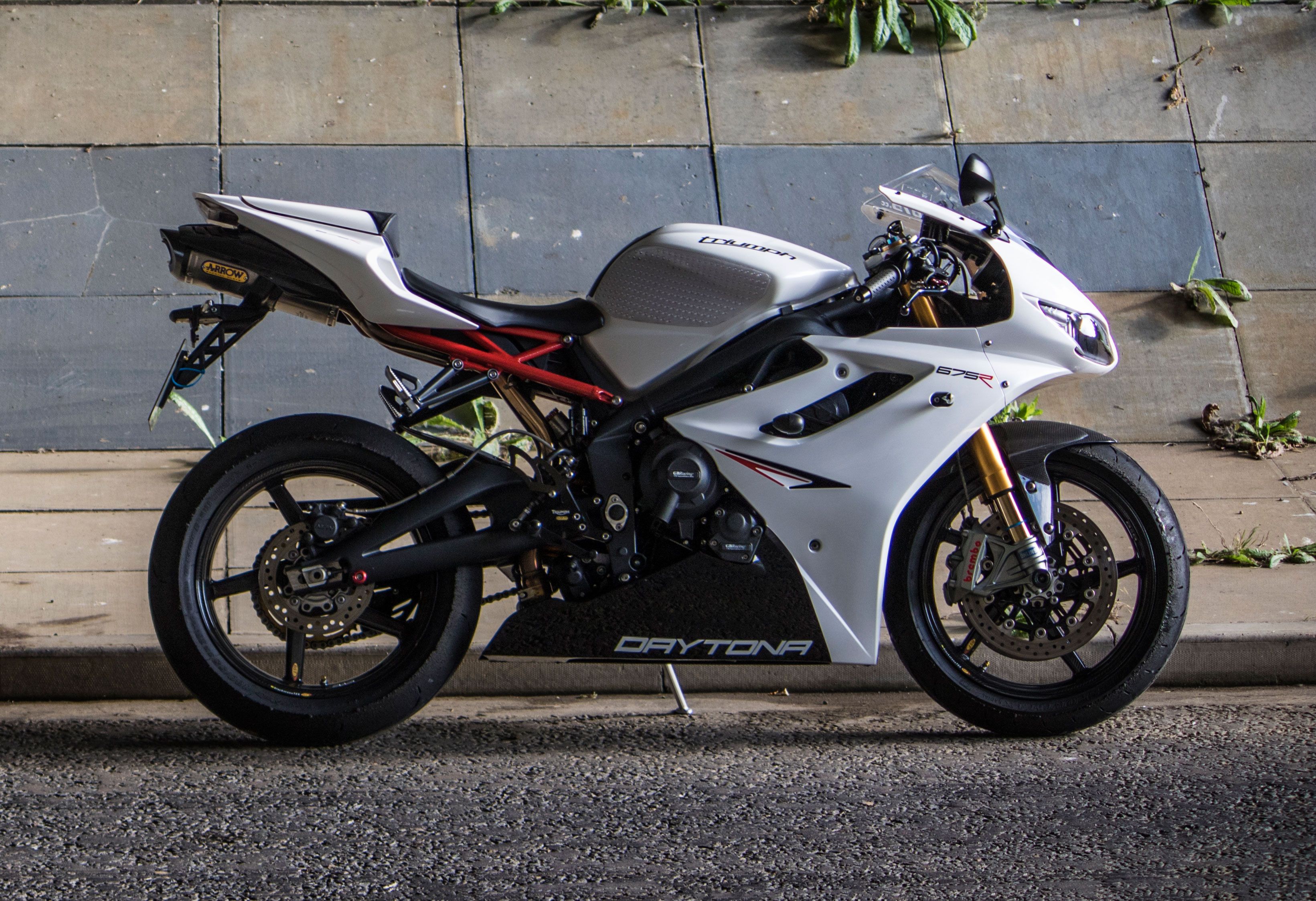 ---
2017 Street Triple 765 RS
And now... a decade on from the original 2007 Street Triple, we have a new 765cc motor, bolted into a revised chassis, that's still very obviously a Street Triple, but with new running gear and latest electronics. There's an entry-level 'S' with budget brakes and suspension, an 'R' with Brembo brakes and big-piston forks, plus an 'RS' with Superbike brakes and Öhlins rear shock.
Read the Triumph Street Triple 765 RS review here.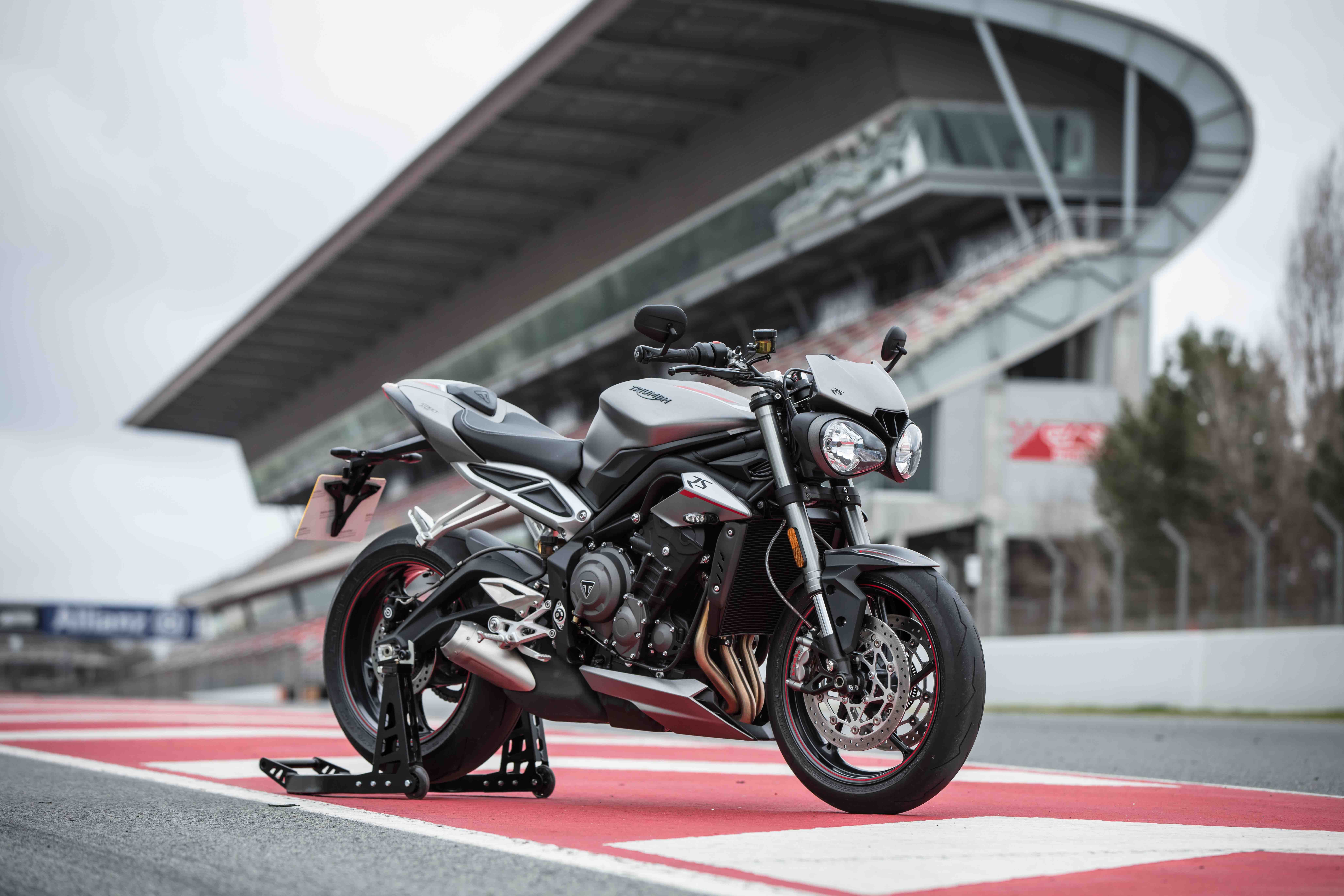 ---
Triumph Owners Motor Cycle Club
Founded in 1949 the Triumph Owners Motor Cycle Club now has more than 6,000 members and 44 regional branches throughout the UK.
The club organises social events and activities for its members and publishes its own monthly magazine called 'Nacelle' that covers owning, maintain and riding a Triumph motorcycle. National events such as 'Trifest' are organised by the club to accompany regional, local events.
Find out more about the Triumph Owners Motor Cycle Club.
---
BeMoto Triumph Motorcycle Insurance
BeMoto Bike Insurance has a range of specialist insurance schemes perfect for Triumph motorcycles, including modified bikes, classics and multi-bike deals. We also have track insurance for your Triple's and Daytona's as well as a number of off-road policies for SORN & Laid-up (or non-road registered) bikes.

Give BeMoto a call on 01733 907000 for a Triumph Bike Insurance quote.
---