---
Triumph Speed Triple Buyers Guide
By Alan Dowds
The best British bruiser?
For fans of British bikes in the 1970s, times were hard. All the big brands, which had ruled the roost post-WW2, were drinking in the Last Chance Saloon. Triumph, BSA and Norton had all been smashed into one nationalised company in 1973, in an attempt to keep some UK bike manufacturing alive. But by the end of the decade it was all gone, and Japanese bike firms took over mainstream biking almost entirely.
Few predicted the return of any of those brands – but it took just 15 years or so for a revived Triumph bike maker to emerge. Brought back from the grave by housebuilding tycoon John Bloor, this all-new brand, based in Hinckley, returned a range of very decent bikes based on a modular design. Sportsbikes, classic roadsters, tourers, even an adventure tourer – they were all there, and a big hit from the off.
But Triumph also had something a little bit left field – the Speed Triple. Available in 900 form at first, with a 750 fleetingly on sale later, it used a new 97bhp three-cylinder 12-valve DOHC engine, bolted into the firm's common steel tube backbone frame, with sporty chassis kit and a dual-sided swingarm.
That original Speed Triple was, basically, a Daytona 900 with no fairing and a simple round headlamp; and didn't garner too much attention at the time. The massive Daytona and Trophy 1200 models were Triumph's flagships, and naked 'streetfighter' machinery was still on the margins of biking. Everyone interested in high-performance bikes in the early 1990s wanted a fairing it seemed, and the 'Striple 900' inhabited a weird nether region between steady budget naked roadsters and full-on sports machinery. Indeed, it was, rather like BMW's R1100 GS of the time, in an almost-unique class of one.
People soon started to notice it though – especially the opposition. Suzuki came out with the budget naked roadster Bandit, in 600 and 1200 form, and big muscle bikes like the Kawasaki ZRX1100 and Yamaha XJR1200 would tap into the big-power naked trend, while Ducati's 900 Monster was selling like Bolognese hot cakes.
Hinckley didn't stand still though. The Speed Triple was evolving as fast as the competition appeared and would take a massive leap forward in 1997. Based on the foundations of Triumph's T595 Daytona superbike, the T509 Speed Triple had a similar high-tech fuel-injected 12-valve DOHC engine, in 885cc capacity, making 108bhp. The new Triple got some of the Daytona chassis technology too, plus an audacious new look. No Japanese designer would have gone near those brutal twin round headlamps, and the notion of fitting track-capable running gear onto a standard unfaired machine was still heresy (crazy though that seems nowadays when you can't move for BMW M1000Rs, Ducati Streetfighters and Yamaha MT-10s…)
There was a flurry of updates to that first T509 model between 1997 and 2004, and it gradually cemented its position in the psyche of British motorcycling. It could get away with frankly mad colour schemes (electric pink anyone?) and brushed off a series of competitor machinery, but by the middle of the 2000s, things were getting tough. Bikes like BMW's K1200 R, Ducati's Monster S4R and Aprilia Tuono offered great options to the old Triumph, and the Japanese were coming closer too. Bikes like Suzuki's SV1000, Kawasaki Z1000 and the Honda Hornet 900 weren't as good as the Triumph, but they were solid options, while the likes of Yamaha's FZ-1 were on the horizon.
Triumph took the hint, expanding the three-cylinder motor to its final 1,050cc capacity for 2005. The chassis was overhauled with sharper running gear, and the styling was tweaked – but not too much. That update saw the big Triple through the rest of the decade in some style, but the competition was now white-hot, with even Triumph's own new Street Triple 675 knocking on the door.
It was late 2010 when Hinckley answered that knock, with an almost – almost – all-new big Triple. The basic engine design stayed broadly the same – for now – but the chassis was completely revamped. Perhaps surprisingly, the frame had remained almost entirely unchanged since 1997, and it was here that the big changes came. Triumph engineers came up with an all-new design, aping the Street Triple and Daytona 675 forms, and transforming the chassis dynamics. The styling was also all new, with slick polygonal headlights and sharper bodywork. And with 133bhp pushing along 214kg wet, the 2011 bike had the performance boost it needed too.
As the 2010s ticked by, motorcycling changed. Electronic rider aids – traction control, advanced ABS, power modes – all became more important than a few more top-end bhp in the upgrade cycle (though we wanted those too…). So, by 2015, Triumph gave the Speed Triple just enough of an upgrade to keep up. Changing to a modern ride-by-wire throttle made adding all of that good stuff easier and gave the Speed more of a high-tech edge.
Finally – nearly 30 years on from the original – the Speed Triple got a new 1200 motor for 2021. Launched initially in the RS, and a year later in the half-faired RR, it took Triumph's longest-serving model to an all-new level of power, sophistication, control and style. Is it still a Speed Triple without the hairy-arsed nature of old? Once you crack open the throttle, the answer is very much 'yes'.
So, the last question is - will we still have Speed Triples in another three decades? Fingers crossed…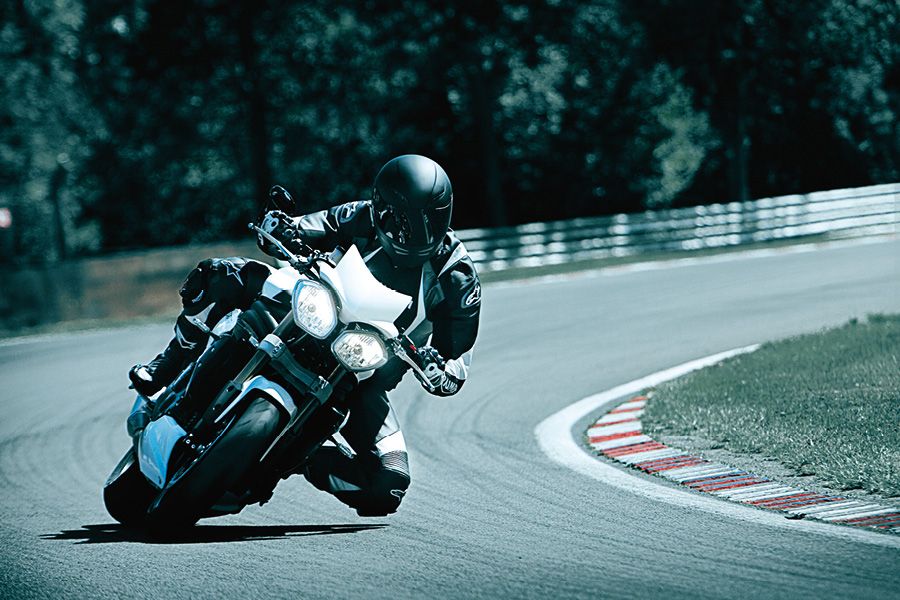 ---
Guide by years
1994 Speed Triple 885cc T309
The first Speed Triple used a carburetted 12-valve DOHC water-cooled three-cylinder engine and steel backbone frame, shared with the Tiger, Trophy and Daytona 900 models of the time. Back then, Triumph had a very 'modular' design ethos, with things like pistons, valves, gearboxes, frames and suspension parts shared across several models. That let the new brand build up a wide range of bikes quickly, without crippling investment levels.
Interestingly, the Hinckley factory received help from Kawasaki in Japan, which offered advice on production methods. Indeed, many people have also pointed out the similarities in design between the first Hinckley engines and chassis and Kawasakis of a few years before.
Away from the engine, this first Triple had a dual-sided swingarm with eccentric chain adjusters, rather than the single-sider of all later models, and conversely, it had a single round headlamp instead of the dual lights that would mark out the Triple from 1997. The forks were fully adjustable while the rear shock had preload and rebound adjusters, and the brakes were by Nissin, with four piston calipers up front - fairly premium chassis features for the time.
The 900 Speed Triple made around 97bhp and weighed 209kg dry: that modular design was not optimised for weight, and Triumph was more concerned about reliability than lightweight manufacture at the time. Nevertheless, those figures were not dreadful for the early 1990s, and the torquey nature of the triple engine made a big difference on the road.
For 1995, it gained a six-speed gearbox, gold calipers and discs, plus an uprated rear shock, and a 750cc version would go on sale for just one year in 1996. It's by far the rarest version now.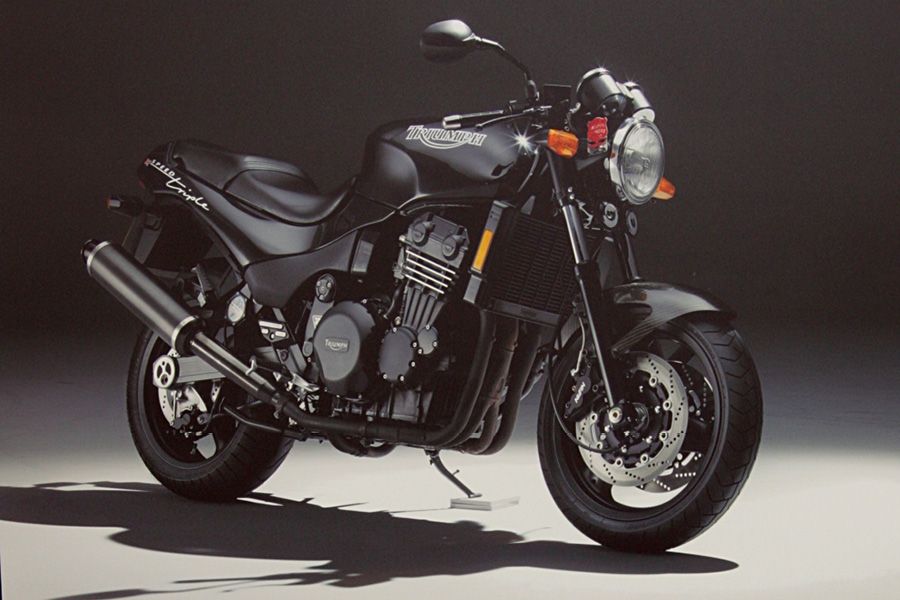 ---
From 1997 Speed Triple T509
This was the start of Triumph's renaissance as a high-performance motorcycle manufacturer. Those early modular machines all worked well and got the firm into the 'premium manufacturer' game: its bikes all had good performance, excellent reliability, decent-if-staid styling and reasonable pricing. But the limits of the shared componentry were clear, and the 1997 T595 Daytona superbike and T509 Speed Triples were the next step. Both had all-new chassis, and all-new engines, albeit with some shared aspects to the previous motor.
On the Triple, an aluminium tubular twin-spar frame replaced the old steel tube spine-type frame, and a posh single-sided swingarm marked it out as something pretty trick. The engine kept the 885cc capacity but was updated with SAGEM fuel injection and a three-into-one exhaust. It now made 108bhp, and the aluminium frame helped drop the mass below 200kg to 196kg dry.
On the styling front, the trademark dual round headlamps made their first appearance, and those, together with the swingarm, frame, massive 180-section rear tyre and sharp styling all made for a very tempting machine. Triumph also went large on the colour choices, not for the last time, offering a bright metallic orange option alongside green, red or black.
The 885cc motor only lasted a year, and 1998 saw a 955cc lump, the same as the Daytona. Power didn't increase, but there was more torque and much better drive.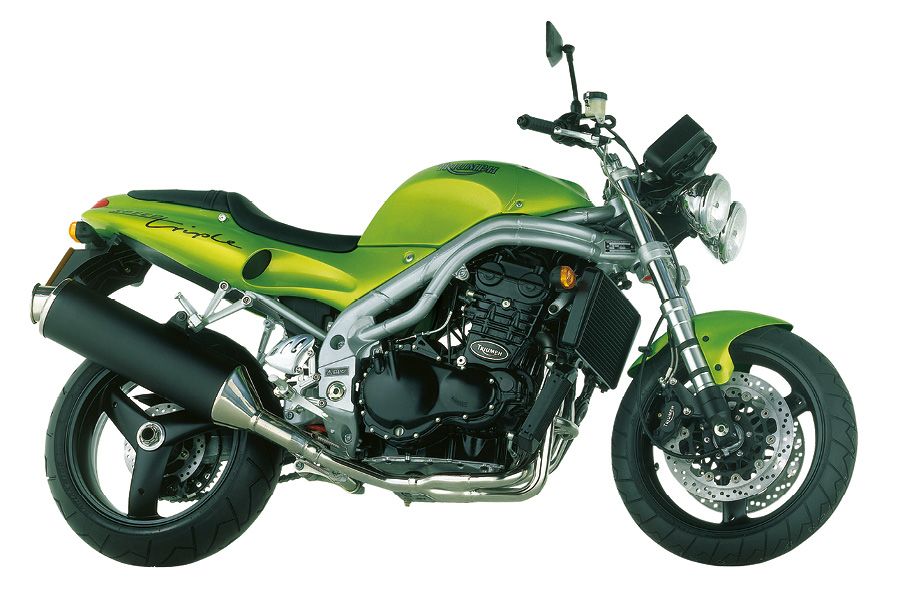 ---
From 2001 Speed Triple 955
Four years after the T509 launch, Triumph gave it a mid-life makeover, with 10bhp more peak power from the engine, up to 118bhp, and seven kilos shaved off the dry mass, now down to 189kg. The paint schemes got even hotter too, with the metallic pink 'nuclear red' option available for the first time.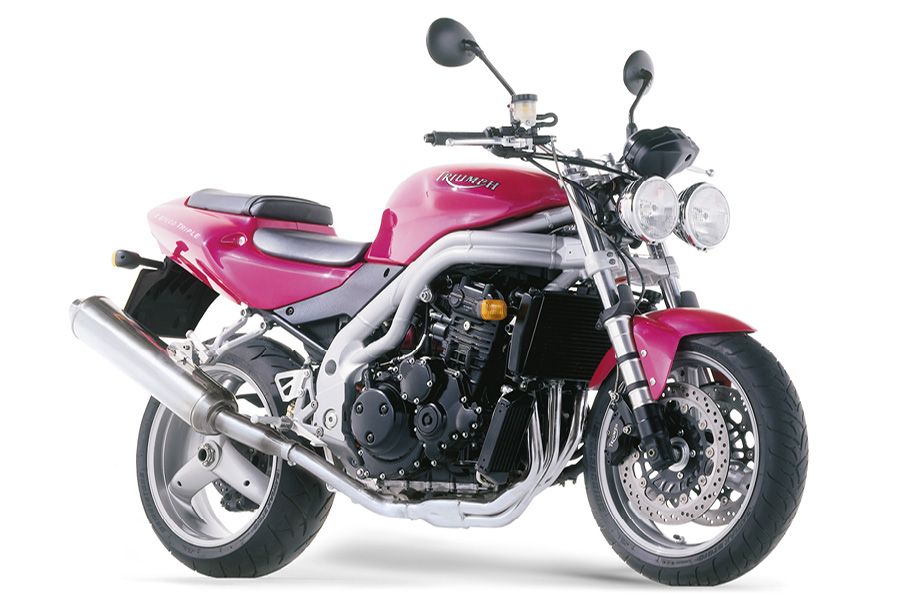 ---
From 2005 Speed Triple 1050
By now, the Speed Triple was a mature, capable design, and a common sight on the road. The 2005 update saw a capacity hike, to 1,050cc, with the same engine also used in the excellent Sprint ST Tourer. The extra 95cc capacity came from a longer stroke, up 6.4mm to 71.4mm while the bore stayed at 79mm. That meant much more grunt, but only an extra 10bhp, with peak output now at 128bhp. Optimised fuel injection improved throttle response, and a new three-into-two under seat exhaust system was bang-on in terms of style at the time.
On the chassis front, we got new USD front forks and radial-mount four-piston calipers, more sophisticated suspension that could do a job on track, and a tough, compact look. Weight stayed basically as it was, at 189kg, but the overall feel of the bike was more nimble, controlled, smooth and capable.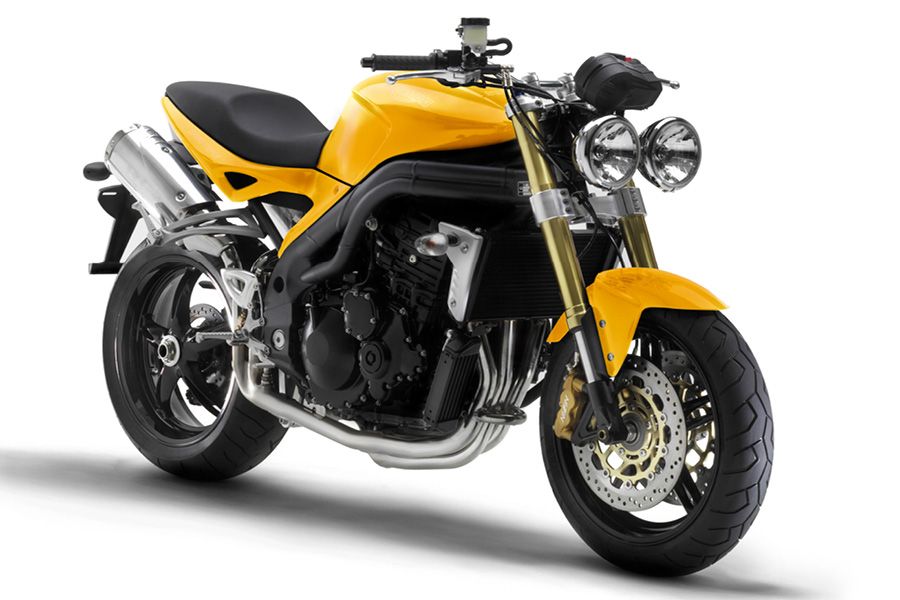 ---
From 2008 Speed Triple 1050
There was a minor update in 2007 that brought a steel tank instead of plastic and a few more ponies, up to 131bhp.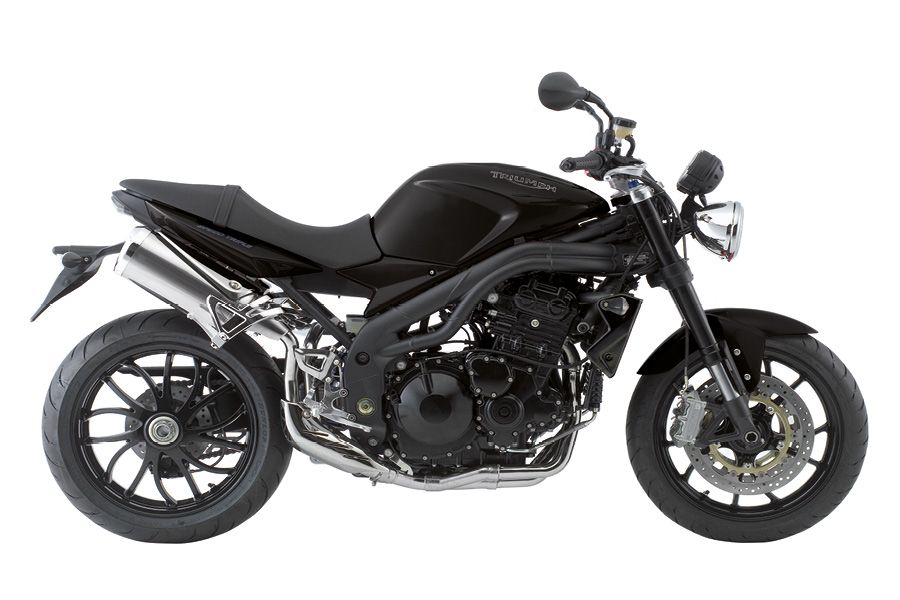 ---
From 2011 Speed Triple 1050
All change on the chassis front, with both the engine and the rider positioned further forward. That put more weight over the front wheel (even the battery moved up behind the steering head) for sharper steering, while making wheelies slightly trickier.
All-new suspension, a longer, stiffer swingarm, more aggressive steering geometry – the new Speed Triple was a step change from the old 'un in terms of handling and had a slew of modern updates elsewhere too. A proper ABS system appeared, and little things like an optional TPMS tyre pressure monitoring system, fuel gauge and immobiliser chip in the keys completed the image of a machine moving on from its late-90s roots. Peak power was now 133bhp and all-up wet weight was 214kg.
From 2012, Triumph also offered a premium 'R' version, with Öhlins suspension and posh Brembo brakes, plus carbon fibre body parts.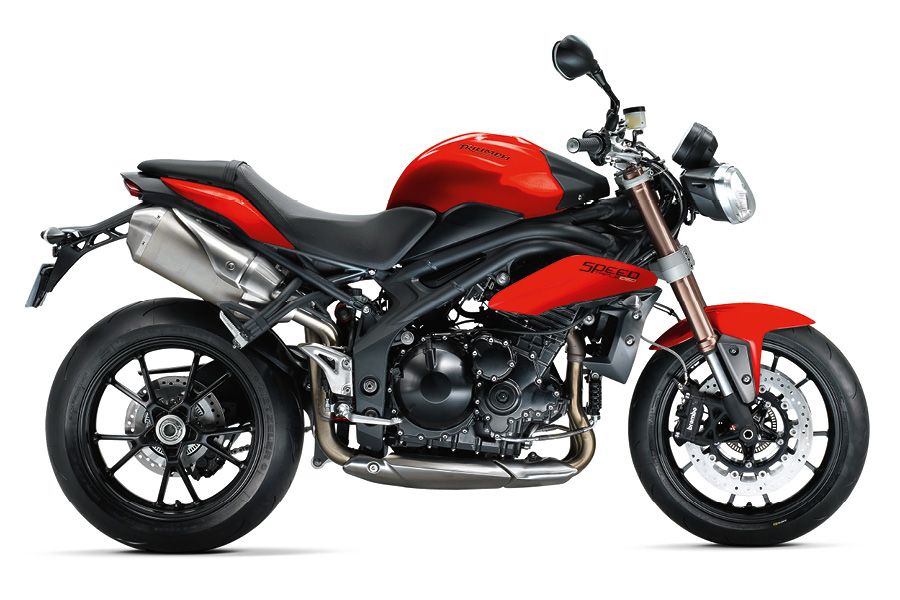 ---
From 2016 Speed Triple S and R
For 2016, a new ride-by-wire throttle facilitated all the rider electronic aids you could want, alongside 139bhp peak power and a 192kg dry weight. Five rider modes, adjustable traction control and ABS, Brembo M4 brake calipers, and a choice of the Öhlins-suspended R or Showa-shocked (and forked) S variant.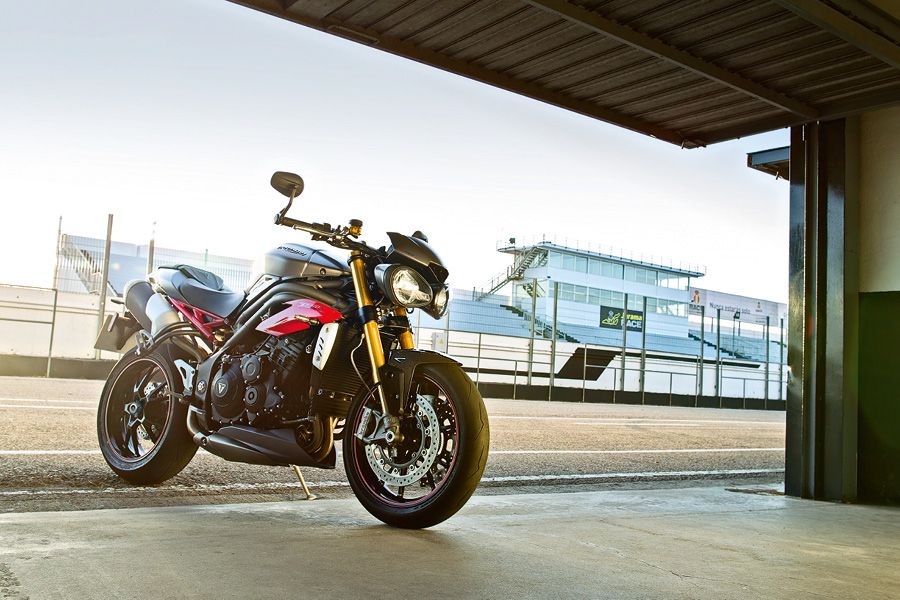 ---
From 2018 Speed Triple 1050 S and RS
The ultimate old-school 1050 Striple, the RS has all the Öhlins and Brembo kit of the R and adds an IMU-assisted suite of rider aids. The 2018 bikes also had more power, up to 148bhp, and the RS came with a full colour screen, cruise control, heated grips, and a Track riding mode. The S model has Showa suspension and no IMU assistance.
---
From 2021 Speed Triple 1200 RS/RR
The very latest Speed Triple 1200 now has an all-new 1,160cc motor, with a similar 12-valve DOHC layout to the old one, but completely modernised to meet emissions rules while making heaps more power – now up to 178bhp.
The chassis is all-new too, with an updated aluminium frame and swingarm, which helps make it much lighter: just 198kg wet. The café racer styled RS has fully adjustable Öhlins suspension and Brembo Stylema brakes, while the RR adds a handsome half-fairing and electronic semi-active Öhlins to the mix.
The electronics are pure 2020s kit: a full suite of IMU-assisted rider aids, as well as colour dash, Bluetooth integration, GoPro control and all the other kit the rider-about-town demands these days.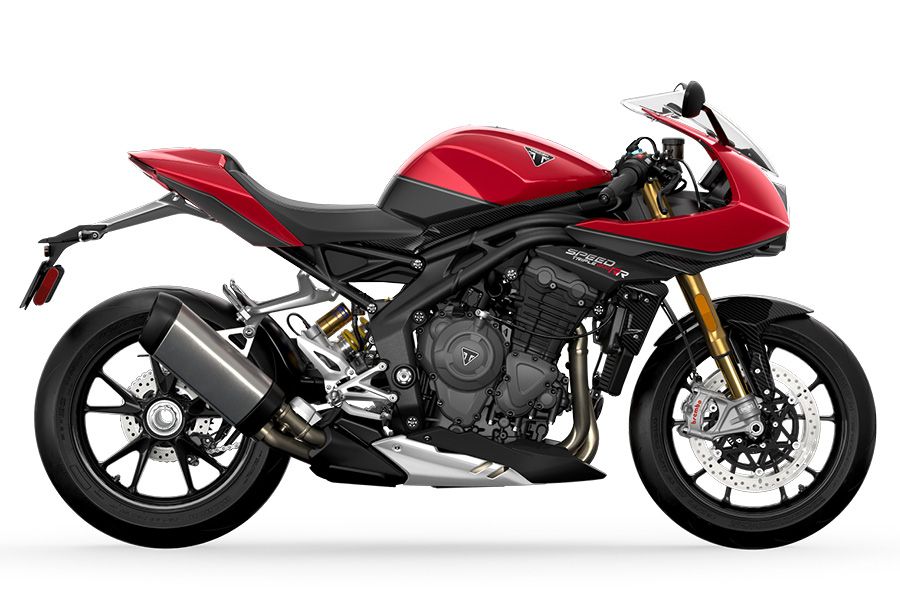 ---
SUGGESTED MODIFICATIONS
Tyres
Every model of the Speed Triple has decent handling, and they deserve decent rubber to make the most of it. Replacing old/worn/unsuitable rubber with a pair of recent, new, matched sport tyres will make the biggest difference to the handling you can imagine. No excuses – get it done!
Exhaust
The early bikes and the post-2005 bikes had three-into-two exhausts, and you can save a lot of weight by moving to a three-into-one. Later models with catalysts and underslung silencer boxes carry even more weight, but it can be hard to find full systems at decent prices.
Whichever Triple you have, they all sound AMAZING with a nice, high-quality performance pipe. Genuine Triumph options from Arrow are worth the extra cash.
Fuelling
Jetting changes on carbed bikes are a pain but might be worth the faff if you make big changes to the motor. Later fuel-injected bikes can be tweaked with a Dynojet Power Commander, ECU remap or other piggyback fuelling modules. If you're serious about this, it's best to find an experienced tuning shop with a dyno and some know-how.
Practicalities
The official Triumph flyscreen is a must on the T509/1050 models, and makes a big difference on longer runs, despite its small size.
Suspension
The stock components are more than good enough for most riders, but older bikes will benefit from a fork service and probably a replacement rear shock.
Brakes
Even early Triples have had good basic brake setups, and if kept well-maintained will do great work. Wave-type discs from Galfer look good and save a little bit of weight, and performance pads can sharpen up the initial bite. The brakes got better with each update, and the latest machines have superb Brembo stoppers, which only need regular maintenance to keep them at their best.
---