---
First Ride: 2019 Triumph Speed Twin
By Alan Dowds


Triumph's new retro sportster keeps it simple...
IT'S fair to say that Triumph's made a big success of its modern classics range. The latest versions of the Bonneville, the Street Twin and Street Scramblers, up to the 1200 Scrambler, Bobber and Thruxton ranges all offer good looks, sound performance and all the heritage you can eat.
And now we've got another entry in the class for 2019 – the Speed Twin. That name goes right back to the earliest origins of the 'modern' Triumph motorcycle – the original 1938 Speed Twin first used the air-cooled parallel-twin engine layout which became so vital for the firm all through the post-war period. And while the 2019 version isn't quite as seminal, it's a handsome-looking beastie, parked up in the posh Mallorcan hotel where we're based for this launch. We've got a full day on the new bike tomorrow, round the sweet twisty backroads of the biggest Balearic island – and it's all looking very good indeed.
We get a quick tech briefing, to indoctrinate us into the Speed Twin way of thinking. Essentially, it's a Thruxton, with the same high-power engine tune, putting out 96bhp, bolted into a simple cradle frame. Middle-of-the-road suspension from Showa and conventional-mounted Brembo brake calipers might spell a low-budget ride, but the sweet aluminium swingarm, natty cast wheels and lightweight alloy forgings scattered about the rest of the chassis complicate the tale a little. Triumph's done its best to give us plenty of nice stuff – while keeping the price attractive at just over £10,500. On the upside, we get a lightweight sealed lead/acid battery, magnesium engine cases, Monza-style fuel cap and alloy headlight brackets. On the downside, the rider aids package is a base-level non-IMU setup, the suspension is largely unadjustable, and the rear tyre is a rather skinny 160-section.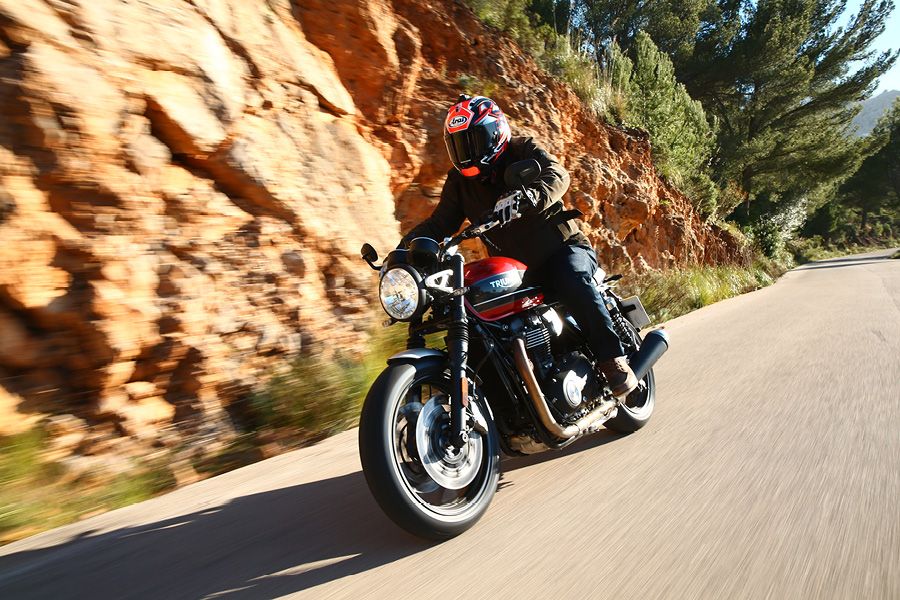 ---
Has the price cutting affected the ride then?
Well, the first impressions are good – the engine is strong down low, and on the chilly Spanish asphalt, I'm going carefully until the Pirelli Rosso III rubber warms up. After a few miles following the Triumph test rider though, I'm settled in nicely. The view is conventional: twin analogue dials with LCD inserts, Triumph's corporate switchgear, wide alloy bars, mirrors on the end. Added to the low 807mm seat height and low-slung pegs, and you have a near-cruiser level of street riding comfort.
The performance is much more than cruiser level though. The engine continues to impress the more you push: the tune is very pleasing indeed, despite the SOHC head and relatively low compression. It's a machine which many people over the years have claimed to build – low-down grunt, instant drive, no pointless screaming top-end – but few have actually managed. Some riders are grumbling a little about the fuelling, but for my right wrist, it's all good. The top end is the right side of 130mph-ish if you hold on and tuck in, but it's the midrange that we like. It'll even pull a decent wheelie should you persevere, the long, low-ish chassis adding stability as you hoik one up. Nice.
The brakes are well up to the power though, the axially-mounted Brembo calipers are classically handsome, but they have the cojones too – a four-piston construction that delivers solid power and feel. It's the same story with the Pirelli tyres. The road surface isn't perfect all over the island – indeed, there are some sections which actually have a light coating of green moss at the edge of the lanes. Nice. But even trying to keep up with my fellow loons from Her Majesty's Moto Press Corps, the Diablo rubber maintains its grip. That narrow rear hoop doesn't seem to affect grip levels, but it does play a part in the slick handling. The Speed is a big bike, but it's got the agility of a smaller machine – it's nimble on the brakes going into a bend, stable on the way through, and has more than enough ground clearance. Nice.
That just leaves the suspension in my notes – and it's fair to say they this is where the cost cutting shows a little. The rear shocks have a rather incongruous and cheap-looking chrome plating, over a basic preload-adjust-only design, while the front forks are completely unadjustable. That isn't necessarily a bad thing on a roadster fork – indeed, I was fairly happy with the front end – but the shocks weren't doing so well. On some bumpier sections, the back wheel was skipping about a bit, and if I was buying one of these, I'd definitely be looking into some upgrade units. They're not horrendous – but you just feel that the overall quality and performance of the Speed Twin deserves something better here.
Because there's no doubt it's an impressive machine. For the cash, it's got a great blend of grunt, looks and handling – especially the styling. Parked up at the end of the day, there's a real classic beauty to the lines of the tank and the engine. Its big competitor is probably BMW's RnineT Pure, which has the same basic equipment levels with slightly more power and better handling, for a bit more cash. As a riding experience, the BMW probably just pips the Speed Twin – but the Hinckley machine is much more of a looker to my eyes at least. Another successful machine in the Triumph modern classics range? Who'd have thought it…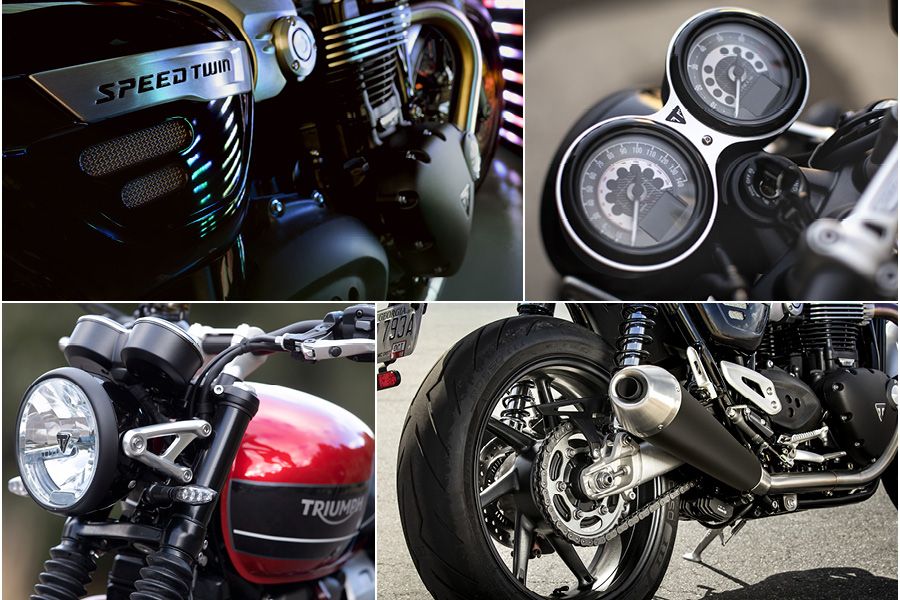 FRAME
The easy way to cut mass is to fit lighter components – duh! So the Speed Twin uses aluminium lower cradle components rather than the hefty steel tubes used on the Thruxton and Bonneville. The resulting 'hybrid' chassis design has the same slick aluminium swingarm as the Thruxton – though Triumph has added a longer drive chain, allowing a 15mm longer wheelbase as stock.
ENGINE
Triumph's fitted the 'Thruxton' tuned 1200 Bonneville engine to the Speed Twin, which is tuned for more power instead of torque. That means you get 96bhp instead of the 79bhp that the Bonnie has.
The stock Thruxton engine has been tweaked to cut weight – it's 2.5kg lighter than before – with a lightweight clutch, magnesium cam cover and slimmer engine cases.
SUSPENSION
Nothing very fancy here - KYB cartridge-type RWU forks and preload-adjustable twin shocks. They do a decent enough job, without excelling massively anywhere. The chrome finish on the damper bodies and spring mounts looks a teeny bit budget.
BRAKES
A nice mix of old and new – conventionally-mounted Brembo calipers up front – but they're solid four-piston units. The rear pedal operates a good, old-fashioned, powerful back brake, with a twin-piston sliding caliper.
WHEELS
Another place to cut mass – Triumph's used a very lightweight seven-spoke cast alloy wheel design. The rear has a 5" rim that takes a 160-section tyre – slightly skinnier than you might expect on a 200kg 97bhp machine. Lighter wheels mean less rotating mass of course, and that benefits handling.
RIDER AIDS
The rider aids package is a typical entry-level setup for 2019: non-switchable ABS, simple on/off traction control system, and three rider power modes – road, sport, rain. The rider modes can't be customised sadly, but it's easy enough to swap between them. You need to be at a standstill to turn the traction off or on though.
BUILD QUALITY
Triumph places a lot of importance on this these days – rightly so – and the Speed Twin is dripping in classy jewellery. There's a neat lockable 'Monza' fuel cap, brushed aluminium mudguards, sidepanel trims, headlight bracket, rearsets, and bar-end mirrors. If you pay the £300 extra for a red or silver version, you get luscious hand-painted coachlines. Smart.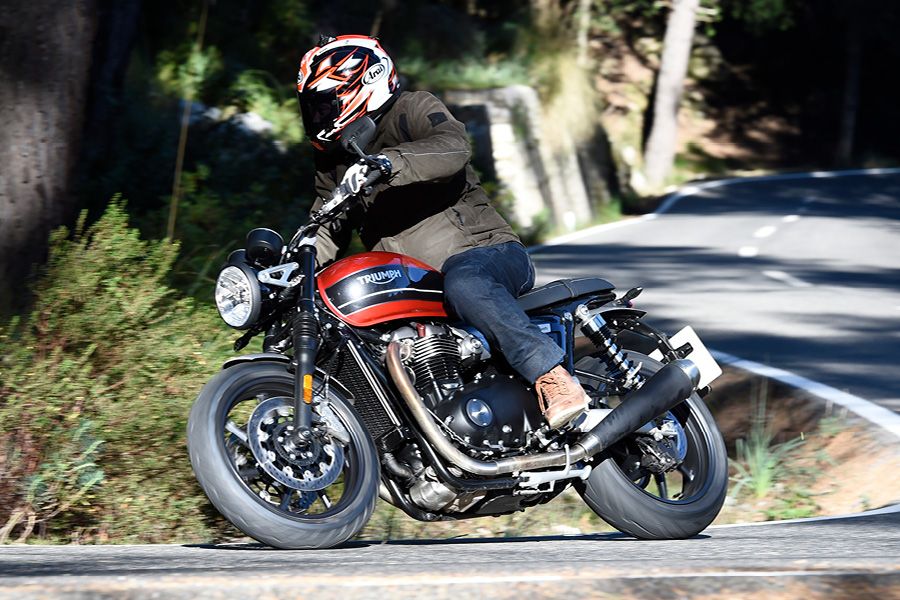 ---
SPECIFICATIONS
Price: £10,500 (black paint), £10,800 (red or silver paint)
Engine: SOHC 8v, parallel twin, 270° crank, l/c, 1,200cc
Bore x stroke: 97.6x80mm
Compression ratio: 11:1
Max power (claimed) 96bhp@6,750rpm
Max torque (claimed) 83ft lb@4,950rpm
Transmission: six speed gearbox, wet slipper assist clutch, chain drive
Frame: hybrid steel/aluminium cradle type
Front suspension: 41mm RWU KYB cartridge-damping fork, unadjustable
Rear suspension: aluminium swingarm, twin KYB shocks, preload-adjustable
Brakes: twin 305mm discs, four-piston Brembo calipers (front), 220mm disc, twin-piston caliper (rear), ABS.
Wheels/tyres: cast aluminium seven-spoke/Pirelli Diablo Rosso III, 120/70 17 front, 160/60 17 rear
Rake/trail: 22.8°/93.5mm
Wheelbase: 1,430mm
Dry weight : 196kg
Fuel capacity: 14.5 litres
Equipment: switchable traction control, ABS, three power modes.
---