---
Triumph Street Triple 765 Review
By Alan Dowds
Pros
Great engine
RS has fab chassis specs
Well priced
Lots of options
Cons
No downshift auto-blipper
Electronics are fiddly to turn off altogether
When I was a kid, 'Buy British' was a genuine thing.
And with the pound in the shitter and Brexit ructions on the way, maybe we'll all be shopping for stuff with wee Union Flags on the labels again soon.

That's no hardship for bikers these days. Apart from the (often excellent) small niche brands like Norton, CCM, Hesketh, Ariel and the like, Triumph is a genuine world-class bike builder, producing bikes in both England and Thailand. Since its rebirth in the early 1990s, the Hinckley-based firm has cut its own, distinctive path with a range of increasingly-excellent machines. And none more so than its awesome naked roadster 'Triple' range.
The Speed Triple kicked it all off in 1994 with a 750 or 900 three-cylinder lump in a brutal naked chassis. Then in 2007 we got a mini-Triple, the Street. That was a revised Daytona 675, in naked form, and it was a corker. Just as good for novices doing a Direct Access as for stunt cocks practicing circle wheelies, the Street Triple was a hit from the off.
And now, a decade on, we've got a new one, with a bigger, 765cc motor. That motor's also heading for the MotoGP paddock as the Moto2 control engine from 2019 – so it's A Big Deal for John Bloor's boys and girls. The new engine is bolted into a revised chassis, that's still very much a Street Triple, but with new, high-quality running gear. The new bike also gets a bang-up-to-date electronics package.
I say 'new bike', but there's actually three new Streets (five if you include the special 660cc A2 licence and low-seat 'R' versions). There's an entry-level 'S' with budget brakes and suspension, an 'R' with posher Brembos and Big Piston forks, and an 'RS' with superbike brakes and an Öhlins shock.
It's the RS we're riding on this launch – we're getting half a day on the roads behind Barcelona, then half a day on the amazing Circuit Catalunya-Barcelona. First impressions are good, if a little stilted. The roads are cold and damp first thing, and the RS wears super-sporty Pirelli Supercorsa SP tyres. They're not at their best in these conditions, so we tiptoe around the roads for the first hour or so until things improve.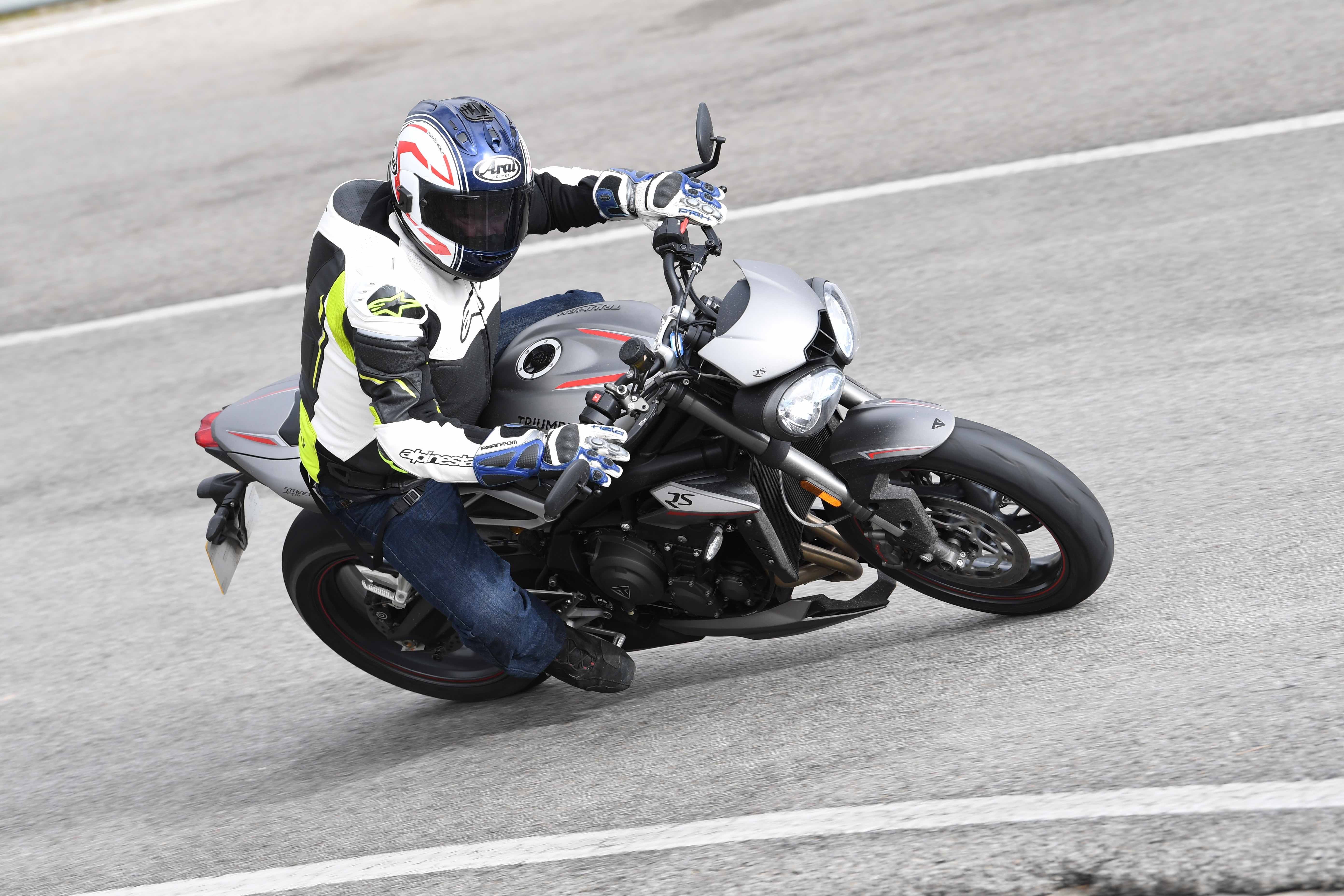 ---
The 765 is showing its skillz already though.
The engine is tremendous – there's stacks of low-down grunt, together with a brilliant top-end rush, and clean, crisp fuelling. We're only getting a sniff of it just now of course, but when the roads open out and get a bit faster, the little Triumph feels mega-strong all through the rev range.
The brakes are just as impressive. Brembo M50 monoblocs are superb calipers, and they haul down the lightweight roadster in the blink of an eye. They're almost too much on the damp roads – but there's enough feel, and the bonus of an ABS safety net to keep me from worrying too much.
The rest of the chassis makes it a breeze to access the performance though. The front end is stable yet agile, and the back end just seems to dig in and grip when you gas it hard out of a bend. It's a very natural, easy-handling bike, and when our lead rider, 'Pesky' Pete Ward turns it up a little on the last section before we reach the track, I'm giggling like a loon in my lid as the 765 lights up the Catalan roads.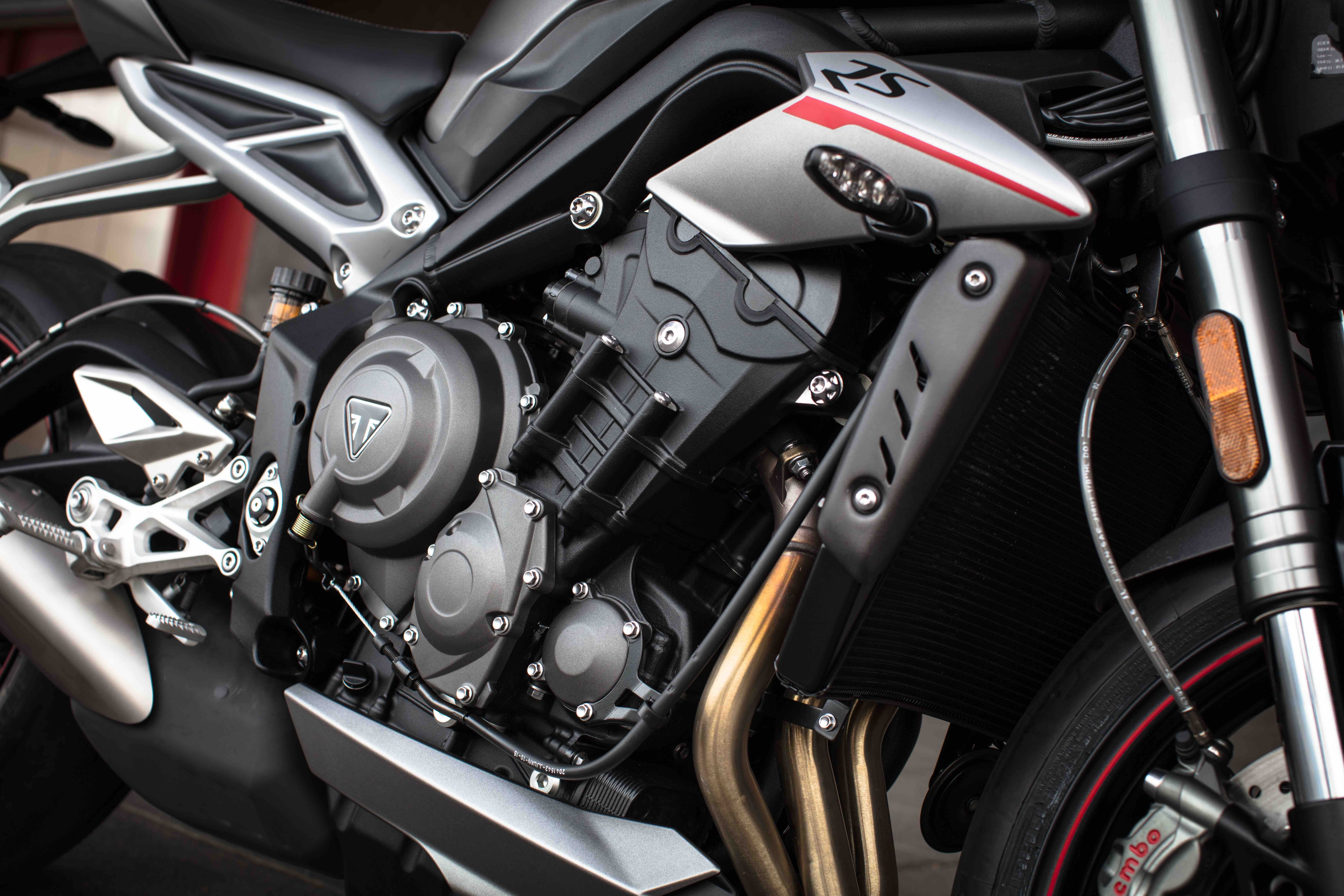 ---
We've got a bit of time before the track sessions, so I have another look at the electronic rider aids. The system is easy to use, with a big colour screen, ergonomic joystick controls on the switchgear, and loads of options. It takes a wee while to get things straight in your head, but once you get into it, the system is pretty well thought-out. You can select from a range of riding modes, turn off the ABS and Traction Control, and customise the dash to suit too. The only fly in the ointment is that you have to be stopped and in neutral to turn off the safety settings completely. And if you switch them off, then turn them on as you go along, you can't disable them again without stopping.
I dial in the 'Track' setting, and we're off out onto the Catalunya track. I've been here before, but it was a long, long time ago, and my memories are pretty rusty. The Triple makes life easy though: the engine is more than strong enough for this gigantic circuit, with its enormous straights and wide-open bends. The biggest problem I'm having is holding on down the 140mph front straight… Those Brembos retain their stonking status, while the Pirelli Supercorsas are now right at home.
I feel right at home too after the first session – because a very British rain storm stops play. The track is awash with standing water, there's no grip at all, and our day is done. We've had a very decent taste of the new Street Triple though, and the impressions are of a very very good bike indeed. The engine is excellent, the chassis more than up to its performance, and the electronics and equipment are top of the class.
Buying British has been a decent option in the bike world for a long time now. But in this naked middleweight sector, it could very well be the best option of all…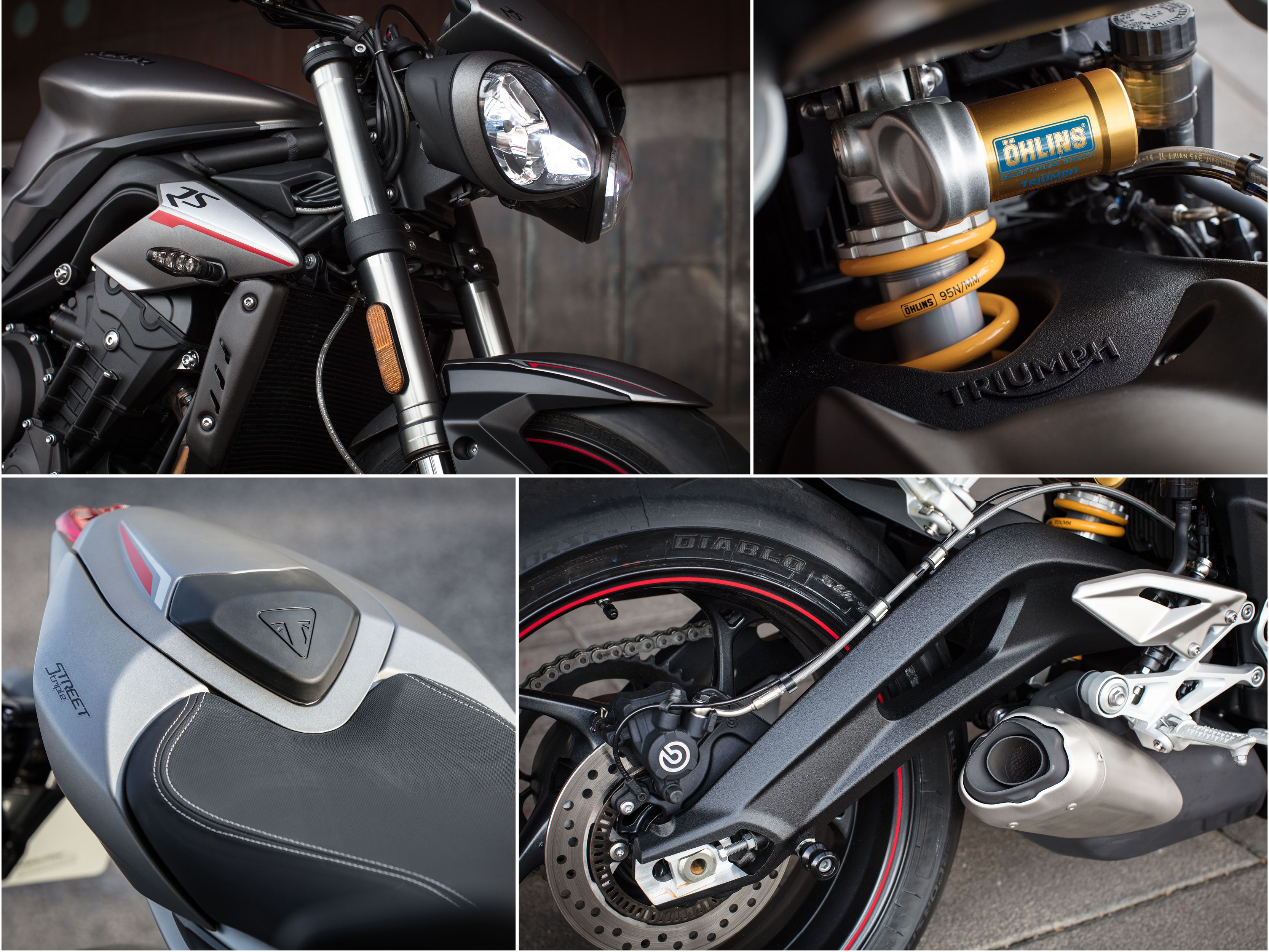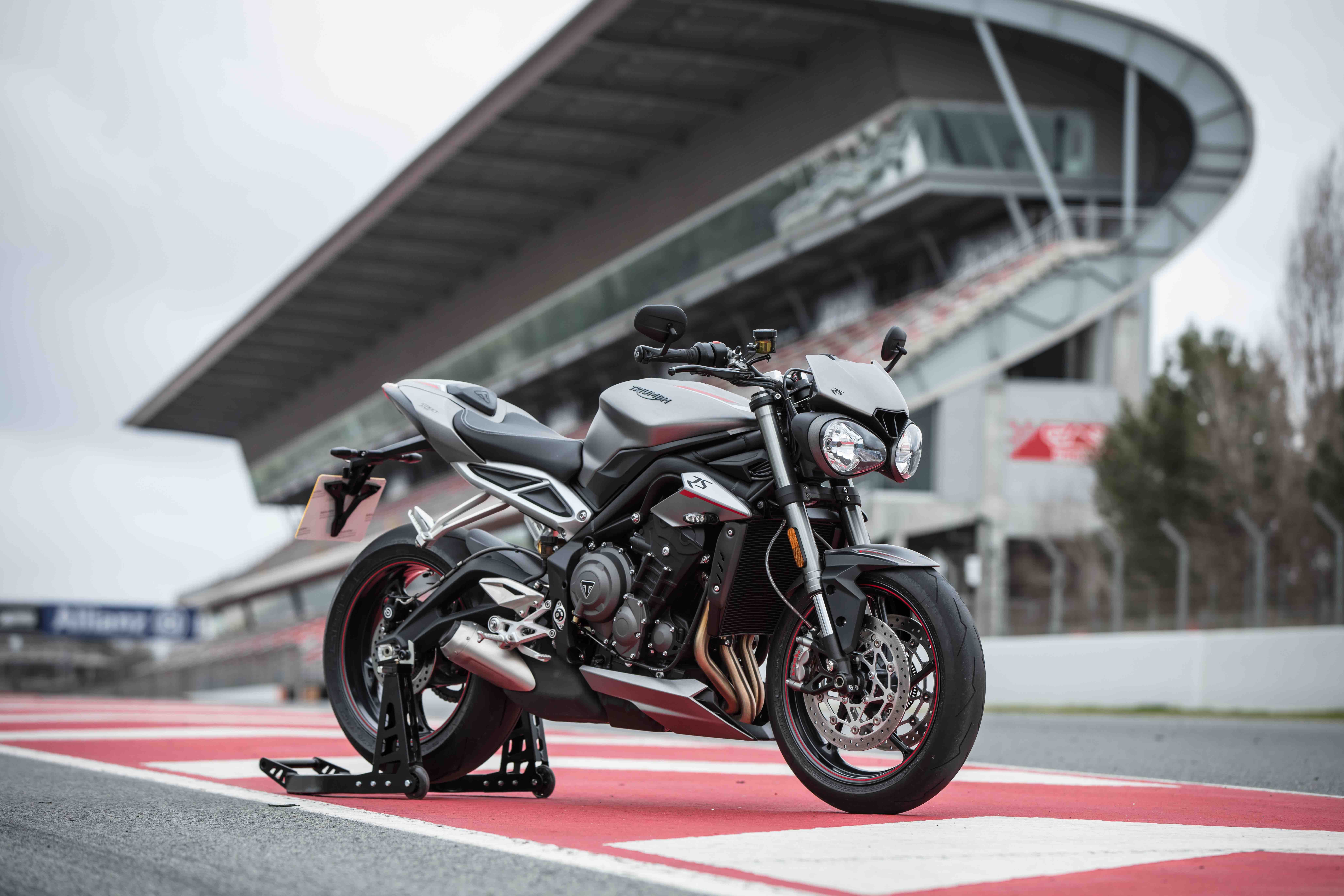 ---
Specifications

Price: £9,900 (RS), £8,900 (R), £8,000 (S)
Engine: 12v inline-triple, DOHC, liquid cooled, 765cc
Bore x Stroke: 78x53.4mm
Compression Ratio: 12.65:1
Max Power (claimed): 121bhp@11,700rpm (RS) 116bhp@12,000rpm (R) 111bhp@11,250rpm (S)
Max Torque (claimed): 57ft lb@10,800rpm (RS), 57ft lb@9,400rpm (R), 54ft lb@9,100rpm
Transmission: six speed, slipper clutch, chain
Frame: aluminium twin spar
Front Suspension: 41mm fully-adjustable Showa USD forks (S has SFF forks, R has SF-BPF, RS has BPF
Rear Suspension: Showa shock (S and R), Ohlins STX40 shock (RS)
Brakes: Nissin twin-piston sliding calipers (S), Brembo M4.32 four-piston radial calipers (R), Brembo M50 four-piston radial calipers (RS) 310mm discs (front) 220mm disc, single-piston Brembo caliper (rear)
Wheels/tyres: cast alloy/Pirelli Diablo Rosso Corsa/Supercorsa (RS), 120/70 17 front, 180/55 17 rear
Rake/trail: 24.8°(S) 23.9° (R&RS)/104.3mm (S) 100mm (R&RS)
Wheelbase: 1,410mm
Dry Weight (claimed): 166kg
Fuel Capacity: 17.4 litres
---