---
What's it like being a Bemsee Rookie?
By Mark White
"Why don't you race" one of my mates said to me one day… and I thought do you know what, why don't I?
---
From a young age I'd always loved motorbikes
From toys-to-telly and from watching my dad go off to work on his Honda C90 Step-Thru I knew I was going to like them, as soon as he came home I would sit on it, with his crash helmet on and pretend I was Fogarty!!!
My moment came when I was 16 when I was bought my first motorbike by my mum & dad. It was a white Honda MBX50. I could get 39 MPH of out it and wheelie it for miles.
It wasn't long before I had it bored out. A few tweaks here and there and within a month I was up to 70 MPH. I still didn't have the speed for the TZR125 or NSR125 but I did have one of the fastest 50cc bikes in town!!
I later got the TZR 125 with power valve and then went to a RD250LC along with RM250 - my life was complete - every weekend out came the RM, we had been given an old Step Thru as well so we spent hours on the edges of farmers fields going backwards and forwards, then back home to beg for £3.00 for another 3 hours of riding… I had never washed so many cars in my life just so we could buy petrol, but I could wash a car and dry it in 10 minutes.
It wasn't until I was 38 that I decided to race - a few say a little too late - after being sidetracked by cars (XR2 and XR3i), partying and work for a long time. But once I make my mind up on something it's 100 MPH all the way.
I was back on a road bike for 3-years on my Y-reg red Yamaha R6 5EB prior to starting racing. I knew what it was like to be quick on a road bike, mostly in straight lines though, as the roads are far too dangerous to go fast around the lanes.
I started with The British Motorcycle Racing Club (BMCRC), also known as 'Bemsee', in 2014.
---
2015 Season, Rookie 1000's
I had been to around 6 track days prior to racing and was still not really up to race speed, but was told "you will learn as you go"… so I booked my first race weekend!

My first season was in the Rookie 1000's. I was riding a Yamaha R1 2003 model, very standard bike in terms of suspension and engine, still very much a converted road to track bike, apart from a Power Commander, Quick Shifter & Steering Damper.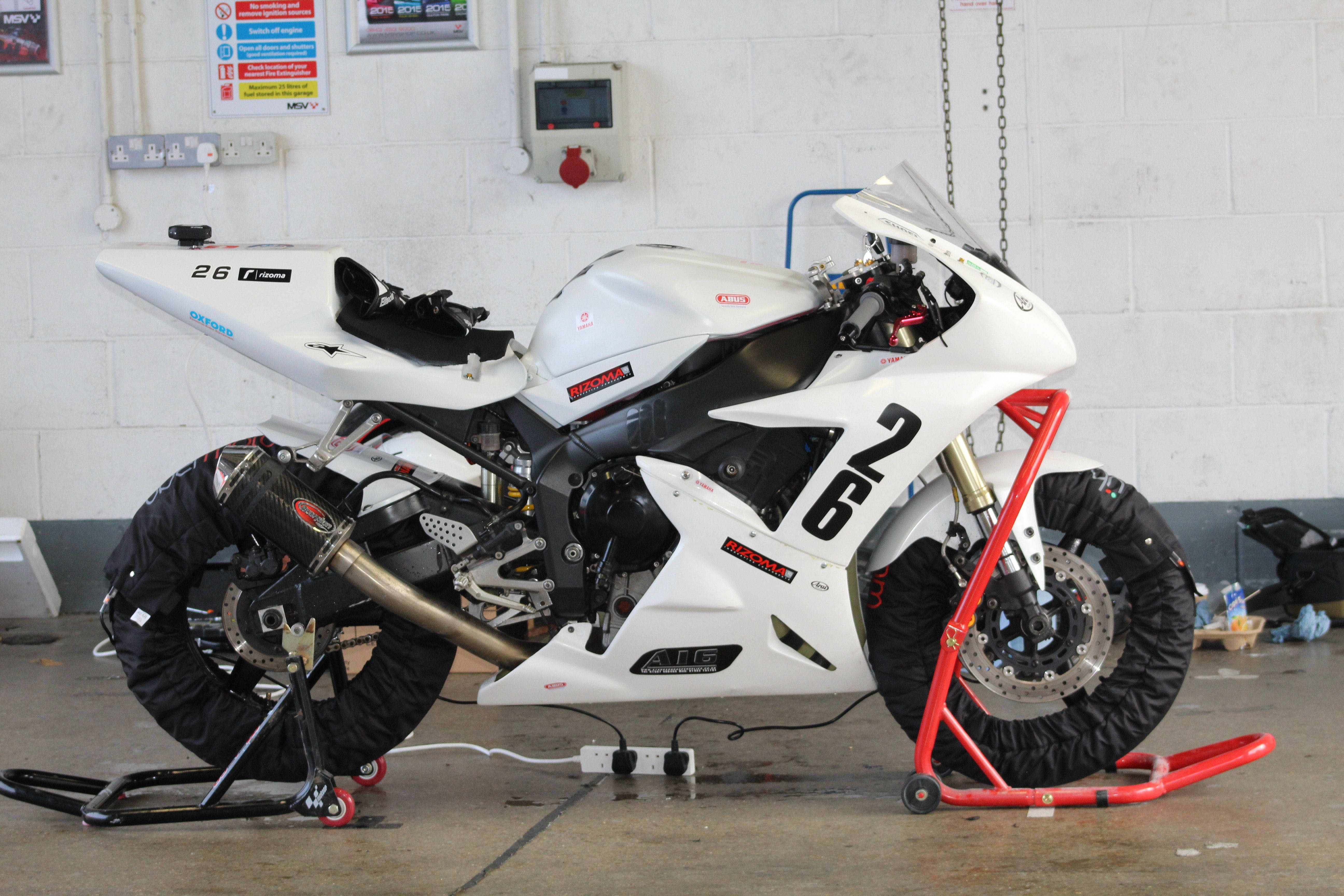 It was a fun 6-weeks preparing the bike; new race fairings, race numbers, lock wiring the bike to ACU regulations, making sure brakes were good, oil, filter and plugs change. I then had to purchase tyre warmers, paddock stands, spare wheels, wet tyres and the correct tools for my bike.
I also had to buy a van to get the bike to race meetings and then a caravan to sleep in. It's not cheap to get going, but once you have it all, its just bike parts you need to be prepared to buy - I think with the bike, caravan, van and all the bits to get going I spent around £6,000 - which in the grand scheme and compared to what others spent, my set up was cheap!
The race weekend consists of 3 days: Friday is a test day / track day to get the bike up to speed, check setting etc. Saturday & Sunday are race days, with a Saturday morning 15 minute qualifying session. You get to see your competition on the Friday throughout the test day, but as I learnt over the season, a lot of people tend not to test on the Friday as it saves a chunk of money… most people go balls-in on the Saturday morning qualifying!
Race teams tend to turn up on the Thursday around dinner time, get set up that afternoon ready for the test day on the Friday, even if you are not testing you seem to all still turn up together as it becomes a bit of a race family event with all the other riders. The banter is great and it helps with the nerves if you are worrying.
Bemsee are a great racing family. Very supportive and assist you 24 hours over the race weekend. If you crash, you get help 9 times out of 10. If you do come off someone often has the parts for your bike and will help get you going again.
---
Round-1, Brands Hatch
It's March and a very wet weekend. I had been a road rider for years so the rain didn't bother me, I could see the fear in lots of other riders as for some of them it was first ever time on a track and first ever race - it's so easy now for guys and girls to just get an ACU licence and then race 2 weeks later.
My first race weekend went way better than I expected. Out of 27 competitors, I came 22nd in Race-1, then 19th in Race-2, 12th in Race-3 and finally 7th in Race-4, all going in the right direction.
I came away from the weekend buzzing and booked the next round straight away. Each round with testing was costing about £400 for the 3-days. You then needed to add fuel, food, travel and tyres, so not a cheap weekend but one you will remember forever!
---
Round-2, Snetterton
It started to become difficult for me. I didn't think it would come so soon. I felt like I was going to do OK and off the back of Round-1, I knew I wasn't slow, but 3 out of the 4 races at Brands Hatch were in the wet. Snetterton was a completely dry weekend so things were a lot faster!
To be honest I really struggled. I was back 3 every time and came last in Race-2. I crashed on the test day and hurt my wrist. It was my 40th birthday on the Sunday and it was looking grim for me. That weekend taught me a lot about myself – and that being a road rider doesn't make you a racer.
I have a family and they are more important to me, is this right for me? Should I be doing this? Quite a lot of the other bikes were 170+ BHP and mine was only 132 BHP, so I was lacking in power on the straights, which was not helping, and I came away from that weekend very deflated. After only 2 rounds I was thinking that racing is not for me.
---
Round-3, Silverstone
Again I was hyped-up because of Round-1, but nervous because of Round-2, so I tried to go in with a positive head on and hoped to do well.
At each round you can ask for an instructor on Friday morning testing for free. These guys are ex-racers that have won championships and have been on these courses hundreds of times. My instructor came up on the Thursday dinnertime but due to family matters had to go home later that afternoon so it left me out on my own on the Friday without instruction. Guys in the paddock often say, "follow one of the faster boys and you'll be alright", but for me it just didn't work, testing went OK but on the Saturday I came last in Race-1 and Race-2, so once again I was down in the dumps.
I actually came home on the Saturday and didn't race the Sunday as I felt no point entering a race knowing you may come last again. I know of a few others that did the same as it's not fun to be last when you know you can do better.
I then missed 3 rounds and came back to Brands for Round-7.

---
Round-7, Brands Hatch (GP Circuit)
I'd had a break and finished sulking. This time it was the full Brands Hatch GP course. The only problem being that you're not allowed to test on the full course on the Friday due to noise restrictions - so the first time you get to do a full lap is qualifying!! I think 80% of the racers had never been on the full GP circuit and had never done a full GP track day, so it was a very blind fast qualifying to say the least, people were crashing all over the place.
I Qualified 28th out of 34, so not last but not good. I think I came 29th in the end, but it was a real hard race and the weekend didn't get any better for me. With 2 laps to go, I started to tip in to Sertee's to head out the back of the course and someone come on the inside of me, but I was already committed. We bumped, he stayed on, and off I came… a few summersaults, a few rolly-polly's and that was me done. I couldn't get up as I'd twisted my ankle, dislocated and broken my shoulder. End of season.
The guys at Brands popped my shoulder back in, then a trip to the hospital and pain for a few weeks. But it's taken a full year for the shoulder to heal properly.
I was back on the road, riding after 12-weeks, but it made me very nervous. If I crashed at 100 MPH like I did at Snetterton or even 50 MPH like at Brands, would I survive on the road... Probably not. So I sold my road bike. It was a very hard thing to do but for all the right reasons. I knew I'd be safer on the track and wife and children were always worried when I went out on the road, so it made them happy.
---
2016 Season, Rookie 600's
March 2016. Race season starts again. I'd sold the R1 and bought a Yamaha R6 2004 5SL over the winter. This bike was fully spec'd up, loads of tricks bits, race-tuned engine and I even had the suspension set up for me. The bike had never been on the road having been turned straight in to a race bike.
I entered the Rookie 600 Class this time around; still a very fast and competitive class but the bike is more capable… So I couldn't blame the bike for anything! Famous last words.
To cut a long story short - the bike broke down in Race 1. Unfortunately the parts I needed were not available at Brands, so that was that. Very disappointed really as I was looking forward to the new bike and I had the guys from BeMoto down to support me, as well as friends and family - I felt like I let everyone down.
It just goes to show anything can happen in racing, its a legal buzz that I will continue to chase in the next round at Silverstone to see what I can do and see if I can make up for the start of the season going wrong.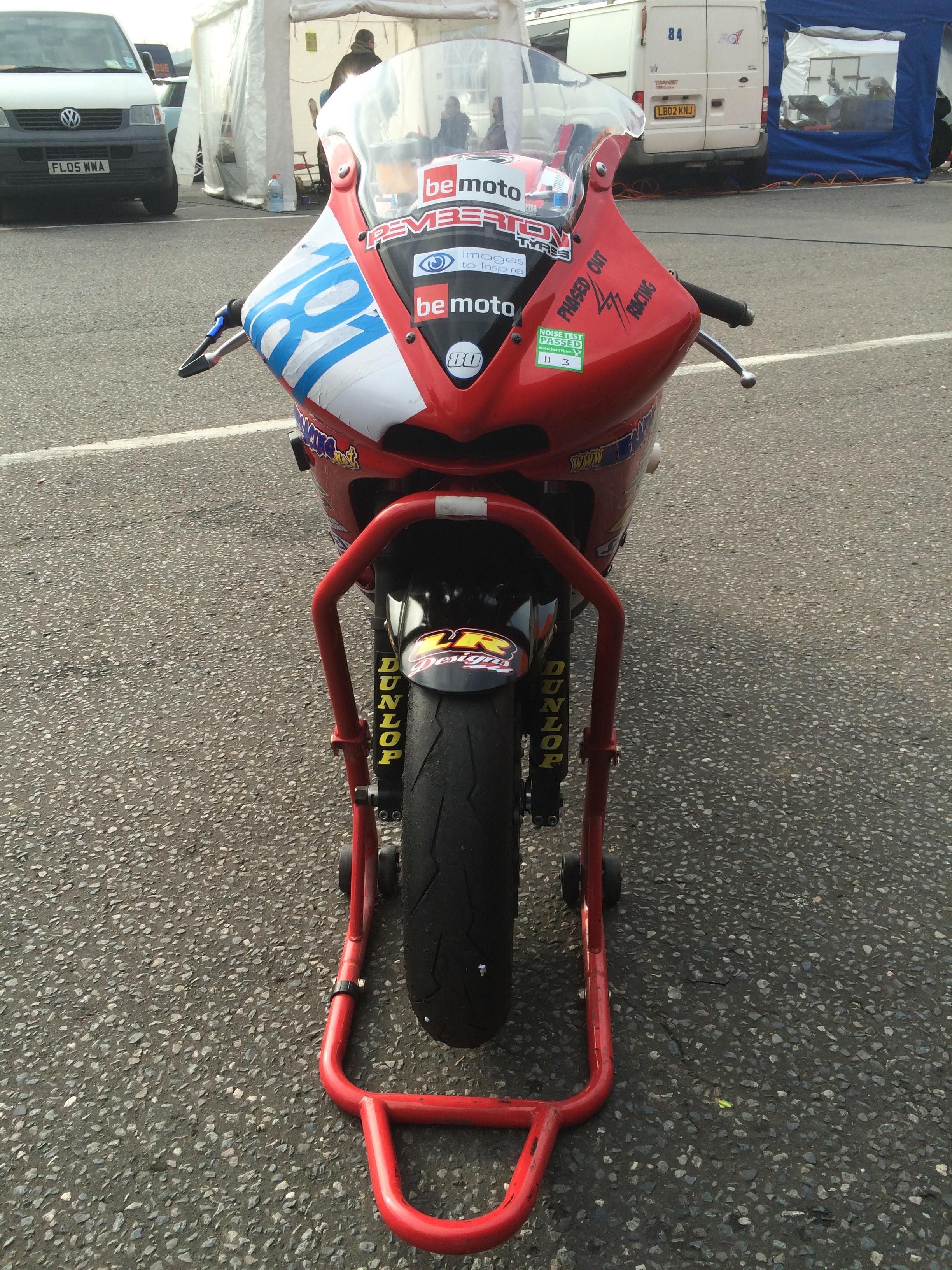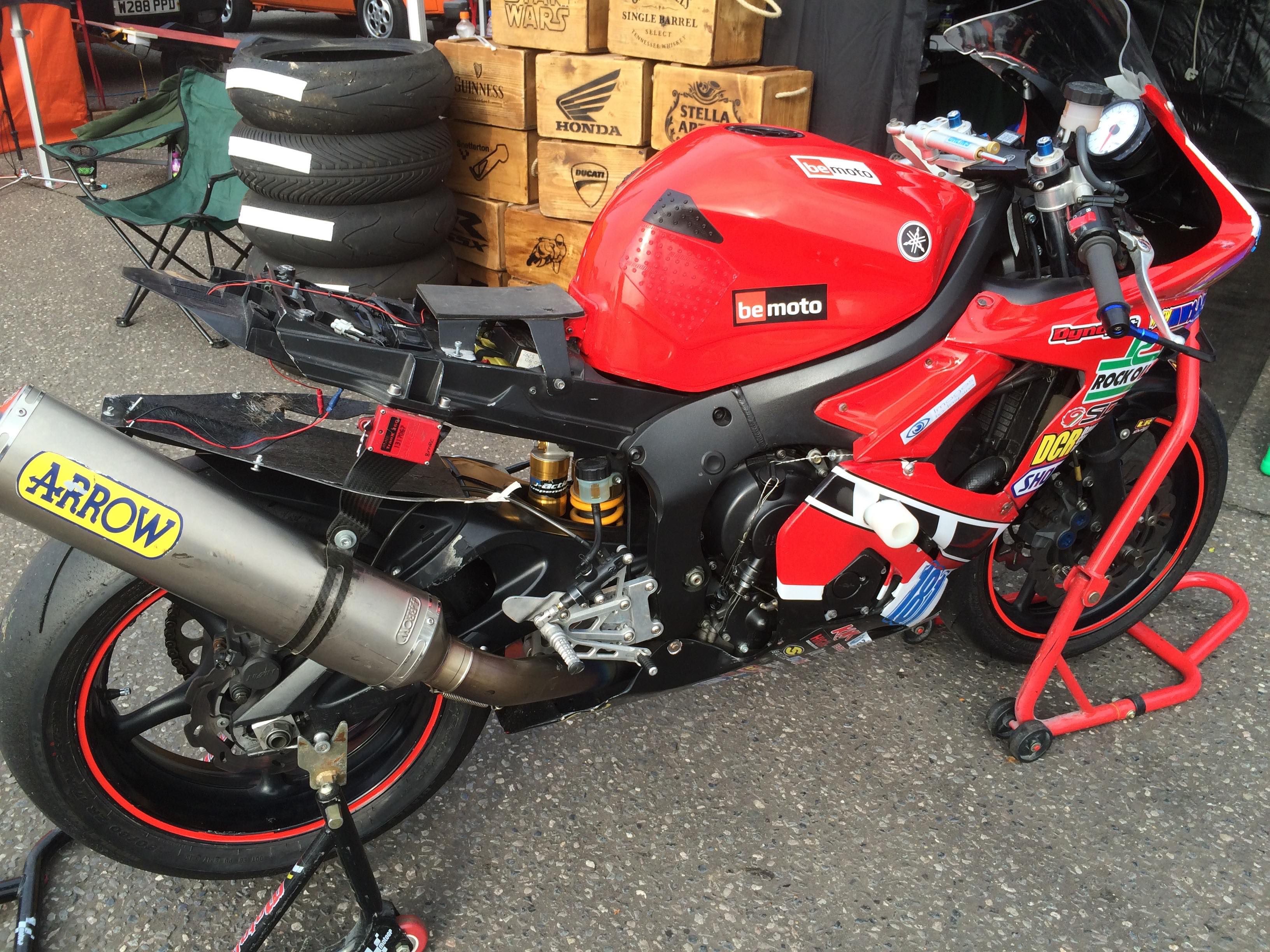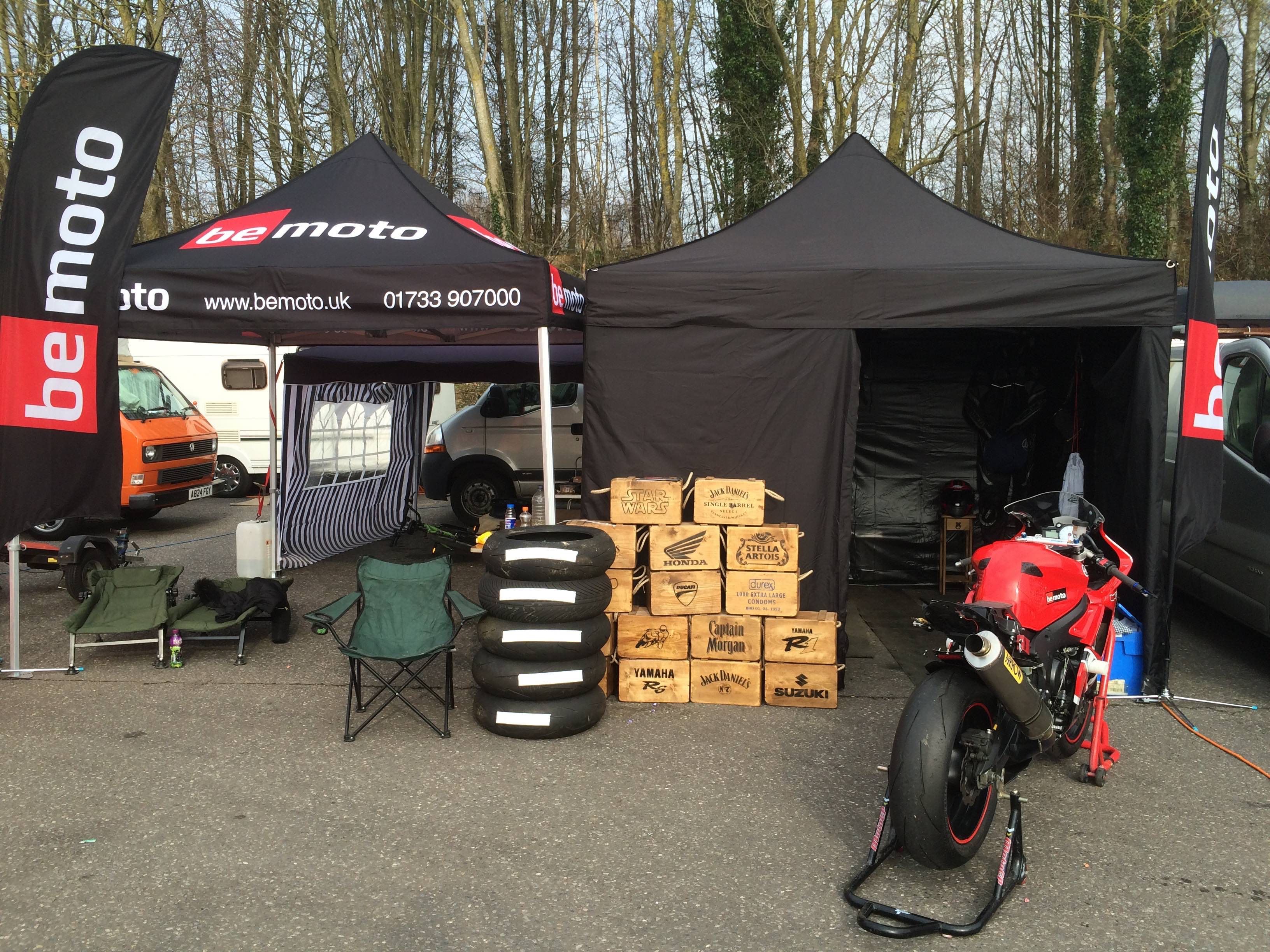 ---
A massive thank you to Keith my father-in-law as he's always there to support me with the racing, whatever happens, and to my wife and kids for being with me all the time.
Follow these links to find out more about getting an ACU race licence or joining the BMCRC (Bemsee).
---
How can BeMoto protect your track bike?
Not only do we offer tailored cover for standard and modified road legal bikes, we also have a range of off-road products, whether you have an old favourite gathering dust in the garage, a motocross bike or race-spec R1 for the track – or even your kids PW50 or quad bike.
Call 01733 907000 to speak to a trackday specialist to see what insurance options we have for you.
---