---
Yamaha MT-07 2018 Review
By Alan Dowds
Pros
Engine
Ease-of-use
Fun factor
Cons
Stock tyres could be better
No screen or fairing as stock
Naughty twin gets suspension lifted...
It's pretty common these days to hear that there's no such thing as a bad bike. That's to say, the basic stuff like electronics, suspension, brakes, tyres – they all work to a far higher level than they used to 15 or 20 years ago. Generally, when you push the button they start, when you open the gas, they accelerate fairly rapidly, and when you pull the lever, they stop in a decent period, without throwing you under a bus.
So if all bikes are 'good', what makes a 'great' one? Well, one way is to be like the Ducati Panigale V4 we rode last month, and simply be a genuine level above the opposition in class. It's a stonking track bike, with an amazing motor and the very latest and best in chassis gear, wrapped up with solid styling.
But another way is for a bike to extend its remit beyond its basic function. The V4 doesn't really do that – it would be a rotten commuter in London (not least because you'd be scared of getting it stolen). And it wouldn't be much cop for a tour of Scotland in January (where will you fit your topbox?)
One bike which has taken that path though is Yamaha's MT-07. Launched four years ago on the crest of Yamaha's new wave of sweet roadsters, it was, on the face of it, a middle-of-the-road budget naked, with decent specs on paper and attractive styling. Like Suzuki's SV650, Kawasaki's ER-6, Honda's CB650, it would do a solid enough job, without necessarily setting your hair on fire, we all thought.
---
The script has turned out slightly different though...
The middleweight MT (there's an MT-125, MT-03, MT-09 and the Yamaha MT-10 now of course) knocked everyone's socks off when launched – mostly down to the engine. Where we expected a budget plugger, aiming for cheap production costs and good fuel economy, with no concern for performance, we actually got a potentially classic design. A 270° crank layout gave a unique firing order, and while the peak output of 74bhp doesn't particularly stand out, it's matched to a gloriously grunty low-down and mid-range. That makes for a beguiling riding experience – the basic tech (no ride-by-wire throttle here) means you get a really direct relationship between your right wrist and the rear tyre, and the fuelling itself is spot-on, with none of the glitches you got on something like the original MT-09. The rest of the bike isn't as incredible – but stuff like the four-pot brakes, a 180-section rear tyre and braced swing-arm construction have kept the chassis at a higher level than the competition.

And the result was a smart little naked commuter, which would also keep experienced riders happy, that could lend its hand to a trackday without dismay, and with some of Yamaha's optional accessories, could be custom-tweaked to suit a wide range of needs. Your Yam dealer can offer stuff like screens and top boxes of course – but there's also an Akrapovic pipe, and even a full Öhlins upgrade kit, with replacement shock, front springs and fork cartridge upgrade.
That Öhlins kit was more relevant than you might think, because the one criticism of the old bike was the suspension. A bit boingy, soft and underdamped as stock, it didn't ruin the bike at all – but was an obvious hole in the otherwise faultless performance. So – for 2018, we're here in Marbella, Spain, to test a new MT-07, with tweaked styling, and a revised suspension setup.
The chassis changes aren't massive, and from the outside you'll struggle to notice. But the fork internals are uprated, with 16 per cent more rebound damping and a six per cent higher spring rate, while the shock now has rebound damping adjustment as well as preload, 11 per cent more spring rate and a big boost to high speed damping – 27 per cent more rebound and 40 per cent more compression. Phew!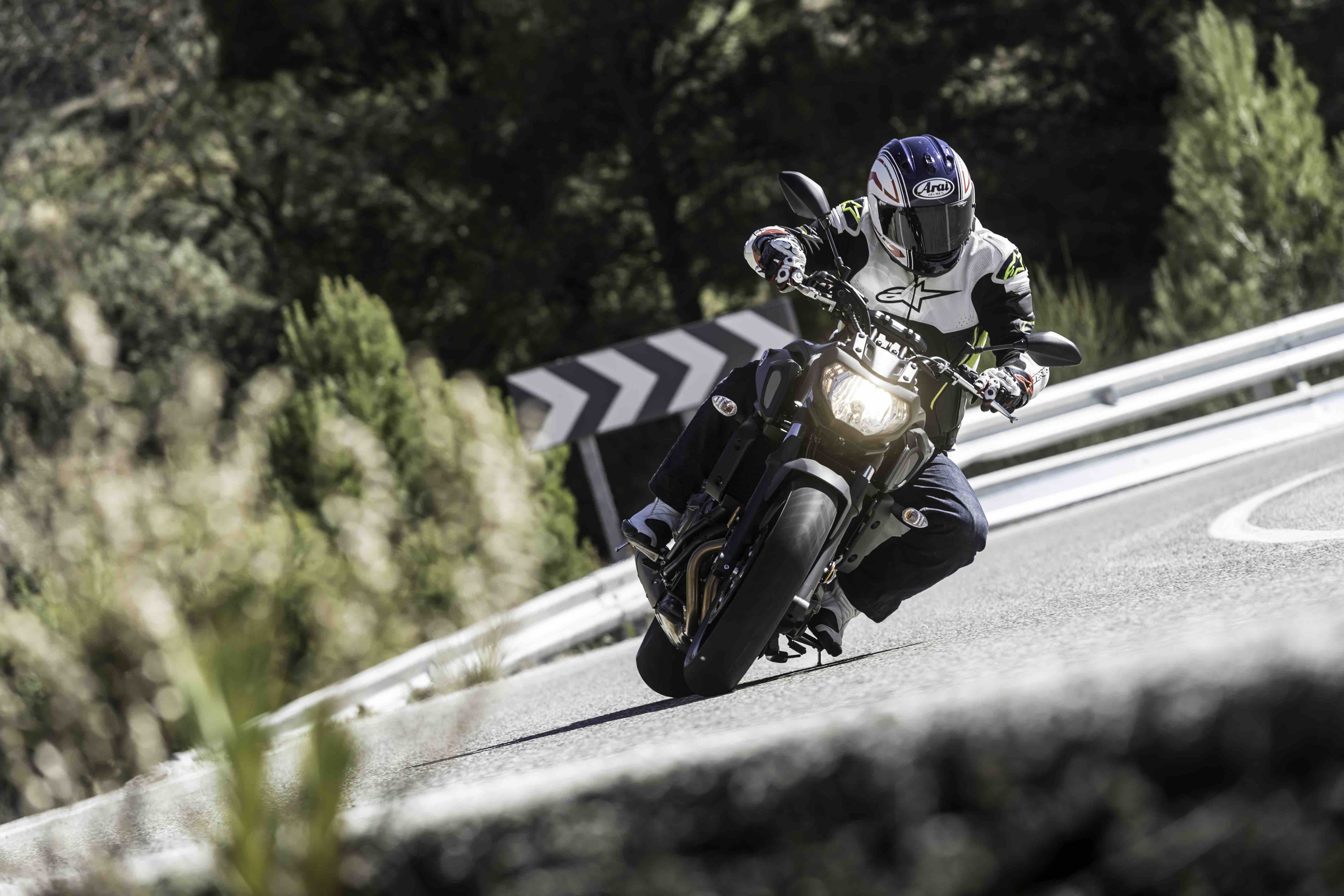 ---
Does it make a big difference though?
Well, we've got 250km of sunny Spanish mountain roads to help us find out. The sun is blazing down, and we're basking in the high teens, while Britain shivered in an Arctic blast. It's pretty much the perfect backdrop, as we charge up into the hills of the Sierra de las Nieves national park. That motor is unchanged for this year, as are the brakes, so I'm having a ball, hammering the gas out of bends and braking hard on the way in, trying to keep close to the Yamaha test rider up front. There's plenty of grunt for wheelies on the hilly backroads, in first and second easily off the throttle or on the clutch, and even in third if you pin it right over a rise. It's a barrel of laughs, and confirms that this little roadster has the cojones to cheer up even the cynical bunch of elderly hacks on this launch…
That suspension is good too. The old setup wasn't appalling by any means, just a little on the soft, basic, unsophisticated side. The new stuff isn't night and day: the essential layout is the same, but the tauter springing and damping moves the performance up a few notches. It's still clearly a middle-class roadster, but closer to the premium feel of pricier contenders. There's more than enough chassis skillz to scrape the pegs all the way round the long, sweeping bends we run into later on.
The only downside crops up on one shaded, super-twisty section of road, where the asphalt was polished, cool, and broken up in parts. Here, the stock Bridgestone BT023 rubber felt a bit distant and hard, eroding confidence until I lost first the front, then the rear, then both ends at once – eek. The rubber was much better away from that one section of road, but for me, it's the one weak point in the performance package. The BT023 was an ace tyre six or seven years ago, but there are better options now, and I'd want something grippier and sportier on there if I was buying an MT-07.
And that wouldn't be such a crazy idea. Like the Fazer 600 of the late 1990s (which I bought a couple of over the years), the little MT is more than the sum of its parts, and far better than its class requirements would strictly need. At just £6,349, and with an updated selection of accessories now available, the little Yam will be the answer to loads of riders this year – commuters, novices, and old hands looking for a compact fun runabout. The 2018 MT-07 – it may well be the best good bike you'll buy this year…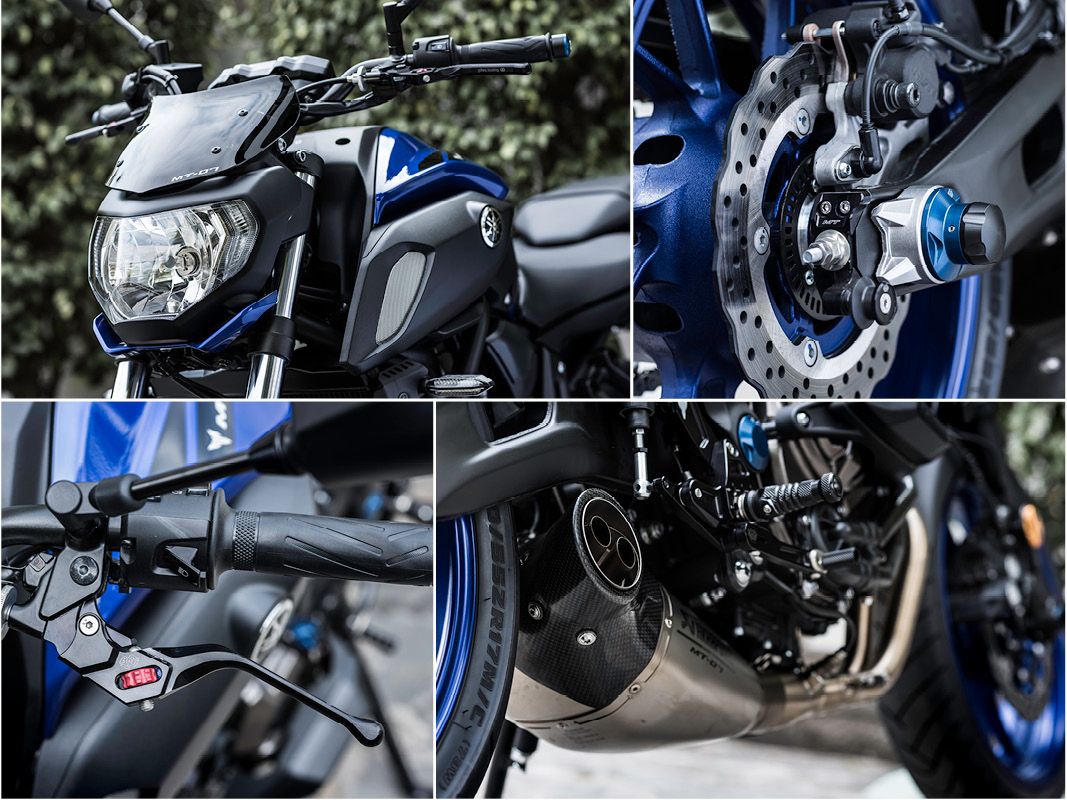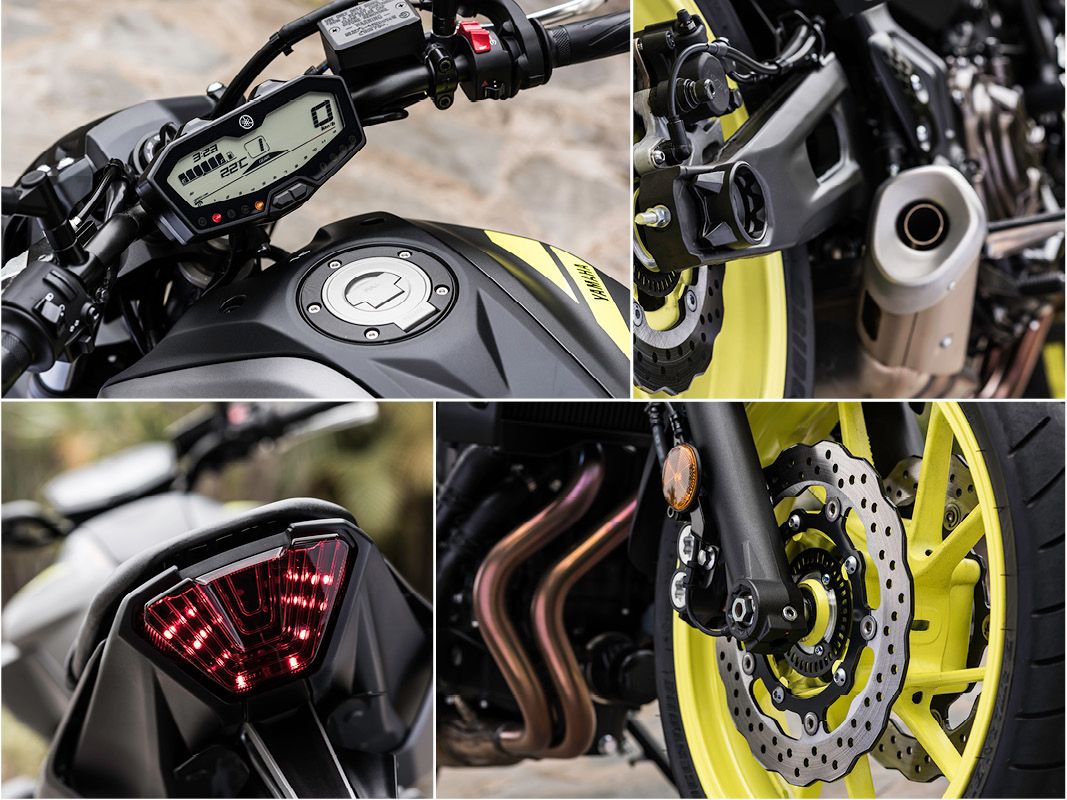 Value 4/5 (A little pricier than an SV650, but a better bike)
Practicality 4/5 (no screen or fairing as stock – we'd want a little fly screen at least for everyday use)
Performance 4.5/5 (Great performance from the motor)
Sex appeal 3.5/5 (A great looker consider the class)
---
SPECIFICATIONS

Engine: 8v parallel-twin, DOHC, liquid cooled, 689cc
Bore x stroke: 80x68.6mm
Compression ratio: 11.5:1
Max power (claimed) 74bhp@9,000rpm
Max Torque (claimed) 50ft lb@6,500rpm
Transmission: six speed, chain drive
Frame: steel tube diamond type
Front suspension: RWU 41mm KYB forks, non-adjustable
Rear suspension: KYB monoshock, preload/rebound adjustable
Brakes: Dual 282mm discs, four-piston calipers (front), 245mm disc, single-piston caliper (rear), ABS.
Wheels/tyres: Aluminium/Bridgestone BT-023, 120/70 17 front, 180/55 17 rear
Rake/trail: 24.5°/90mm
Wheelbase: 1,400mm
Kerb weight (claimed, kerb weight, full fuel tank): 182kg
Fuel capacity: 14 litres
Price: £6,349
---
Yamaha Motorcycle Insurance from BeMoto
Speak to a bike insurance expert about protecting your Yamaha - whether you have a PCX 125 Scooter, a Wr-250R dirt bike, an R1M for the track or an MT-07 everyday all-rounder.
At BeMoto we actually understand modifications and will ensure your modifications are covered for reinstatement (unlike most we replace declared mods like-for-like).
All our road insurance policies include Legal Expenses Insurance as standard and NO broker fees to make changes during the policy term.
With our awesome Titanium Cover you'll also benefit from Personal Accident, Helmet & Leathers cover and full UK and European RAC breakdown as standard.
Call a BeMoto bike expert on 01733 907000* today for a quote

---