---
Yamaha R7 vs Yamaha R7 (OW-02)
By Kar Lee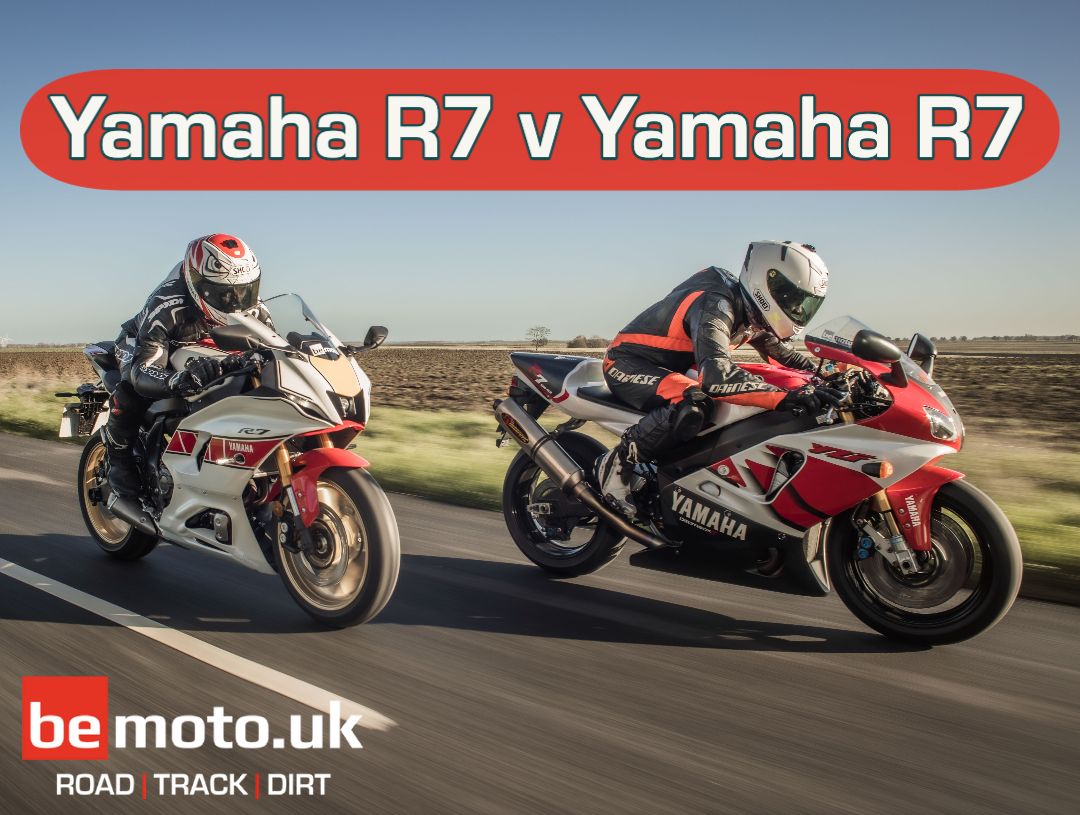 ---
Words: Kar Lee Photography: Jason Critchell
"They've called it a… what? Surely it should be an R-07?"
It would make more sense to follow the naming convention of the naked bike it's based on, thus differentiating it from the super-exotic WSB homologated 750 from 1999, y'know the one that was limited to a run of just 500 bikes. That was the reaction from many (myself included) when they heard the confirmation of Yamaha's new twin-cylinder, entry-level sportsbike.
---
But then the R1 isn't the R-01, and the R3 would need renaming too, meaning the entire Yamaha sportsbike range would be in disarray – let's not even mention the R125… So R7 it is then, and if a little of that WSB brand magic rubs off along the way then who's going to complain about that? I mean if Suzuki can call a twist and go scooter a Katana, then anything goes. In truth the controversy surrounding the name of Yamaha's latest sportsbike has only helped get it talked about. Some ask whether it "deserves" the R7 title.
We thought we'd take both bikes – the latest 2022 60th anniversary speedblock R7 twin (read our initial R7 road riding verdict) and the original iconic 1999 four-cylinder R7 for a B-road blast to see if we could answer that question.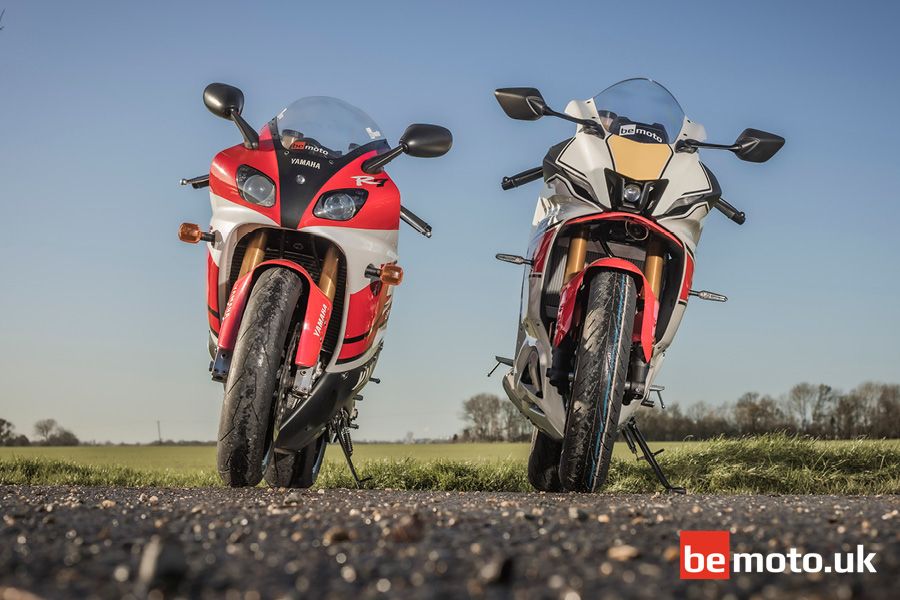 ---
Yamaha R7 v Yamaha R7 (OW-02) Bodywork, colours and design
With both R7s parked up next to each other the comparisons are unavoidable: The waspish, angular new bike has strong R6 aesthetics and is striking in its speedblock colours. It is slim enough to make the 1999 bike look bulbous, and slightly unwieldy… but that's over two decades of progress and two less cylinders for you.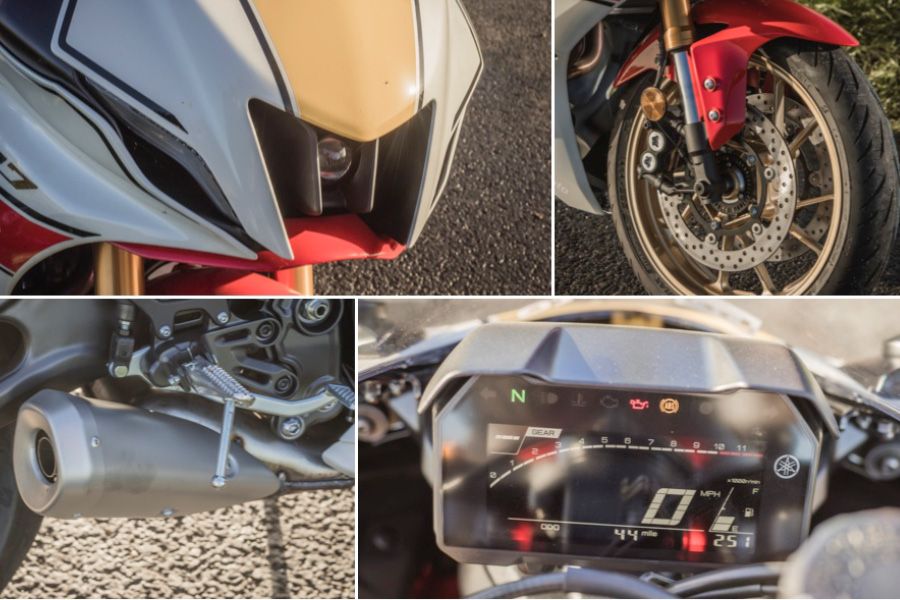 ---
It's a slick, modern design that's overcooked in places and the headlight in the central air intake screams afterthought. It's a solid effort, especially with this limited edition, 60th anniversary paint: but it doesn't quite fill this shirt out in the same way an R6 or R1 would.
The classic R7, on the other hand, might share a name but it boasts an air of class unmatched in the newer machine. Built, not to a price, but to win races whatever the cost, the bike that was codenamed OW-02 (which is what we'll call it from now to avoid confusion) came out just one year after the 1998 R1 and the same year as the original R6.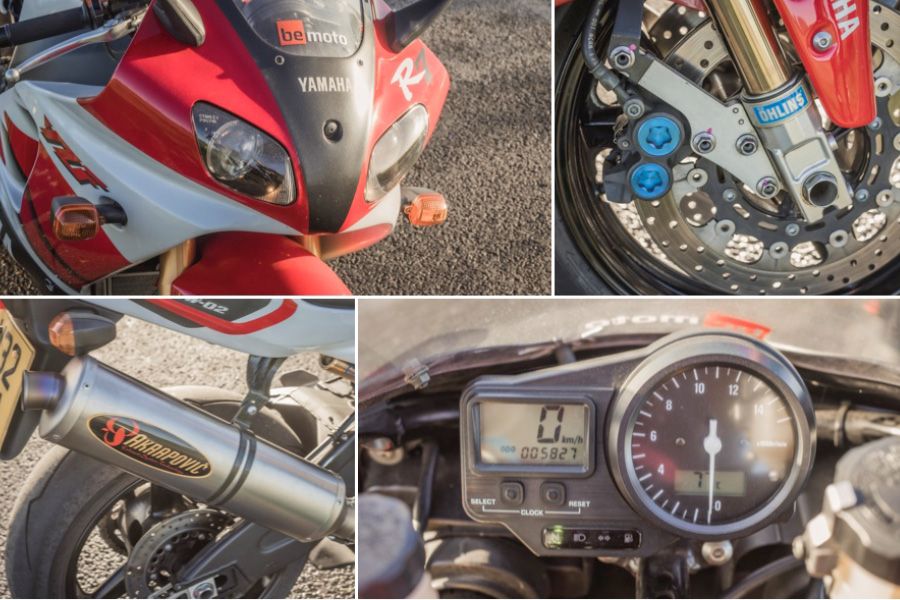 ---
With subtle styling differences the R7 hit the aesthetic sweet spot with its smaller headlight design, substantial single seat unit and black frame. The proportions are beautifully perfect; it's as if the Yamaha designers used a Fibonacci spiral (designer talk - google it) to calculate the R7's visual weight.
Each piece of bodywork earns its keep, there's an uninterrupted straight line from headstock to rear wheel spindle where the new bike is a mess in comparison with panels, gaps and lines that clash. The OW-02 is graced with a harmony the new bike doesn't understand.


---
Yamaha R7 v Yamaha R7 (OW-02) Riding experience
But enough about the eye candy, it's time to experience them. The new R7's display is exactly as you'd expect from a new sportsbike with its tidy full colour TFT screen. Ignition on and the dash comes to life with a wave of its tacho bar. A prod of the starter reveals an uninspiring tinny, sewing machine noise from the exhaust, as if it's missing a subwoofer. The bike loves to rev though, just wind the throttle on and 73 unintimidating horses propel you and your 188kg steed forward.
Yamaha R7 v Yamaha MT-07
Unlike the bouncy, laugh-a-minute that is the naked Yamaha MT-07 (whose frame it shares), the R7 is a more sophisticated ride with fully-adjustable forks, allowing for a more precise and stable experience through the twisties. This light weight helps the R7 hustle through unfamiliar roads with a nimble surefootedness that its naked sibling lacks.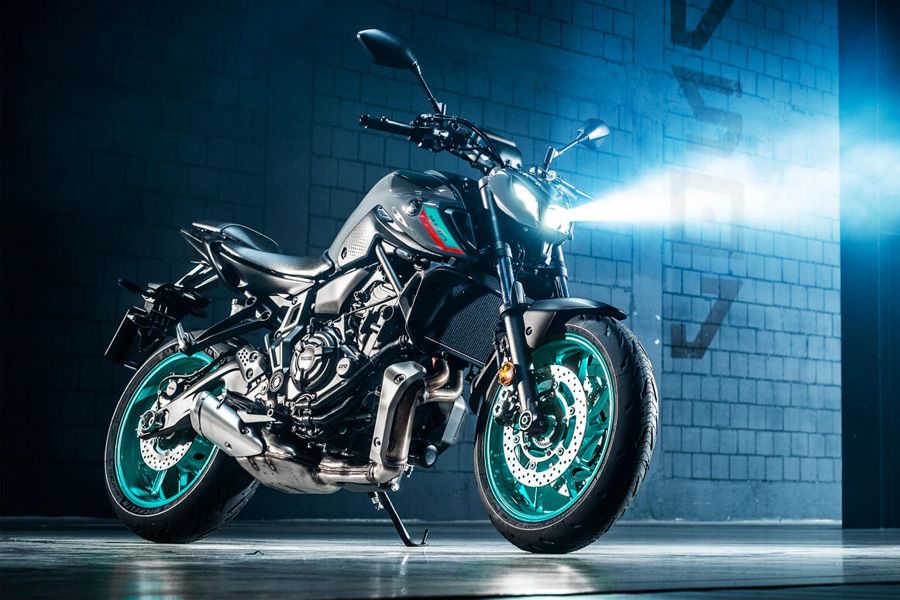 ---
The MT and R7 both share the same 270-degree CP2 engine, too. And while it's an absolute hoot in the naked bike, it feels underpowered in a sportsbike. Maybe it's the lack of noise, the additional handling ability courtesy of the higher grade suspension and sportier geometry, but the engine seems lacking. It also runs a one-tooth smaller rear sprocket for better top speed… But when you consider an Aprilia RS660 can be had for another £1000 which is better equipped and an extra 25bhp on top, the R7 has its work cut out.
1999 Yamaha R7 (OW-02) v The Year 2023
The homologation OW-02 R7 however, is another beast altogether that plays using a different set of rules. Key turned, ignition on, reach between the fairing for a tug on the cable-operated fast idle lever before thumbing that starter button. The 20-valve motor roars into life and sounds like every other inline-four of that era; throaty, aggressive, and wild.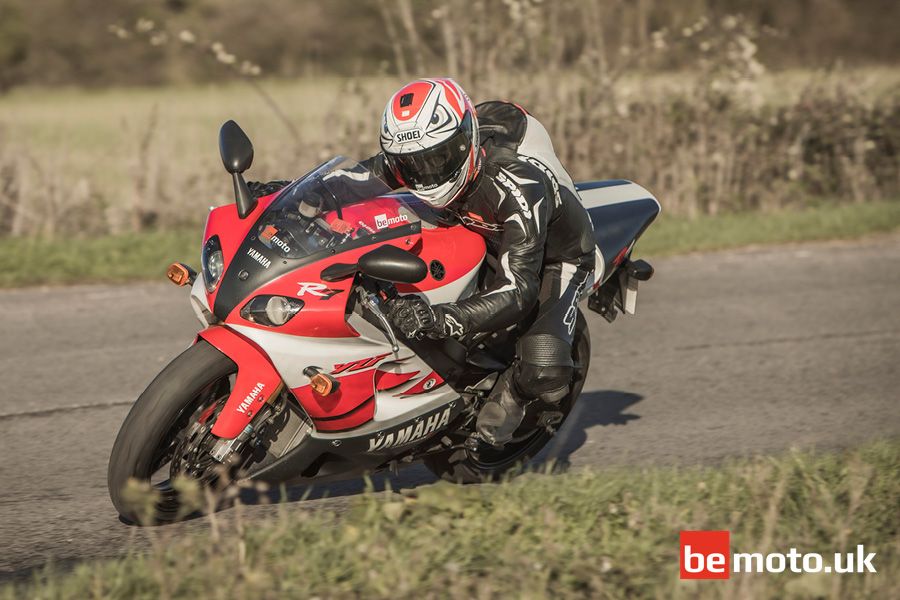 ---
This particular OW-02 (which is up for sale) has some of the required tweaks to take it above the stock real-world 100bhp (likely restricted to comply with German market requirements). My 'arse dyno' guesses that it makes around 130bhp. Surprisingly, the R7 didn't sell that well when initially launched – the R1 made 35bhp more power, looked similar and was less than half the price…
As stock, the R7 made similar power to the R6, but cost three times more and Nori Haga didn't quite win the 2000 WSB title on one (partly due to the controversy of a drug ban). Tales of discounting to £15k as the 40 bikes allocated to the UK stubbornly sat on showroom floors are not uncommon. Nowadays, things are very different and if you could find one for sale it'd be unlikely to have an asking price for less than £25,000.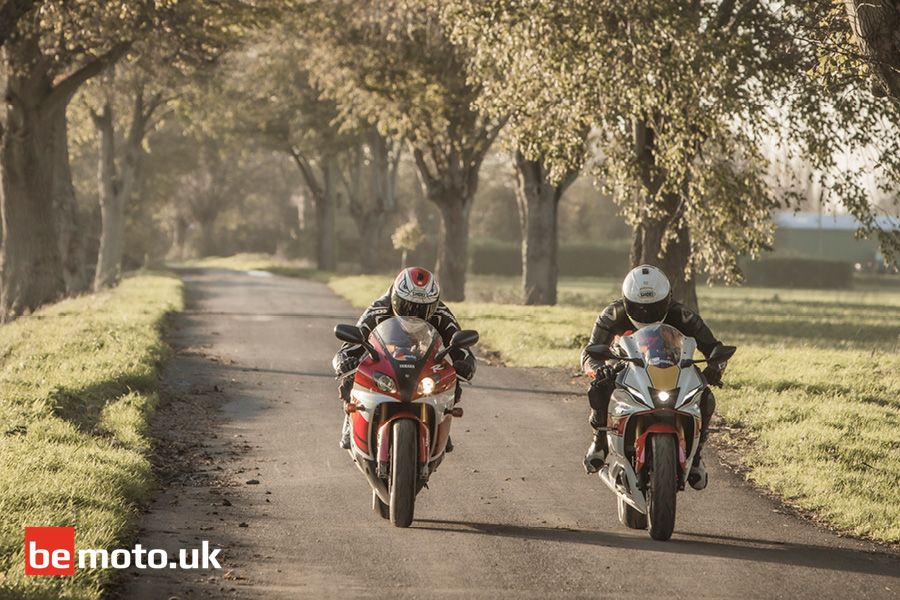 ---
On the move it is uncomfortably, uncompromisingly, and unashamably a hardcore sportsbike. The clip-on position is lower than the newer user-friendly R7 and the wide fuel tank splays your legs apart as most superbikes of that era did (bar skinny beasts like the Ducati 996).
While it is heavier than its younger sibling, what the OW-02 possesses in balance and poise allows it to cut through bends with an accuracy that belies its age. Having ridden this very same R7 on track (read about the OW-02 on track), the ride has a quality at all speeds that is more than the sum of its Ohlins suspension – it gels as a performance package and is unfazed the faster you go.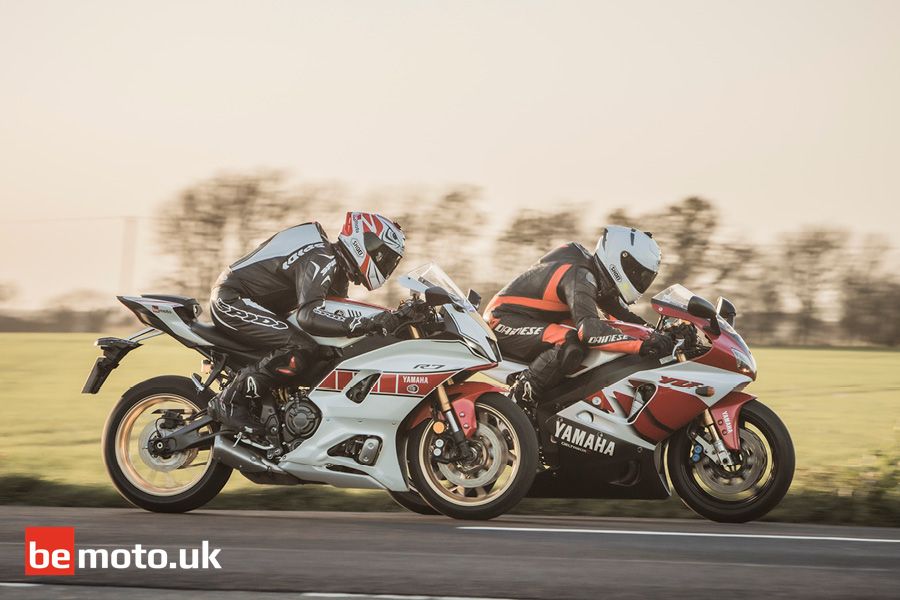 ---
As a riding experience, and I mean this as a compliment, it's comparable to a perfectly set up, modern-day R6 with a full exhaust system: A sweet-handling middleweight with a neutrality in its steering… but with a noticeable bump in torque.
Yamaha R7 v Yamaha R7 (OW-02) Riding verdict
So, with my gushing over the 24 year-old iconic R7, and snobbish criticism of its twin-cylinder sibling it's clear the classic R7 wins in a straight-up which-would-you-have scenario right? Er, no… it's not that simple.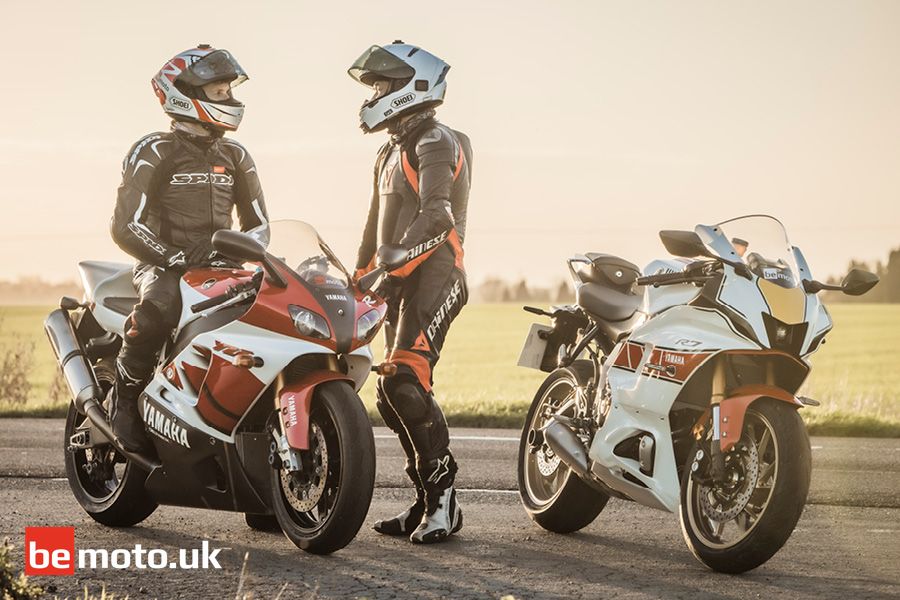 ---
For the price of 3 new R7s, you could get just one OW-02 R7, and if you're the kind of person that could put down that sort of money for the 750cc legend, then it's likely you could easily have a new R7 in the garage, too.
The reality of owning something so rare and exclusive is that you'd treat it with kid gloves, possibly to the point of never taking it out of its velvet-lined vacuum-sealed bag, let alone riding it with the gusto that you would almost certainly do on the newer bike. I mean with the fuel tank alone costing over £10,000… more than the entire cost of a new R7, just how regularly, and how hard would you ride it?
Personally, if I had £25k burning a hole, I'd take two of the new kid, some GYTR parts (a race exhaust is a must), a fistful of trackday bookings and enjoy thrashing the bejeezus out of them. So to answer the question of whether it's deserving of the R7 moniker, I'd say "no", followed by "…and it really doesn't matter".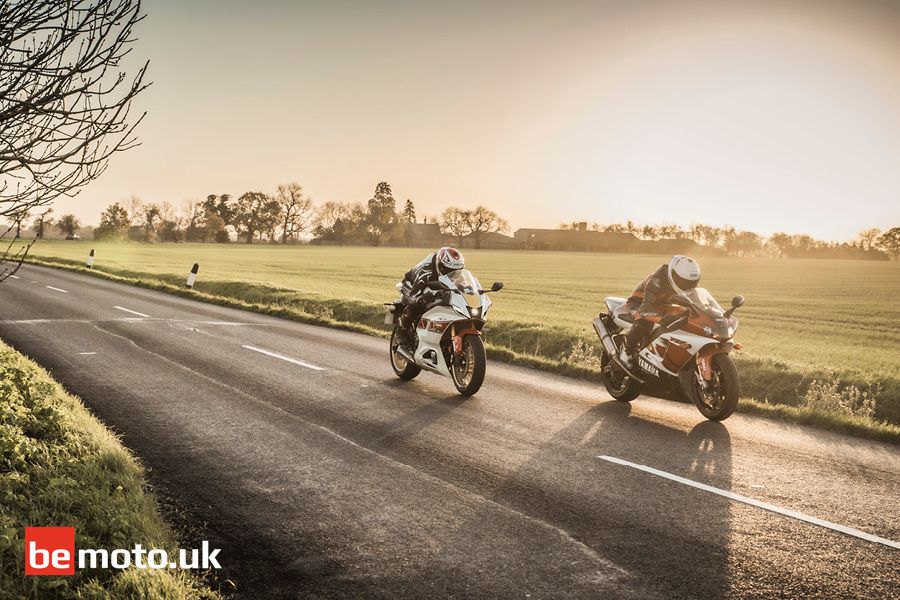 ---
Are you feeling nostalgic about the legendary OW-02? Our friends at Bike World TV recently took it for a spin in their Dream Rides feature.
Here at BeMoto Motorbike Insurance we will gladly insure your R7 regardless of age, value or number of mods, because we love them! Call our friendly team on 01733 907 000 for a quote.

---