---
Yamaha XSR900 GP-inspired Retro Racer
By BeMoto

Yamaha pays tribute to their Grand Prix heritage with the new XSR900 GP 890cc triple
The clocks have gone back, the nights are drawing in and it won't be long before local kids start terrorising the neighbourhood dressed as their favourite Halloween characters. Thankfully though, Yamaha have released details of their retro-GP styled sportster as part of their sports-heritage line up, paying tribute to their racing legacy with the Grand Prix inspired 'Legend Red' colour scheme to brighten things up… And it looks stunning!

By Rikita - Own work, CC BY-SA 3.0, Link
Picture: Eddie Lawson (aka "Steady Eddie" as he rarely crashed) riding the YZR500 in 1990. The first GP500 rider to win back-to-back MotoGP world championships with two different manufacturers (Yamaha 1988 and then Rothmans Honda 1989).
---
Official Launch Photos of the XSR GP
The XSR900 was first released in 2016 with a refresh in 2022 including the introduction of the Deltabox frame, which is still at the heart of many Yamaha bikes after 40 years (first featured in the 1982 YZR500 OW61 GP bike and then into road production with the TZR250 in 1985).
The first official pictures of their XSR900 GP stir up some nostalgic memories of the 'good-old-days' when legends like Eddie Lawson and Wayne Rainey raced the factory 2-stroke GP 500s - minus of course the iconic Marlboro and Lucky Strike branding ("smokers" in all senses of the word) - that's assuming you don't fancy the John Major inspired 'Power Grey' XSR instead!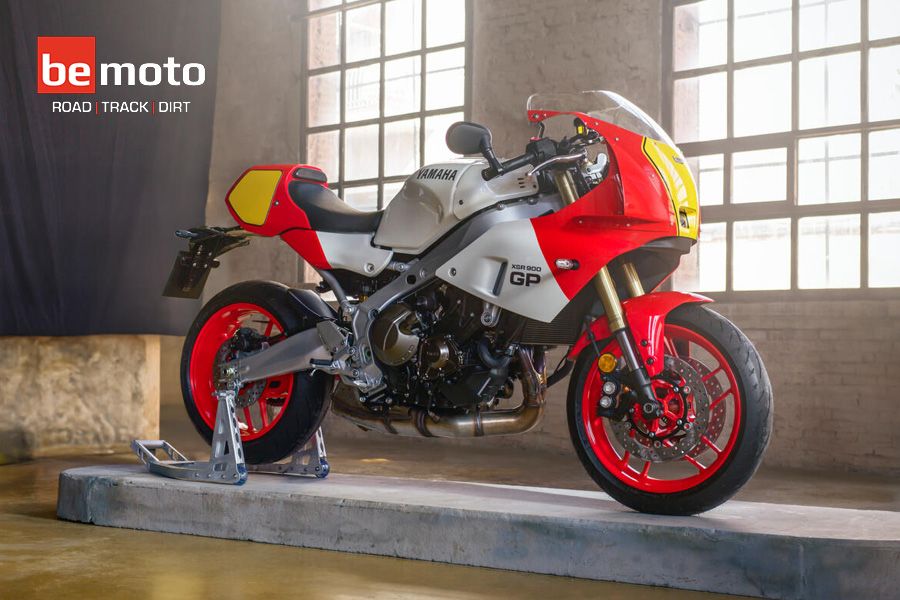 The 1980s boxy cowlings and seat hump with yellow number boards, along with the separate 'clip on' handlebars and adjustable footrests, for a sportier riding position, all work together to give it a true retro-racer feel. The KYB upside down front forks are fully adjustable (preload and compression / rebound damping). Remote preload adjustment is intended to make customising the front end feel a simple job. The link-type rear suspension actuates a forward-inclined fully adjustable KYB shock (almost hidden away) to maintain the slim and sporty performance at the rear.
The frame has a silver finish which accentuates the Deltabox characteristics, and the red spin forged wheels all finish the look off beautifully.
Whilst it doesn't have the raw power, or that glorious two-stroke smell, of a golden-era v4 superbike - it does have a certain charm and good looks that will appeal to an audience of a certain age (ahem)... And of course nostalgia sells, so harking back to their iconic world championship winning GP bikes will definitely part a few people from their folding. Plus it shows that you don't need a 200bhp hyper-sport to look great or have fun, at 115bhp this bike will still make you smile from ear-to-ear and draw a crowd at any bike meet - afterall it has that 'look-back' factor that will make you look over your shoulder as you walk away like a love-sick teenager.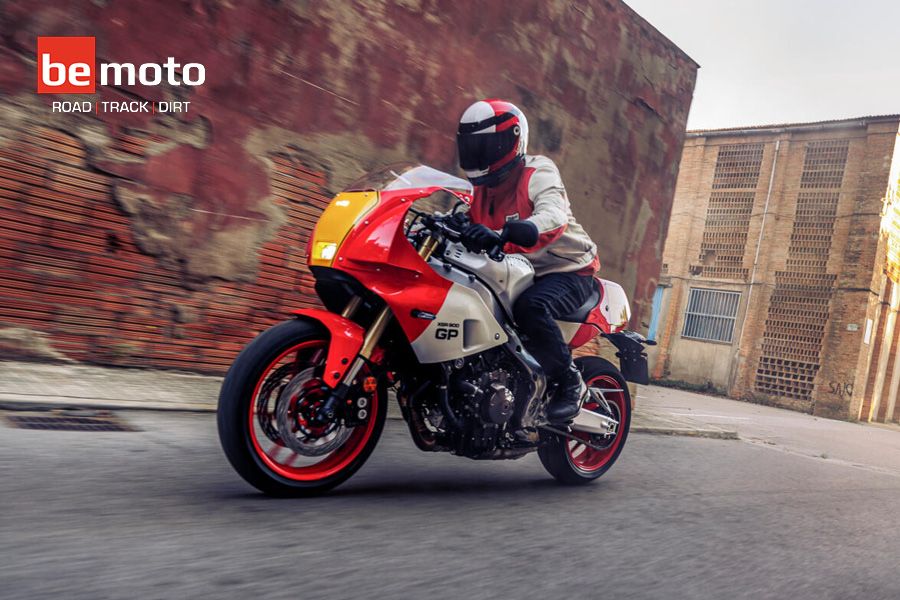 ---
Specifications
As is typical of the retro-modern bike genre, it blends nostalgic design with 21st century engine, chassis, braking and suspension technology (plus the smartphone MyRide app and digital dash) to bring you the best of both worlds:
Engine: 890cc 4-stroke, Liquid-cooled, DOHC, 4-valves, 3-cylinder triple (CP3)
Chassis: Deltabox Frame (Diamond) in silver
Max Power: 87.5 kW (119 PS / 115 BHP) @ 10,000 rpm
Max Torque: 93 Nm (9.5 kg-m) @ 7,000 rpm
Suspension: KYB upside down telescopic forks and swingarm link-type suspension with fully adjustable KYB shock
Seat Height: 835mm (with a hump style pillion single seat cover to compliment the 80s GP cowling)
Fuel Tank: 14 litres (electronic fuel injection)
Weight: 200kg wet (inc. fuel and oil)
Transmission: Constant Mesh, 6-speed (chain drive) with quickshifter / autoblipper
Dash: 5" TFT screen (with 4 different themes) and Bluetooth MyRide smartphone connectivity
Wheels: Lightweight spin forged wheels with new Bridgestone Battlax Hypersport S23 tyres
Colours: Iconic 80s/90s GP 'Legend Red' (red white and yellow), or bland 'Power Grey' (black and grey)
You can find out more at Yamaha.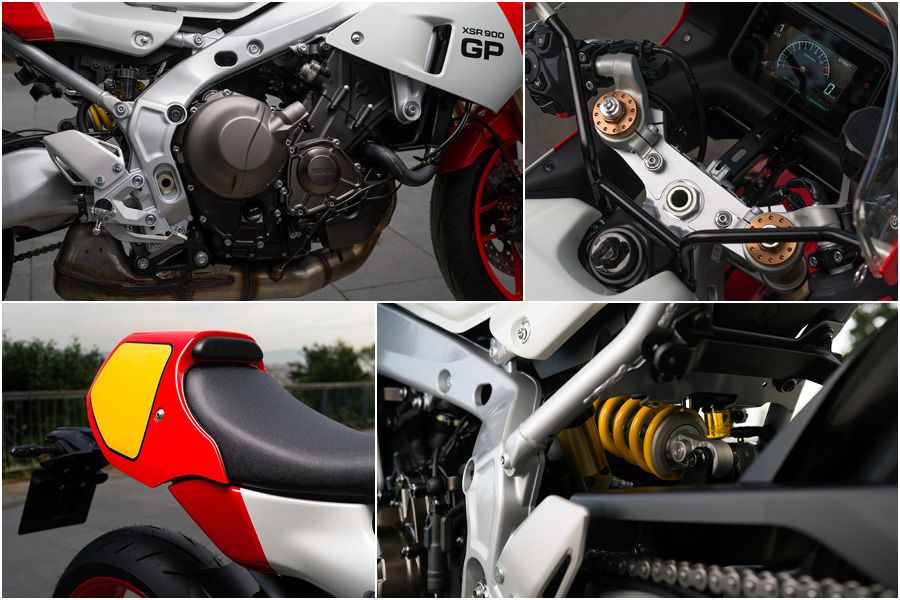 ---
XSR900 GP PHOTO GALLERY
Here are a selection of images of both colour schemes to wet your whistle, leave an FB comment below to tell us what you think.
GP 'Legend Red'
If you like to stand out in a crowd then this one is for you (assuming of course that everyone else doesn't have the same bike)!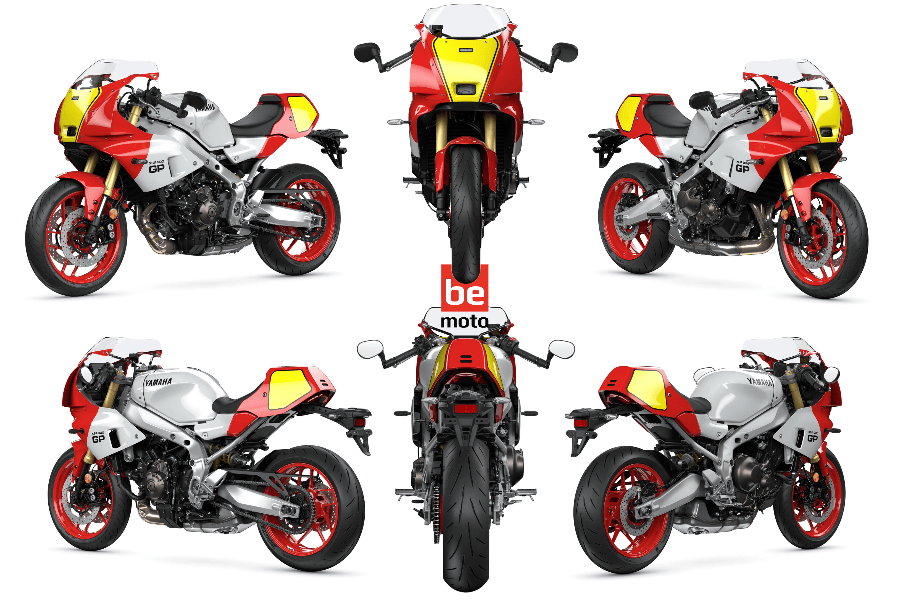 John Major Inspired 'Power Grey' (more peas Norma?)
If you prefer your GP heritage classic to blend in to the background then this will be right up your street. Still classy though ;-)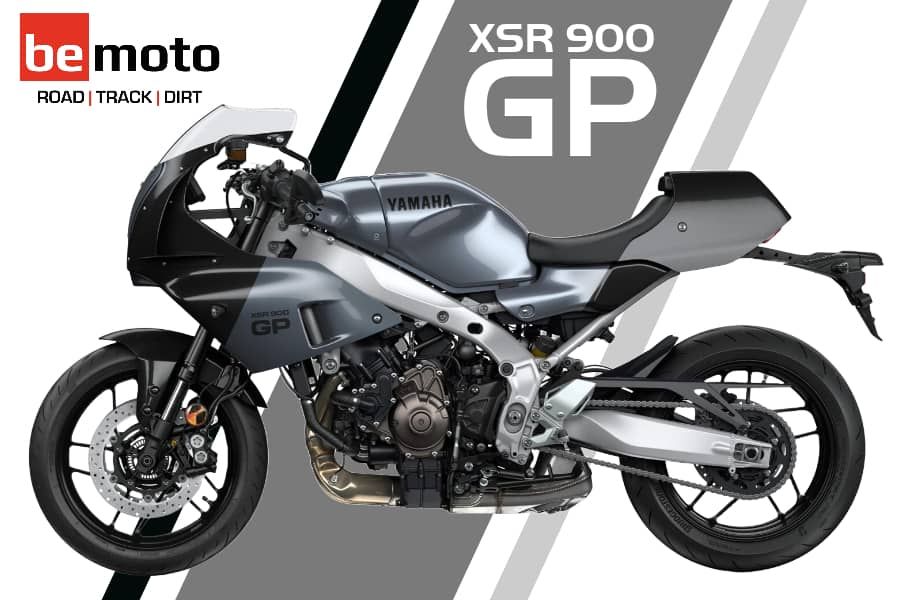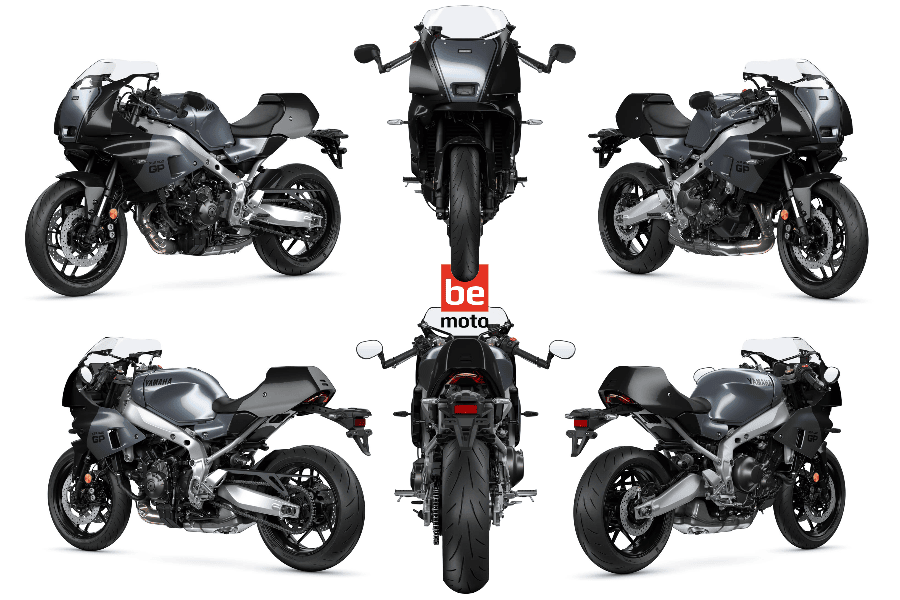 ---
Yamaha Motorbike Insurance by BeMoto
As bike insurance specialists (road, track and dirt) and bikers ourselves, we are big fans of Yamaha, owning a number of models in our team. Who better to trust with your Yamaha bike insurance than BeMoto, with market leading products, service and NO amendment fees to make policy changes. Check out our range of Yamaha insurance products, including:
Call us today on 01733 907000 to speak to a Yamaha Insurance specialist
---