---
Yamaha YZF-R7 World GP 60th Anniversary - Review
By Luke Brackenbury
Pros
Looks great
Proven engine
Basic - less to go wrong
Competitively prices
Cons
Need the gearing changing for more excitement
Quickshifter as standard would have been nice
Not as versatile as the competition
Basic - hardly any tech
All show with enough go?

The World GP 60th Anniversary Yamaha YZF-R7 certainly looks the part, but the 'R7' badge is a legendary one to wear. Does this new parallel twin supersport step up to the mark?
---
Yamaha YZF-R7 World GP 60th Anniversary - Background

The Yamaha CP2 parallel twin engine has been somewhat of a saviour for Yamaha. This engine has powered a new wave of riders to the brand of the three tuning forks (the logo, innit), mainly thanks to sales (over 160,000) of the MT-07 - a relatively inexpensive middleweight naked with a ridiculously fun engine, modern looks, questionable suspension (it has got better…) but loads of fun.
In the spirit of getting good value from millions of yen invested into it, the versatile CP2 engine has gone on to power the Ténéré 7, XSR700, Tracer 7 and now the YZF-R7 to make sure that riders of discerning tastes are more than catered for. Sound business logic. Come in via the MT-07 and then realise you want something a bit more all-year practical - hello, Tracer 7… And then there's the CP3 engined-range.
As for calling it an R7. Not everyone will remember the limited edition, 500-built homologation OW-02 needed to go World Superbike and Suzuka 8 Hours racing, but we will compare these bikes another day…
But while expensive, multi-cylinder supersport bikes are on the wain (the R6 is now only available as a track bike and the R1 will surely follow this at some point), due to the expense of homologating them for road use against increasingly stringent emissions standards coupled with a lack of demand, that means there's a gap for lower power, cheaper machines with the same sporty looks. Sales of the R125 and R3 can attest to that.
Anyway, the R7 has been a long time coming but at last it is here. The Yamaha supersport genetics are clear to see and, to make it even more appealing, the introduction of the World GP 60th Anniversary edition to celebrate its Grand Prix successes with the iconic (if you're of a certain age) white and red "speed block" colour scheme.
And if you've done the maths, the 60th anniversary was in 2021. But due to horrendous supply issues, the bike only rocked up this year (2022)…
---
History Lesson
Yamaha's involvement in Grand Prix racing started way back in 1961 when the company entered the French MotoGP to compete at the highest level. The team's first victory came soon after, and Yamaha won the first of many World Championships in 1964. The race wins continue, with over 500 victories recorded to date. We are sure there are more to come, as long as they keep Quartararo and fit his M1 with a turbo.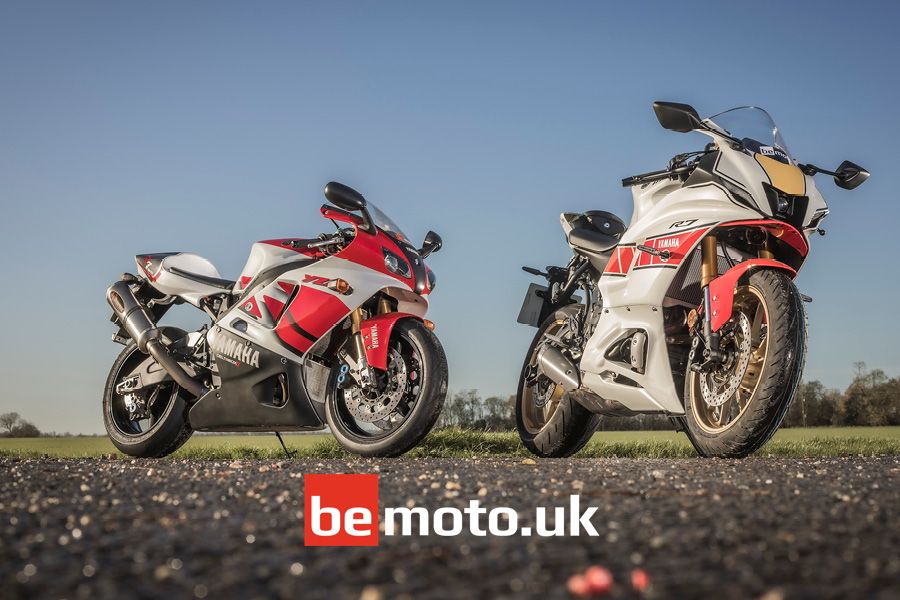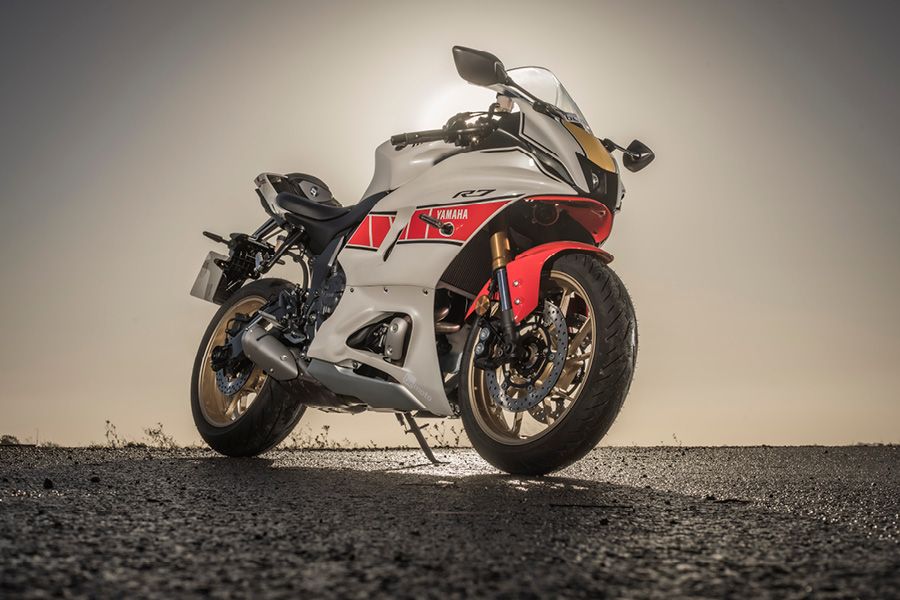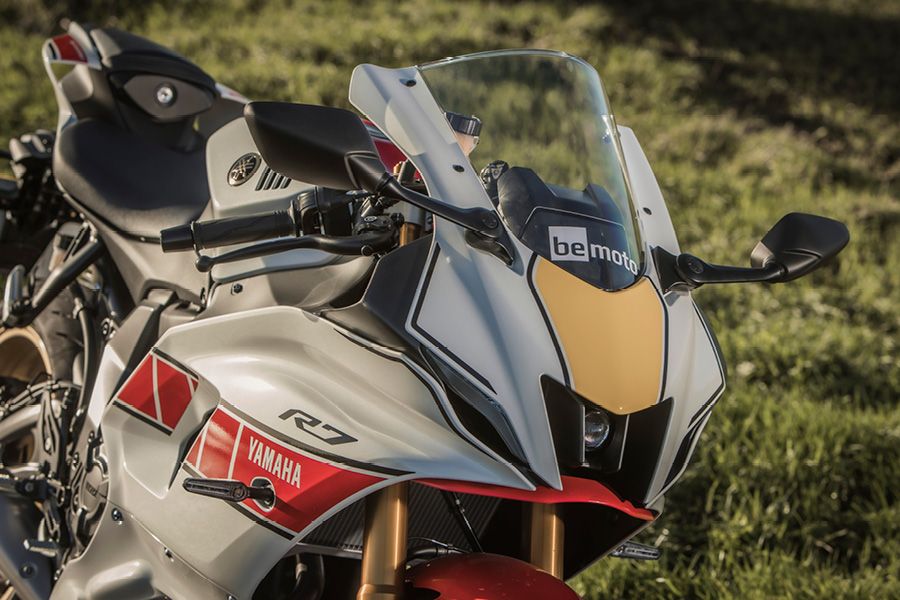 ---
Yamaha YZF-R7 - What is it?
The YZF-R7 takes the engine from the MT-07, adds a slipper clutch and that's about it - everything else is dedicated to this bike and we've already explained that this special paint job version celebrates Yamaha's GP history and success.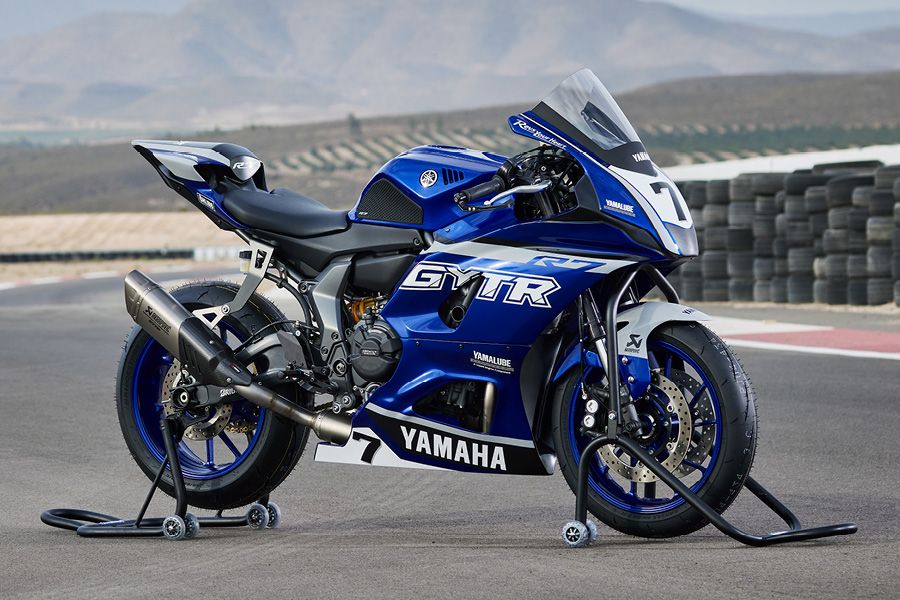 Is this a track bike on the road? Certainly not. But throw enough GYTR (Genuine Yamaha Technology Racing - which is a bit of a crap name but a cool sounding acronym) parts at it, and there's a sweet handling race bike to be had and the action from the R7 race series has been nothing short of epic. Watch 2022 Yamaha R7 European SuperFinale Highlights.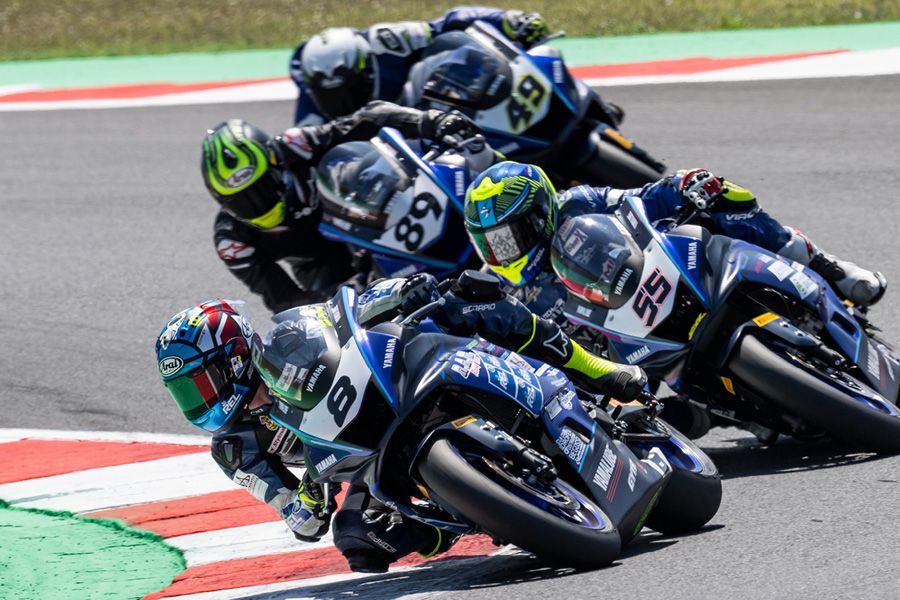 But this is a road bike with sporty looks, every day riding ergonomics (we will come to that later) and under the 'important' sub £10k price point to not be a wallet/monthly payment-busting amount.
---
So what are the R7 rivals?
In terms of sports bikes with a similar engine displacement, the R7 is up against Honda's CBR650R (£8,149), the Kawasaki Ninja 650 R (from £7,599) and Aprilia's awesome and tech-heavy RS660 at £10,149 (you'll get one for under £10k). The Aprilia is certainly the most sporty and has electronic riders aids and the price difference between it and the Yamaha has narrowed since both were launched.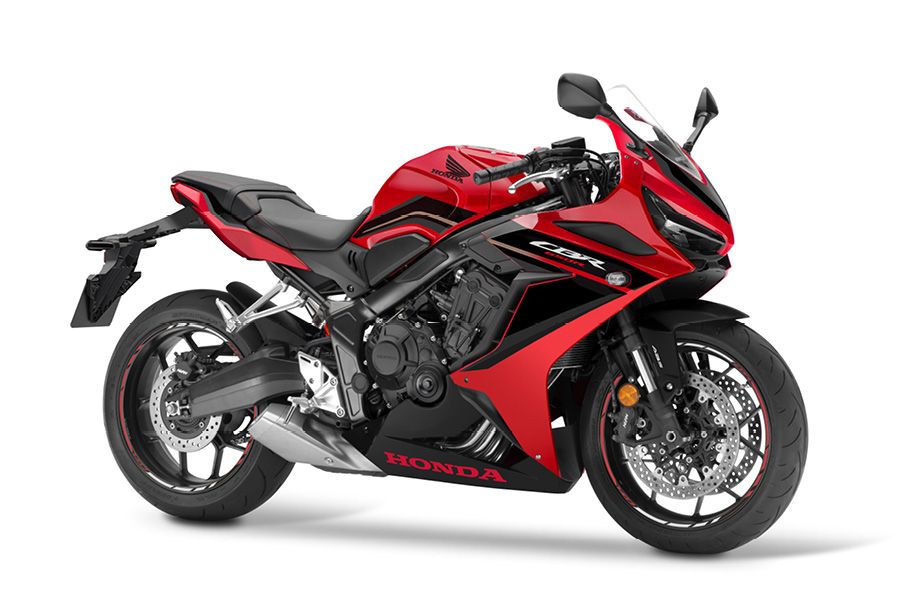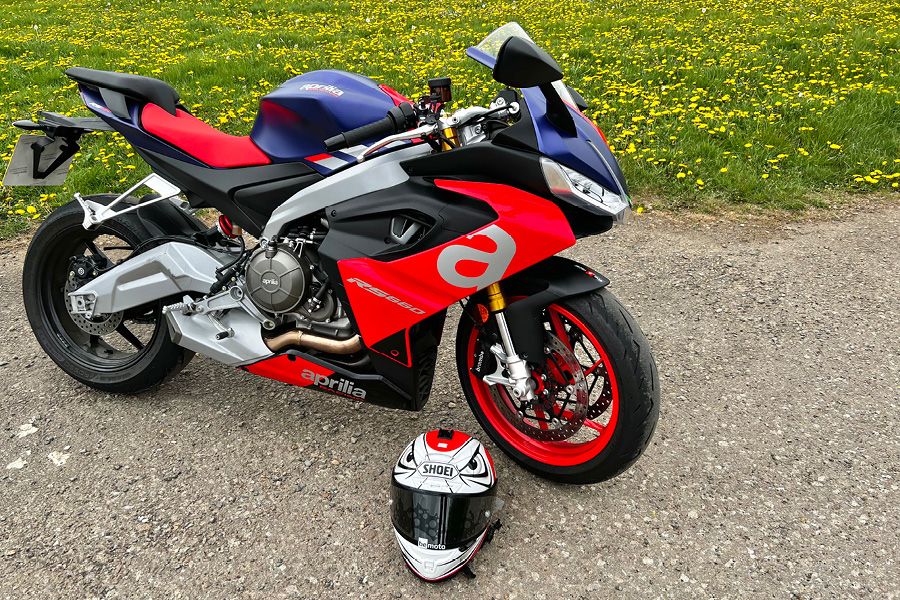 ---
So what's new?
The bike is all new! But how long the special edition paint is available for will depend on stocks, but we believe it was only for a single production year that has bled from 2021 into 2022.
Who is it for?
A rider who is maybe coming up through the capacity and power ranks and wants sporty looks but doesn't see themselves rocking up to track days. There's certainly enough performance to excite without intimidating.


What variations are available?
Technically, none. There's only colour variations. The gorgeous World GP 60th Anniversary white with red 'speed blocks' and gold wheels, or the standard (and £300 cheaper) black or blue versions.
White and Red World GP 60th Anniversary edition
Black
Blue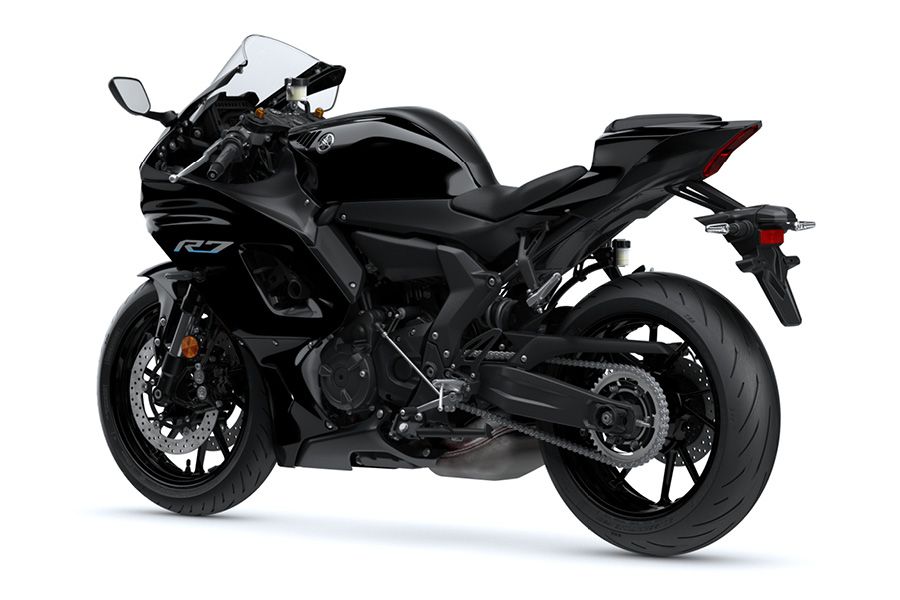 Price and availability
In all good Yamaha stores now. But in just a year, the price of an R7 has risen by £700 - no matter which colour you want. Crazy. The Yamaha YZF-R7 World GP 60th Anniversary edition is £9,200 while the 'standard' editions roll in £300 cheaper at £8,900.
The smart money would say the Anniversary edition will be more desirable and less common, so that £300 extra could be a good investment when it comes to resale and if you're a bit more flamboyant.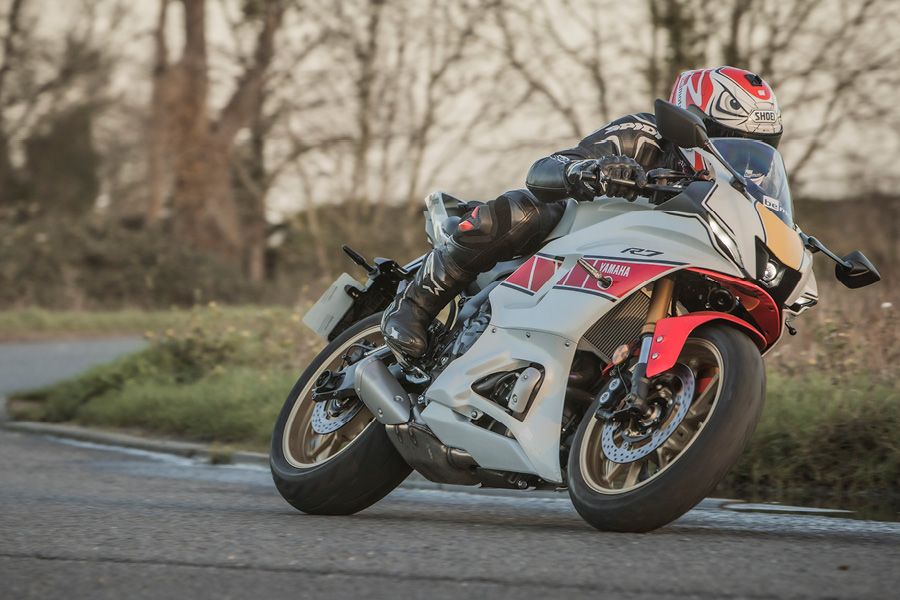 ---
Technical highlights

Well, there's not a lot. No electronic rider aids, TFT dash, bluetooth connectivity or central locking: hit the starter button and go!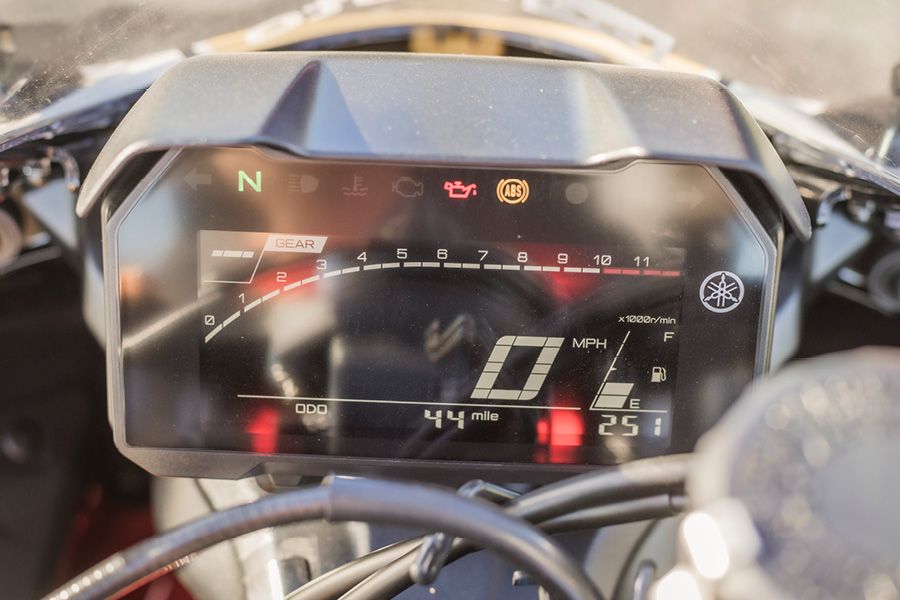 ---
Yamaha YZF-R7 Chassis highlights
The frame looks like the MT-07's but this was built specifically for the R7. Suspension wise, there's enough adjustment front and back to accommodate a wide range of rider weights for day-to-day riding, but push hard and the limitations will become apparent.
The R7 World GP 60th Anniversary is the first CP2-engined Yamaha to be equipped with an Assist & Slipper (A&S) clutch that delivers smoother gear shifting and prevents engine over-rev and rear wheel hop during hard braking, resulting in more predictable and controllable handling when approaching corners. In real world terms, the A&S clutch also provides a much lighter feel at the lever.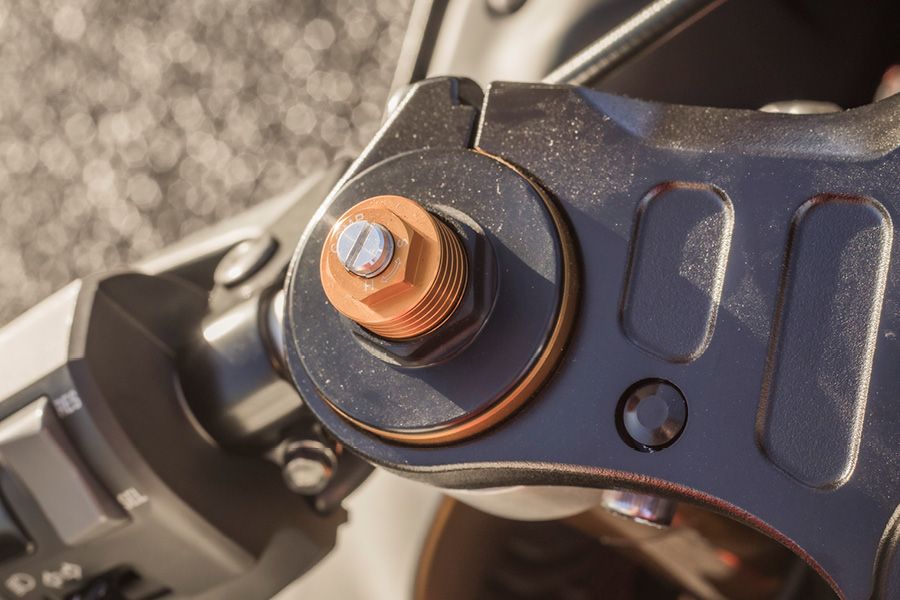 ---
Engine highlights, power and torque

The Yamaha CP2 engine is a gem - compact, light and pumping out 72bhp @ 8700 rpm and 49.41 ft lb of torque @ 6500 rpm. Lovely job.
To quote the Yamaha blurb: "Its 270-degree crank gives an uneven firing interval that ensures a lively and exciting feel as the revs rise – and its linear torque output enables you to lay down the power efficiently for faster corner exits."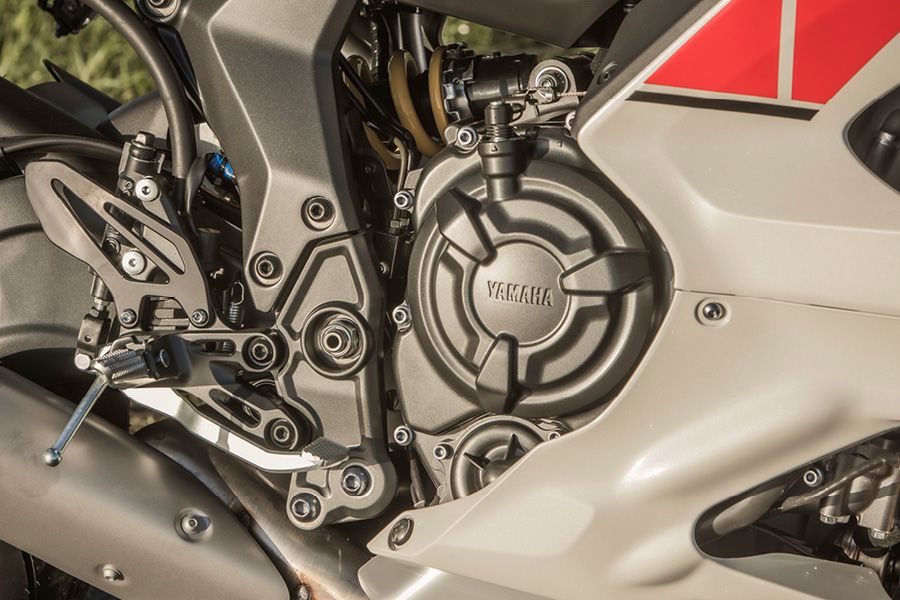 ---
Exciting? If this is your first bike and you passed your test on a well-beaten Kawasaki ER-5, maybe. That official line could accurately describe the MT-07, but with the R7: something is different.
Over its naked cousin, perhaps it's the riding position of more weight over the front that makes it feel less lively. Or maybe the additional 4 kg coupled with that the one-tooth taller gearing makes the difference. This sprocket change, along with the better aerodynamics, is claimed to give the R7 an '8% top speed advantage' over the MT-07. But stuff that, how often are you at top speed (don't answer)? For cheap performance hikes, fit a one or two teeth bigger rear sprocket to this bike and then every turn of the throttle will be more joyous.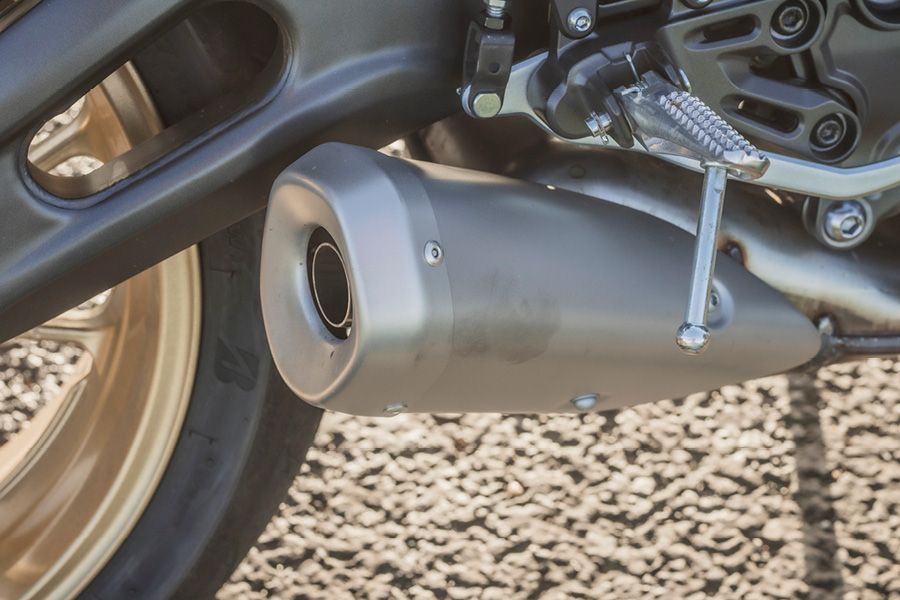 ---
The second thing you need to do is remove the standard can as the bike sounds like a (quiet) sewing machine. Don't buy anything lairy and insurance invalidating, just something with a bit of burble. The £1,578 full Akrapovič system is probably a little excessive.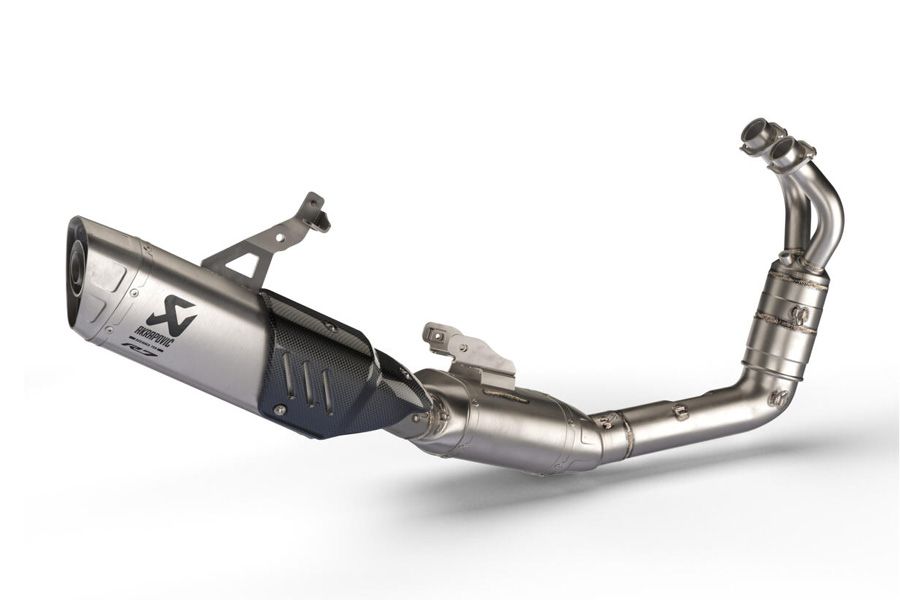 ---
Accessories

There's not a standard bike that doesn't need modifying (that's why we love modified bikes!), and the R7 isn't excluded from this. Yamaha offers a whole range of items which you can most likely get lumped in with a PCP deal.
We've mentioned it needs an exhaust, but we like the Style Pack. Yes, it costs £511.50, but you save £62 over buying the parts individually. This includes the following items, but being totally honest the last two probably aren't necessary.
Quick Shifter Kit: increases bike control and allows for quicker, effortless up-shifting
Licence Plate Holder: creates a dynamic and sharp looking tail
Sport Screen: high quality, durable screen for additional protection and more sporty look
Tank Side Grip Pads: for effective grip when cornering or shifting weight
Billet Front Brake Lever Guard: custom designed and offers brake lever protection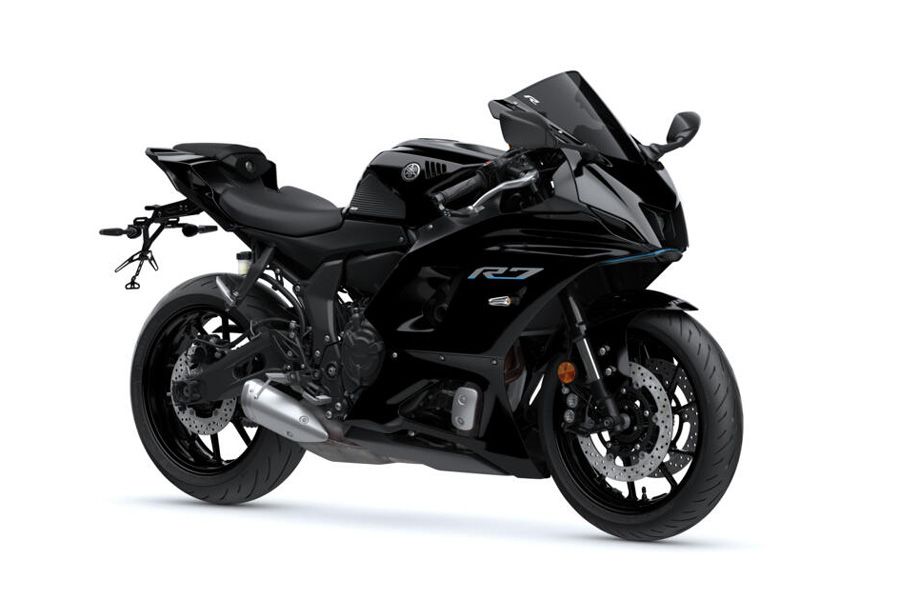 ---
Electronic rider aids
Well, there's the electric start, digital display and ABS (but that's mandatory anyway…). For those purists outs there, the R7 hasn't got a lot of buttons and options to confuse. Just ride.
Comfort & adjustability

The R7's 835 mm seat height isn't exactly low, but the narrow design of the bike gives legs more of a direct route to the floor. At 172 cm / 5'7" (on a tall day), I've no issue moving the bike around nor fear coming to a stop and being on tiptoes.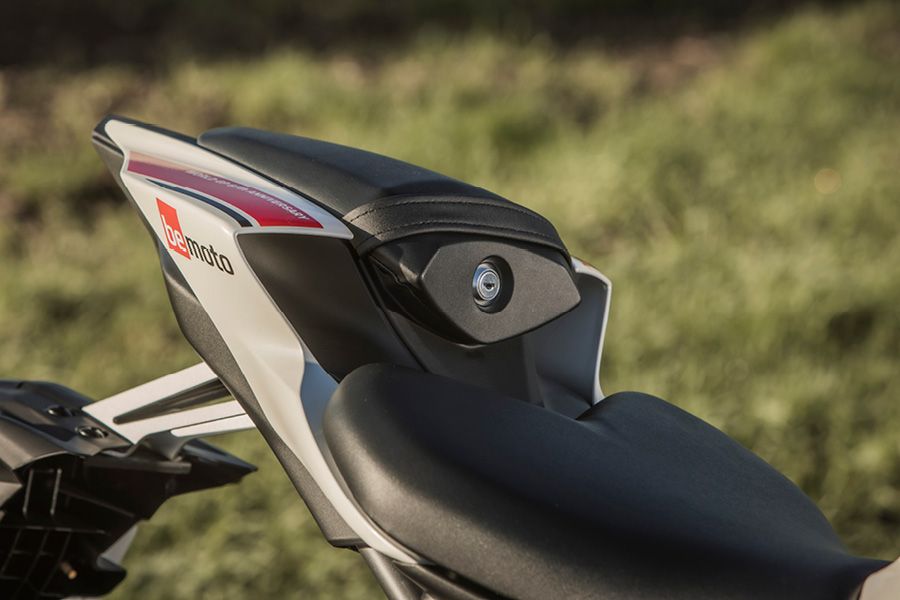 ---
The seat is plush enough and anyone planning a long distance ride on this bike most likely has young, supple bones for it not to matter. Most typical owners of the R7 will probably use the bike for weekday commutes and weekend blasts and that won't be a problem at all.
In terms of adjustability, there's the span on the front brake lever and the mirror position ;-)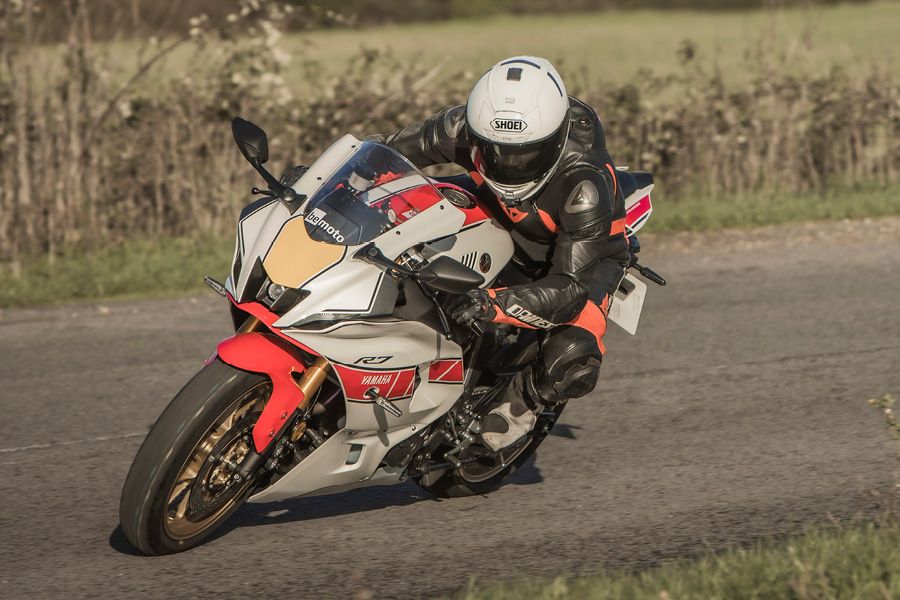 ---
Yamaha YZF-R7 Riding Review
While the MT-07 (from £7,500) doesn't pretend to be anything but a great value, sporty naked with an emphasis on fun to deliver a rewarding ride, the R7 in comparison is a bit more muted (no, I'm not talking about that exhaust again) and uninspiring to ride. And no, I'm not hung up on it being called an R7 (referring to the limited edition YZF-750 R7 OW-02) and having no real sporting credentials.
It's a handsome bike for sure and with it you're buying into Yamaha's amazing supersport legacy: it looks like the real deal. But the previously mentioned taller gearing and extra weight makes for a less enjoyable ride over the MT-07. It's comfortable enough, the brakes are good enough, the screen is a bit low and it would be nice if the quick shifter came as standard.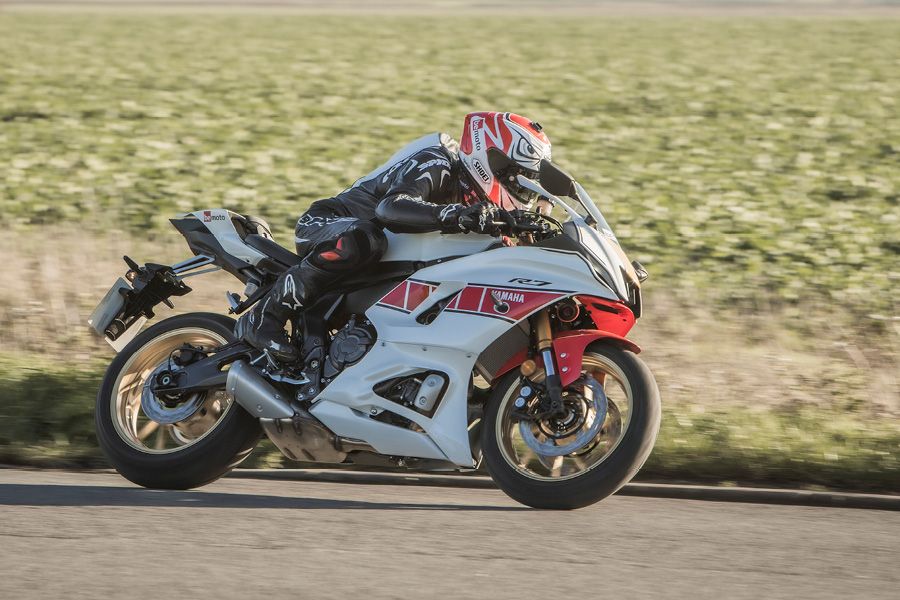 The riding position is racy without being too achy - but is the most focussed from its natural competition, so look to the Ninja 650 and CBR650R if you want comfort. The chassis remains composed even over the most bumpy roads, but I can see that soft suspension tying itself in knots when pushing on a bit.
While this is a great bike to build confidence, this is a sports bike by virtue of a full fairing and low(ish) bars..
---
Final verdict
If you want a comfy, Yamaha supersport-looking bike that's not intimidating and with plenty of grunt you'd get pretty much the same result from a YZF600 Thundercat at a lot less money. Then again, these came out in 1996 so clean, unmolested ones are few and far between and there's the worry about reliability with an old bike. So that's a poor comparison - we were just being budget conscious.
Where the MT-07 has really captured the imagination of riders in terms of modifications and a dedicated fan base, I really don't see the same for the R7. It is a nice bike, in the same way a CBR650R (or even a cheaper CBR500R) is and will give owners and riders many happy adventures. But it really is a stepping stone bike - something to hone your craft and riding experience with before moving on to something else with the Yamaha CP2 engine or to something with more supersport performance.
Our local Yamaha dealer, Webbs of Peterborough, did tell us that most of the R7s they've sold have been A2 restricted. With that in mind it changes the story completely. As a first 'big' bike the R7 would be an amazing machine to develop your riding skills, but comes at a premium price.
Personally, I'd rather have an MT-07 or Tracer 7 if I wanted a new Yamaha. But then again, at 41, I'm old(ish) and have done the sportsbike thing and there's a reason why people are buying less of these.
If you want a supersport looking machine with lots more useability, go the CBR650R direction and save yourself £400 over the standard R7. You can commute, tour, scratch and do most things on that. Sure, it's a Honda and they're often accused of not being the most exciting of rides, but at least it looks like a Fireblade.
And now for some final gratutiously lovely photos of the BeMoto R7 Anniversary on the road... Oh and look out for our old vs. new feature coming soon (yes we're lucky enough to have both the original OW-02 and the new R7 in our garage)!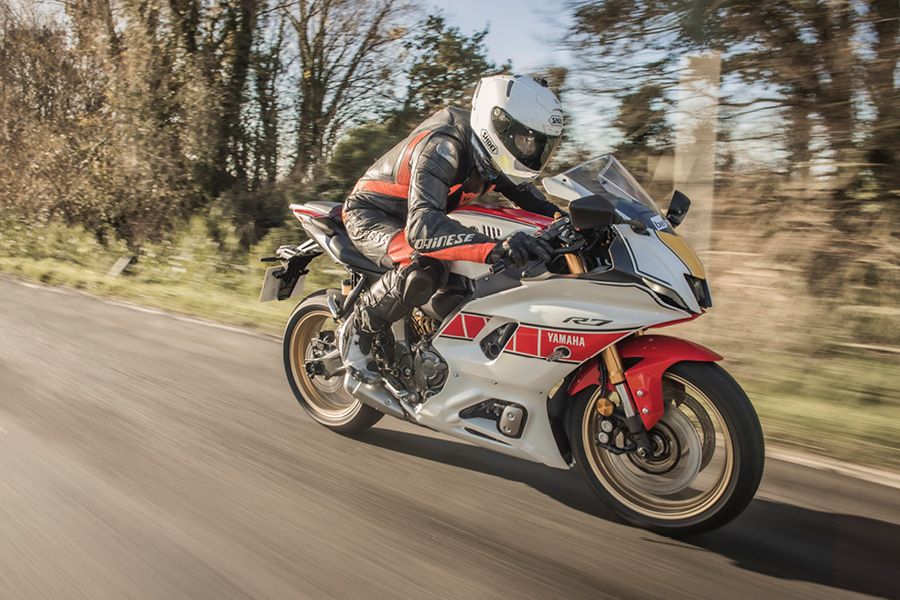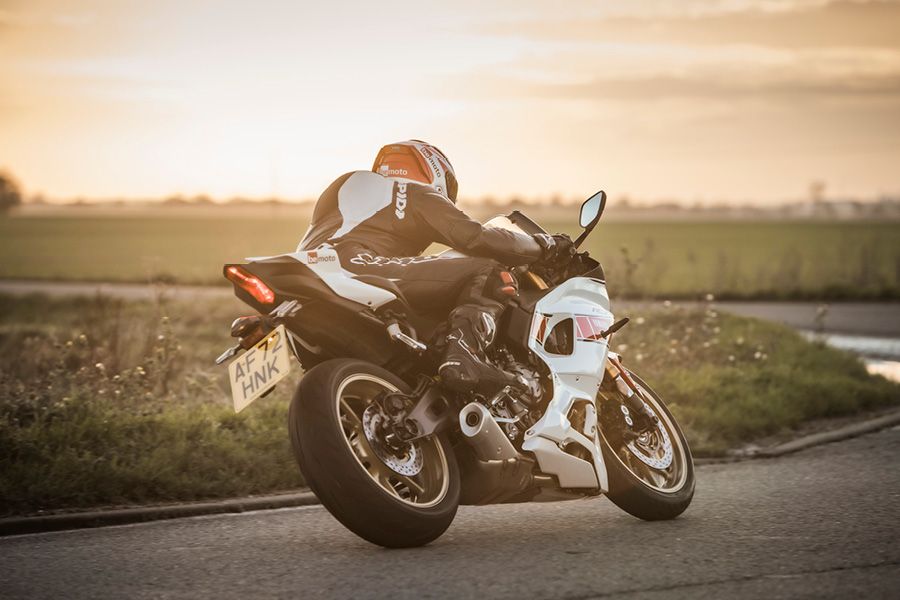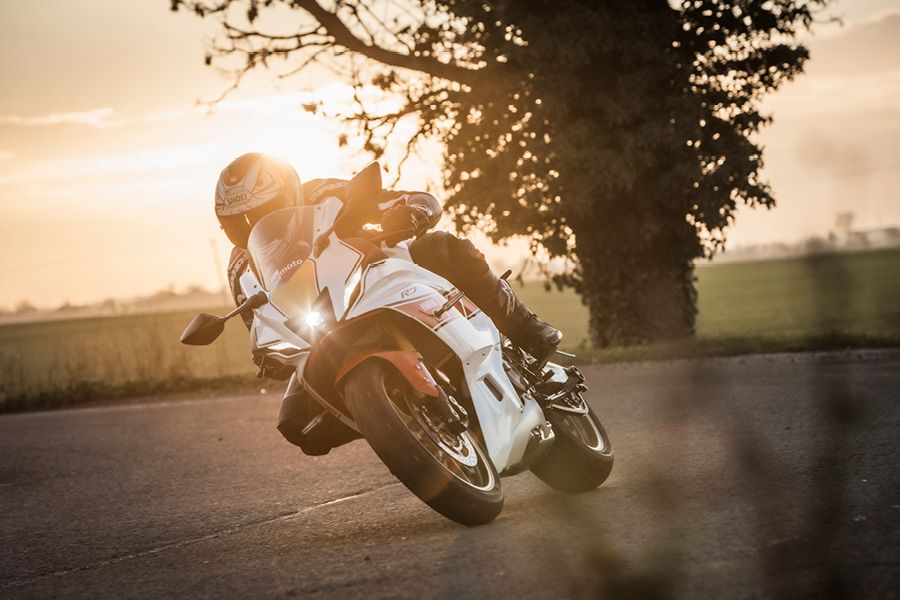 ---
Yamaha YZF-R7 World GP 60th Anniversary Specifications

| | |
| --- | --- |
| Price | £8,900 - £9,200 |
| Engine | 689cc 4-stroke; 2-cylinder; Liquid-cooled; DOHC; 8-valves |
| Bore x stroke | 80.0 x 68.6 mm |
| Compression ratio | 11,5:1 |
| Carburation | Electronic Fuel Injection |
| Max power (claimed) | 72bhp @ 8700 rpm |
| Max torque (claimed) | 49.41 ft lb of torque @ 6500 rpm |
| Transmission | Constant Mesh; 6-speed |
| Frame | Tubular steel diamond |
| Front suspension | KYB 41mm USD forks, fully adjustable |
| Rear suspension | Single shock adjustable preload and rebound damping |
| Brakes | 2 x 298mm discs, four piston calliper (front), 245mm disc, two-piston calliper (rear) |
| Wheels/tyres | 10-spoke aluminium 120/70 ZR17, 180/55 ZR17 Bridgestone S22 |
| Rake/trail | 23°/90 mm |
| Wheelbase | 1,395 mm |
| Kerb weight | 188 kg |
| Fuel capacity | 13 litres |
| Colours | Blue, Black, White/Red (World GP 60th Anniversary, as tested) |
| Equipment | LED lighting, ABS colour LCD dash, mirrors |
Watch this video to see an awesome Yoshimura R7 race bike build
---