Motorcycle Invoice Gap Insurance
NEW bikes bought from a dealership within the last 180 days
Return to INVOICE including dealer fitted accessories
Factory fitted options covered in full (factory modifications)

Buy Now
What is GAP insurance?
If you've landed on this page, it's probably because you have at least some idea about what GAP insurance is and know how important it is. If you have no idea what GAP insurance is… don't worry! We have all the information you need right here!
Guaranteed Asset Protection Insurance (GAP) is designed to protect you from a hit in the pocket if your motorbike is declared a 'total loss' or write off by your bike insurer.
If your motorbike is deemed a total loss (typically because of an accident or theft), insurers will pay you market value for your motorbike at the time of the incident; however, because your motorbike will depreciate in value over time, there is likely to be a "gap" in the financial settlement between what is paid out by your bike insurer and the amount that you purchased your motorbike for.
In the case of bikes that are purchased with finance, shortfalls are potentially made bigger, in turn meaning that you face a double hit by having an uninsured liability and no motorbike to enjoy or use for essential journeys.
Important: BeMoto GAP Insurance is for motorbikes only, i.e. not for scooters, quads or trikes.

Watch our video, then read on for more information, example claims and policy premiums; plus FAQs to help make up your mind.
---
BeMoto Return to Invoice (RTI) GAP
If you have purchased a brand new bike (or a used bike that is less than 8 years old) within the last 180 days from a VAT Registered Garage or Dealership, then RTI GAP pays the difference between your bike insurer's total loss settlement and the purchase price you paid for your bike - including any factory fitted options and dealer fitted modifications if paid for at the same time.
BeMoto policies are designed by bikers for bikers, so... unlike many policies:
Aftermarket modifications do NOT invalidate your cover, although the insurer won't replace them (they'll only pay for factory options or modifications that were paid for and fitted by the dealer at the time).
You don't need to guess the depreciation amount or "gap" to insure. Our RTI GAP policy is unlimited up to the value of the bike you paid / level you choose, i.e. if your bike was £20k and you choose the £20k option, then it will cover the full gap up to £20k.
---
EXAMPLE RTI GAP CLAIM: "Mind the GAP"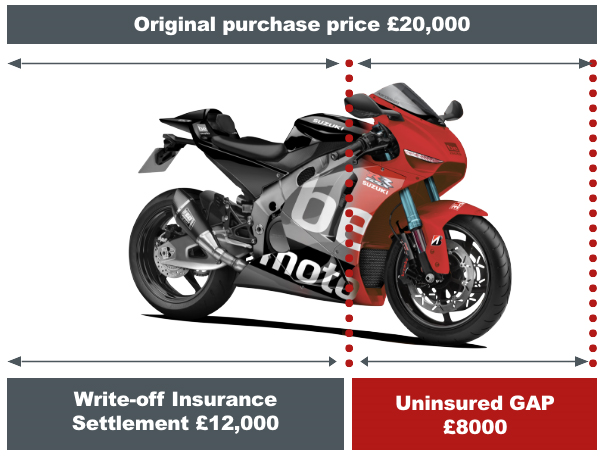 This Image illustrates the simple function of GAP Insurance. Imagine you buy a bike worth £20,000, and after 2 years and a lot of fun miles, you have an insurance claim that means the bike will be written-off. At that time, a reasonable market value for the bike might be £12,000 - which may clear your finance agreement but without GAP insurance you would be looking at a shortfall of £8,000 from what you paid for the bike:
What about those factory options and dealer fitted modifications you lovingly added at the time?
When will you afford the new modern equivalent bike, dripping with the latest tech, that's gone up in price?
How about the extra shock of your insurance excess and potential early finance termination costs?
In this example, RTI GAP insurance could cover all of these by providing an extra £8,000 on top of the bike insurance pay-out.
---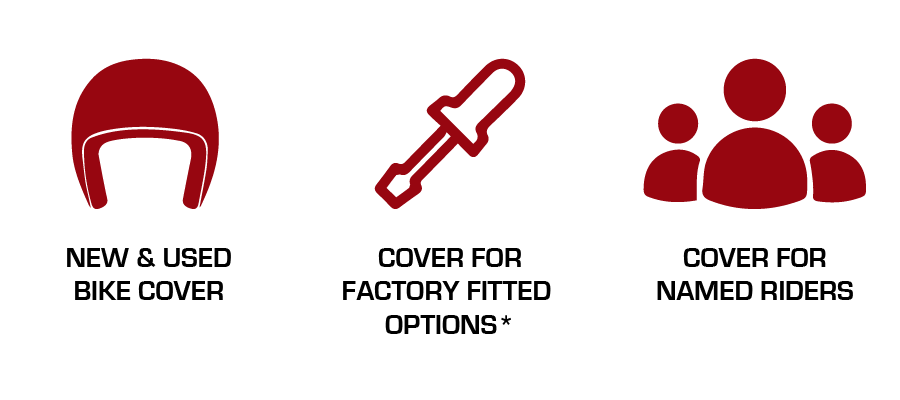 ---
How much does BeMoto Return to Invoice GAP insurance cost?
Premiums are very competitive compared to other products in the market and this cover has been designed to be fit for bikers (most are just car policies for bikes).
Note: RTI GAP policies cannot be renewed or extended yearly or at the end of the policy; therefore, it makes sense to obtain a policy for as long as you plan to keep your motorbike:
| Return To Invoice GAP Insurance - Prices By Bike Value* | 2 Year Policy | 3 Year Policy | 4 Year Policy |
| --- | --- | --- | --- |
| Bikes up to £10,000 value | £176.96 | £190.40 | £221.76 |
| Bikes £10,001 - £15,000 value | £201.60 | £215.04 | £248.64 |
| Bikes £15,001 - £20,000 value | £215.04 | £232.96 | £275.52 |
| Bikes £20,001 - £25,000 value | £284.48 | £311.36 | £344.96 |
| Bikes over £25,000 value | POA | POA | POA |
* Prices correct as at May 2022
---
BeMoto RTI GAP Insurance Benefits
Remember, the policy covers the full gap up to your chosen bike value level. No need to try and guesstimate the potential shortfall. Plus, you can still modify your bike without invalidating cover (although the insurer won't pay for aftermarket mods carried out once it leaves the factory / dealership).
Note: For RTI GAP you must have comprehensive insurance cover in place for the entire time the policy is in place.

| Return To Invoice GAP Insurance Benefits | Cover Included |
| --- | --- |
| Excess contribution to minimise financial struggles (£250) | ✔ |
| 14 Day Money Back Guarantee | ✔ |
| Settles Finance, Hire & Lease Agreements | ✔ |
| Cover for new and used bikes bought from a dealership or garage within the last 180 days | ✔ |
| Cover for Factory Fitted Options and Dealer fitted modifications (paid for on the same invoice) | ✔ |
| Cover for Named Riders | ✔ |

The information contained on this page is a brief summary of policy conditions. For a full list of all conditions please refer to the Insurance Policy Information Document (IPID) and GAP Policy Documents before purchase.
Return to Invoice Motorbike GAP Insurance FAQs
Will GAP insurance cover the full value of my motorbike?

How much Motorbike GAP Insurance cover do I need?

When can I buy a Motorbike GAP Insurance policy?

Are dealer fitted accessories included in my Motorbike GAP Insurance cover?

Is my GAP Insurance valid if I take the motorbike abroad?

What happens to my GAP Insurance if I change my motorbike mid term?

Are Named Riders covered by my Motorbike GAP Insurance policy?

If my motorbike is written off by an uninsured driver, will my GAP Insurance pay out?

My Comprehensive Insurer is offering me a 'new for old' replacement for the first 6 months, why do I still need Motorbike GAP Insurance in the first year?

Does a Private Plate affect when I buy Motorbike GAP Insurance?

Whose name should I put my Motorbike GAP Insurance policy under?

​How to Make a BeMoto GAP Insurance Claim