MULTI BIKE INSURANCE
One Policy
One Great Price
Less Admin
For the best multi bike insurance deals call one of our specialists on 01733 907000 who can tailor a multibike package to your requirements.
MULTIBIKE INSURANCE TITANIUM

MULTIBIKE INSURANCE RENEWAL
Call for a Multi Bike Quote
Save time and money

Top quality cover

Mix and match any bike types
What is Titanium Cover all about?
Why pay up to £200 for optional extras when BeMoto have negotiated great rates on your behalf?
All our multi bike insurance policies come with 90-days EU cover per trip and include £100,000 FREE Legal Expenses Insurance as standard.
In addition, our industry leading Titanium Cover includes full UK and European RAC Breakdown cover (as well as Home Start, Roadside, Recovery and Onward Travel), plus £1,500 Helmet & Leathers cover and £15,000 Personal Accident cover for only around £50 more.
You can also choose to add Excess Contribution Cover, allowing you to claim back up to £500 of your insurance excess in the event of a successful claim and we also offer Licence Defence Cover, which could be invaluable if you drive for a living.
THE MOST COMPREHENsIVE COVER FOR YOU AND YOUR BIKES...
EU COVER EXTENSION (90-DAYS PER TRIP)

MOTOR LEGAL ADVICE HELPLINE

LEGAL EXPENSES (£100,000)

PERSONAL ACCIDENT (£15,000)

HELMET AND LEATHERS (£1,500)

RAC BREAKDOWN (UK & EUROPE)

EXCESS CONTRIBUTION (£250)

EXCESS CONTRIBUTION (£500)
Request a multibike insurance quote from BeMoto. All bike types and ages - on and off road
What can I expect to pay for multi bike insurance?
The examples here give you an idea of what you can expect to pay for multi bike insurance. A classic motorbike can be added from as little as £11.20, but the typical cost is between £28 and £60. Clearly a £20,000 V4 Panigale is not going to be quite as cheap to add, but then again they aren't cheap to replace either!! So whether you have a commuter bike for work and something special in the garage for weekends, or mix classic and modern bikes, speak with us about your bikes and get a multi-bike insurance quote today!
Comprehensive Multi-Bike Insurance
BMW S1000 RR (£10,000) & Suzuki Bandit 600 F (£2,000)

Ducati 999 S Mono (£6,500) & Honda MSX 125 "Grom" (£3,300)

Triumph Daytona 675 R (£7,500) & Honda CG125 (£1,500)

BMW R1200RT (£5,000) & Honda Hornet 600 (£3,000)
The above prices are based on a married rider aged 37, living in NR11 postcode area, with a full bike licence and one SP30 conviction. No accidents, 5 years NCD, 6,000 miles pa between both bikes, employed as a teacher, with a main bike that has Data Tag and a factory fitted immobiliser. Kept in a locked garage. Prices correct December 2021.
What type of multi bike insurance do you need?

SORN insurance simply provides fire and theft cover, plus malicious damage, for your laid up multi bike collection when secured in a locked building (not suitable for road use).

Third Party Only (TPO) cover is the lowest level of cover needed by law to ride or park your bikes on public highways. It provides liability insurance, but does NOT cover your bikes for any damage, fire or theft. If you're hit by a third party you can claim from their insurance though.

Third Party, Fire & Theft (TPFT) provides the same liability cover as TPO, plus fire and theft cover as well. It's the middle option between TPO and Comp, however it does NOT provide cover for accidental damage to any of your bikes. Again, if you're hit by a third party you can still claim from their insurance.

Comprehensive cover is the top level of cover for your multi bike collection (other than optional extras you might add) and covers all the stuff provided by TPO and TPFT cover, as well as your own accidental damage to any of your bikes. If you're hit by a third party you can claim from their insurance directly, or to speed things up you can claim against your multi bike policy and wait for your insurer to recover their losses from the third party.
Call For Multi Bike
Adding Bikes to Motorbike Insurance

Frustrated with your existing insurer?

If you're being held to ransom with painful admin fees to add a bike or cancel your policy, then give us a call. We can quickly calculate whether you are better off staying with our competitor for the policy term or switching now. You can always insure your second bike with us now, and add your other bike(s) at renewal.

Don't worry about losing a years no claims discount by switching, it could still be cheaper.


Call 01733 907000

Modified Multi Bike Insurance

We don't just get modifications, we love modified bikes!

Unlike some competitors who return your bike to factory specification in the event of a claim, our modified bike insurance actually covers your declared modifications like-for-like and reinstates them. It's always better to call and discuss your modifications, even if you think it is a small change — that way you can rest assured that your motorbike is properly covered.

Our policies also cover R&G crash protection and styling accessories as standard.

Call 01733 907000
switching
service
Got multiple bikes but no time to switch?
SHARE YOUR CURRENT INSURANCE DOCUMENTS OR RENEWAL QUOTE WITH US…

…WE REVIEW THEM AND PROVIDE AN INDICATIVE QUOTE…

…IF YOU WILL BENEFIT FROM A LOWER PRICE AND/OR BETTER COVER CALL & CONFIRM DETAILS…

…YOU LAPSE OR CANCEL OLD POLICY
TESTIMONIALS
"Ease of use, changes to my policy, as I was trading in one of my bikes, on a multi bike policy, Stacey was helpful and understood exactly what was required. Good price and service. Highly recommend BEMOTO, been with them for over 3years."

"Great service from Manny, very friendly and helpful to deal with, insured both my bikes for the second year with Bemoto, cheers guys"

"Dominic clearly described all aspects relating to my multibike motorcycle renewal. He was very polite and was easily understood. Additionally the whole renewal conversation was fairly speedy and enabled me to renew my insurance with no hassle."

"The operative I spoke to was very helpful and called me back when he said he would. He had to make an enquiry regarding having all my bikes on a single policy which had not been possible last year. This time though he was able to sort this and it saved me some money."
Thinking of buying a second bike?
If you are thinking of adding a second bike to your current BeMoto policy, we can quickly provide you with a multi bike insurance quote so you have a clear idea of your total costs.
The average cost for an additional bike is as little as £60 and we will share our advice on the type of cover you need based on how you use your bikes.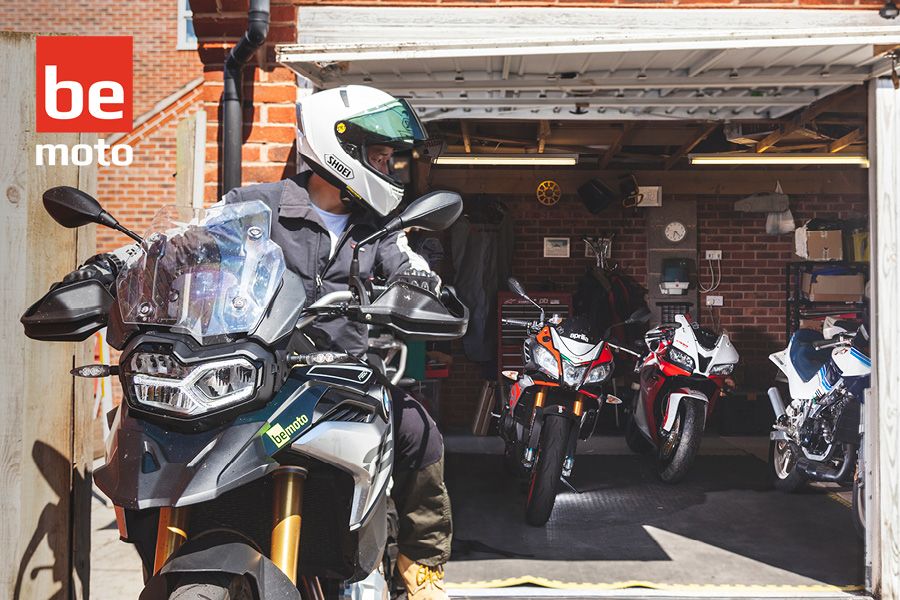 Standard Multi Bike with Carbon Cover
Up to 90-days per trip for whichever bike from your multi bike policy you take into Europe
Up to £100,000 Legal Expenses Insurance included as standard for uninsured loss recovery
24hr
24-hour UK based motorbike claims service, 365 days per year
Motor legal helpline to discuss any motoring legal issues
Get a Multi Bike Quote
Why Not have
Titanium

Cover for Just

£

50 extra?
Titanium Cover for all your bikes
We don't overcharge for simple extras. We've bundled them into a great value multi bike package…
All the benefits of Carbon Cover, plus around £200 of extras all for only £50 more (Titanium Cover is a single fixed cost, no matter how many bikes on your policy).
Full RAC Breakdown

For all your bikes insured with us, including Home Start, Roadside, Recovery, Onward Travel and even European cover.

£1,500 Helmet & Leathers

Accident damage cover for your protective riding gear, including helmets, leathers, goretex, boots, gloves etc.

LEARN MORE

£15,000 Personal Accident

A tax free lump sum in the event of certain serious injuries or accidental death when riding a motorbike.
Multi Bike Insurance FAQs
How many bikes can be covered on a Multi-Bike policy?

How does Multi-Bike Insurance work?

How much does Multi Bike Insurance cost?

Can you mix modern and classic bikes on a multi-bike policy?

Why choose BeMoto for your Multi-Bike Insurance policy?

How is a Multi Bike Insurance quote calculated?