Race Van Insurance
Private Vans
Up to 17.5t
Up to £40k
Save time and money with Race Transporter Insurance for social use vans and trucks
RACE VAN INSURANCE RENEWAL
Call BeMoto
Save Money

Bike Transporters

Drivers 23+
All Types of Race and Leisure Vans Covered
Whatever you call it, as long you and your van meet our underwriting criteria, our specialist insurance offers competitive rates for private use vans used for pleasure purposes and for transporting motorcycles, cars and go karts:
Race Vans

Leisure Vans

Race Transporters

Day Vans

Race Trucks

Hobby Vans

Motorcycle Carriers

Pleasure Vans

Race Support Vehicles

Bike Transporters
Is Race Van Insurance right for you?
There are some minimum requirements before you call us:
Up to £40,000 value (we are looking at increasing this, but for now it's £40k)
Maximum 17.5 tonnes GVW
Must still be classed as a van/truck and NOT be showing as a 'Motor Caravan' on the V5 (you need motorhome policies for that)
No more than 6 seats with seat belts (temporary seating is OK when it's parked up)
All drivers must be 23 or over
It MUST be able to carry a motorcycle, other types of race/leisure vehicles, or whatever sports equipment it is intended to carry as a "Hobby Van", including:
Motorcycles, e.g. road bikes, dirt bikes, track and race bikes, sidecar outfits, drag bikes, speedway motorcycles, etc
Track and race cars, go karts, dune buggies, etc
Any other sports equipment (jet skis, quads, microlights, etc).
The most important thing is what it is used for, i.e. this is personal use van insurance for a private van or truck to transport you and your kit - so that you can enjoy your passion.
Private Van Insurance Quotes for Race Vans and Motorcycle Transporters
Standard Features of Our Race Van Insurance Cover
European cover extension for up to 90-days per year for those Euro trackdays and race meetings
24hr
24 hour UK based claims line if something happens to your race transporter
Free legal helpline if you need a bit of motoring legal advice
Legal Expenses Insurance included as standard for uninsured loss recovery
Call an Expert
What can I use Race Van Insurance for?

We have primarily designed this policy for track or dirt bike riders and racers, with vans used mainly for carrying their bikes and sleeping at tracks. This is not a commercial van policy and is not designed to cover your work van for business use.

Our Race Van Insurance is restricted to Social, Domestic & Pleasure (SDP) including the "Carriage of Own Goods" (in other words it's a private van policy that enables you to transport your own motorbike and other sports equipment. Occassional commuting can be permitted, but it should not be your main everyday vehicle, we expect you to have another form of transport to get to work and for general use.

Call For a Quote

Does it cover my motorbike in the van?

No, this policy covers your private van only, not your motorcycle and other sports equipment when being transported.

However we have separate policies designed for Fire and Theft of your track, dirt or race bikes, either at home in a locked building or when "In Transit".

Our Track Bike Theft Insurance and Dirt Bike Theft Insurance products can cover SORN and laid up motorbikes, as well as unregistered off-road bikes against fire, theft and malicious damage when stored securely.


Fire & Theft Cover
TESTIMONIALS
"Bemoto have somehow managed to make purchasing insurance an easy process that doesn't want to make you pull your hair out! The staff are friendly, knowledgeable and make sorting insurance easy. The cover is always better priced than competitors and has more options suited to bikers. Chuffed with that. Would recommend to anyone."

"Great service. I called Bemoto for a qoute on my race van,Aaron took my call and provided a knowledgeable and professional service.The quote was far better value, than any comparison website, and all of the independents I'd tried.It goes without saying that I accepted the quote and took out my insurance with BeMoto. I highly recommend them, and will deffo, give them another call when my bike insurance is due."
Why choose BeMoto for my Race Van Insurance?
As a company owned and run by bikers, we are not only providers of insurance products, but we are bikers who have been where you are right now. When you compare Race Van Insurance with us, you can be sure that we have taken our experience as customers, and applied it to find you the best race transporter cover we possibly can.
NO Amendment Fees
Legal Expenses Insurance included as standard (for uninsured loss recovery)
Great introductory rates for those without a 'No Claims Bonus'
Internal camper converson fixtures and fittings covered (up to a total vehicle value of £40,000 including the fit out), e.g. permanent bike garages, beds, cupboards, kitchens etc*
Up to 90-days EU cover extension (per year)
Up to £1,500 audio equipment covered
Optional Extras:
Licence Defence Cover (£20) to help defend you from motor prosecutions
£500 Excess Contribution Insurance (£25)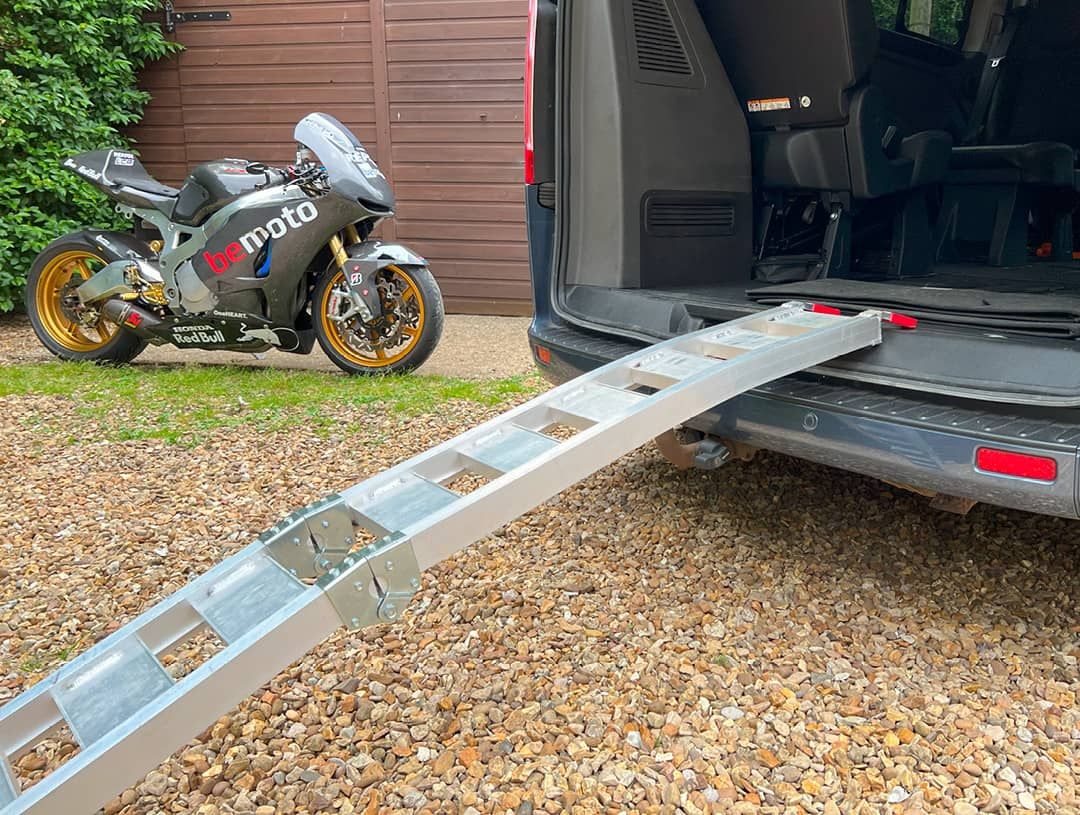 * This is NOT a motorhome policy, it is intended for converted vans and trucks that can carry motorbikes or other leisure vehicles and equipment. If your V5 'log book' says 'Motor Caravan' then you need a different type of policy.
Choose your level of race transporter cover

Comprehensive Cover which includes accidental damage cover (this is the top level of cover). It includes all the benefits of TPO and TPFT cover, plus all those unexpected incidents that you can't blame on anyone else!

Third Party, Fire and Theft Cover (TPFT) is the middle tier of cover. Great for providing fire and theft protection, but it does NOT cover any accidental damage caused by you (if you're hit by a third party you can claim from their insurance).

Third Party Only (TPO) Cover is the minimum level of insurance you are required to have before you can park your van on the street or use it on public highways. It means you are legally allowed to drive it and provides some cover for damage or injury you might cause.
SORN Insurance provides some fire and theft cover whilst your van is not taxed, but nothing else... It's only available if you park your van on private property whilst it is declared SORN, such as the driveway or in a locked building (if you park on the street you need to tax it).
Call BeMoto
Race Van Insurance FAQs
Does my van qualify for race van insurance?

What does race transporter insurance allow me to use it for?

Does race van insurance cover camper conversion costs?

Is my motorbike also covered with Race Van Insurance?