Trackday Damage - 01733 907000
Trackday damage insurance for UK & EU circuits
Bikes of any age, type or value (no V5 required)
Discounts for multiple days or groups of mates

Get your knee down without worrying about bike damage
Motorcycle trackdays are more popular than ever, particularly European trackdays with [almost] guaranteed sun, likeminded banter and some spectacular circuits. However for many people the financial risk of damaging their bike on track can deter them from taking part.
There are various advantages to riding on track, not least because everyone is going in the same direction; the lack of walls, kerbs, trees etc. and especially the absence of "cagers" pulling out on you or doing a blind U-turn across your path... But the most significant benefit is getting to know your bike, what it's capable of, how far you can push those tyres and lean that bike over with the ultimate reward being a knee-down (or even elbow down) photo to show your mates.
At BeMoto, many of our staff also enjoy motorcycle trackdays and have developed this product to protect road bikes and track bikes for a sensible premium with a reasonable excess (usually about 10% of the bikes value). It doesn't matter if it's a low-side or high-side, your fault or someone elses, you can buy this insurance for UK and European circuits, including the Nurburgring.
Discounts available for multi-trackdays on a single policy, or for groups of mates participating in a single trackday together.
Example Prices (updated August 2022):
Discounts for multiple days bought at the same time, either as a block (3 day Euro trip) or 3 individual dates within the same calendar year.
Take £10 off these prices for existing BeMoto motorbike insurance customers ;-)
| Bike Value | Excess | Single Day | Block of 3 Days (Multi Day Discount)* |
| --- | --- | --- | --- |
| Up to £5,000 | £500 | £122.10 | £260.00 (£86.67 per day) |
| £8,000 | £750 | £168.98 | £357.89 (£119.30 per day) |
| £11,000 | £1,500 | £187.67 | £405.57 (£135.19 per day) |
| £15,000 | £2,000 | £221.32 | £491.36 (£163.79 per day) |
| Over £15,000 | POA | POA | POA |
* Multi-day discount only applies when paid up-front for all days and only 1 claim per policy, e.g. if you write it off on day-1 and make a claim the remaining days paid will not be refunded.
Prices available for higher value bikes and larger multi-day bookings on request (maximum 10 days per policy at a time).
Check out our other trackday products including: Trackday Repatriation and Track Bike Theft Insurance

---
We can provide Accidental Damage cover for Road, Track and Race Bikes whilst on non-competitive organised trackdays:
Trackday bike damage insurance for UK and European Tracks (including Nurburgring Nordschleife)
Cover for bikes of any age, type or value, including unregistered bikes (no V5 required)
Discounts for multiple trackdays on a single policy, e.g. multiple UK days throughout the summer or a long weekend at Cartegena
Discounts for groups of riders insuring at the same event (mates rates)
Discounts for training days where you use your own bike, e.g. California Superbike School (CSS)
Check out our feature story on what to expect from a Euro Trackday.
---
Don't just take our word for it...
"Just brought my new GSXR 600 L3. Been on track a number of times previously but saw BeMoto advertised on YouTube and thought I'd get in contact for a chat to find out more about it. After speaking with BeMoto, decided it was worth getting insurance just in case. I had a few track days in the pipeline so offer a discounted rate per day so works out better for you. In hindsight the best decision I made. Doesn't matter how good you are, or think you are, we all have to face the ugly truth, we're going to come off. I only took the insurance out 2 days before I was on track, last minute but best thing I've done to date. The claim itself was pain free, not something I would normally associate with insurers. Crashed on Monday, paid in full by Wednesday the following week. Quick, easy and most of all very helpful throughout the whole process. Claim was opened up on my behalf to speed the process up, was then contacted and told exactly what I needed from the track to supply. I could go on and on, but at Bedford that day, there were 6 red flags. 4 bikes totalled and only 1 insured. I may have crashed but could just about muster a smile at the fact I was covered and still walking. Now have a 750 GSXR and leaving for Europe tomorrow for 2 weeks."

Levon Gharibian in Ashford, Middlesex
---
Call BeMoto for a trackday bike damage insurance quote today on 01733 907000*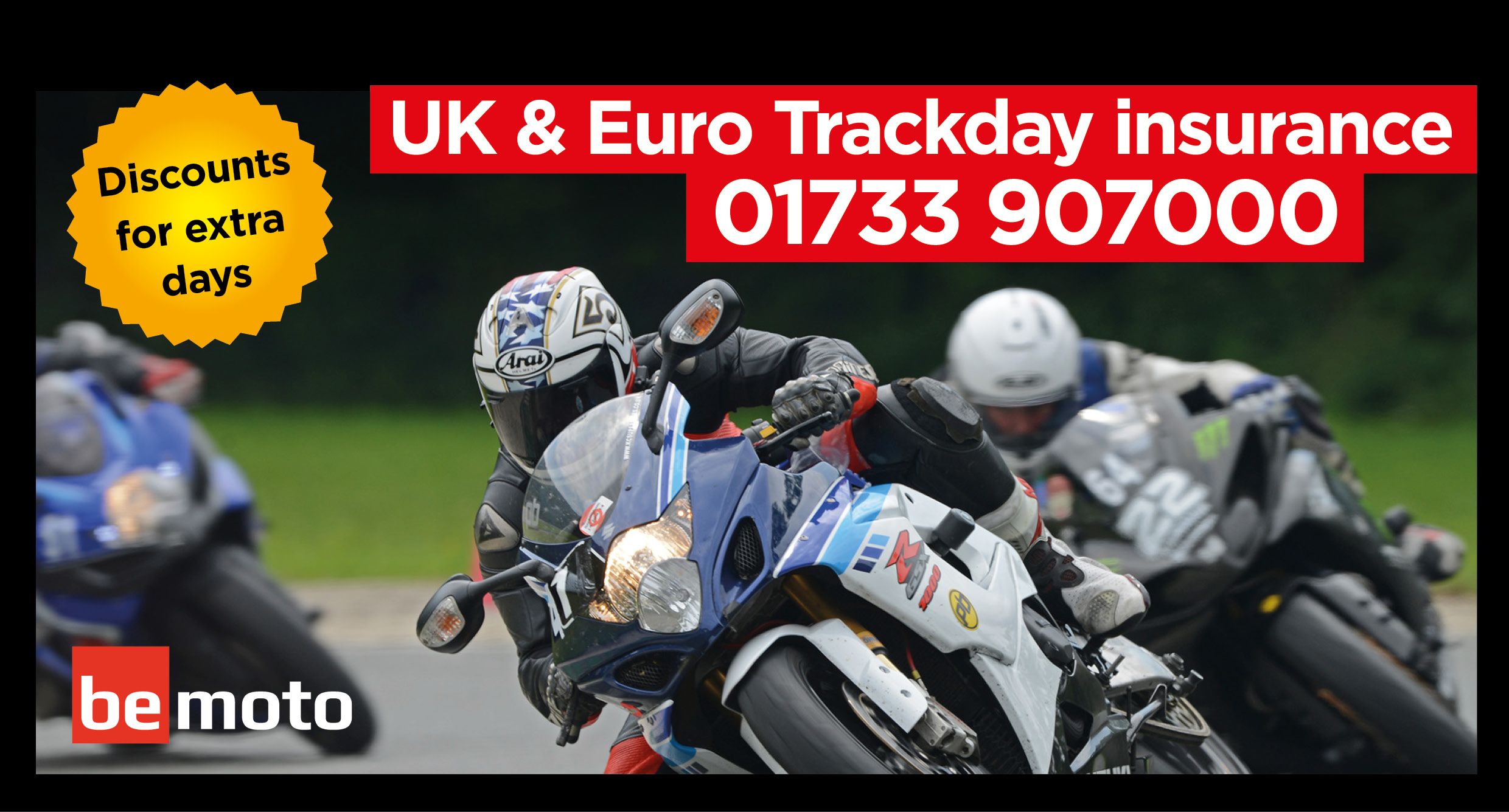 ---
* Calls may be recorded for our joint protection