WIN A MOTOREX BUNDLE
Keep your bike looking fresh, clean, lubed and protected with this awesome BeLotto bundle from Motorex and their UK distributor, Bickers, worth over £100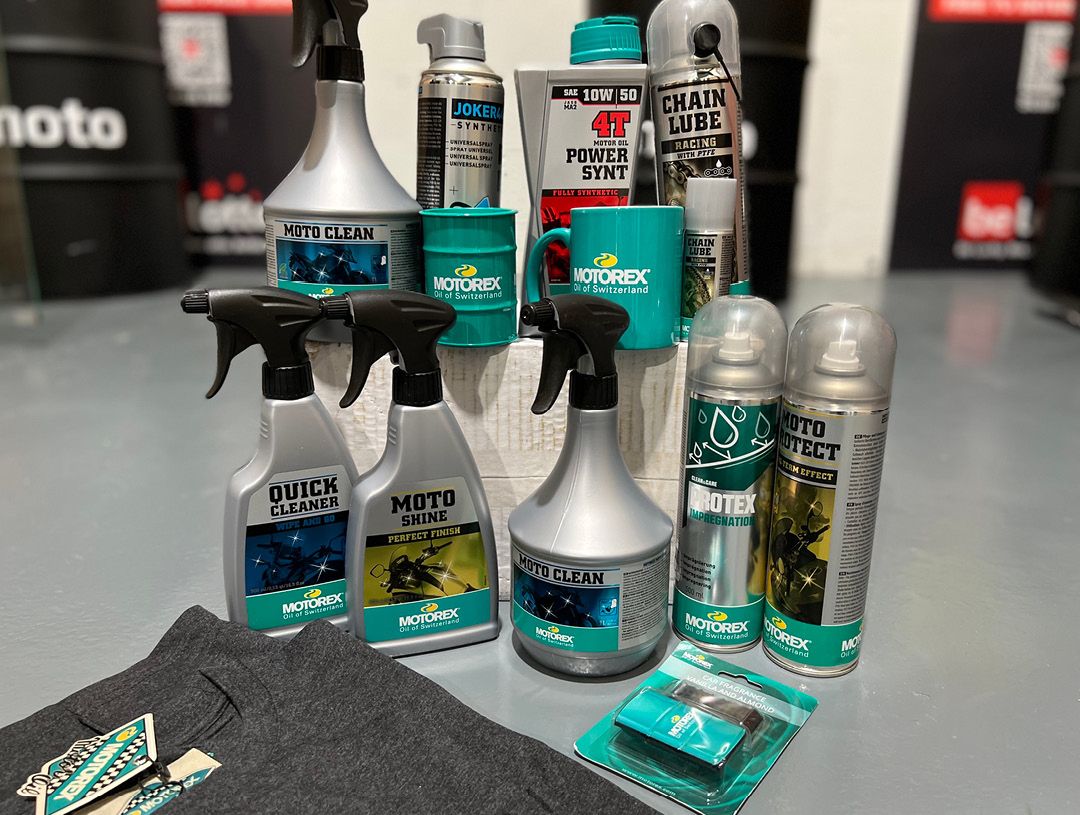 The good people from Motorex and their UK distributor, Bickers, have pledged this bundle of essential items for the winner of Belotto - worth over £100
View the full UK range of Motorex products here https://www.bickers-online.co.uk/oil-and-care-c1939
To enter BeLotto, click the red button below.

PROTEX SPRAY 500ml from £13.99
Textile and leather impregnation. Highly effective, long-lasting protection against wet conditions and oil. Suitable for leather, textiles and microfibres (e.g. GORE-TEX®); preserves the natural breathability of the fabric. Ideal for shoes, motorbike, ski and cycle clothing, convertible roofs and other sport and leisure items.
Motorex Protex Waterproofing Spray features:
Motorex Protex is perfect for impregnating shoes as well as motorbike, skiing and cycle clothing, convertible roofs and other sport and leisure items.
Water-repelling
Oil-repellent
Breathable
Efficient
Silicon-free
Average price £13.99
---
Motorex Moto Shine 500ml
Special gloss spray for the perfect finish following vehicle cleaning. Gives a lasting shine to varnish, plastic, chrome etc. and forms an anti-static protective film with drop-repellent effect. Brilliant for trade fair and showroom vehicles too.
Average price £13.99
---
Motorex Moto Protect 500ml
Moto protect provides a thin oil film that protects against corrosion, leaving a healthy shine to all painted, metal and chrome surfaces. Protects your bike throughout the winter months, whilst on the road or laid-up in the garage.
Average price £11.99
---
Motorex Joker 400 Spray
Fully synthetic, universal lubricating and corrosion protection spray. Leaves behind a highly effective protective film. Creeps under water, protects against corrosion, takes effect dielectrically and cleans and maintains metals and plastics.
Average price £11.99
Key Facts:
Fully synthetic universal lubricant
Penetrates and displaces water and creates a protective layer on metal – corrosion protection
Dielectric – electrically non-conductive
---
Motorex Motorcycle Racing Chain Lube with PTFE 500 ml
High-performance lubricant with PTFE for motorbike chains of motorbikes used on the road and particularly in races as well. Tested and found suitable for use in O-ring and X-ring chains. Extremely adhesive and centrifuge-resistant. For the highest quality requirements.
Key Features:
Water resistant
Wear-reducing effect
Thermostable
Average price £12.99
---
Motorex Quick Cleaner
Quick and protective cleaning for a sparkling clean result. QUICK CLEANER does not need additional water! Ideal for plastics, glass, varnishes, metals as well as windscreens and visors. With the 360-degree spray system, QUICK CLEANER can be applied in all locations.
Average price £12.99
---
Motorex POWER SYNT 4T FULLY SYNTHETIC PRO PERFORMANCE JASO MA2
Fully synthetic high-performance 4-stroke engine oil, specially developed for demanding use in hypersport motorcycles with powerful engines.
Provides engine, gearboxes and clutches with optimum protection over the entire range of applications. Certified JASO MA2 approval guarantees fault-free functioning of wet multi-disc clutches.
Average price £19.99