BeLotto Winners Hall of Fame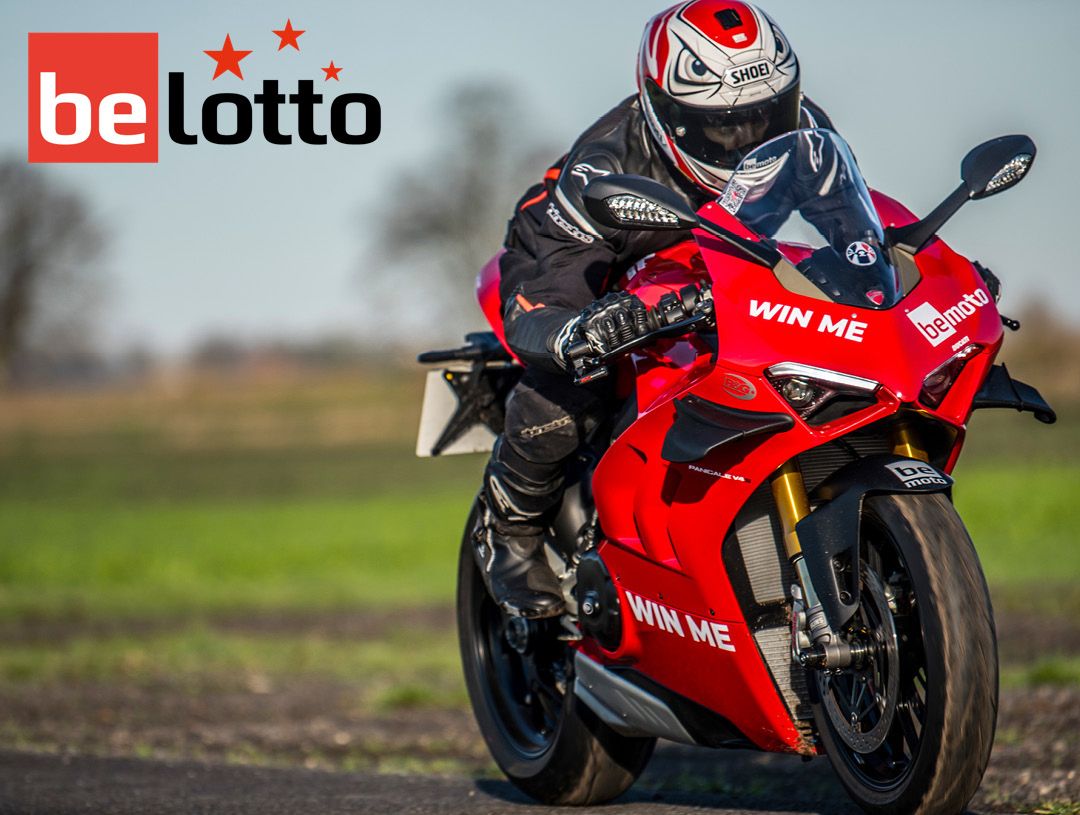 ---
When it comes to amazing competitions, there's a lot of scepticism these days. Is the company genuine? Does a 'real' person actually win? Is the prize actually real??

So far, BeMoto has given away some amazing prizes, including event tickets, R&G vouchers, £1,000 to spend in any motorcycling outlet, two 44teeth Budget Bike Battle bikes and - not forgetting, a brand new Ducati Panigale V4 S along with a £10,000 prize pot…

Our previous competitions: Yes, people do actually win!
So when it comes to future BeMoto and BeLotto competitions, please don't think 'it won't be me' and not enter as you know we are good for giving away mega prizes. Here's a look back at some of our previous winners.
---
BeLotto- £1,000 Security Product Bundle from Engineered By Zicam
In the summer of 2023 we offered our audience the chance to win the highly regarded Guardsman Barrier and have it installed by the professionals at Engineered By Zicam. That's not all, we also gifted the lucky winner with an alarmed lock and chain combo, giving them the ultimate "Sod Off" factor in motorcycle security. The barrier was also custom coloured to their choice - Bouji. Kevin from bonny Scotland was our lucky winner and he is pictured below with Dave McGinnity - Operations Director for Engineered By Zicam. Like two peas in a very handsome pod. Oi OI.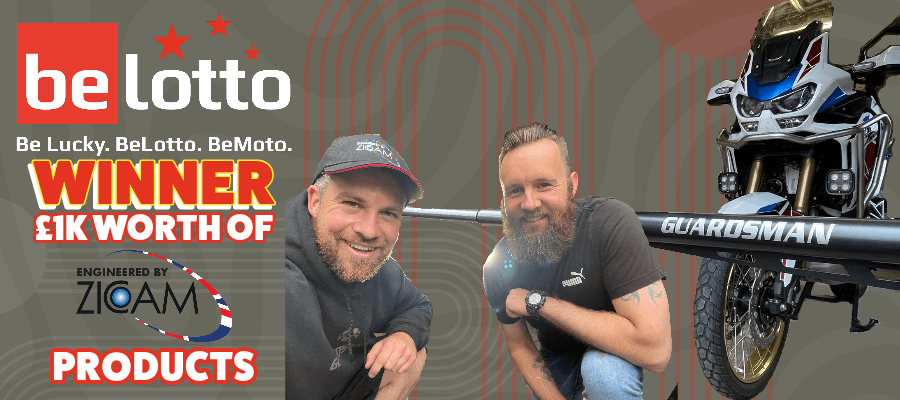 ---
BeLotto - Oxford Products £1,000 Prize Bundle
At the start of 2023 we offered the chance to win £1,000 (RRP) worth of Oxford Motorcycle Products. The competition was free to enter and was drawn in March. As always there could only be one winner, Ben from the South-West of England was the lucky devil on this occasion and here he is pictured with his entire prize haul! Including the shirt on his back!! If there was a prize for best winner's photograph, he'd win that too.


---
BeLotto - Win £1,000 to spend just by getting a quote (2022)
We offered the chance to win £1,000 to spend at a motorcycle outlet of choice just by getting a motorcycle insurance quote with BeMoto during September and October 2022.
Ducati 959 Panigale rider, Alex, was the lucky winner. We caught up with him at his local dealer, Ducati Nottingham, where he intends to spend his cash! But what exactly will he put the money towards? Watch the video and find out…
---
Win a Ducati Panigale V4 S and £10,000 of prizes (2021)
In late 2021, BeMoto launched one of the most incredible giveaways in motorcycling with BeLotto.
One lucky winner would receive a Ducati Panigale V4 S worth £25,000 along with £10,000 worth of BeMoto motorcycle insurance cover and thousands of pounds worth of biking goodies, covering everything from clothing and protection, to cameras and cleaning kit and everything in between.
BeLotto was free to enter and BeMoto motorcycle insurance customer received two entries automatically per qualifying policy. After five months and thousands of entries, there could only be one winner and that was Stephen Hendry. The 41-year old was bikeless at the time of getting the winning call from us and Al from 44teeth, having sold his bike to help raise a deposit for a house.
Here's what happened when he collected the bike from Seastar Superbikes in Norwich.
---
Budget Bike Battle: Win a Yamaha R1 & Suzuki GSX-R1000 (2020)
We love our special friends Al Fagan and Baron Von Grumble at 44teeth.com and following their Budget Bike Battle Benidorm, we also gave away the two bikes that featured (and suffered a little) back in 2020 (see below).
---
Legendary Day with GP Legend 'Fast Freddie' Spencer (2016)
Back in 2016, Russ Gardner was the lucky winner of the BeMoto and Team 6T9 'Win a Legendary Day' Competition. Russ met up with GP Legend Freddie Spencer (Fast Freddie) at the amazing 2016 World GP Bike Legends event at Silverstone Classics. Russ has been a huge fan of Freddie's and can vividly remember when Freddie won both the 250 GP and 500 GP titles in 1985 - a huge accomplishment that has gone down in history - Freddie is the only GP rider to this day that has won both titles in the same year.