BeLotto Prize Draw: Oxford Products worth £1,000 RRP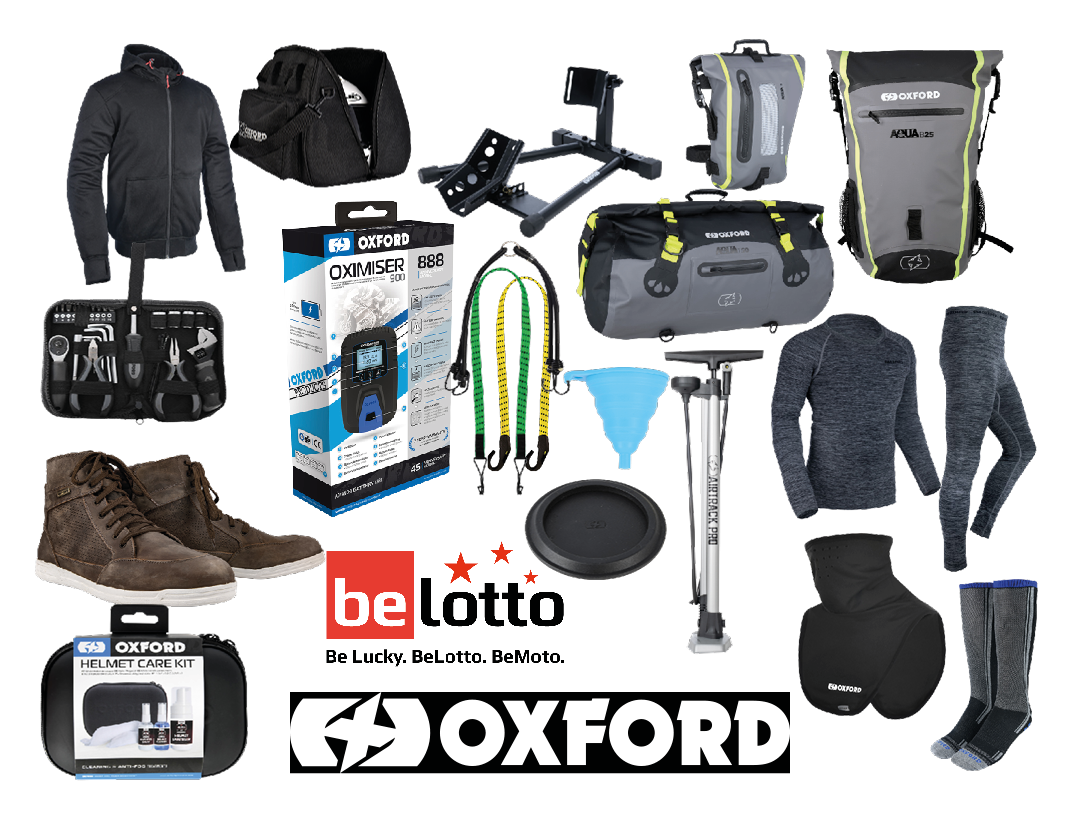 This competition prize is offered in association with our friends at Oxford Products - a global leader in motorcycle products with a huge range of products encompassing everything from clothing and helmets to accessories, hard parts, luggage and much more... Designed in-house by a team of enthusiasts and skilled technicians, based at the company's headquarters in Oxfordshire, UK.
Closing date is 23:59 on 13th February 2023 for the chance to win a prize bundle worth £1,000 RRP (Recommended Retail Price).
A full list of products is at the bottom of this page. Enter using the form below (it's FREE to enter).
See our previous BeLotto winners here (yes people do actually win these prizes!)
---
---
Oxford Products £1,000 Prize Bundle - Terms and Conditions
1a The promoter of the Promotion is BeMoto, which is a trading name of Moto Broking Limited (Company Number 09676058), whose registered office is at Ruthlyn House, 90 Lincoln Road, Peterborough, Cambridgeshire, England, PE1 2SP (the "Promoter", "BeMoto", "BeLotto", "We", "Us" or "Our").
2. The Promotion is only open to UK residents (excluding Our employees, third parties involved in the Promotion and their families) aged 18 and over. We will discount entries from non-UK residents initially based on IP address, email and telephone country codes. We reserve the right to request proof of UK residency and age for successful entries from Non BeMoto Customers.
3. The Promotion will run from 00:01 on January 7th 2023 until 23:59 on February 13th 2023 ("the Closing Date"). Entries received after the Closing Date will not be accepted.
4. This FREE to enter prize draw is only for those who filled out the Oxford Products Prize Draw Form (above) prior to the Closing Date. Entries submitted after the Closing Date will not be entered into the prize draw. Only one entry per person will be counted. Multiple entries using different email addresses for the same person will all be invalidated.
5. By entering the Promotion, BeMoto will attempt to contact you in advance of your bike insurance renewal date (where relevant), by email and/or phone, to offer a quote for bike insurance. We cannot guarantee to offer an insurance quote, as these are subject to individual circumstances and underwriting acceptance criteria. There is one prize available, a unique winner (the "Winner") will be drawn for:
a. A pre-selected bundle of Oxford Products worth £1,000 RRP, chosen by BeMoto (as per the photo and list above) (the "Prize").
6. Only one prize is available. A single Winner of the Prize will be selected at random from the pool of entrants that follow the entry criteria before the Closing Date.
7. The Winner shall be notified by 18:00 on 15th February 2023 by phone and/or email. The Winner shall have until 18:00 on 17th February 2023 to claim their Prize by confirming their details, which must precisely match those on the competition entry form. Invalid email addresses and/or phone numbers will be not be counted as a valid entry (required to contact the winner).
8. The Prize will take the form of a product bundle that will be delivered to the Winner at their home address by Oxford Products once we have confirmed any specific information required to complete the order, e.g. clothing sizes, colour choices etc (the list of the specific products in the bundle is not flexible).
9. In the event that any Prize is not claimed by this deadline or the Winner is unable to collect the Prize, the Winner shall forfeit the Prize and We may select an alternative Winner for the Prize.
10. The Prize is not transferable, does not have a cash-in value and will not be exchanged for an alternative.
11. Our decision is final and We shall not enter into correspondence with respect to Our decision. We reserve the right, in Our sole discretion, to disqualify or exclude any individual for inappropriate behaviour including but not limited to:
a. tampering with the entry process, (including exceeding the numbers of entries allowed), or any other process which, in Our opinion, in any way affects the fairness of the Promotion;
b. tampering with the operation of the Promotion or Our website Promoter or violating the terms of service, conditions of use and/or general rules or guidelines on Our website;
c. acting in an unsportsmanlike or disruptive manner, or with intent to annoy, abuse, threaten or harass any other person;
d. submitting entries on behalf of another individual; or
e. any conduct which would put other entrants at an unfair disadvantage.
12. The Winner's name may be obtained by emailing helpme@bemoto.uk within six weeks of the Closing Date.
13. The Winners may be required to take part in reasonable publicity in connection with the Promotion, including the publication of their names, geographic location and photographs/video.
14. We accept no responsibility for any damage, loss, liabilities or disappointment incurred or suffered by you as a result of entering the Promotion or accepting the Prize.
15. We shall not be liable for any failure to comply with Our obligations where the failure is caused by something beyond Our reasonable control, or that of a third party providing the Prize.
16. We shall not be liable for any additional expenses incurred by the Winners in connection with the Prizes, including but not limited to travel to and from collection of the Prize and expenses associated with any activity not listed as part of the Prize.
17. By entering the Promotion using the online form above, you are agreeing to marketing from BeMoto . BeMoto may use your personal data submitted as entry to the Promotion to send you newsletters and contact you about each of our products and services that may be of interest to you, or for market research. BeMoto will never sell or pass your personal information to third parties for marketing purposes without your explicit consent. If you prefer not to be added to BeMoto's marketing database, you can enter the competition by writing to BeMoto, PO Box 1338, Peterborough, PE1 1LZ instead.
18. No purchase is necessary.
---
List of Oxford Products included within the prize bundle:
| Product Name | RRP |
| --- | --- |
| Oxford Oximiser 900 (888) | £49.99 |
| Oxford Lidstash | £29.99 |
| Oxford Helmet Care Kit | £19.99 |
| Oxford Aqua B25 Hydro Backpack | £79.99 |
| Oxford Aqua T50 Hydro Backpack | £79.99 |
| Oxford Aqua T8 Tailpack | £49.99 |
| Oxford Deluxe Neck Tube Micro Fleece Black | £12.99 |
| Oxford Advanced Base Layer Top | £24.99 |
| Oxford Advanced Base Layer Bottom | £19.99 |
| Oxford Super Hoodie | £129.99 |
| Oxford Kickback Shirt | £149.99 |
| Oxford Coolmax Oxsocks | £9.99 |
| Oxford TUV/GS Bungee Extra | £3.99 |
| Oxford Twin Wire Flat Bungee 16mm | £3.99 |
| Oxford TUV/GS Bungee Xtend 8x800mm/32" | £3.99 |
| Oxford Double bungee strap system: 24"/600mm | £3.99 |
| Oxford Paddock Mate | £3.49 |
| Oxford Airtrack Pro 2.0 Track Pump | £36.99 |
| Oxford Tool Kit Pro | £39.99 |
| Oxford Silicone Funnel | £5.99 |
| Torque Allen Key Set 1.5-10mm | £14.99 |
| Oxford Bike Dock | £139.99 |
| Oxford Kickback Air MS Boot | £89.99 |
| TOTAL | £1,005.27 |